11 Best Body Oils With Anti-Aging Benefits For Women
Age back effortlessly with products made from gentle and skin-boosting ingredients.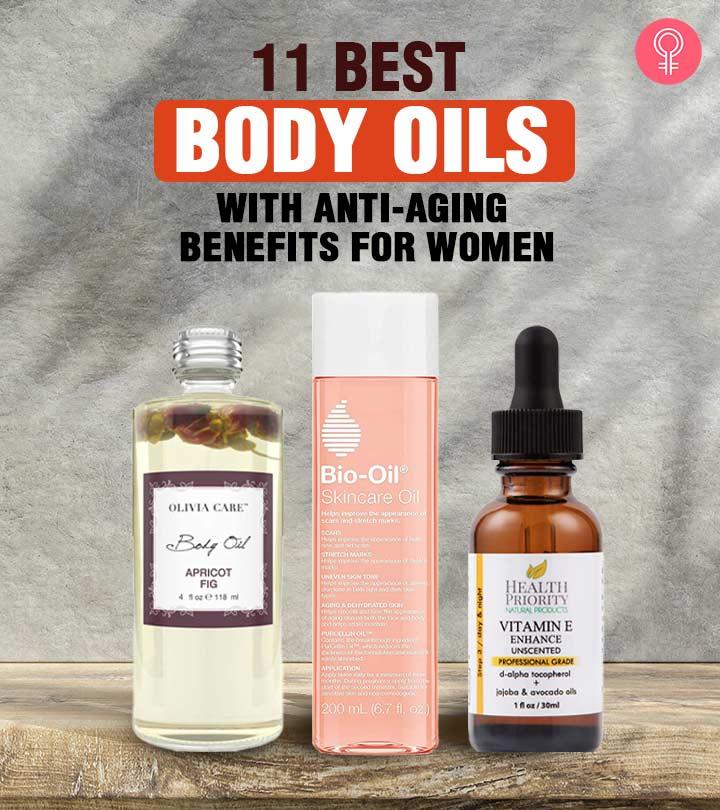 Age brings wisdom and maturity, but it also makes your skin vulnerable to fine lines, wrinkles, and dark spots. Mature skin often loses moisture and becomes dull and dehydrated. But worry not because the 11 best body oils for anti-aging mentioned in our list are here to help. These oils are made with cold-pressed natural moisturizers like argan oil, jojoba oil, cocoa butter, vitamin E, etc., to restore hydration to your skin.
The lightweight formulas keep your skin nourished while their pleasing fragrances relax your mind. So, let's dive into the list to check out the benefits, pros, and cons of the best body oils for anti-aging.
11 Best Body Oils With Anti-Aging Benefits For Women
Pros
Non-greasy
Non-comedogenic
Clinically proven
Recommended by dermatologists
Safe for pregnant women
Long-lasting moisturization
Cons
Price at the time of publication: $23.99
Pros
Lightweight
Absorbed quickly
Non-greasy
High quality ingredients
Plant-based ingredients
Dermatologically-tested
Cons
May not suit sensitive skin
Price at the time of publication: $9.89
Pros
Therapeutic benefits
Rich in omega 3, 6, and 9 fatty acids
Relieves pain, soreness, and itching
Long-lasting results
Paraben-free
BPA free
Additive-free
Fragrance-free
Works as an excellent moisturizer
Intensely nourishing
Cons
Not suitable for open wounds
Price at the time of publication: $45.99
Pros
All-natural ingredients
Vegan
Unscented
Gluten-free
GMO-free
Safe for babies and children
Cons
Price at the time of publication: $14.99
Pros
100% natural ingredients
Non-toxic
Vegan
Pleasant fragrance
Little goes a long way
Multi-purpose oil
Good for aromatherapy
Cruelty-free
Paraben-free
Phthalate-free
Alcohol-free
Harmful chemical-free
Sulfate-free
Cons
None

Price at the time of publication: $12.75
Pros
Natural ingredients
Vegan
Non-greasy
Absorbed quickly
Non-irritating
Long-lasting moisture
Cruelty-free
Mineral oil-free
Patrolatum-free
Silicone-free
Artificial fragrance-free
Artificial color-free
Alcohol-free
Cons
Price at the time of publication: $34.99
Pros
Lightweight
Non-greasy
GMP certified
Botanical ingredients
Absorbed quickly
Cruelty-free
Hydroquinone-free
Cons
Price at the time of publication: $27.99
Pros
Lightweight
Absorbed quickly
Non-greasy
Organic
Filler-free
Toxin-free
Artificial and synthetic ingredient-free
Cons
Fragrance can be overwhelming for some
Price at the time of publication: $48
The Voila Ve Beauty Revealed Rose Oil has a potent age-defying formula that reduces fine lines and wrinkles and leaves your skin looking young and radiant. It is made with organic sweet almond, coconut, rosehip, argan, jojoba, jasmine, primrose, absolute grandiflorum, ho wood, bitter almond, and rose geranium oils. These natural ingredients are cold-pressed and blended in their purest and unrefined forms.
From even toning the skin to removing scars, this oil does it all. It promotes skin renewal to rejuvenate dull and dehydrated skin. Rose oil is also effective in relieving skin irritation, eczema, and psoriasis. It controls oil production and shrinks open pores on your skin. This oil is also rich in minerals, antioxidants, and vitamins that moisturize to skin and reveal a youthful glow.
This Voila Ve product acts as a holy grail for those with hyperpigmentation, stretch marks, cellulite, and scars caused by acne, chickenpox, or boils. Finally, rose oil has a soothing fragrance that is ideal for aromatherapy. Its sedative effects help you stay calm and relaxed throughout the day.
Key Ingredients: Organic Sweet Almond oil, Coconut oil, Rosehip oil, Argan oil, Jojoba oil, Jasmine oil, Primrose oil, Absolute Grandiflorum oil, Ho Wood oil, Bitter Almond oil, and Rose Geranium oil
Pros
Unrefined organic oils
Pleasant fragrance
Lightweight
Non-sticky
Cons
None
Price at the time of publication: $14.99
Pros
Anti-aging
Nourishing on the skin
Enriched with 20 high-performance botanicals
96% organic farm ingredients
Non-toxic
Synthetic-free
Cons
Price at the time of publication: $120.0
Pros
Pure almond oil
Lightweight
Pleasant fragrance
Fragrance-free
Additive-free
Cons
None
Price at the time of publication: $9.95
These 11 best body oils for anti-aging are formulated with natural ingredients that address various skin concerns. Here's a buying guide that will help you choose the most suitable oil for your skin.
How To Select The Best Body Oil For Anti-Aging
No matter the skin care product you are buying, the first thing you should look for is the ingredients list. Avoid body oils that feature synthetic components like paraffin, paraben, phthalate, or sulfate. Instead, go for the body oils made with natural and cold-pressed natural moisturizers like almond, argan, apricot, or rose. They do not irritate the skin and are suitable for normal to sensitive skin types or for skin conditions like rosacea. If you choose an essential oil, avoid using it regularly as lavender and citrus oils may react to light exposure and breakout the skin.
Ensure that the body oil is lightweight and absorbs quickly into the skin. Our detailed lists of pros and cons and the reviews available online will help you ensure that your body oil has these qualities. They do not make your skin feel greasy or leave any residue after application.
Body oils are often infused with ingredients that add a pleasing aroma to the formula. Natural ingredients like sandalwood, citrus, or rose are ideal for aromatherapy as they uplift the senses instantly. Body oils with lavender fragrances are ideal for night applications as they relieve stress and help you sleep. However, fragrance can be overwhelming for some and should be avoided. Artificial fragrances can also cause allergies. Therefore, if you are sensitive to scents, pick a body oil with mild or subtle natural fragrances.
The Bottom Line
With age, our skin becomes vulnerable and therefore, requires special care. Regular beauty products may not be effective enough to prevent aging signs. The above anti-aging body oils are lightweight, non-greasy, and made with pure botanical ingredients. The Bio-Oil Skincare Oil stands out for its versatile formula that aids in reducing the appearance of scars, stretch marks, and uneven skin tone. For a beloved classic, Palmer's Cocoa Butter Formula Skin Therapy Oil combines the goodness of cocoa butter with targeted ingredients for skin rejuvenation. Meanwhile, the Leven Rose Emu Oil 100% Pure Natural Scar Minimizer relieves aches and joint pains and promotes healing. These oils keep your skin moisturized and remove blemishes, scars, and aging signs. However, some of these oils have an overpowering fragrance or a greasy formulation. Our detailed product reviews will help you find suitable products for your skin.
Why Trust StyleCraze?
The author, Shiboli Chakraborti, is a certified skin care coach and loves writing comprehensive beauty content for her readers. She has spend hours reading product specifications and user feedback on trusted e-commerce sites to curate this list of the best anti-aging body oils available on the market. Her recommended products are made with natural ingredients, have lightweight and non-greasy formulas, and are mostly toxin-free.
Frequently Asked Questions
Do body oils prevent aging?
Yes, body oils can prevent skin aging. As the skin ages, it starts to lose the necessary moisture content and becomes dull and dehydrated. Body oils, formulated with natural ingredients can restore the lost hydration and keep you skin healthy and nourished.
Which oil has the most collagen?
Avocado oil is a natural antioxidant that boosts collagen synthesis and enhances skin elasticity. The Health Priority Natural Products Vitamin E Enhance contains avocado oil and boosts collagen production.
What vitamin oil is good for wrinkles?
Vitamin E oil is good for treating wrinkles and fine lines. The Bio-Oil Skin Care contains vitamin E that helps prevent wrinkles and moisturizes dull, damaged skin.
Which oil is the best for face glow?
You can opt for the Ancient Greek Remedy Nature's Moisturizer Oil with jojoba oil for healthy, glowing skin.
Does jojoba oil increase collagen?
Yes, jojoba oil exhibits antioxidant properties that help enhance collagen production and improve skin elasticity.
Is rosehip oil anti-aging?
Yes. Rosehip oil contains vitamin A and is a good anti-aging ingredient for your skin.
Is coconut oil good for anti-aging?
Yes, coconut oil helps boost your skin appearance by making you look younger. Coconut oil helps to stimulate the production of collagen in your body making it a good anti-aging remedy.
Which is better for the skin: coconut oil or olive oil?
Both olive oil and coconut oil are good for your skin. However, the better moisturizing effect of coconut oil cannot replace the nutrient quantity of olive oil and vice versa.
Does jojoba oil help crepey skin?
Yes, jojoba oil combats free radical damage that causes collagen breakdown and crepey skin.