The 15 Best Body Oils That Soften And Moisturize Dry Skin In 2023
Packed with the goodness of skin essentials for healthy and glowing skin.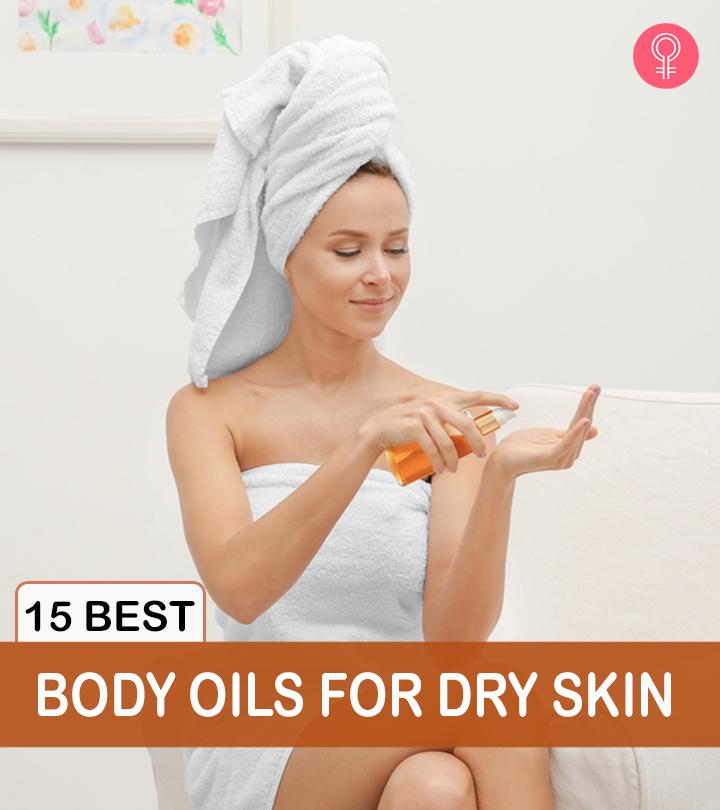 If body oil is not a part of your regular skincare routine, you should start using one immediately. The best body oil gives your skin the kind of moisturization and nourishment that moisturizers can't. It is helpful for those who have redness, itching, and flaky skin and give them a healthy glow. Though dry skin is seasonal for some of you, many deal with dry skin concerns throughout the year. Besides using a good moisturizer, start using body oil. Read further to check out our round-up of the 15 highest-rated body oils.
15 Best Body Oils For Soft And Smooth Skin – 2023
This is a lightweight body oil that gets absorbed quickly. The sesame oil formula provides deep nourishment to dry and dehydrated skin and replenishes essential moisture without making your skin feel heavy. It imparts a sheer glow to your skin, and the soothing and subtle fragrance refreshes your senses. Multiple reviewers have also recommended this product after noticing visible results.  If you have oily skin and are looking for a lightweight formula, you can try this oil. This video of a tester's experience will give you a better insight into the product.
Dr. Schwarzburg, a leading authority in the field of minimally invasive cosmetic and laser medicine, says, "If you have oily skin, don't be afraid to moisturize. Just try to avoid oily moisturizers and stick to something light."
Pros
Dermatologist tested
Replenishing formula
Non-greasy
Non-sticky
Lightweight
Radiance-boosting
Quickly absorbed
Cons
Price at the time of publication: $14.99
The Lemon & Vitamin E Body Oil by Burt's Bees has a refreshing citrus scent. It is infused with sweet almond oil, vitamin E, and lemon oil that revitalize your skin and awaken your senses. Its intensely nourishing formula is made with 100% natural oils and helps to condition your skin and keep it soft and smooth. You can apply the oil directly to damp skin or add two capfuls of it to warm bath water and soak in it.
Note: If you are allergic to nuts, avoid this oil.
Pros
Paraben-free
Phthalate-free
Petrolatum-free
SLS-free
100% natural oils
Refreshing citrus fragrance
Cons
None

If you prefer organic products over commercial ones, check out this organic body oil by The Honest Co. It is formulated with more than 95% organic oils and is a blend of tamanu, jojoba, olive, avocado, and sunflower oils. This oil is extremely gentle and is suitable for sensitive skin and can be used on infants too. It also deeply conditions the skin and can be used every day. The blend of natural oils in this product helps maintain your skin's natural moisture balance and keeps it hydrated and soft.
Pros
Certified organic (USDA certified)
Lightweight
Naturally derived ingredients
Mineral oil-free
Paraben-free
No synthetic fragrances
Dye-free
Silicone-free
PEG-free
Hypoallergenic
Suitable for adults and infants
Cons
Price at the time of publication: $10.99
The Shea Moisture 100% Virgin Coconut Oil is a skin therapy oil that provides everyday hydration to your skin. It is lightweight and gets absorbed fast, without causing stickiness or greasiness on your skin and has garnered positive reviews online. It contains acacia senegal, virgin coconut oil, coconut milk, and a blend of other oils. It is suitable for all skin types and can be used as a bath or after-shower oil.
Dr. Schwarzburg, a leading authority in the field of minimally invasive cosmetic and laser medicine, says, "If you have sensitive skin, try to stick to unscented products, as many scented products tend to irritate the skin."
Pros
Paraben-free
Phthalate-free
Mineral oil-free
Sulfate-free
Cruelty-free
Petrolatum-free
Quickly absorbed
Lightweight
Suitable for all skin types
Cons
Strong smell
Watery consistency
Price at the time of publication: $9.97
This body oil contains 50% almond oil and a blend of other oils like Muscat rose bush oil, camelina seed oil, and carrot oil. It is rich in omega 3, 6, and 9, and unsaturated fatty acids and essential vitamins. The antioxidants protect your skin from damage and keep it soft and hydrated. This rich but lightweight body oil is ideal for normal to dry skin, receiving numerous positive reviews. Click here to check out a detailed personal review of a tester's experience of using this product.
Pros
Paraben-free
Mineral oil-free
Phthalate-free
Cruelty-free
Fast absorption
Pleasant fragrance
Non-greasy
Ideal for use during pregnancy
Cons
Price at the time of publication: $50.0
This is an ultra-hydrating blend of an assortment of essential oils that rejuvenates your skin and senses. This apricot oil contains a blend of grape seed, sea buckthorn, pomegranate seed, and jojoba oils. It is rich in vitamins A, C, and E that help to soften the skin and preserve its elasticity and suppleness. This skin-softening product also contains a BioComplex with Coenzyme Q10 and Alpha Lipoic acid that improves the appearance of wrinkles.
Pros
Cruelty-free
Paraben-free
Phthalate-free
SLS-free
Propylene glycol-free
Pleasant fragrance
Non-greasy
Cons
Price at the time of publication: $20.8
The Mainstay Blend by Everyday Oil is a unisex skin care oil that is absorbed quickly and imparts a dewy glow. It is a blend of cold-pressed plant oils and can be used on the face and the body. The blend also contains steam-distilled essential oils that hydrate the skin and maintain the natural moisture balance. It contains coconut, argan, castor, jojoba oils, lavender, clary sage, and geranium essential oils. It is suitable for acne-prone and mature skin. Watch this video for a thorough understanding of the reviewer's experience with the product.
Note: This product contains essential oils. If you are allergic to essential oils, avoid this product.
Pros
100% organic ingredients
Paraben-free
Mineral oil-free
Non-greasy
Lightweight
Suitable for acne-prone and mature skin
Cons
None
Price at the time of publication: $16.0
This hydrating body oil contains the precious Jasmine Sambac oil and a blend of other natural botanical oils. It has an intoxicating floral scent and treats skin issues like dryness and dullness. This oil sinks deep into the skin and nourishes it with antioxidants and vitamins. It contains camellia flower oil that increases skin's elasticity and imparts a glow. The toning and tightening properties of grapeseed oil revitalize the skin from within.
Pros
Vegan
Cruelty-free
Paraben-free
Phthalate-free
SLS-free
No artificial preservatives
No artificial fragrances
No artificial colors
No artificial fillers
Cons
Expensive for the quantity
Price at the time of publication: $44.0
This luxury body oil is a blend of carefully selected and nutrient-rich botanical oils. It contains a mix of jasmine, jojoba, sweet almond, apricot kernel oil, evening primrose oil, Arnica Montana flower extract, and Argania Spinosa kernel oils. It has a golden hue and a sweet jasmine fragrance. If you have stubborn dry patches, applying this oil can keep your skin moisturized and soft. It contains essential fatty acids to rejuvenate your skin and keep it glowing.
Pros
Cruelty-free
Contains organic ingredients
Provides intensive moisturization
Chemical-free
Cons
Price at the time of publication: $39.75
This revitalizing body oil is packed with vitamins and antioxidants that address skin issues like dryness, wrinkles, fine lines, and dullness. It is made with a combination of selected ingredients that meet high-quality standards like camellia oil, evening primrose oil, and various essential nutrients. It claims to improve the skin texture by revitalizing it. It is free of toxic chemicals and synthetic fillers.
Pros
No synthetic chemicals
Dye-free
Paraben-free
No harmful chemicals
GMO-free
Sulfate-free
No fillers
Quickly absorbed
Cons
None
Price at the time of publication: $120.0
This antioxidant-rich oil gets absorbed into your skin easily and provides lasting hydration. It makes your skin smooth and silky. The best part is that you can also use this oil to nourish your face and hair. This product combines plant-based oils (camelina oil, safflower oil, and shea butter) and thermal spring water to protect the skin barrier. You can also spray it on the dry ends of your hair to keep it moisturized.
Pros
Non-sticky
Non-greasy
No harmful chemicals
Non-irritating
Non-comedogenic
Paraben-free
Hypoallergenic
Cons
None
Price at the time of publication: $26.0
This dry body oil is incredibly lightweight and has a rich and nourishing formula. It contains grape seed oil and squalane – a botanical lipid derived from olives. These ingredients get absorbed quickly and help to replenish the natural moisture barrier of your skin. It is rich in vitamin E that nourishes the skin from inside. This oil has a smooth texture and does not leave any residue on the skin. It makes your skin hydrated but dry-to-touch.
Pros
Paraben-free
SLS-free
Non-greasy
Dry-to-touch formula
Lightweight
Quickly absorbed
No residue
Cons
This body oil is meant for therapy and helps minimize aches and pains. It is infused with therapeutic ingredients like Arnica Montana flower extract, rosemary, and ginger. Massaging the body with this oil promotes blood circulation that helps to revive tired and overused muscles. It also has skin nourishing properties and keeps the skin glowing and smooth.
Pros
Paraben-free
Mineral oil-free
Vegan
SLS-free
Nut-free
Cons
None
Price at the time of publication: $69.0
This product contains potent oils cultivated in the Amazon rainforest and is extremely nourishing and effective. Its fast-absorbing, lightweight and deeply hydrating formula is rich in antioxidants and has healing properties. It is a restorative oil and contains omega-3 and omega-9 fatty acids, along with antioxidants, carotenoids, and vitamin C and E that repair, heal, and moisturize your dry skin.
Pros
Paraben-free
SLS-free
No harmful chemicals
Vegan
Non-toxic
Lightweight
Cons
None
Price at the time of publication: $60.0
If you're looking for a body oil for dry skin that repairs scars, stretch marks, and even out uneven skin tone, look no further than Bio-Oil Skincare Body Oil. This unique formula is clinically proven that dermatologists all over recommend to reduce scarring from pregnancy, surgery, and injury. It feels lightweight and doesn't clog your pores. It is enriched with vitamin E and anti-inflammatory essential oils like chamomile and lavender. It is a non-greasy oil that will help you maintain healthy-looking skin while providing you ultimate protection. Many reviewers have seen visible results after continuous use and highly recommend this product. So, get ready for smooth, beautiful skin with Bio-Oil Skincare Oil!
Pros
Lightweight
Non-greasy
Vitamin-rich formula
Non-comedogenic
Suits all skin types
Minimizes scars and blemishes
Dermatologist approved
Clinically proven results
Cons
Price at the time of publication: $13.88
These are our top choices of body oils. Before you pick one, remember that not all skin types are the same. What works for someone may not work for you at all. Here are a few tips to help you select the right body oil for your skin type and concern.
How To Pick A Body Oil For Your Skin Type
If you have dry skin, look for oils rich in omega fatty acids and oleic acids. These oils have a thick consistency and are excellent moisturizers. Look for ingredients like avocado, apricot kernel, hazelnut, olive, and camellia seed oils.
If you have normal skin, do not use oils that are heavy and thick. Jojoba and marula oils work well for normal skin.
If you have oily and acne-prone skin, choose body oils with linoleic acid. Go for oils that have a light consistency and get absorbed quickly. Check for ingredients like evening primrose, safflower, hemp seed, watermelon seed, and grape seed oils.
If you have combination skin, marula oil will work like magic. You can also use any lightweight oil that we suggested for oily and acne-prone skin.
If you have sensitive skin, use oils with omega-6 fatty acids. You can use body oils that contain blackcurrant, borage, and evening primrose oils.
You might be wondering why you need to use body oils when you have rich creams and body lotions? Compared to lotions and creams, body oils are more protective. Check out the other benefits of using a body oil in the following section.
Benefits Of Using A Body Oil
Body oils are formulated to lock in moisture for a long time and keep the skin hydrated. With age, the skin's ability to retain moisture declines. Thus, even after using rich body lotion and cream, your skin might feel dry after a few hours, which is why it is important to find long-lasting products.
Body oils have been used for therapeutic benefits. Massaging the skin with oils improves blood circulation, overall health, and reduces damage caused by free radicals.
Body oils get absorbed easily and help improve the appearance of scars and marks. If your skin is properly hydrated, the scars (including stretch marks) improve if not disappear totally.
Body oils are often scented and help to rejuvenate your senses.
Your skin cannot reap the complete benefits of body oils unless you use them properly. Find out the right way to apply body oil.
How To Use Body Oil
Take a warm shower and exfoliate your skin. Body oils are absorbed well into damp skin.
Rub the oil between your palms and massage generously on your body.
Start with a little bit of oil and build on gradually.
Never apply oil on dry skin as dry skin cannot absorb the oil and moisture. You may use it as a bath oil. Add a tablespoon of oil to your bath water and let your skin soak it up. Also, do not forget to do a patch test if you are using any body oil for the first time. This will help prevent irritation and allergic reactions.
Why Trust Stylecraze?
Shiboli Chakraborti, the author, is a certified skin care coach who loves using her knowledge in this domain to bring you products that keep your skin well-nourished and moisturized. She has gone through hundreds of online user feedback and compiled this list of the foremost body oils for dry skin. These body oils are dermatologically tested, non-greasy, non-sticky and replenish the essential moisture levels of your skin.
Frequently Asked Questions
Is body oil better than body lotions?
Body oil is best for locking moisture, while lotions penetrate the skin better as they are water-based and deliver ingredients to your skin in a better way. If you are looking for hydration and moisturization, oil is better.
When should I apply body oil?
Always apply body oil after a shower and on damp skin.
What is the best body oil to use after a shower?
The Neutrogena Body Oil, a dermatologist-approved body oil, soothes your skin entirely and gives you a non-sticky experience. It is best for post-shower application.
Which body oil is the best for dry skin at night?
Use the L'Occitane Almond Supple Skin Oil for overnight treatment if you have dry skin. It is an antioxidant-rich body oil that helps you restore damaged skin and give it proper hydration overnight.
Do you apply body oil before or after lotion?
Check which one has a thinner consistency and apply it first, followed by the thicker one. You can also mix them together before use.
How long does body oil last on the skin?
Body oils last on your skin for 4-5 hours. You can heat up the oil and massage it deeply to make it last longer on your skin.
Recommended Articles