Nourish Your Skin With The 10 Best Body Oils For Pregnancy
Give your skin some much-needed relaxation and nourishment during pregnancy.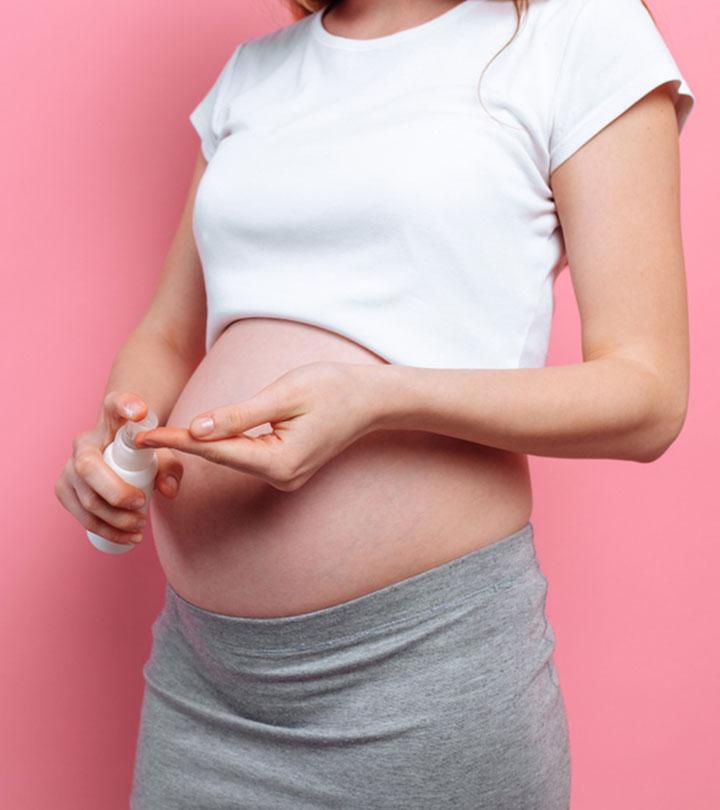 Pregnancy might require you to leave behind some of your go-to and favorite skin care products. But, the good news is that if you have stretchy and itchy skin and your body requires moisturization, you have the best body oils for pregnancy at your disposal. Indulging yourself in a nice body oil massage will relax your body and soothe and moisturize your skin.
Body oils specifically meant for pregnant women are enriched with nourishing ingredients like hyaluronic acid, vitamins A and E, and sunflower seed oil that will help boost skin elasticity, relax your mind and soul with the soothing aroma, and relieve inflamed skin symptoms. In addition, some oils also contain a nourishing blend of essential oils like chamomile and lavender to nourish your skin. Here, we have compiled a list of the 10 best body oils for pregnancy that render smooth and supple skin. Keep scrolling!
Get Radiant, Glowing Skin With The 10 Best Body Oils For Pregnancy
Indulge yourself in the goodness of lavender, rosemary, chamomile, calendula oil, and vitamins E and A to alleviate itching and reduce stretch marks. Vitamin A boosts collagen production and promotes skin renewal, while vitamin E, sunflower oil, chamomile oil, and lavender oil increase skin elasticity to leave you with healthy skin. It also contains purcellin oil to ensure that it gets absorbed quickly in the skin. The formula works naturally to repair scars and smoothen skin tone without clogging pores.
Pros
Non-greasy
Ultra-hydrating
Evens skin tone
Heals acne scars
Fades stretch marks
Suitable for all skin types
Cons
Contains added fragrances
Formulated with argan oil and cocoa butter, this 24-hour moisturizing body fades stretch marks, and repairs damaged skin. The cocoa butter moisturizes skin intensely, and the argan oil conditions and softens the skin. The formula is a superb blend of organic ingredients, including shea butter, coconut oil, olive oil, and vitamin E, hydrates the skin and improves its overall health. It also boosts skin cell rejuvenation to tighten skin, leaving you with a youthful glow.
Pros
Fades scars
Tightens skin
Improves skin elasticity
Fights early signs of aging
Cons
The scent may be overpowering for some.
Enriched with lemon oil, sweet almond oil, lemon oil, and vitamin E, the Burt's Bees Mama Bee Nourishing Body Oil is exactly what you need to pamper yourself. The almond oil treats dry skin while the lemon oil fades acne scars and pigmented skin. Vitamin E is a powerful antioxidant that effectively fights against the harmful UV rays of the sun. This natural body oil revitalizes and conditions the skin, giving you healthier-looking, beautiful skin.
Pros
Lightweight oil
Smoothes skin
Hydrating formula
Made with natural ingredients
No parabens, phthalates, and petroleum
Cons
The formula may not absorb quickly into the skin.
Transform dry and irritated skin into deeply nourished, silky smooth softness with The Honest Company Organic Body Oil. Formulated with tamanu oil, olive oil, jojoba oil, sunflower oil, coconut oil, and avocado oil, this formula supports and protects the skin's natural moisture balance for skin that feels hydrated and moisturized. Not only does it help fade stretch marks, but it also leaves your skin soft and smooth.
Pros
Lightweight
Cruelty-free
Dermatologist tested
Suitable for all skin types
Certified natural ingredients
No parabens, mineral oil, synthetic fragrances or dyes
Cons
May leave behind a sticky residue
Tone your body and nourish it with the goodness of natural cocoa butter with this skin-toning oil. It contains almond oil, coconut, pecan oil, and vitamin E to rejuvenate the skin and hydrate it. The almond oil reduces puffiness, treats acne, and reverses damage caused by the sun. The pecan oil rich in zinc and fiber prevents fine lines, wrinkles, and even discoloration of the skin.
Pros
Natural ingredients
Oil absorbs quickly
Free of harmful chemicals
Free of preservatives, artificial colors, and perfumes
Cons
May not be best suited for senstive skin
This luxurious blend of botanical extracts is great for prenatal massages. Formulated with cocoa butter that deeply moisturizes skin, it also contains grapeseed oil to boost collagen production and improve skin tone. Vitamin E, a powerful antioxidant, retains the skin's moisture barrier and ensures skin is moisturized while preventing stretch marks. This belly oil also offers soothing aromatherapy with lavender oil that relaxes the body and mind.
Pros
Gluten-free
Nourishing formula
Fights damage caused by free radicals
Free of fragrances, phthalates, and parabens
Cons
May not be as hydrating as expected
Free yourself from the itchy belly, breasts, and dry skin with Thena's Mother's Glow Belly & Body Oil. Enriched with the antioxidant-rich formula, it contains vitamin E, which boosts elasticity and hyaluronic acid to hydrate the skin deeply. It is also made with natural plant collagen, which fades stretch marks with regular use. Other natural ingredients include jojoba oil, coconut oil, rosehip seed oil, hyaluronic acid, witch hazel, and arnica extract that brighten the complexion, smoothens the skin, and controls sebum production for younger-looking, radiant skin.
Pros
Vegan
Cruelty-free
Absorbs quickly
Fights signs of aging
Organic and natural ingredients
Does not contain any harmful chemicals or preservatives
Cons
The natural scent may be a bit unpleasant for some.
Made with a harmonious blend of essential oils and vitamin E, this product combats scars and stretch marks by promoting skin cell renewal. Formulated with ylang-ylang oil, sweet almond oil, argan oil, and olive oil, it moisturizes your skin and fosters healthy skin rejuvenation. Vitamin E improves skin elasticity and retains moisture in the skin, ylang-ylang oil smoothes out wrinkles, and lavender oil reduces acne. Sweet almond oil contains omega fatty acids that fight signs of aging, and argan oil hydrates skin.
Pros
Vegan
Gluten-free
Cruelty-free
Tightens skin
Absorbs quickly
Restores skin's shine
Free of parabens, phthalates, and alcohol
Cons
Soothe your belly itch and prevent stretch marks with the Motherlove Pregnant Belly Oil. This herb-infused body oil moisturizes the skin deeply and absorbs quickly into the skin for hydrated, soft skin. The chamomile and lavender essential oils calm and relax you, making it an excellent oil for prenatal and postnatal massages. The rosehip exfoliates and brightens the skin, marshmallow root extracts hydrate the skin, and calendula flowers protect your skin from external aggressors.
Pros
Vegan
Non-GMO
Cruelty-free
Made with organic herbs
No parabens, phthalates, petroleum, and synthetic fillers
Cons
May not be best suited for oily skin
Oil pressed from the seeds of sweet almond trees, this product is deeply nourishing and moisturizing. Rich in vitamin E, it supports the skin's barrier to retain moisture and fights wrinkles and fine lines. Add a few drops of this oil to your DIY serums or use it as an alternative eye cream for healthy, nourished skin. If you have irritated, dry skin that gets itchy quite often, you can apply this to hydrate skin and alleviate itching. Regular use of this oil will leave you with smooth, glowing, and velvety soft skin you've always wanted.
Pros
Non-greasy
Unscented
Absorbs fast
Does not clog pores
Ideal for sensitive skin
Cons
The consistency of the oil may feel thick/heavy.
Now that you are caught up on the best body oils for pregnancy, here's a look at how to pick one that will suit you best.
How To Choose Best Body Oil For Pregnancy?

Here are a few things you can keep in mind while purchasing a body oil for pregnancy.
Going all natural with organically sourced ingredients and authentic formulas, is the best way to pick out body oil during pregnancy. Jojoba oil, sweet almond oil, cocoa butter, marshmallow root extracts, and essentials oils such as lavender and chamomile are some of the most nourishing ingredients you'll find in a formula.
During pregnancy, other than following doctor's recommendations, it is also significant to stay off any skin care or beauty product that is laced with parabens, phthalates and other harsh chemicals. You can pick from a range of toxin-free products in body oils, including Burt's Bees Mama Bee Nourishing Body Oil, and Belli Elasticity Belly Oil.
During pregnancy it is good to use body oils that offer ultra-moisturization. This will improve elasticity and prevent formation of stretch marks. Products that are enriched with gotu kola and vitamin E are deeply moisturizing, you can pick between Belli Elasticity Belly Oil, Thena's Mother's Glow Belly & Body Oil, and Provence Beauty Body Oil.
Pregnancy is a magical period in every woman's life, and you and your growing body need nothing but the best. Even if you think you have hydrated and moisturized skin, it is always a good idea to go that extra mile and massage your body during pregnancy to prevent scarring and stretch marks. These oils will also help soothe headaches and anxiety while promoting relaxation. Enriched with botanical extracts, essential oils, and vitamins body oils, these products can truly bring a sense of calm to your skin and body. Finding a body oil for you can be tough with the many options available in the market. Use our curated list of 10 best body oils for pregnancy as a starting guide to get the best body oil for your skin.
Why Trust Stylecraze
The author of this article, Kirtana Divakar, is a skin care enthusiast who loves trying out different beauty products. She read online reviews of numerous products before curating this list of the best body oils for pregnancy. The shortlisted products help boost skin elasticity and relieve inflamed skin. These pregnancy body oils are non-greasy, suitable for all skin type, help fade stretch marks, and heal acne scars.
Frequently Asked Questions
Can you use body oil when pregnant?
Yes. In fact, it is advisable to moisturize as much as you can during pregnancy, especially as your belly stretches. Hence, a good massage with body oil when pregnant is always a good idea.
Why are essential oils bad for pregnancy?
Some studies indicate that clove oil, cinnamon oil, rosemary oil, and sage oil can cause uterine contraction; hence it is better to stay off these oils. However, not all essential oils are bad for pregnancy. It is best to consult your doctor before using one.
Is coconut oil good in pregnancy?
Coconut oil, with its antibacterial and antifungal properties, is excellent for pregnant women to help prevent cold, flu, and other viral infections.
Is it safe to use eucalyptus oil while pregnant?
Eucalyptus oil may cause an allergic reaction, respiratory problems, and itching in pregnant women; hence it is better to check your doctor before using one.
Which oil is good for body massage during pregnancy?
The Bio-Oil Skincare Oil, the Palmer's Cocoa Butter Formula Skin Therapy Oil, and the Burt's Bees Mama Bee Nourishing Body Oil are moisturizing, non-greasy products suitable for body massage during pregnancy.
Is coconut oil safe for pregnancy?
Yes, coconut oil is pregnancy-safe and exhibits moisturizing properties. However, stick to virgin coconut oil to avoid exposure to processed chemicals.
Recommended Articles
Best Selling Body Oils With All-Natural Ingredients
Best Pregnancy Skin Care Products
Best Body Oils With Anti-Aging Benefits For Women
Best Body Oils For Super Soft Skin