9 Best Body Peel Treatments For Softer Skin In 2023
Get soft, supple, and squeaky clean skin using these refreshing body peel treatments.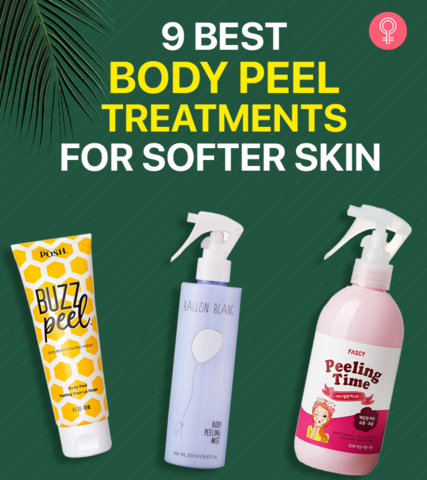 Skin is the most vulnerable part of your body as it remains exposed to dirt, pollution, and pore-clogging impurities. Therefore, the best body peel treatments are necessary to ensure thorough exfoliation. They help you get rid of the dead skin cells and improve the texture of your skin. Want to know about the best-rated body peels available on the market? You have landed on the right page. Swipe up to explore our list and grab your favorite!
Why Use Body Peeling Products?
Body peeling products contain exfoliating acids, enzymes, and ingredients that can:
Improve the skin tone and texture by removing dead skin cells.
Stimulate collagen production and cell regeneration for a youthful appearance.
Reduce skin discoloration and hyperpigmentation and improve clarity.
Promote better absorption of skin care products.
Clear breakouts and fades any scars on the skin.
Let us check out our curated list of body peels for a healthy skincare routine.
9 Best Body Peeling Treatments For Softer Skin
The Elemis Papaya Enzyme Peel has a cream-based formula and contains mild papaya enzyme and pineapple extract that gently regenerate your skin for a smooth texture. It is enriched with bladderwrack and sunflower extracts that condition your tired skin to improve its luster. The product also contains porphyridium (red algae), and vitamin E to protect your skin from free radical damage, leaving it soft and radiant. You may check more about this product in this video.
Skin Type: All
Key ingredients: Papaya
Pros
Artificial color-free
Paraben-free
SLS-free
SLES-free
DEA-free
Mineral oil-free
Cons
None
Price at the time of publication: $11.95
The O.R.G Skincare Mineral Peel Body contains patented SP-powder mineral and organic enzymes to promote cell renewal and eliminate dead skin debris. This natural exfoliant is formulated with moisturizing nutrients like jojoba oil, mugwort extract, and grapefruit seed that leave your skin soft and silky. The gentle exfoliator clears all the impurities from your skin without causing any irritation.
Skin Type: Sensitive
Key ingredients: Jojoba oil, Grapefruit seed, and Mugwort extract
Pros
Gentle
Paraben-free
Sulfate-free
Alcohol-free
Cons
Price at the time of publication: $33.35
Dr Dennis Gross alpha beta exfoliating body treatment is packed with natural enzymes to reduces blemishes, bumps, and rough patches for younger-looking and brighter skin. It contains alpha beta acids and bakuchiol that lift away the outer layer of dead skin., deliver long-lasting hydration, and diminish the appearance of ingrown hair. The formula also has antioxidant-rich squalene combined with soothing aloe to strengthen the skin's moisture barrier and give firmer, healthy-looking skin.
Skin Type: Dry
Key ingredients: Alpha Beta Acids, Enzymes, Bakuchiol, Squalene, and Aloe
Pros
Clinically proven
Anti-aging
Soothing
Cons
None
Price at the time of publication: $16
The Proactiv Clear Zone Body Pads can be used on hard-to-reach parts of your body to remove excess oil and eliminate impurities without over-drying your skin. The formula contains salicylic acid that promotes the shedding of dead skin cells, clears up acne blemishes, and prevents new ones from forming. Glycolic acid in the formula exfoliates and brightens the skin. It also contains allantoin to keep your skin moisturized and hydrated. Green tea, witch hazel, and moisturizing botanicals in the formula soothe and refine your skin. This box contains 75 counts of dual-textured pads. Check out this video to learn more.
Skin Type: Acne-prone
Key ingredients: Glycolic Acid, Salicylic Acid, Green Tea, and Witch Hazel
Pros
Anti-acne
Soothing
Value for money
Cons
Dr.G Brightening Peeling Gel gives soothing care to your skin without causing irritation. This skin brightening formula is available in a pack of 2 for long-lasting use. It is enriched with natural cellulose that has a deep moisturizing effect. It contains vitamin C and E combined with black willow for skin clearing effects, leaving a radiant look. It also contains moisturizing ingredients like honey, trehalose, and hollyhock to provide low stimulated natural peeling effect for smooth skin. Watch this video for more information about the product.
Skin Type: All
Key ingredients: Hollyhock, Black Willow, Trehalose, Honey extract, Vitamins C, and E
Pros
Gentle
Non-irritating
Value for money
Cons
None
Price at the time of publication: $21.48
Ballon Blanc Body peeling mist helps to remove dead skin layers. Just a simple spray enhances the absorption of skincare products and removes pore-clogging impurities from your skin. It is enriched with botanical ingredients like green tea, tea tree, and olives to reduces acne and breakouts, keeping your skin silky soft. It also contains aloe and Hinoki cypress to protect your skin with a soothing effect. Exfoliate daily with this mist to improve your skin texture.
Skin Type: All
Key ingredients: Olive, Hinoki cypress, Green tea, Tea tree, and Aloe vera.
Pros
Gentle
All-natural ingredients
Easy to use
Cons
Price at the time of publication: $11.95
The Perfectly Posh Buzz Peel Skin Resurfacing Honey Body Peel contains fermented honey rich in gluconic acid that promotes skin renewal. This formula also has pomegranate enzymes and AHAs to peel off the dead skin cells, revealing a smooth and improved texture and healthy-looking skin. This peel contains humectants that draw moisture into the skin to condition, soothe, and soften it.
Key Ingredient: Honey and Pomegranate extracts
Pros
Gentle
Pleasant fragrance
Affordable
Cons
None
Price at the time of publication: $29.99
The Fascy Peeling Time is a3-in-1 mist that exfoliates, moisturizes, and protects the skin. It is made from all-natural ingredients such as peach, and papaya extracts that brighten the skin tone. It also has green tea extract that soothes the skin and mung bean extract that fight against free radicals and has a calming, anti-inflammatory effect on sensitive skin. This peeling mist provides mild exfoliation and should be used only on dry skin.
Key Ingredients: Peach, Green tea, and Papaya extracts
Pros
Easy to use
Pleasant scent
All-natural ingredients
Cons
Price at the time of publication: $17.79
The Cellbone Body Peel Rejuvenating Moisturizer Serum contains 15% AHA (glycolic acid) and dimethylethanolamine (DMAE) in a high potency hyaluronic acid solution. It exfoliates the skin to stimulate cell regeneration and improve skin clarity without causing any irritation or redness. The peeling serum contains menthol and cucumber flower extracts to soothe your skin and provide a cooling effect. It improves skin firmness, elasticity, and hydration levels to maintain a healthy appearance.
 Key Ingredients: Glycolic acid
Pros
Affordable
Cruelty-free (Leaping bunny certified)
Cons
None
Price at the time of publication: $41.95
The greatest concern about chemical peels are over the discomfort it may cause. Read the next section to resolve your doubts.
Does Body Peeling Hurt?
Usually, at-home chemical peels are not as strong as medical-grade chemical peels. However, if you are using at-home body peels for the first time, you may experience tingling and burning sensation. To avoid this, use a body peel with the lowest concentration of A HAs or use an enzyme peel. To ease the initial discomfort, use cool compresses. Also, if you step outside after using a body peel, use sunscreen as body peeling can make your skin vulnerable to sun damage.
Why Trust Stylecraze
Shiboli Chakraborti, the author of this article, is a certified skin care coach. Her deep understanding of skin's needs and detailed research enables her to bring the best products to her readers. This list of the best body peel treatments for soft skin was put together after thoroughly exploring and reading user feedback and reviews. These peel treatments give one a thorough exfoliation and improve overall skin texture.
Frequently Asked Questions
Which chemical peel is the best for your body?
The Elemis Papaya Enzyme Peel is the best for your body. It deeply exfoliates the skin without creating bumps or marks on it.
Can I do a chemical peel on my body?
Yes, of course! You can try chemical peels on your body. It improves your skin texture and elasticity, removes body acne, and evens out the skin tone.
Does chemical peel smoothen the skin?
Yes, a chemical peel makes your skin noticeably smoother. Your skin's texture improves with repeated use of chemical peels.
Do chemical peels increase collagen production?
Yes, chemical peels increase collagen production in your skin. They also cater to the even distribution of melanin, giving you even-toned skin.
Can you see results after one body peel treatment?
Yes, you can witness results after a single body peel treatment. The treatment smooths your skin, improves skin tone, and reduces acne.
Recommended Articles