10 Best Body Polishers Available In India – 2023
Get buttery-smooth, rejuvenated skin with these highly efficient skin care products.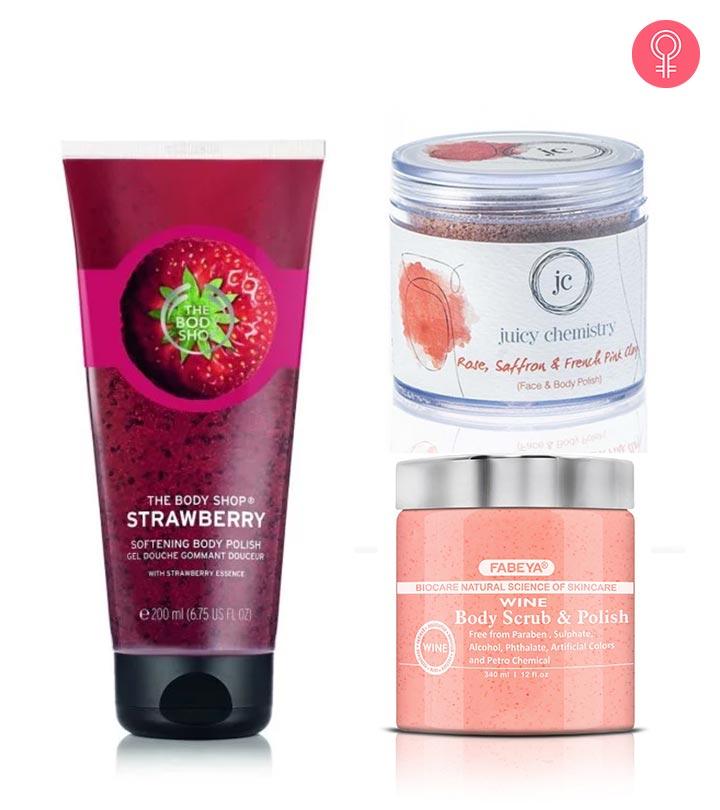 A body polish is an ideal way to pamper yourself. This body treatment not only exfoliates but also hydrates your skin to make it soft and smooth. Think about it as a facial – but for your body. Don't worry, you don't have to splurge at a spa for this. Body polishers can be used within the comfort of your home, and anytime you're in the mood for an instant pick-me-up. Check out below the 10 best body polishers that you must try this year. The smooth and glowing skin you've always desired is just a click away! Read on.
Top 10 Body Polishers Of 2023
Product Claims
Fabeya BioCare Natural Arabica Coffee Body Scrub and Polish claims to remove dead skin and wrinkles from your face and body and make you feel fresh and bright. The coffee extracts give you a glowing face and lightened skin tone. This body polish helps exfoliate dead skin cells and cellulite, which, in turn, prevents the appearance of premature wrinkles and other signs of aging.
Pros
Suitable for all skin types
Herbal formula
Provides intense nourishment
Paraben-free
Sulfate-free
No artificial coloring
Affordable
Pleasant fragrance
Travel-friendly packaging
Cruelty-free
Cons
None
Product Claims
Fabeya Wine Body Scrub And Polish is enriched with the antioxidant properties of wine, which help in flushing the toxins out of the skin. The natural ingredients in this body polisher cleanse, nourish, and moisturize your skin to make it soft, fresh, and radiant. It detoxifies and rejuvenates your skin all over. Regular use makes your skin feel lightly scented, smooth, and moisturized.
Pros
Suitable for all skin types
No greasy residue
No artificial coloring
Paraben-free
SLS-free
Cruelty-free
Affordable
Pleasant fragrance
Travel-friendly packaging
Cons
May irritate sensitive skin
Product Claims
MCaffeine Naked & Raw Coffee Body Scrub is made using the goodness of coffee and coconut. Coffee polishes your skin, stimulates blood flow, and reduces cellulite. The caffeine in coffee evenly tones the skin and reduces puffiness. Coconut deep cleanses, hydrates, and reduces stretch marks to nourish your skin deeply. The exfoliating body polisher scrubs away all the dead skin cells, blackheads, impurities, pollution, and unwanted tan.
Pros
Suitable for normal to oily skin
No greasy residue
Clinically-tested
SLS-free
Paraben-free
Cruelty-free
Pleasant fragrance
Affordable
Cons
Not suitable for sensitive skin
Price at the time of publication: ₹14.99
Product Claims
Biotique Bio Walnut Purifying & Polishing Scrub contains walnut oil, which is rich in Vitamin A and Lecithin. Extracts of neem, mint, fenugreek, and red sandalwood replenish your skin and fade fine lines and other signs of early aging. The exfoliating granules in the body polisher help to slough off dead skin. Regular massage also boosts the blood flow to your skin's surface and drains your lymph nodes.
Pros
Suitable for normal to dry skin types
No synthetic fragrance
No artificial preservatives
No harmful chemicals
Dermatologically tested
Biodegradable
Cruelty-free
Affordable
Cons
May not suit oily skin
May cause breakouts
5. Auravedic Pure Lightening Skin Polish
Product Claims
Auravedic Pure Lightening Skin Polish scrubs away UV damaged cells with deep yet gentle exfoliation to reveal clear skin. It evens out your skin tone and makes it smooth and glowing. It contains saffron, turmeric, and sandalwood, which lighten dark spots and diminish pigmentation marks, while jojoba beads gently buff away dull, tanned, and dead skin.
Pros
No harmful chemicals
Non-drying
Paraben-free
Cruelty-free
Affordable
Travel-friendly packaging
Pleasant fragrance
Cons
Not effective on blackheads
May cause breakouts
Product Claims
The BodyHerbals Radiance Orange Honey Fine Body Polisher combines the goodness of natural essential oils and pure herbs to cleanse your body like nothing else. It exfoliates your skin using fine, minute crystals that keep it smooth for the longest time. The fresh orange and honey fragrance in the formula adds to the natural aroma of herbs. Orange extracts nourish your skin with vitamin C and lighten your skin tone.
Pros
Suitable for all skin types
Lathers easily
No slippery residue
Pleasant fragrance
Non-greasy
Travel-friendly packaging
Cons
May dry out your skin
Unhygienic jar packaging
Product Claims
The Body Shop Strawberry Body Polish smoothes and softens your skin by gently buffing away dead skin cells. Regular use makes your skin feel silky-soft and nourished with long-lasting moisture. This body polish is made from cold-pressed strawberry seed oil and honey. Strawberries are rich in vitamin C and antioxidant compounds that help to protect and nourish the skin. It also contains salicylic acid, which has good pore-cleansing properties.
Pros
Suitable for all skin types
Pleasant fragrance
No slippery residue
Provides mild exfoliation
Travel-friendly packaging
Cons
Expensive
Contains SLES
May cause breakouts
Product Claims
Vedantika Herbals Ayurvedic Skin Polishing Scrub is formulated with potent herbs, nuts, and pulses for a perfectly rejuvenating experience. It contains the natural goodness of ashwagandha and sweet almonds that have antibacterial and antifungal properties. It cleans clogged pores and prevents recurrence of acne and bacteria. The scrub gently exfoliates the skin of dirt, debris, germs, and dead cells, leaving behind bright and soft skin.
Pros
Suitable for all skin types
No harmful chemicals
No artificial preservatives
Travel-friendly packaging
Pleasant fragrance
Cons
May dry out your skin
May cause breakouts
Not effective on blackheads
Not available as a ready-to-use product
Product Claims
Bryan & Candy New York Green Tea Body Polish contains microcrystalline cellulose that can be used to exfoliate dead skin cells from the body gently. These microbeads unclog the pores and remove tan. It contains aloe vera and marigold extracts that keep your skin hydrated and healthy. The green tea leaf extract provides a strong antioxidant effect that protects the skin from the damaging effects of free radicals.
Pros
Suitable for all skin types
Paraben-free
Sulfate-free
SLS-free
Cons
May not exfoliate effectively
Bulky packaging
May irritate sensitive skin
Strong fragrance
Product Claims
Juicy Chemistry Rose Saffron & French Pink Clay Face & Body Polish has powerful anti-aging properties that help restore and enhance your complexion. The gorgeous-smelling rose and rich Kashmiri saffron leave your skin smooth and deeply nourished. Rose, a potent ingredient for skin rejuvenation, gently soothes sensitive, damaged skin. The exquisite Kashmiri saffron acts as a beautiful skin-brightener and a natural toner.
Pros
Suitable for all skin types
No artificial preservatives
Travel-friendly packaging
Cons
Expensive
Harsh scrub for delicate skin
May dry out your skin
May cause breakouts
Strong fragrance
These best body polishers will help you get smooth and even-toned skin. Given below are some essential points to consider when buying a body polisher. Check them out!
How To Choose The Perfect Body Polisher
Body scrubs or polishers come in three different types, i.e., sugar body polishers, salt body polishers, and herbal body polishers. You can choose the one that fits your requirements. Sugar body polishers are suitable for those who prefer mild scrubbing. In contrast, salt polishers are rejuvenating and thoroughly remove toxins and waste from the skin. Herbal body polishers are infused with natural fragrances, such as peppermint, rose, jasmine, etc., to offer a relaxing experience.
Skin type is essential to consider when picking a body polisher as different types of body polishers work on different skin types. If your skin is dry or dehydrated, opt for a moisturizing body polisher that will nourish your skin. Likewise, if you have oily skin, opt for a body polisher that will help in oil balancing.
Additionally, body polishers can also be purchased based on your skin's personal needs, such as to reduce cellulite or puffy skin.
The quality of any body polisher depends on its ingredients. Natural or organic body scrubs are considered the best as they use all-natural and pure ingredients that effectively repair the skin. But if you opt for a regular, non-organic body polisher, scan the ingredients list along with the quality of standards it maintains. If the product is dermatologically approved, it means it is of good quality and safe to use. Additionally, consider checking the user reviews as they provide all the information about the effectiveness, quality, pros, and cons of the product.
The cost of a body polisher can vary depending on the brand. You can easily get a decent body polisher within your budget. However, it is recommended not to invest in any cheap brand as they compromise on the quality of the ingredients. Opting for a natural body polisher is an excellent choice as they are safe to use and prevent allergic reactions or skin sensitivity. However, they might cost a little more.
These are the best body polishers that you can use to get the soft, clean, and nourished skin of your dreams. Which of these will you pick to pamper yourself? Let us know in the comments below.

Recommended Articles
The following two tabs change content below.