10 Best Body Polishers Available In India – (Updated 2019)
Body polishing is the technique of removing dead cells and dirt from the upper layer of the epidermis to reveal healthy and beautiful skin. By the use of body polishers, the skin is gently exfoliated in order to get a smooth and glowing skin.
Top 10 Body Polishers Available in the Indian Market
1.  Body Shop Strawberry Body Polisher:
This is one of the best body polishers available in the Indian market. It contains real strawberry extracts and has a sweet strawberry fragrance. It gently exfoliates the skin and buffs off the dead cells to reveal healthy and smooth skin. Apply on damp skin and scrub gently in circular motions, then rinse off.


2.  Body Shop Satsuma Body Polisher:
This body polisher is yet another fabulous body polisher from the Body Shop range. It has an amazing zesty citrus smell which lingers for a long time. This product contains Satsuma fruit extracts, honey and walnut particles which exfoliate and moisturize the skin. This gel based foaming body polish is ideal for all skin types.


3.  Vedantika Herbals Skin Polishing Scrub:
This is an herbal skin and body polisher which contains natural extracts, herbs, nuts and pulses. They are combined to re-oxygenate and nourish the skin. It improves the circulation of blood, and improves the skin tone. It exfoliates the skin well without stripping away the natural moisture content. This scrub is ideal for dry skin.


[ Read: Body Lotion for Dry Skin ]
4.  Tvam Almond and Honey Body Polisher:
With the real extracts of almond, honey, rose water and aloe vera, this body polisher gently exfoliates, removes dead cells and cleanses the skin. This body polisher scrubs away the dead layers to reveal lustrous and smooth skin. The product claims to be handcrafted with purest natural ingredients and does not contain any animal products. It is rich and nourishing with an amazing floral fragrance.


5.  Fabindia Black Sesame and Salt Body Polisher:
Ever heard of a body polisher which contains spices and salt as ingredients? Check out the Fabindia body polisher which contains black sesame, sea salt and therapeutic oils of clove, ginger and pepper. Mix this product with yoghurt or massage oil to form a smooth paste, otherwise the salt and spices can be harsh on the delicate skin. This excellent product exfoliates the skin and has a rejuvenating effect with a cooling sensation. This product may not be effective for oily skin and people with highly sensitive skin should completely stay away from it.
[ Read: Body Skin Care ]
6.  Biotique Walnut Skin Body Polisher:
Biotique is a well known brand for herbal products. This body polisher contains walnut extracts, neem and mint oil. The product is ideal for normal and dry skin. The walnut extracts which is rich in vitamin A, along with red sandalwood powder, mint and neem oil clears the skin and fades tiny lines. It has a creamy texture which gently exfoliates the skin, removes the dead surface cells and provides a bright luminous complexion.


[ Read: Butter for Lips ]
7.  Forest Essential Cane Sugar and Tamarind Body Polisher:
This product gets its exfoliating properties from natural mineral-rich sea salts and raw cane sugar. This magical product gently polishes the skin leaving it smooth and soft. It also contains almond and apricot oil which is ideal for healthy skin. This sugar based scrub might be a bit harsh in the beginning, but after scrubbing for some time, it gently dissolves away to reveal smooth and bright skin.


8.  Lotus Herbals Kiwi and Grapes Polisher:
This rare body polisher is solely meant for sensitive skin. With the extracts of kiwi and grapes, this polisher is extremely smooth on the skin and gently exfoliates the dead cells. Kiwi is rich in vitamins which help in fighting free radical formation and grapes have astringent properties which cleanse and tighten pores. The body polisher has a gel-like consistency and has a natural kiwi fragrance.


9.  Soap and Glory Flake Away Body Polish:
This is a smoothing body polish with shea butter, sweet almond oil, peach seed powder, sea salt and sugar. It is infused with original pink smell typical to the soap and glory products. It provides the right kind of exfoliation and is not harsh on the skin. It is ideal for all skin types.
10.  Body Shop Vanilla Bliss Body Polish:
Another popular body polish from the Body Shop range, it comes with vanilla extract and organic honey. It removes dead skin cells leaving the skin feeling soft, smooth and squeaky clean. This wonderful body polish has a rich vanilla fragrance and is suitable for every skin type. However, this is a limited edition product.
*Subject to Availability
Try these amazing body polishes to reveal beautiful and healthy skin. So which is your favourite Body polisher?

The following two tabs change content below.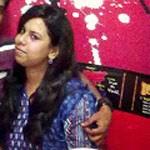 Latest posts by Ankita Biswas (see all)