7 Best Body Scrubs For Dry Skin That Remove Dead Cells & Impart Glow
Moisturize your body while removing dirt from clogged pores for healthier-looking skin.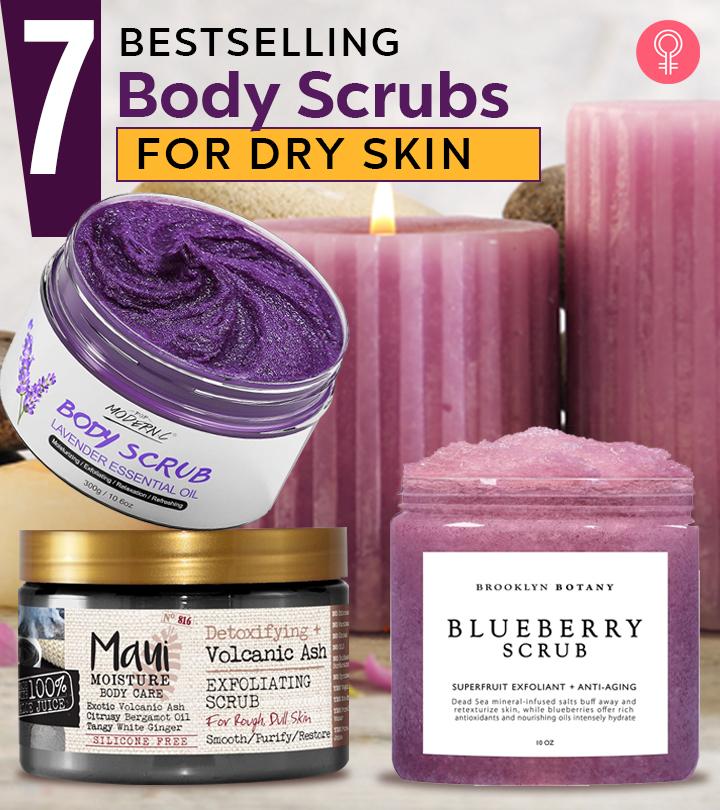 If you are doing it all for your skin: cleansing, moisturizing, etc., but still not getting the desired results and end up having dry skin, it's time you start using the best body scrubs for dry skin. Your skin surely has dead skin cells, sebum, impurities, and dirt in clogged pores that haven't been exfoliated in a while, and hence, the dry, dull skin.
Using body scrubs will make your skin feel clean, nourished, smooth, and supple. However, dry skin is often sensitive, and choosing the right one is very important. Hence, we have listed the 7 best body scrubs for dry skin. Take a look!
7 Best Body Scrubs For Dry Skin
Maui Moisture presents a unique body scrub infused with volcanic ash and blended with aloe vera juice and coconut water. The formula contains white ginger extract and citrusy bergamot oil that exfoliate the skin of impurities and dead cells and hydrate and refresh it. This detoxifying scrub moisturizes and smoothens the skin and gives it a healthy glow.
Key Ingredients: Volcanic ash, Aloe vera, and Coconut water
Pros
Contains natural ingredients
Smells good
Non-irritating
A little goes a long way
Silicone-free
Paraben-free
Sulfate-free
Phthalate-free
Cruelty-free
Cons
Hard to rinse off the bath towel.
Price at the time of publication: $18.17
The Brooklyn Botany Blueberry Body Scrub is an excellent exfoliator for aging skin with spider veins, acne scars, scratch marks, wrinkles, and fine lines. It is infused with Dead Sea salts, rich in minerals, and gently peels off dry skin to reveal a youthful under-layer.
This body scrub for dry skin is packed with powerful phytochemicals and antioxidants that reduce the signs of aging and maintain the skin's natural oil balance. It also helps reduce acne formation. The exotic blueberry not only gives this body cleanser an exquisite fragrance but also contains vitamin C that strengthens the blood vessels below the top layer and evens out the skin tone. This body scrub also contains apricot and grape seed oils that nourish and moisturize the skin, leaving it soft and rejuvenated.
Key Ingredients: Dead Sea salt, Blueberry, Apricot oil, and Grape seed oil
Pros
Amazing scent
Cruelty-free
Contains natural ingredients
A little goes a long way
Cons
Price at the time of publication: $9.98
This hand and body scrub from SheaMoisture is an all-natural formula that makes your skin cleaner, softer, and healthier. It is formulated with natural ingredients like coconut, hibiscus extracts, and shea butter that exfoliate dirt and dry cells from the surface and provide hydration and nourishment to the skin.
Coconut oil, rich in vitamin E, reduces dryness and rebuilds the natural moisture barriers, which replenishes the natural oils of the skin. Hibiscus flower is an emollient that soothes dry, damaged skin. Shea butter enhances all the properties of this luxurious blend and gives you supple, glowing skin.
Key Ingredients: Coconut, Hibiscus, and Shea butter
Pros
All-natural
Amazing smell
Paraben-free
Sulfate-free
Gluten-free
Cons
Price at the time of publication: $0.75
The Pop Modern. C Lavender Body Scrub is a multi-action foaming gel infused with soft exfoliating beads. It gently scrubs away dirt, impurities, and dead skin cells, leaving the skin clarified and refined. This scrub is blended with organic fine sea salt, vitamins C and E, and hyaluronic acid. It has anti-aging properties, improves cellulite, reduces acne scars, spider veins, wrinkles, and stretch marks, and keeps the skin moisturized and soft.
The nourishing formula is infused with lavender oil, which not only has a calming classic fragrance but also helps minimize skin imperfections. The 3-in-1 formula exfoliates, bathes, and moisturizes the skin with its warming jelly-like texture. It is the perfect solution for dry, itchy, scaly, rough, and uneven skin. This body scrub will leave your skin feeling moisturized, clean, and rejuvenated with a smooth, glowing finish.
Key Ingredients: Fine sea salt, Lavender essential oil, Strawberry seed, Vitamin C, Rosemary infusion, and Spearmint oil
Pros
Hypoallergenic
100% natural extracts
Smells good
Gentle
Cons
None

Price at the time of publication: $9.99
This Raspberry Lemon Sugar Scrub from e.ra organics is an exfoliator containing sugar granules and food-grade ingredients. The sugar granules gently buff away dead skin cells and cellulite deposits and deeply cleanse the skin.
The botanical extracts and essential oils like lemon essential oil, rosemary extract, jojoba oil, coconut oil, witch hazel, lecithin, and kaolin clay nourish the skin, unclog pores, and stimulate blood circulation. This body scrub provides deep hydration to the skin and fights the signs of premature aging, like fine lines and wrinkles, and reduces the appearance of varicose veins.
Key Ingredients: Kaolin clay, Jojoba oil, Witch hazel, Coconut oil, Lecithin, Rosemary extract, and Lemon essential oil
Pros
Easy to use
Smells good
Sulfate-free
Paraben-free
Natural
Dye-free
Perfume-free
No harsh chemicals
Cruelty-free
Cons
Price at the time of publication: $14.89
This body scrub from The Body Shop is a gentle cream exfoliator suitable for dry and sensitive skin. The scrub provides a delicate exfoliating action and removes dead skin cells, leaving the skin smooth and soft. It is infused with the goodness of organic almond milk from Spain and community trade honey from Ethiopia that gently exfoliate, nourish, and moisturize the skin to keep it skin supple and free of irritation.
Key ingredients: Organic almond milk and Honey
Pros
Dermatologically tested
Hypoallergenic fragrance
No added colorants
Vegetarian
Cruelty-free
Cons
Price at the time of publication: $35.0
The Brown Sugar Body Scrub from pureSCRUBS contains blended organic brown sugar to gently exfoliate dead skin cells. The unique 4-in-in formula is infused with vitamins, nutrients, and organic oils, and it exfoliates, cleanses, nourishes, and moisturizes the skin.
The oils of argan, sweet almond, and jojoba smoothen the skin, while geranium and carrot seed oils repair skin damage and aging signs. Vitamin E and avocado oil provide healthy nutrition, while shea butter and aloe vera keep the skin moisturized. The enticing vanilla oil has an invigorating scent, which provides the skin with much-needed aromatherapy.
This organic body scrub comes with three added accessories – an eco-friendly wooden spoon to stir and scoop out the formula, a loofah pad with a handle for easy exfoliation, and an organic oatmeal bar soap infused with ground oats, honey, and shea butter.
Key Ingredients: Organic brown sugar, Vitamin E, Argan oil, and Vanilla essential oil
Pros
100% natural
Amazing smell
Comes with 3 accessories
Chemical-free
GMO-free
Alcohol-free
Paraben-free
Sulfate-free
Dye-free
Cruelty-free
Hand-crafted
Cons
Price at the time of publication: $28.95
Your body does need a few-times-a-week deep cleansing to exfoliate dirt, impurities, and dead skin cells. Pick any from our list of the 7 bestselling body scrubs for dry skin and give your skin a purified, clear, and rejuvenated texture.
Vanessa Huerta, a Licensed Esthetician, says, "Most body scrubs will contain some kind of physical exfoliant and may have a chemical or enzymatic exfoliant as well. Massaging your body scrub into the skin for at least 1-2 minutes per area and then letting it sit for at least 30 seconds will allow your skin to receive the physical and chemical exfoliating benefits."
Frequently Asked Questions
Are sugar scrubs good for dry skin?
Sugar has mild abrasion powers to remove dry skin and dead cells. It cleanses and unclogs pores and is a natural humectant. The sugar granules also slowly melt away while exfoliation, making them gentle on the skin. It also helps retain the natural moisture of the skin.
Are salt scrubs good for dry skin?
Yes. Salt scrubs are highly abrasive and effective in removing dead skin cells. They stimulate blood circulation, improve skin texture, and reduce inflammation in dry skin.
How do you make a homemade body scrub for dry skin?
•  Add 1/4th cup sugar, 1/4th cup ground coffee, two tablespoons of virgin olive oil, and three vitamin E capsules to a bowl.
•  Mix all the ingredients until it becomes a paste. Add oil if the mixture is too dry.
Do you scrub before or after body wash?
Use a scrub after cleansing your skin with a body wash. The body wash cleanses the dirt and grime from the upper layer of the skin and prepares it for deep cleansing with a scrub.
How often should you exfoliate dry skin?
Exfoliate your dry skin once or twice weekly to keep the skin clean and nourished.
How long do you leave body scrub on?
Keep the body scrub on for 30 seconds, then wash it off with lukewarm water.
Recommended Articles