15 Best Body Serums For Radiant And Glowing Skin – 2023
A few drops of these skin-loving potions will leave your body looking healthier.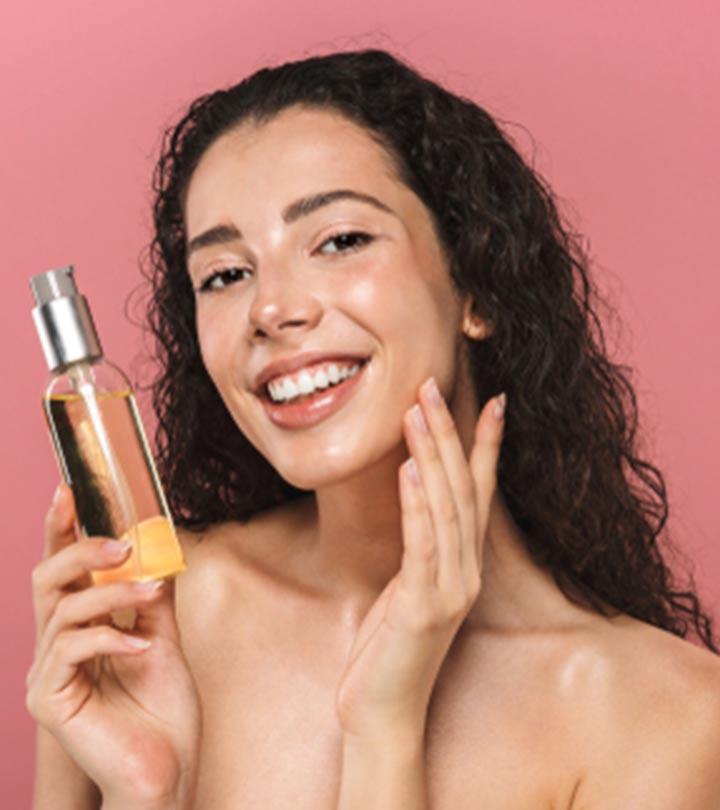 Did you know that serums are not just meant for use on your face, but you can use them on your body as well? Your body requires as much attention as your facial skin, and therefore, you should opt for the best body serums to pamper yourself. Nowadays, an array of body serums are available that helps to tone, nourish, brighten, hydrate, as well as exfoliate your skin. But, you have to remember that you need to choose a serum that works specifically for your skin type and needs. For example, if you are looking for hydration, choose a body serum infused with hyaluronic acid. Opt for one containing vitamin C if you want radiant and glowing skin.
The best part about using body serums is that, unlike lotions and creams, they get quickly absorbed in your skin without leaving any sticky feeling. Body serums not only infuse intense hydration but also eliminate all the dead skin cells, revealing a brighter and healthier complexion. If you are looking forward to using a body serum, quite a few options are available on the market. To make your search easy, we have listed some of the best body serums that will offer the right amount of nourishment to your skin. Keep scrolling!
15 Best Body Serums Worth Adding To Your Skincare Routine
The Eveline Cosmetics Slim Extreme 4D Cosmetic Liposuction Professional Intensely Slimming and Remodeling Serum eliminates persistent cellulite by upto 92% and does it fast, easily, and at home. Amazing, isn't it? This firming body serum inhibits the growth of fatty tissue, lifts, and firms the skin and has been known to reduce thigh circumference by upto 3 cm. Its ingredients energize the skin, improve blood circulation, tighten and firm the skin, and massaging the product onto the skin helps with burning fatty deposits and purifies the skin. Additionally, the treatment boosts production of collagen in the skin, creates a healthy skin barrier, and improves its density and resilience. Based on the technology of thermal cosmetic liposuction and INTENSLIM complex, this body serum is definitely worth a try! 
Pros
Dermatologically-tested
Cruelty-free
Cooling formula
No toxic chemicals
Cons
Some may find its smell unpleasant.
Price at the time of publication: $10.99
If dry skin has been the bane of your life, fret no more. This one-of-a-kind handmade moisturizer is a blend of fresh and nutritive ingredients that do wonders for your skin. This natural body serum contains citrus and geranium rose oils that give a refreshing fragrance that uplifts your mood. Say goodbye to dry, flaky, and crepey skin and welcome luminous, youthful, and even-toned skin that makes you look radiant as this serum improves elasticity, tones, and protects skin from dryness. The natural oils in this serum encourage a faster non-streaky tan. This non-greasy moisturizer is a blend of hazelnut seed oil, walnut, apricot kernel oil, avocado, kukui nut, rice bran oil, peach kernel oil, geranium oil, grapefruit peel oil, lavender oil, and vitamin E. These ingredients hydrate and replenish your skin, remove the dead skin layer leaving it smoother, softer, and supple, and reduce fine lines and wrinkles.
Pros
Vegan
Handmade
Alcohol-free
Chemical-free
Paraben-free
Gluten-free
No mineral oil
No added color
No added fragrance
Suitable for all skin types
Cons
Should not be used on face
Price at the time of publication: $34.99
boscia Firming Body Serum is specially formulated to balance the moisture level of your body, replenish firmness and elasticity. It is infused with a blend of niacinamide, citrus oil, and tetrapeptide that hydrates and protects your skin against dryness. You can use this serum independently or combine it with your favorite moisturizer. Additionally, this serum makes your skin smooth, firmer, and youthful. Here's a personal review video to help you get a better understanding of the product. You can check this video out if you need to know more about the product.
Pros
Cruelty-free
Vegan
Preservative-free
Gluten-free
Color-free
No artificial fragrance
Cons
Might feel greasy to some
Price at the time of publication: $39
This lightening body serum makes a promise to reduce dark spots, blemishes, and an uneven tone on the body. It's a magical blend of kojic acid, arbutin, and fullerene that can be used generously on all parts of the face and body to nourish your skin and ensure an even skin tone. Kojic acid contains a natural skin lightening agent that is extracted from the reishi mushroom. Arbutin helps with hyperpigmentation as it's a natural whitening agent that inhibits the production of tyrosinase— an enzyme that stimulates the production of melanin by oxidation. Fullerene has strong antioxidant benefits that is effective for whitening and fights free radicals which are the main cause of freckles. This serum is extremely gentle and safe to use every day. 
Pros
Hydroquinone-free
Natural ingredients
Effective for hyperpigmentation
Suitable for all skin types
Cons
Price at the time of publication: $19.9
If you feel that bright, youthful skin is a far-fetched dream, this body shop serum may make your dream come true. Packed with protective vitamin E and wheatgerm oil, it combines the power of a serum and oil to pamper, refresh, replenish, and recharge your skin with moisture overnight. It also contains community trade sesame seed oil from Nicaragua and ensures that your skin looks rested and radiant at all times. It has the added benefits of sweet almond oil, sunflower seed oil, jojoba seed oil, and soybean oil to name a few. Suitable for all skin types, it's perfectly formulated to help replenish the skin with moisture and hydration overnight. Click here to check out a detailed personal review of this product. To find out more about this product, check this video review out.
Pros
Paraben-free
Silicone-free
100% vegan
Natural ingredients
Cons
May not suit extremely sensitive skin
Price at the time of publication: $15.6
Does that orange peel texture of your skin or the silvery stretch marks across your abdomen and thighs make you feel like having a long, good cry? Well, wipe those tears and try this great body serum that not only firms your skin but reduces stretch marks and cellulite build-up in just 10 days. This potent body serum is enriched with coenzyme Q10 that is found in our own skin. It improves the firmness and elasticity of our skin and L-Carnitine in it breaks down fatty acids. In addition to this, natural lotus extract helps reduce the formation of new fat cells. The result? You have softer and smoother skin without visible stretch marks and cellulite. Suitable for all skin types, the high quality ingredients in this Nivea Body Serum work in harmony with your skin.
Pros
Dermatologically-approved
High quality ingredients
No toxic chemicals
Suitable for all skin types
Cons
May take some time to deliver visible results
Price at the time of publication: $39.15
This organic body serum contains argan oil, coconut oil, olive oil, peach kernel oil, jojoba oil, vitamin E, and hibiscus flowers which nourish your skin and hair. It has a non-greasy formula which seals in moisture and works wonders on your skin leaving it vibrant, soft, nourished, and healthy. It's easily absorbed by your skin and works gently to hydrate it, leaving it silky smooth. It also works very well for your hair making it soft, shiny, and manageable and helps in blow drying, curling, roller setting, hot oil treatments, and overnight deep conditioning. Coconut oil nourishes your skin and also cleanses your hair while argan oil increases moisture retention of your skin and stops hair from breaking.The wealth of oils and hibiscus petals in this serum give it a pleasant fragrance and nourish your hair and skin equally well.
Pros
Organic
Natural ingredients
Easily absorbed
Works on both hair and skin
Cons
Price at the time of publication: $14.99
Craving for silky, velvety, and nourished skin? This overnight body serum is a blend of high-performing argan and tsubaki oils. This highly potent formula also contains holy basil extract to protect your skin against environmental stressors and vitamin C ester for a more radiant and youthful look. Argan oil is rich in antioxidants, vitamins, and essential fatty acids and has been used for centuries to nourish hair and skin. This highly concentrated overnight serum firms, strengthens, and smooths the skin while you sleep for a more radiant and youthful appearance. This high-performing and concentrated serum works to help enhance the texture and appearance of the skin and works with the skin's natural overnight recovery process. Moroccanoil night body serum has a heady scent of spicy amber and musk which ensures you have sweet dreams. If you are an absolute beginner, this video review might be useful.
Pros
Natural ingredients
No toxic chemicals
Rich in antioxidants
Paraben-free
Mineral-oil free
Cons
Fragrance may not be liked by all
Price at the time of publication: $62.0
This exfoliating body serum is powered by mandelic acid, a natural derivative of bitter almonds. Mandelic acid has great exfoliating properties and penetrates the pores to slough off dead skin cells and clear impurities. It is antibacterial and antifungal, killing the microbes that cause ingrown hair to become inflamed and painful. It also exfoliates the top layers of skin to free the trapped hair. It boosts the production of collagen and elastin, resulting in firmer skin and less fine lines. Mandelic acid reduces dark spots and sun damage as it inhibits the production of melanocytes and so the old, hyperpigmented skin cells are replaced with new cells. These properties of mandelic acid make this body serum ideal for dealing with problems of acne, folliculitis, aging skin, dark spots, ingrown hair, fine lines, and wrinkles.
Pros
Cruelty-free
Paraben-free
Sulfate-free
No dyes
No added fragrance
Cons
May not be suitable for extremely dry skin
Price at the time of publication: $30.5
Have you ever marvelled at the flawless skin of models in glossy magazines and wondered why you couldn't have the same? Well, now you can achieve just that with this vitamin C body serum that contains ethyl ascorbic acid, which is the most effective form of vitamin C and minimises blemishes and dark spots and brightens your skin. It contains natural antioxidants like vitamin E that rejuvenate your skin and reduce hyperpigmentation and age spots. It also contains hydrolyzed oat protein that minimizes fine lines and wrinkles and evens the skin tone and alpha-arbutin which is a botanical extract that brightens skin and helps with fading scars and hyperpigmentation. Peptides and pure vitamin C help soothe skin, reduce inflammation, and boost hyaluronic acid production in the skin— it's a win-win situation! 
Pros
Non-GMO
Fragrance-free
Paraben-free
Cruelty-free
Cons
Price at the time of publication: $14.99
Tired of your lacklustre and rough skin? This brightening body serum promises to reverse dry skin damage and moisturize and heal rough skin. This is thanks to the pure cocoa butter in its formula that promotes skin radiance and leaves you with non-greasy, silky smooth skin. PPAR activators heal the skin by penetrating deep to replenish lipids and renew skin cells. Microdroplets of vaseline jelly in this serum deeply moisturize dry skin and form a protective layer on the surface to prevent moisture loss. As a finishing touch, elastomers give a luxurious silky, smooth feel. These 3 ingredients together provide an effective solution for everyday skin care. So, experience and enjoy the healing power of vaseline and get ready to welcome bright and radiant skin. 
Pros
Non-greasy
Dermatologist-tested
No toxic chemicals
Especially good for dry skin
Cons
Some may find the fragrance too strong.
Price at the time of publication: $14.97
This lactic acid body serum contains argan oil and argan milk which revitalize your skin by promoting cell turnover and gently exfoliate dead skin cells for softer, smoother, and younger looking skin. Pure argan milk along with anti-aging ingredients fight wrinkled, crepey skin and loss of elasticity. This combination of argan oil, argan milk, pineapple enzymes, and lactic acid make the much awaited skin renewal serum you will not want to miss. So, apply this hydrating serum all over your body and say good-bye to dry, flaky skin. 
Pros
Cruelty-free
Vegan
Paraben-free
Sulfate-free
Gluten free
Phthalate-free
Synthetic fragrance-free
Mineral oil-free
Formaldehyde-free
PEG-free
Cons
Some may find the consistency thin.
Price at the time of publication: $45.0
If you dream of having younger looking skin, you may just have to wait for 2 weeks with this hydrating body serum. It takes care of your whole body by giving your skin a daily boost of hydration so that you always have that youthful look. This body serum uses anti-wrinkle peptide technology formulated with matrixyl 3000+, and its patented antioxidant complex inhibits signs of aging. Retinyl palmitate supports skin renewal and is mild enough for even sensitive skin. Hydrating hyaluronic acid and nourishing argan oil keep your skin soft and supple. Its lightweight, non-greasy formula ensures that you always look your best, do give it a try!
Pros
Hypoallergenic
Lightweight
Non-greasy
Suitable for all skin types
Cons
Price at the time of publication: $21.39
This lightening body serum is a unique blend of natural ingredients and a scientific approach to skin treatment. Infused with supernutrients, it improves the texture of your skin, removes dark spots and hyperpigmentation, and fades acne scars and melasma. This intense active bleaching concentrate contains hyaluronic acid, and vitamins C and E which are powerful antioxidants. 4-butylresorcinol, kojic acid, lactic acid, salicylic acid, and morinda citrifolia extract provide a comprehensive correcting treatment to decrease melanin production, reduce freckles, repair damaged skin, and nourish and hydrate dry skin. So, fret no more over those dark spots and blemishes as the solution may be just a click away. 
Pros
Hydroquinone-free
Natural ingredients
Contains antioxidants
Suitable for all skin types
Cons
May cause irritation in sensitive areas in some people
Price at the time of publication: $15.99
The wonder ingredient in this body serum? Lactic acid— a gentle AHA that helps to remove dead skin cells by exfoliating the skin. This formula also contains essential oils that exfoliate, smooth, and brighten skin, leaving it feeling hydrated, soft, and supple. This lightweight serum works well to reduce sun spots and other discoloration. Apart from lactic acid, it also contains probiotic extract to strengthen the skin barrier and xylitol to plump and smoothen the skin. Use it daily to smoothen the rough texture of your skin and eliminate dry patches and sit back and wait for this lactic acid body serum to amaze everyone.
Pros
Cruelty-free
Paraben-free
Sulfate-free
Natural ingredients
Gentle formula
Cons
May cause redness if exposed to sunlight immediately after application
Price at the time of publication: $45.0
Now that you have been through the 15 best body serums of 2023 and you know that every serum has a different function, we are here to give you some pointers on how to choose what's best for you and your skin requirements.
How To Choose A Body Serum 
Your choice of a body serum totally depends on the problem you want it to address. It depends on whether you need it to remove fine lines, blemishes, acne marks, or pigmentation. Choose a body serum that's specific to your problem.
Do consider your skin type while picking out a body serum. If your skin is oily or acne-prone, salicylic acid, rosehip oil, and retinol work very well. Niacinamide, which is a form of vitamin B3 is also anti-inflammatory and soothes sensitive skin. But if you have dry or mature skin, hyaluronic acid body serum and vitamin C would do the trick. Glycolic acid body serum works great with normal skin as it traps moisture and keeps your skin rejuvenated and refreshed. Basically, there is a body serum to suit every skin type and application of it twice a day is beneficial for most skin types.
It's always best to choose a serum with concentrated active ingredients and a light, silky texture as they target a variety of issues. A body serum with vitamin C contains powerful antioxidants that prevent free radical damage. Alpha hydroxy acids or AHAs such as lactic acid and salicylic acid, brighten and smoothen the skin while hyaluronic acid body serum moisturizes and plumps it.
Once you know what to look for in a body serum that suits you best, it's equally important to know how and when to apply it for the most effective results. 
When To Apply Body Serum
Skincare serums can be used both in the day and night as long as you keep certain things in mind. If you have dry skin, you should use a serum in the day time that hydrates your skin and supplies it with nutrients. Apply it after washing your face and patting it dry. Wait for a few minutes for the serum to settle into your skin and then follow it up with a moisturizing sunscreen. It would be ideal if you could rinse this off in the afternoon and reapply it.
At night, it's best not to overdo the serum so that your skin gets a chance to breathe. Either use the serum or a night cream, but not both. In any case, the idea is not to overuse a serum, so don't use it night and day.
Why Trust StyleCraze?
The author, Kirtana Divakar, is a makeup and beauty enthusiast, who loves trying out new products and is aware of the latest beauty trends! No doubt she has done her share of in-depth research before recommending these top body serums for you! She has gone through various beauty forums and health magazines to make sure you get to select from only the best! These body serums not only help improve the texture and appearance of your skin by exfoliating and toning your skin but also keep it nourished and hydrated with their moisturizing ingredients.
Frequently Asked Questions
Is serum good for the body?
Serums have a large amount of active molecules as compared to regular lotions and creams, and due to the high concentration it takes a shorter duration to show better results. They are good for the body as they brighten, hydrate, exfoliate your skin and are an upgrade to your regular lotions and creams. Ingredients like vitamin B5, vitamin C, vitamin E, ferulic acid, resveratrol, green tea, water lily extract, and astaxanthin in serums protect your skin from oxidative damage caused by the UV rays of the sun and pollution, and thus reduce the chances of fine lines and wrinkles. Overall, serums give your skin a younger, vibrant, and healthier look.
Can I use Vitamin C serum on my legs?
Yes, vitamin C can be used on the legs. The effect may not be obvious immediately but vitamin C definitely helps in fading scars and discoloration on the legs and brightens the skin. It is also helpful in reducing sun spots as it promotes cellular renewal.
How many times a week should you use body serum?
You can use a body serum daily. Add it to your daily skin care routine after cleansing and before moisturizing.
How soon does the skin absorb body serum?
The body serums take around 5 minutes to get completely absorbed into your skin.
Do you wash off body serum?
No, you don't have to wash off body serum. Let it sinks into the skin and follow up with a body lotion.
Do I need a moisturizer after serum?
Moisturization is an essential step in the skin care routine. Applying a moisturizer will help seal the skin's natural moisture. Using a moisturizer after serum will protect your skin and seals the moisture from the serum.
Are body serums worth it?
Serums are lightweight and contain highly active molecules which penetrate the skin effectively. As a result, they deliver visible results in a short duration. Invest in body serums to take your skincare game up a notch.
Recommended Articles: