The 10 Best Body Shimmer Oils For A Sun-Kissed Glow – 2022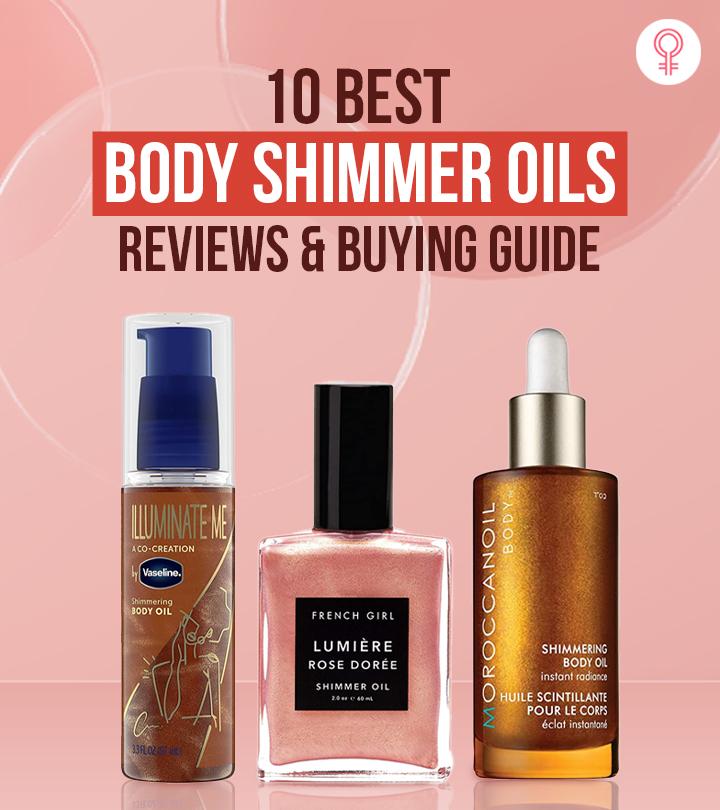 All that glitters may not be gold but can surely add a golden glow to your appearance! Yes, we are hinting at the best body shimmer oils that you can use to stand apart from the crowd. These oils moisturize your skin and bring out your inner glow so that you can have healthy skin. You must have these magical formulae in your skin care vanity to flaunt that sun-kissed glow without the need for any makeup. Here, we have rounded up some of the best body shimmer oils that you can use to pamper your skin. So, go ahead and check them out now!
10 Best Body Shimmer Oils Of 2022
Vaseline offers the best illuminating body oil for melanin-rich skin. It is made with ethically sourced US mica, which creates a natural shimmery finish. This luxurious and moisturizing body oil illuminates the skin with a finishing touch of warm copper shimmer for gorgeous radiance. The paraben-free formula is specifically designed for adults. It provides a light shimmer that illuminates the skin day and night. For a thorough review of the product, have a look at this YouTuber's video.
Key Ingredients: Mica
The Cocosolis Organic Glow Shimmer Oil adds a magical bronze glow to your skin. It is non-greasy and absorbs quickly. The oil is made of skin-friendly organic ingredients that nourish the skin without causing any side effects. It contains cold-pressed coconut butter that promotes skin elasticity and cocoa butter to protect your skin against UV rays.
The formula is also infused with sweet almond oil that helps treat dry skin and reduces dark circles, cucumber seed oil that reduces the appearance of wrinkles, and natural vitamin E that protects your skin from free radical damage. This oil also enhances your tan and skin tone, leaving you with the perfect sun-kissed glow. It has an irresistible aroma of delicious cookies that leave a mild scent on the skin.
Key Ingredients: Coconut butter, Cocoa butter, Sweet almond oil, Cucumber seed oil, and Natural vitamin E
If you are looking for multi-usage shimmer oil, this one from Nuxe is the right choice. It is a dry shimmer oil that nourishes your skin and adds a healthy glow. It is formulated with active ingredients like sweet almond oil that aids in improving the skin tone and camellia oil that keeps your skin supple.
The borage oil infused in this formula moisturizes your skin, and hazelnut oil soothes sensitive skin. It also contains antioxidant-rich macadamia oil and argan oil that protects your skin from sun damage. This body shimmer oil has a unique dry texture enriched with golden pearlescent particles and can be mixed with foundation and moisturizer for that illuminated glow. Check out this YouTuber's review of the product if you require more details.
Key Ingredients: St John's Wort, Borage, Camellia oil, Hazelnut oil, Sweet Almond oil, and Macadamia oil
Moroccanoil's Shimmering Body Oil is formulated with sesame oil. It is rich in antioxidants and has anti-inflammatory properties that repair damaged skin cells, while vitamin E reduces fine lines and wrinkles. The potent blend of argan and antioxidants revives dull skin and improves its texture. The oil is non-greasy and contains soft pearlescent minerals for a radiant and healthy glow. It has an enticing fragrance of spicy amber and sweet florals to invigorate your senses.
Key Ingredient: Sesame oil and Argan oil
SheaMoisture's Glow Goddess Body Shimmer is infused with papaya enzymes, vitamin C, and organic shea butter, which exfoliate the skin, improve collagen production, and have anti-inflammatory properties. It moisturizes dull skin and adds a brilliantly nourishing shimmer that makes it look healthy and sun-kissed. This easy-to-spread, non-greasy shimmer will leave your skin soft and silky smooth. Apply it on the shoulders, collarbone, and décolletage to highlight and get a radiant look.
Key Ingredients: Shea butter, Papaya enzymes, and Vitamin C
The Ruth Paul Skin Gold Shimmer Glow contains cold-pressed natural oils that provide a light shimmer that keeps mature and young skin looking beautiful. The blend of sweet orange and grapefruit is rich in vitamin C, which reduces fine lines, wrinkles, and blemishes. The formula also contains coconut oil, sweet almond oil, argan oil, and jojoba oil that nourish the skin and reduce cellulite. It is non-greasy, dries quickly, and gives you a subtle gold shimmer. The mica-based glitter is cosmetic grade and safe to use on the face or eyes.
Key Ingredient: Jojoba oil, Coconut oil, Vitamin C, Almond oil, Argan oil, Sweet orange, grapefruit
This cruelty-free body shimmer oil from Anastasia Beverly Hills has a dry and lightweight texture that gives your skin a sun-kissed, golden glow. It is dermatologist-tested and non-comedogenic and specially designed for adults. The gluten-free body shimmer oil glides smoothly on the skin and leaves it feeling silky-soft. The oil is also infused with a blend of sweet almond oil and jojoba seed oil that nourishes and hydrates the skin. It has sparkly glitter that illuminates the skin with a golden glow and an enticing coconut-vanilla scent.
Key Ingredients: Sweet almond oil and Jojoba seed oil
The dermatologically tested Herla Gold Supreme Illuminating Oil offers a long-lasting shimmery glow while deeply moisturizing your skin. It is made from real 24k gold and natural mineral pigments that enhance your skin tone and impart maximum radiance. It also contains natural antioxidants that fight free radicals, leaving your skin healthy and luminous. The sweet almond and sunflower oil infused in the formula smoothen, soften, and deeply moisturize your skin, while the Spanish lavender minimizes the signs of aging.
Key Ingredient: Sunflower oil and Sweet almond oil
Cocoa brown offers you a gorgeous glow with its Golden Goddess Shimmer Dry Body Oil. The bronzing shimmer oil is made from dry coconut oil with super-fine shimmer particles that give your skin a luminous glow and make it supple. It is available in two illuminating shades – rose gold and golden hue. The former enhances your tan, and the latter gives your skin a bronzed glow. Use it on your face as a highlighter or mix it with your foundation for a sun-kissed glow. This shimmer oil leaves your skin moisturized and silky-soft.
This dry shimmer oil is perfect for the face, body, and hair. It contains a blend of mineral oxide and pigments that offer a subtle rosy tint. The botanical ingredients like argan oil, shea butter, camellia oil, and sunflower oil nourish, hydrate, and protect your skin while imparting a healthy glow. The rose and sandalwood infused in the formula lend a subtle scent.
Key Ingredient: Argan oil, Shea butter, Camellia oil, and Sunflower oil
Body shimmer oils are absolutely magical when it comes to getting glowing skin instantly. But are you wondering about the other benefits they offer and their uses? Scroll down to check them out in the following sections.
What Are The Benefits Of Using Body Shimmer Oils?
 Hydrating: Body shimmers are made with hydrating natural ingredients, like shea butter, coconut oil, borage oil, sweet almond oil, etc., that nourish dull and dehydrated skin and make it soft and supple.
 Anti-Aging: Shimmer oils help reduce the appearance of wrinkles and other signs of aging, as many of these formulas contain ingredients that improve collagen production. Ingredients like Spanish lavender and cucumber seed oil nourish your skin to reveal a youthful glow.
 Defense Against Skin Concerns: Body shimmers reduce dark circles, sun damage, pigmentation, itchiness, and blemishes. They are rich in antioxidants and help protect your skin against free radical damage.
Shimmering body oils enhance the surface of your skin and make it healthy from within. They are formulated with various skin-nourishing ingredients, and that's why you need to choose a product that will suit you. Here's a buying guide to help you make the best purchase.
What To Look For In A Body Shimmer Oil
Go for ingredients like jojoba oil, argan oil, sesame oil, and vitamin E that impart a natural glow and hydrate and nourish your skin. They reduce blemishes, dark circles, and the signs of aging. For sensitive skin, choose a shimmer that is dermatologically tested to avoid irritation.
The shimmer oil should be weightless and not feel cakey when applied to the skin. Always opt for non-greasy formulas that get absorbed quickly and make you feel comfortable.
No two shimmering body oils are alike, so ensure you check the shade. These oils are available in bronze, gold, and rosy hues. Try to figure out which color matches your skin tone and choose accordingly.
Always check the ingredients list to compare products. Do not purchase oils that contain harmful ingredients like parabens, phthalates, mineral oil, retinyl palmitate, oxybenzone, coal tar, hydroquinone, triclosan, or triclocarban. These components can cause breakouts and irritate sensitive skin.
Recommended Articles