The 11 Best Body Shimmers For Better Glow And Vibrancy – 2023
Get radiant and sparkling skin in a matter of seconds with these lightweight products.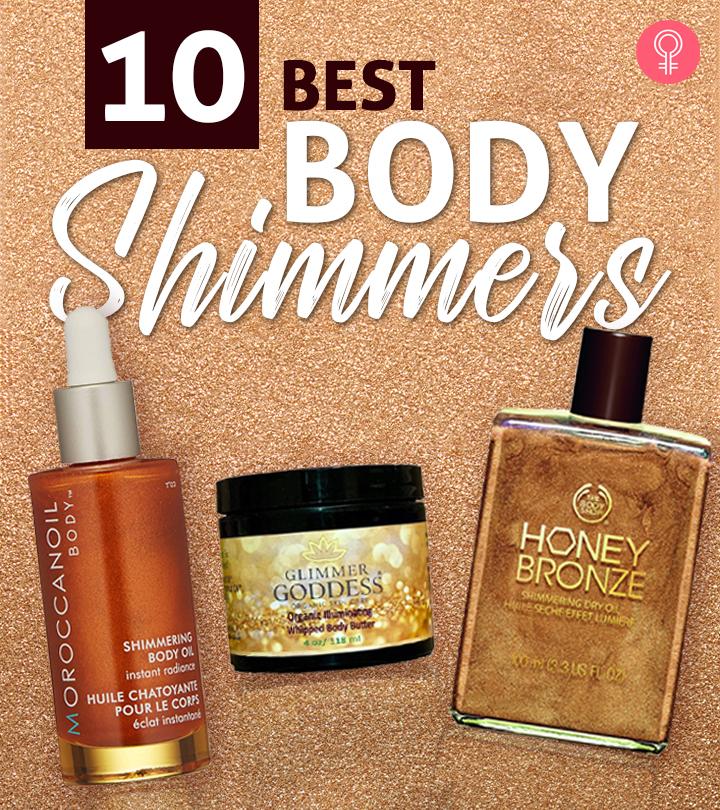 Ever wondered how the red-carpet stars and supermodels have shimmery, smooth, and radiant skin? Don't worry. Even you can get shimmery and radiant skin that screams "just-back-from-yacht-party" with the best body shimmer.
Body shimmers are beauty products available in liquid spray, shimmer oil, or powder forms. The best one adds vibrancy and glow to the skin and moisturizes it. However, you have to be careful about picking the right color as anything too golden or silvery may appear fake and appear cakey.
Therefore, knowing the significance of this product, we have prepared a list of the 11 most amazing body shimmers available online. These products will help add a warm glow to your skin. Scroll down and check them out.
11 Best Body Shimmers
If you want a subtle shimmer with a moisturizing effect, the Glimmer Goddess Organic Bronze Body Shimmer is the right pick. It is formulated with organic shea butter, almond oil, cocoa butter, and coconut oil. They seal the moisture and offer optimum nourishment with a radiant glow. This lightweight body butter is enriched with vitamins A, D, and E that protect skin from oxidative damage. Vitamin F (a group of essential fatty acids) in the product helps protect the skin's natural oil barrier. It also keeps the skin hydrated, plumper, and younger-looking. It contains flecks of gold particles that offer a shimmery glow. The product offers a medium coverage shimmery effect.
Pros
Lightweight
Offers medium coverage
Creamy texture
Moisturizing and hydrating
Non-greasy
Provides an all-day wear
Absorbs quickly
Perfect for use after shower
Protects the skin from oxidative damage
No harsh chemicals
Natural hydrating ingredients
Toxin-free
Free from artificial fragrances
Cruelty-free
Cons
Expensive
May stain clothes
May leave streaks
Price at the time of publication: $29.95
The Gold Glitter Up Secret Body Cream is a lightweight eye-catching shimmer. It is infused with macadamia oil and aloe vera extract that rejuvenate and soften skin. Macadamia nut oil contains palmitoleic and omega-7 fatty acids that retain skin moisture. The antioxidants in the oil protect the skin from oxidative damage and environmental aggressors. The aloe vera juice extract nurtures the skin from deep within and seals in the moisture. The body shimmer contains a perfect amount of light-reflecting micro-sparkles that give you an instant sheen and a supple finish.
Pros
Lightweight
Non-greasy
Ultra-moisturizing
Refreshing, fruity fragrance
Natural coloring effect
Cons
Not suitable for pigmented skin
Leaves a white cast on the skin
Does not contain enough shimmer
Price at the time of publication: $19.5
The Jergens Brilliance Skin Illuminating Body Moisturizer hydrates and delivers a subtle shimmer the skin. It is a luxe formula infused with skin-enriching and hydrating ingredients, and light-reflecting minerals for a luminous gleam. It is an ultra-silky and a lightweight body shimmer that easily blends with the skin. It is dermatologically-tested, clean, and its fresh aroma makes it ideal for special occasions.
Pros
Lightweight
Ultra-soft and silky
Contains skin-enriching and hydrating ingredients
Available in freshwater pearl powder and peachy gold tones
Convenient pump dispenser
Cons
Contains parabens
Not suitable for dry skin
Price at the time of publication: $11.81
The Physicians Formula Argan Wear Illuminating Argan Oil is known as 'liquid gold'. It enhances skin brightness, tone, texture, and elasticity. It is an all-in-one shimmer that acts as a moisturizer, primer, brightener, and transmits a dazzling gleam. This hypoallergenic formula is infused with invigorating argan oil that deeply nourishes the skin and reduces the appearance of fine lines and blemishes. This shimmering oil absorbs instantly and creates an instant boost of radiance. Watch this video to get a detailed review of the product.
Pros
Paraben-free
Gluten-free
Hypoallergenic
Free from artificial fragrances
Non-comedogenic
Dermatologically-approved
All-in-one shimmer
Protects the skin
Hydrating and moisturizing
Cons
Price at the time of publication: $21.0
The Phoera Just Glow Body Luminizer is a gel-based body shimmer. It comes with light-reflecting pearl pigments that give the most insanely smooth, glossy finish. The formula easily blends with the skin and leaves a streak-free finish. The natural oils, botanical extracts, and a hydrating marine extract in the shimmer give away a glorious dewy, high-shine finish. The invigorating blend of green tea extract, white tea extract, vitamin E, aloe vera, jojoba seed oil, sunflower oil, olive oil, Kalpariane, and brown seaweed extract is rich in antioxidants. They protect the skin from oxidative damage and help mask blemishes, fine lines, stretch marks, and varicose veins. This whole-body luminizer drenches the skin with emollients, enhances the natural skin tone, and adds a warm tan look that lasts all night.
Pros
Hydrating and nourishing
Protect the skin
Masks fine lines, blemishes
Fades stretch marks, varicose veins
Provides a long-lasting wear
Can be applied from head-to-toe
Removes skin dullness
Transfer-resistant
Available in three shimmer colors
Cons
Price at the time of publication: $9.99
The Ruth Paul Skin Amazing Oils Gold Shimmer Glow is a lightweight body shimmer. It is infused with invigorating essential oils of sweet orange and grapefruit that moisturize, rejuvenate, and refresh dull skin. The vitamin C in the shimmer reduces fines lines, wrinkles, and blemishes. The silky-soft shimmer contains mica glitter. It is an eco-friendly mineral that illuminates and offers an eye-catching sparkle to your body.
Pros
Lightweight
Nourishing and hydrating
Excellent skin conditioner
Infused with natural, hydrating ingredients
Masks stretch marks, fine lines, and blemishes
Cons
Price at the time of publication: $19.95
If you want a sun-kissed glow with a shimmering effect, The Body Shop Honey Bronze Shimmering Dry Oil is the best pick. The golden shimmer contains hydrating and illuminating oils that rejuvenate the skin and leave a non-greasy finish. It offers a dry tan and a tinted glow.
Pros
Hydrating shimmering oil
Provides a dry tan
Non-greasy
Best for all skin tones
Cons
Price at the time of publication: $60.0
The Kopari Coconut Body Glow is an intense body moisturizer and a highlighter. You can easily mix it with your sunscreen for a beach-beauty appearance and refresh your mood with the coconut fragrance. It is lightweight and instantly absorbs into the skin. It nourishes, hydrates, and rejuvenates the skin. It is infused with coconut oil. It also contains natural pearlescent minerals that leave a radiant finish over your face and body.
Pros
Dermatologist-tested
Hypoallergenic
Non-irritating
Vegan
Phthalate-free
Paraben-free
Silicone-free
Refreshing coconut aroma
Ultra-hydrating
Lightweight
Cons
Some may find the coconut aroma overwhelming
The Moroccanoil Shimmering Body Oil instantly blends into the skin and leaves skin with a healthy-looking radiance. It is infused with an antioxidant-rich blend of argan and sesame oils. This invigorating blend absorbs quickly to revive, revitalize, nourish, and moisturize lackluster skin. The lightening mineral-rich glitters in the oil leave a radiant look and a glowy finish. The delicate Moroccanoil fragrance uplifts your mood.
Pros
Paraben-free
Ultra-nourishing
Hydrating and rejuvenating
Rich in antioxidants
Soothing fragrance
Cons
Price at the time of publication: $48.0
The Thai Lemongrass Gold Shimmer Glow Oil is made with a luxurious, vitamin-rich formula that quickly absorbs into the skin and delivers a sun-kissed glow. It is made with rice bran, sweet almond oil, grape seed, and jojoba oil that nourish and rejuvenate the skin. This plant-based oil is packed with vitamin E and fatty acids that protect the skin from chemical and environmental aggressors. The fatty acids offer a natural oil barrier. It hydrated your dehydrated skin. The shimmering gold mica in the oil reflects any lights and leaves you with a dazzling glow.
Pros
Paraben-free
Sulfate-free
Cruelty-free
Non-GMO
Hypoallergenic
Non-greasy
Hydrating and nourishing
All-in-one full-body moisturizer
Long-day wear
No harmful chemicals
Cons
Overpowering fragrance
Expensive
Price at the time of publication: $19.99
The Cheeky Physique Shimmer Sleek Firming Body Illuminator creates a radiant glow while firming and toning your body shape. The caffeine and botanical extracts in the shimmer define and firm up the body curves. The age-defying peptides reduce any signs of premature aging. They also firm the skin and increase elasticity. The shimmer has diamond dust infused to illuminate the skin. The dust also brightens the skin tone. The soothing, refreshing aroma of the shimmer uplifts your mood.
Pros
Non-sticky
Subtle shimmer formula
Lightens skin imperfections
Firms and tightens sagging skin
Transfer-resistant
Streak-free
Refreshes skin
Fast-absorbing
Skin-smoothing formula
Cons
None
Price at the time of publication: $42.0
These are the top body shimmers that you can buy online. The following section illustrates how to use a body shimmer the right way.
How To Use A Body Shimmer The Right Way? 
Prep your skin and choose the right body highlighter (according to your skin type).
Mix a shimmer oil or a lotion with a body lotion for an overall sheen.
Apply to your body. Let it settle for some time. You can also choose a powder illuminator for a long-lasting, glowy finish.
To enhance your collarbones, use a powder highlighter applied with a small, tapered brush for precise application – the highlight should sit on the top of your collarbones.
Apply the shimmer after applying the foundation.
In the following section, we have discussed certain tips that can help you pick the ideal body shimmer.
Tips To Choose The Right Product 
Choose a hydrating body shimmer that contains an invigorating blend of shea butter, aloe vera, almond oil, and coconut oil that nourish, hydrate, and revitalize the skin.
The golden or silver illuminators in the shimmer should contain highlighting minerals for a dewy finish.
The body shimmer must be free from harsh chemicals and toxins.
Why Trust StyleCraze?
Baishali Bhattacharya, the author of this article, is a certified expert in makeup artistry. She used her in-depth product knowledge to prepare this list of the best body shimmers for her readers. She has conducted thorough research, checked online reviews and filtered out the top products to make your job easier. These shimmers add vibrancy and glow to the skin as well as moisturize it.
Frequently Asked Questions
What is a shimmer body oil used for?
A shimmer body oil is rich in antioxidants. It protects the skin and also adds shine.
Does a shimmer lotion make your legs shiny?
Yes, a shimmer lotion makes your legs shiny when applied. It also adds a glowy finish.
When should I apply shimmer body oil?
Apply shimmer body oil as the last step in your skin care routine after moisturizing the body.
Can you put a body shimmer on your face?
Yes, you may put a body shimmer on your face. However, always begin with a patch test to check for breakouts and reactions.
Should I use my fingers or a brush to apply body shimmer?
Use a brush to apply body shimmer and blend it with your index finger.
Recommended Articles