9 Best Body Shop Tea Tree Products Available In India That You Must Try In 2022 The Body Shop is considered to be the best British brand that offers a wide range of high-performing skin care, hair care, and body care products. It is the first global beauty brand that ensured 100% cruelty-free and vegan products. It is a cult favorite and caters to all kind of skin and hair requirements. The tea tree products formulated by this brand are hypoallergenic and treat your skin gently. They also exfoliate and detoxify the skin, remove dead skin cells, and are biodegradable. We have curated a list of the top 9 Body Shop tea tree oil products available in India. Swipe up to check them out!
9 Best Body Shop Tea Tree Products Available In India
The Body Shop Tea Tree Facial Wash is enriched with potent tea tree oil, which gently cleanses oily skin and lightens blemishes. The invigorating foam removes dirt and grease and leaves the skin feeling cleansed and fresh without drying it out. It diminishes acne and prevents further breakouts. This face wash makes your skin radiant and controls excess oil. Use it every day for noticeably brighter results.
Pros
Dermatologically tested
Non-comedogenic
Hypoallergenic
Smells good
Lathers well
Cons
Might irritate sensitive skin
The Body Shop Tea Tree Scrub is perfect for blemished skin. It is enriched with tea tree oil derived from the foothills of Kenya and biodegradable exfoliators. These ingredients gently exfoliate and polish the skin's surface to remove impurities and dead skin cells.  This facial scrub leaves your skin, oil-free, deep cleansed, fresh, and light.
Pros
Refreshing scent
Suitable for sensitive skin
A little goes a long way
Has biodegradable exfoliators
Cons: 
The Tea Tree Skin Clearing Foaming Cleanser is gentle on acne-prone skin. Its cooling lather combats existing blemishes, prevents future blemishes, and controls oil and shine. The product is a potent tea tree oil blend with antibacterial properties that detoxifies the skin without drying it out. It is also enriched with willow bark extract that helps reduce inflammation and leaves the skin feeling fresh and matte.
Pros
Gentle
Smells good
Foams well
Suitable for everyday use
Cooling effect
Silicone-free
Gluten-free
Cons
None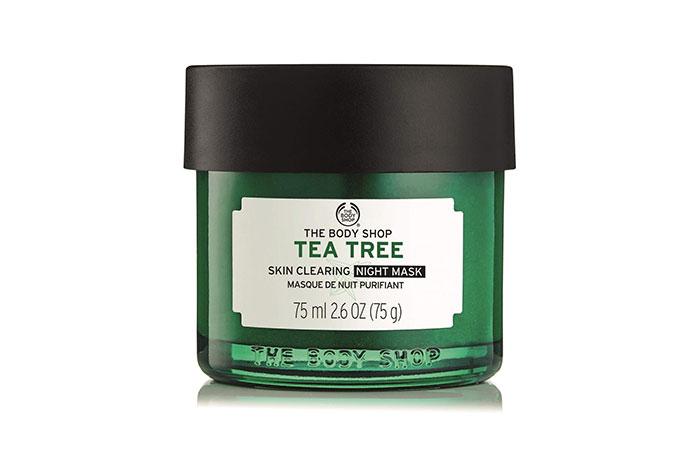 This Skin Clearing Mask is enriched with tea tree oil and salicylic acid to offer clear, blemish-free skin. It combats blemishes and makes the oily skin look balanced and matte. Tea tree oil is rich in antioxidants that reduce inflammation, while salicylic acid penetrates deep into the pores and removes the dead skin cells. The blend also reduces pimples, comedones, pore size, and dark spots. Use it thrice a week for effective results.
Pros 
Lightweight
Absorbed quickly
Good for acne-prone skin
No pillow-staining formula
Alcohol-free
Cons 
Overpowering fragrance
May cause breakouts
The Tea Tree Night Lotion has a gel-textured formula that moisturizes blemished skin while controlling excess oil and sebum. It prevents overnight secretion of sebum and helps smooth out the presence of acne and comedones while you sleep. The lightweight lotion hydrates the skin and reduces the appearance of imperfections.
Pros
Lightweight
Non-greasy
Non-sticky
Absorbed quickly
Cons
Expensive for the quantity
The Body Shop Tea Tree 3-In-1 Exfoliating Mask offers three products in one that will help you combat blemishes and excess oil. When used as a face wash, the lather removes dirt and extra oil. Use it as a scrub to exfoliate your skin and open clogged pores to leave the skin feeling smoother. When applied as a mask, the drying clay deeply detoxifies, mattifies, and clarifies the skin. This product is rich in community trade tea tree oil. It is suitable for oily and blemished skin due to its antibacterial and antioxidant properties.
Pros
Cooling sensation
Gentle
Travel-friendly
Smells good
Cons
None
Fight blemishes with this tea tree oil from Body Shop. It is made from sustainably sourced and steam-distilled tea tree leaves within 12 hours of harvest to get the most pristine and strongest oil. Pat it gently on the affected areas to get a blemish- and pimple-free skin with regular use.
Pros 
Mild fragrance
Lightweight
Absorbed quickly
Cons
Might irritate sensitive skin
The Tea Tree Mattifying Lotion has a lightweight and creamy formula that helps you achieve an oil-free look. It moisturizes the skin without clogging pores or making the skin greasy. It is rich in oil absorbents that remove the excess oil and give you a non-greasy matte finish. The lotion feels refreshing and works wonderfully to ensure shine-free results.
Pros 
Non-sticky
Absorbed quickly
Lightweight
Mild fragrance
Cons
None
This skin clearing mask from Body Shop is a holy grail for blemished skin. The clay mask imparts a cooling sensation while clearing dirt, grime, and impurities from the skin and absorbing the excess sebum. It soothes your skin and prevents acne and blackheads. It also improves the radiance and natural balance of your skin.
Pros 
Dermatologically tested
Non-comedogenic
Hypoallergenic
Nice fragrance
Cons
These tea tree oil products from The Body Shop are the brand's bestsellers and are known for their effectiveness. They are dermatologically tested and provide lasting results. So, grab a suitable product for your skin and let the tea tree oil work its magic!
Recommended Articles
The following two tabs change content below.