12 Best Body Washes For Dry Skin Available In India
Here's a full-proof solution to attaining supple, satin-like skin in no time!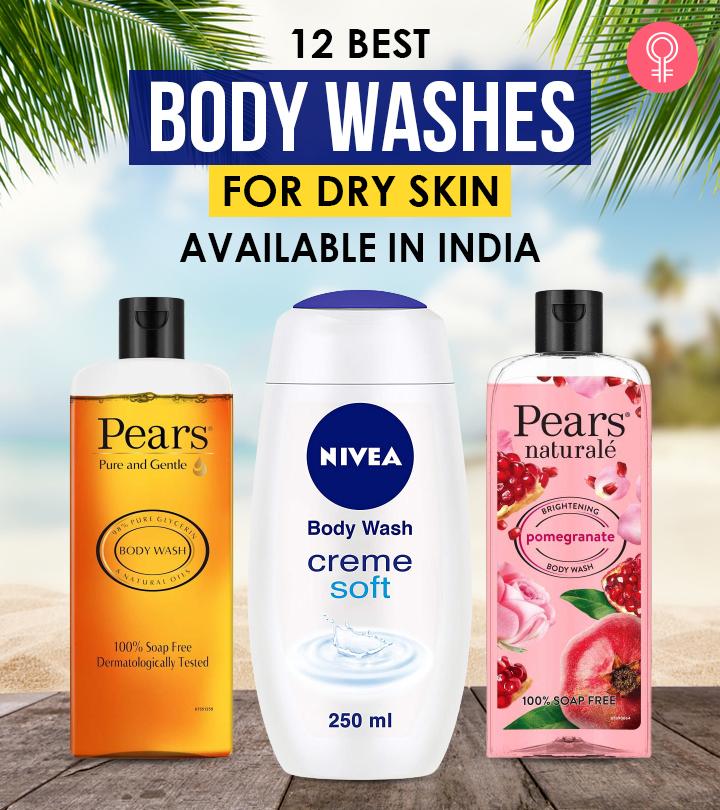 Is dry skin holding you back from experiencing a spa-like refreshing shower? Then, it's time to swap your regular body wash with a moisturizing body wash to treat your body, mind, and spirit! Kick start your morning with a soothing exfoliator enriched with natural ingredients that hydrates, nourishes, and conditions the skin to clean dust and impurities. In this article, we share the 12 best body washes for dry skin in India. Scroll down to check them out!
12 Best Body Wash For Dry Skin Available In India
The Pears Pure and Gentle Bodywash is a 100% soap-free formula with 98% glycerin and natural oils for smooth, soft, and moisturized skin. It is mild, gentle, and dermatologically tested to maintain the skin's pH level while hydrating and cleansing it. The iconic fragrance of the body wash refreshes the mind and uplifts your mood. The product removes 99.9% impurities and germs and is best suitable for dry skin.
Pros
Gentle
Soap-free
Paraben-free
Hypoallergenic Non-abrasive
Non-comedogenic
Comes with a loofah
Dermatologically tested
Cons
The NIVEA Body Wash Crème Soft is a luscious shower cream that balances the skin's pH level, making it soft, supple, and smooth. Indulge your senses with the hydra iq 24h moisture technology that hydrates, nourishes, and pampers the skin. The almond oil rejuvenates and relaxes dry skin and imparts a mild fragrance to it. This body wash for dry skin is dermatologically tested to offer invigorating freshness throughout the day.
Pros
Mild fragrance
pH-balancing
Gentle
Dermatologically tested
Cons
Price at the time of publication: ₹6.87
The Coconut Joy Exfoliating Body Wash from PALMOLIVE gives you a delightful home-spa experience with its cream-based formula infused with jojoba butter, crushed coconut, and apricot seeds. This deeply moisturizing and nourishing exfoliator gently removes dirt and dead cells from the skin pores, making them feel clean. The soap-free formula balances the skin's pH level, while the fragrant lather relaxes and soothes the body and mind.
Pros
Soap-free
Natural ingredients
pH-balancing
Comes with a loofah
Cons
The Pears naturale Brightening Pomegranate Body Wash contains 100% natural ingredients like pomegranate, rose extracts, natural oils, and glycerin. While the antioxidant-rich pomegranate extracts brightens the skin tone, the rose extracts with essential oils soothe the skin. This body wash cleanses your skin while retaining its natural oils to keep it hydrated throughout the day. Its antibacterial properties prevent breakouts and skin imbalances. It is environment-friendly, dermatologically-tested, and free of soap and parabens.
Pros
Chemical-free
Paraben-free
Soap-free
Contains natural ingredients
Dermatologically tested
Cons
Unpleasant fragrance
Contains sulfates
Price at the time of publication: ₹11.96
The Dove Deeply Nourishing Bodywash is a mild and gentle formula that maintains your skin's moisture barrier while deep cleansing it. The Nutrium Moisture technology delivers hydrating natural ingredients that go deep into the skin layers for a softer and smoother feel. The lightweight creamy lather gently cleanses your skin without stripping off its natural oils.
Pros
Lightweight
Gentle
Refreshing fragrance
Suitable for daily use
Cons
The Vivel Body Wash Lavender + Almond Oil washes away germs and pollutants to revitalize your skin and moisturize it thoroughly. The nourishing lavender and almond oil formula replenishes your skin and keeps it hydrated, making it perfect for dry and dull skin. Its irresistible scent lasts throughout the day, while the creamy lather moisturizes your skin for a velvety look.
Pros
Refreshing fragrance
Value for money
Cons
The BIOTIQUE Bio Honey Cream Rejuvenating Body Wash enhances the natural brightness of the skin and maintains its pH levels. It consists of pure honey, winter cherry, galangal, coconut oil, and soap nut that deeply cleanse dirt and impurities from the skin, making it look soft and replenished. The gel-based formula is organically pure and free of preservatives and soap.
Pros
Gentle
Soap-free
pH-balancing
Smells good
Dermatologically tested
Cons
The Dettol Hygiene Body Wash guarantees 8 hours of moisturization after a single wash. The formula combines germ protection with natural and plant-derived ingredients like honey and shea butter that hydrate and energize the skin, leaving it nourished and soft. The creamy texture is 100% soap-free, balances the pH level, and gives a subtle glow to the skin.
Pros
Soap-free TCC-free
Triclosan-free
pH-balancing
Contains natural ingredients
IMA recommended
Dermatologically tested
Cons
Price at the time of publication: ₹9.9
The LUX Velvet Touch Moisturising Body Wash contains a unique blend of silk protein extracts, almond oil, and jasmine. These ingredients intensely rejuvenate and hydrate the skin, making it soft and radiant. This body wash has a distinct fragrance composed by the world's leading perfume experts that lasts all day. The moisture-retaining properties make it perfect for dull and dry skin.
Pros
Gentle
Pleasant fragrance
Natural ingredients
Value for money
Comes with a loofah
Cons
the moms co. Natural Body Wash is a pregnancy-safe and toxin-free body wash. It combats dry, itchy, and stretching skin, making it ideal for intensive skin care during and after pregnancy. The coconut-based mild cleansers and ginger essential oils restore the skin's natural oils and ease morning sickness. The orange essential oil uplifts mood, while pro-vitamin B5 prevents dryness and maintains the skin's natural elasticity.
Pros
Vegan
Paraben-free
SLS-free
Mineral-free
SLES-free
Dermatologically tested
Cons
Price at the time of publication: ₹250.0
The Fiama Shower Gel contains the goodness of avocado and peach extracts that lock in moisture and remove dirt and excess oil from the skin to make it look smooth and glowing. It has an indulgent lather and long-lasting fragrance that gives you a home-spa feeling. Uplift your mood with its feel-good natural ingredients.
Pros
Pleasant fragrance
Lathers well
Dermatologically tested
Cons
The Aveeno ACTIVE NATURALS Daily Moisturizing Body Wash cleanses, replenishes, and locks the skin's natural moisture. It contains natural active oat extracts that lighten the skin tone and a unique blend of emollient and natural oils that nourishes and moisturizes dry skin. The fruity fragrance of the gel keeps you energized throughout the day.
Pros
Soap-free
Dye-free
Dermatologically tested
Cons
Now that you know what the best body washes for dry skin are, check out the points to consider before choosing one.
How To Choose The Best Body Wash For Dry Skin
Look for hypoallergenic body washes that are free of sulfates, dyes, parabens, phthalates, and aluminum, as these ingredients can cause irritation.
Choose bodywashes with natural ingredients like soy, natural oils, honey, shea butter, almond etc. These ingredients maintain the skin's moisturization and hydration levels.
Now, you can get a home spa-like feeling whenever you want. Chose a suitable body wash from the above list and shower your skin with love!

Recommended Articles