9 Best Safest Body Washes For Kids
Make bathtime fun for young kids with the hypoallergenic, no-tear formulas.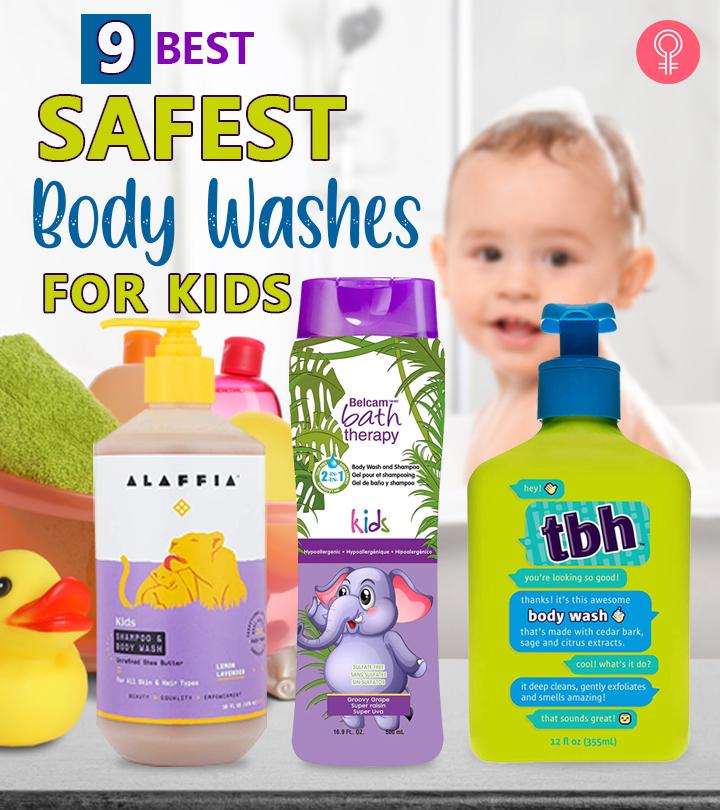 Taking care of kids' delicate skin is a challenging task, but with the best body wash for kids, you can eliminate half of your worries. After all, kids enjoy a playful bath session the most, and if we can provide their skin with the maximum benefits during this time, it is all worth it. An ideal body wash will cleanse the skin without irritating the delicate skin.
We are all paranoid about looking after a kid's hygiene. That's why you might as well get overwhelmed with so many options of body washes available in the market. To help you pick safe options for your kids, we have listed the 9 best body washes for kids. Have a look!
9 Best Body Washes For Kids
Pros
2-in-1 formula
Biodegradable ingredients
Cruelty-free
Synthetic fragrance-free
Paraben-free
Sulfate-free
Mineral oil-free
Phthalate-free
Silicone-free
Artificial color-free
Cons
Might cause mild irritation
Not tear-free
Price at the time of publication: $9.99
Pros
Tear-free
Hypoallergenic
Dermatologist-tested
Paraben-free
Dye-free
Mild scent
Cons
None
Price at the time of publication: $7.81
Pros
Non-toxic
Hypoallergenic
Mild, tear-free formula
Lathers well
Gentle
Dermatologist tested
100% natural fragrance
Cons
May not provide long-term hydration
Price at the time of publication: $20
Pros
Pleasant fragrance
Paraben-free
Sulfate-free
Affordable
Suitable for teenagers
Cons
None
Price at the time of publication: $10.95
Pros
Contamination-free
Clean and organic ingredients
pH-balanced formula
Paraben-free
Sulfate-free
Gluten-free
Cruelty-free
Cons
Not tear-free
Strong fragrance
Price at the time of publication: $22.99
Pros
Lathers richly
Mild fragrance
Paraben-free
Sulfate-free
Phthalate-free
Formaldehyde-free
Synthetic color-free
Dye-free
Cons
Price at the time of publication: $7.99
Pros
Vegan
Paraben-free
Sulfate-free
Phthalate-free
pH-balanced
Artificial fragrance-free
Color-free
Gluten-free
Soap-free
Cons
Price at the time of publication: $8.9
Pros
Hypoallergenic
Sulfate-free
Dye-free
Fragrance-free
Gentle
Suitable for newborns and above
Protects delicate skin
Clinically proven
Keeps skin moisturized
Cons
Price at the time of publication: $10.39
Pros
Sulfate-free
Paraben-free
Gluten-free
Synthetic dye-free
Polypropylene-free
Artificial fragrance-free
Cruelty-free
Cons
Does not lather much.
Strong and unpleasant fragrance
Price at the time of publication: $9.99
The following are some of the points you should consider while buying a body wash for your child.
Things To Consider Before Buying A Body Wash For Your Kids
When it comes to picking any product for kids, it is extremely important to read the labels. Ensure that the product contains skin-friendly and natural ingredients to avoid skin allergies and rashes. The body wash for kids needs to be free of harsh chemicals, toxins, and adulterated or synthetic elements as the kid's tender skin may negatively react to them. Choose products with botanicals like aloe vera, oatmeal, chamomile, coconut milk, or essential oils as they gently nourish the skin.
Always look for a body wash that has a no-tear formula. Most of the tear-free formulas are safe choices as they do not contain chemicals or harsh ingredients. The product should be soap-free so that it does not strip natural oils from the skin or irritate it.
Ensure the formula is hypoallergenic, dermatologically tested, and clinically approved because it comes in close contact with your child's face and head. Most parents also prefer fragrance-free formulas as it eliminates the doubt of added artificial fragrance that might cause skin allergy.
Remember, prices do not determine the quality of the product. Many average-priced products have natural ingredients and are mild and gentle on your child's skin. Hence, pick one based on the reviews and not just the price.
Why Trust StyleCraze?
Shiboli Chakraborti is a certified skin care coach who is passionate about researching the best skin and hair care products and delivering unbiased reviews. She has compiled this list of the best body washes for kids after going through the features of each product and considering their safety and benefits. Shiboli has also shared some key factors to consider to buy the most-appropriate body wash for your child.
Frequently Asked Questions
Why do natural body washes for kids sometimes have fragrances?
Most of the times, the fragrance of a natural body wash for kids comes from the naturally scented essential oils that enrich the formula – like lavender, citrus, berry, chamomile, or any other essential oil.
When should I upgrade from combination formulas to separate body wash and shampoo for my kids?
Most pediatricians recommend that it is best to switch to separate body wash and shampoo for your kids when they start growing thick hair. The best time to make the switch is after 8-10 years or whenever you feel your child is able to wash their hair without getting the product in the eyes. But feel free to use the combination formula as long as you want to.
From what age can kids use regular body wash?
Kids can use regular body washes after they turn five years old. It is recommended to make your kids use baby soaps with gentle formulas while they are toddlers.
Do kids need kid body wash?
Yes, but many kids might be allergic to regular body washes due to their delicate skin. Make sure the body wash that your kid is using has hypoallergenic ingredients.
Is antibacterial body wash good for kids?
No. Regular body soaps work just fine for kids. Antibacterial body washes and soaps contain triclosan, which is not something your baby requires.