The 7 Best Body Washes For Pregnancy (2023) + Buying Guide
Use safe and chemical-free body washes during pregnancy for soft and healthy skin.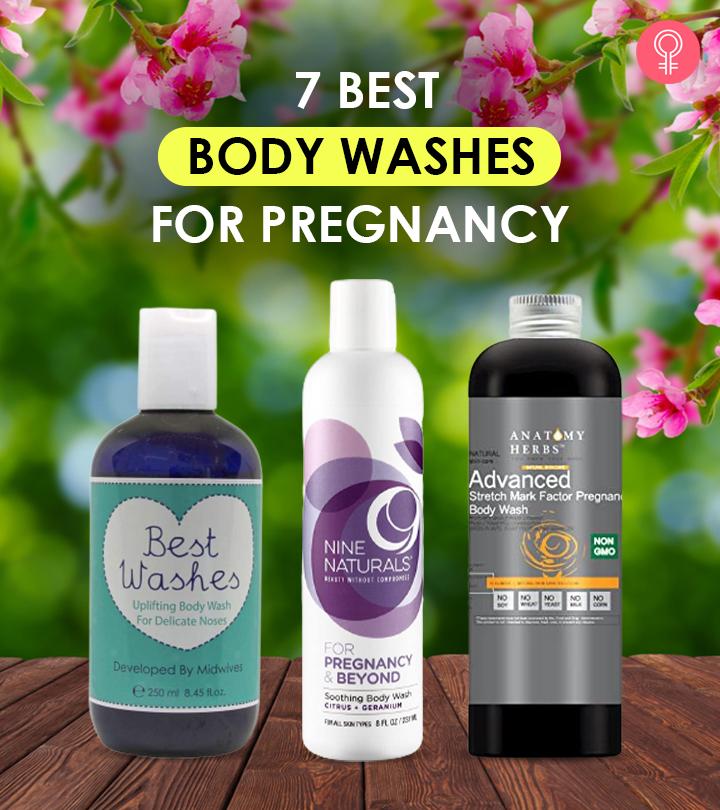 Pregnancy is a beautiful feeling, but it comes with several challenges – body changes and skin issues. To maintain the hygiene and health of new moms-to-be, invest in the best body washes for pregnancy.
From stretch marks, dryness, and breakouts to rashes and scars on your skin, your skin can experience potential issues while carrying your precious. During this time, it is important to choose your products carefully that are free of chemicals, gentle on your skin, and do not trigger or irritate any form of breakouts. Even after you deliver, using pregnancy-safe body washes can help you in the process of taking your skin back to normal. So, pick your favorite out of the 7 best ones we picked for you.
7 Best Pregnancy-Safe Body Washes
The Moms Co. Natural Body Wash helps combat dry, itchy, and stretching skin during pregnancy. It is coconut-based and restores your skin's natural balance. This body wash contains a ginger essential oil that eases morning sickness, motion sickness, and nausea. Orange essential oil uplifts your mood, and pro-vitamin B5 enhances the skin's natural elasticity and prevents dryness.
Pros
Gentle formula
Dermatologist-tested
Toxin-free
Paraben-free
Vegan
Mineral oil-free
No synthetic fragrances
SLS-free
SLES-free
PEG-free
DEA-free
TEA-free
Cons
None
Price at the time of publication: $250.0
The Belli Beauty Pure & Pampered Body Wash provides a balanced cleansing without stripping the natural oils of your skin. It contains antioxidant-rich cucumber, green tea extracts, and lavender essential oil that offers a relaxing, aromatherapy experience. This body wash follows a safety screening process to avoid synthetic ingredients that might cause birth defects, miscarriages, and damage during breastfeeding.
Pros
Suitable for daily use
Allergy-tested
Vegan
Paraben-free
Preservative-free
Sulfate-free
Gluten-free
Phthalate-free
Dye-free
Cruelty-free
Fragrance-free
Cons
Insufficient quantity
Might irritate the eyes.
Price at the time of publication: $12.99
The Calming Lavender Baby Wash by Earth Mama is a natural castile-based liquid soap suitable for newborns and pregnant women. It is formulated with lavender, calendula, and vanilla that soothe the skin. The gentle formula is dermatologist-tested and clinically proven to treat skin irritations.
Pros
Contains organic herbs
Dermatologist-tested
Clinically proven
No artificial fragrances
Sulfate-free
Phthalate-free
Paraben-free
Triclosan-free
Detergent-free
Cons
Not suitable for sensitive skin.
Price at the time of publication: $15.15
The Nine Naturals For Pregnancy & Beyond Soothing Body Wash is made with lemon, lime, and geranium that refresh your mind and body. It also contains avocado and cupuaçu butter that soften and moisturizes your dry, itchy skin.
Pros
Creamy formula
Can be used daily
Sulfate-free
DEA-free
Paraben-free
Phthalate-free
Petrochemical-free
No synthetic fragrances
Preservative-free
Cons
None
Price at the time of publication: $26.17
The Luxe-Mama shower gel is formulated with aloe vera and coconut soap. It also contains organic herbs and essential oils that help treat dryness, itchy belly, and stretch marks during pregnancy.
Pros
Gentle formula
Pleasant smell
Sulfate-free
Chemical-free
Cons
None
Price at the time of publication: $19.0
The Best Washes Uplifting Body Wash soothes dry, itchy, and irritated skin. It contains natural ingredients that treat breakouts, rashes, and hormonal skin. Spearmint's delicate aroma calms icky tummies and alleviates nausea. Black pepper tackles tired mind and muscles, and aloe vera soothes sensitive skin.
Pros
Safe for sensitive skin
Vegan
Cruelty-free
Can be used as a bath soak
Cons
None
Price at the time of publication: $12.99
The Anatomy Herb Stretch Mark Factor Pregnancy Body Wash has a concentrated formulation of natural ingredients. It contains organic coconut oil, vitamin B1, vitamin B5, vitamin C, vitamin E, cocoa butter, coffee butter, shea butter, copper, magnesium, zinc, bamboo, and kojic acid. This body wash helps reduce the appearance of stretch marks during pregnancy.
Pros
Suitable for all skin types
GMO-free
Yeast-free
Egg-free
Soy-free
Wheat-free
Corn-free
Sugar-free
Dairy-free
Cons
None
Price at the time of publication: $27.99
Certain factors need to be considered before buying a pregnancy-safe body wash. Let's take a look at them in the next section.
Best Body Wash For Pregnancy – A Buyer's Guide
Ingredients To Look Out For

Choose a body wash with skin soothing and safe ingredients, such as glycerin, aloe vera, shea butter, and hyaluronic acid. Kojic acid, lactic acid, coconut oil, vitamin C, and grapeseed oil are also safe during pregnancy and keep your skin itch-free and hydrated. You can also opt for organic and natural skin care products.
Avoid body washes that contain retinoids, salicylic acid, benzoyl peroxide, and hydroquinone as these ingredients are not considered safe during pregnancy. Avoid popular skin brightening ingredients, such as AHAs and BHAs, as they might disrupt the natural skin barrier and make your skin prone to damage. Your body wash should also be free of harsh elements like phthalates, formaldehyde, oxybenzone, sulfates, and parabens.
Do not go for body washes based on the price. Choose a reliable brand with good quality products that claim to be safe during pregnancy. You can also scan the ingredients' list and discuss the safety of any product with your dermatologist.
Note: Consult a dermatologist before purchasing any skincare products while you are pregnant. A doctor's recommendation will help you choose the right body wash according to your skin type.
Why Trust StyleCraze?
The author, Oyendrila Kanjilal, is a certified skin care coach who has plenty of beauty tips at her disposal. She knows the pregnancy glow gets affected by sensitive and vulnerable skin and has found the perfect solution. She compiled this list of body wash products for pregnancy after conducting extensive research and reviewing user feedback of the products.
Frequently Asked Questions
Is it necessary to use a body wash during pregnancy?
Yes, it is essential to use a body wash during pregnancy to keep your skin moisturized and itch-free.
Will body wash help me get rid of dry and itchy skin during maternity?
Yes. Body washes help prevent dry and itchy skin during maternity.
What ingredients are not safe during pregnancy?
Some commonly used cosmetic ingredients like aluminum chloride hexahydrate, aluminium chlorohydrate, BHAs, chemical sunscreen, formaldehyde, hydroquinone, parabens, phthalates, retinol, etc. should be avoided during pregnancy.
What shampoos should I avoid while pregnant?
While pregnant, avoid shampoos containing ingredients like sodium lauryl sulfate, parabens, phthalates, synthetic fragrances, methylisothiazolinone, etc.
What shampoo is safe for pregnancy?
Hypoallergenic shampoos that are non-toxic and made without harmful chemicals like phthalates, sodium lauryl sulfate, synthetic fragrances, parabens, etc. are safe for use during pregnancy. Chemicals are quite common in shampoos and cannot absolutely be avoided. So, try to limit the use of chemical-based shampoos to a maximum of once a week.
Recommended Articles