11 Best Body Washes For Sensitive Skin – 2021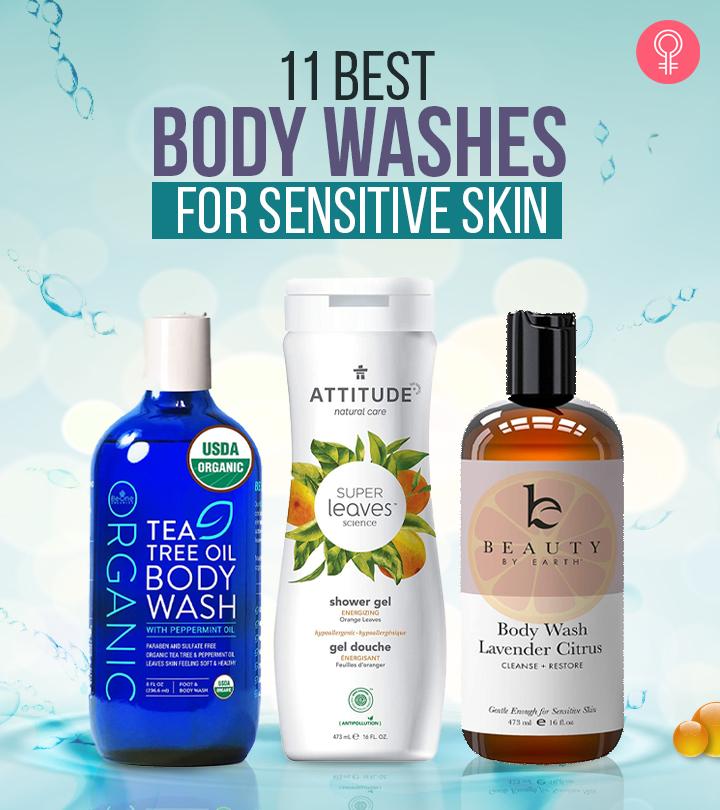 People with sensitive skin know how important it is to check the ingredients before buying a skin care product. Sensitive skin is prone to allergies, redness, rashes, and irritation, and thus, basic body washes can be harmful. Worry not! We have rounded up a list of the 11 best body washes that will treat and nourish your sensitive skin gently and without causing any adverse reactions. Scroll down to check them out!
11 Best Safe Body Washes For Sensitive Skin
No products found.
The Dove Nourishing Body Wash for Sensitive Skin is crafted with a powerful blend of moisturizing ingredients that leaves your skin feeling cleansed and nourished. This body wash is pH balanced, unscented, and extremely gentle on the skin.
The Renew Blend technology used in the body wash is a rich blend of natural nourishing agents and plant-based moisturizers mixed with lipids and glycerin. This liquid blend penetrates deep inside the skin's surface layers and maintains its moisture barrier to keep it nourished, soft, and supple. It also provides your skin's microbiome, a protective shield that makes your skin healthy and beautiful.
Key Ingredients: Glycerin
Pros
Sulfate-free
Paraben-free
Cruelty-free
Dermatologically tested
Cons
The Aveeno Skin Relief Body Wash is a gentle body wash for sensitive skin that removes dirt, oil, and bacteria to relieve it from dryness and itchiness. It is enriched with colloidal oatmeal that helps in nourishing your skin without disrupting its natural moisture barrier. Colloidal oatmeal contains antioxidants, vitamins, and minerals that protect the skin from dryness and damage. This body wash helps maintain your skin's healthy texture by locking in moisture for 24 hours and makes it smooth, soft, and flawless.
Key Ingredients: Colloidal oatmeal
Pros
Suitable for everyday use
Dye-free
Soap-free
Allergy-tested
Cons
The Vanicream Gentle Body Wash is a safe product for sensitive skin. It is dermatologically tested and does not contain any harsh ingredients. The mild and gentle formula cleanses and moisturizes your skin thoroughly while maintaining its pH balance. This body wash does not strip your skin of its natural oils, thus protecting it from dryness and damage.
Key Ingredients: Glycerin
Pros
pH-balanced formula
Paraben-free
Sulfate-free
Formaldehyde-free
Cocamidopropyl betaine-free
Gluten-free
No harmful chemicals or oils
Dermatologically tested
Cons
The Dettol Sensitive Anti Bacterial Body Wash leaves your skin feeling clean and refreshed all day long. The active ingredients in the body wash protect your skin from germs and bacteria. This body wash for sensitive skin is infused with glycerin that has moisturizing and nourishing properties. It helps balance the skin's pH level and protects it against bacteria and germs. This product is gentle on the skin and lathers up richly for thorough cleansing.
Key Ingredients: Glycerin
Pros
Pleasant fragrance
Antibacterial
Suitable for all age groups
Ideal for daily use
Cons
Expensive
Contains parabens
Cetaphil is mostly known for its facial cleansers, but its Ultra Gentle Refreshing Body Wash is no less than a cult favorite. The mild formula cleanses your skin without stripping it off its natural moisture. This body wash for sensitive skin is infused with powerful ingredients like aloe vera and vitamin B5 that nourish your skin and retain moisture. The potent formula leaves the skin replenished, refreshed, and thoroughly cleansed.
Key Ingredients: Aloe vera and Vitamin B5
Pros
No fragrance formula
Lathers well
Non-comedogenic
Dermatologically tested and approved
Cons
The ATTITUDE Natural Care Energizing Shower Gel is a non-toxic formula that energizes your senses with its long-lasting, pleasant scent. This body wash for sensitive skin is loaded with antioxidants from orange leaves that help in restoring your skin's natural glow.
This hypoallergenic body wash cleanses dirt and impurities from the skin without causing itchiness or irritation. The moringa seed extract in the body wash detoxifies and protects the skin from pollution and environmental aggressions. This powerful blend has antioxidant, regenerative, and restorative properties that keeps your skin energized and refreshed all day long.
Key Ingredients: Orange leaves and Moringa seed extract
Pros
EWG verified
Lathers well
Paraben-free
Silicone-free
PEG-free
Cruelty-free
Vegan
Cons
Strong chemical fragrance
The Beauty by Earth Lavender Citrus Body Wash is an organic product that not only cleanses your skin but also soothes your mind with its pleasant aroma. This formula is packed with the nourishing and cleansing properties of saponified organic oils extracted from lavender and citrus. These aromatic ingredients ensure a refreshing and luxurious bathing experience.
This gentle body wash, made with organic extracts, is best suited for sensitive skin and skin prone to allergies and rashes.
Key Ingredients: Lavender essential oil and Citrus essential oil
Pros
Contains natural ingredients
Paraben-free
Sulfate-free
Phthalate-free
Mild formula
Cons
Strong fragrance
May dry out the skin.
This body wash for sensitive skin from HEMPZ is a revitalizing formula that soothes your skin. It contains 100% pure natural hemp seed oil, oatmeal complex, shea butter, natural cocoa seed butter, and mango seed butter that nourish and cleanse your skin.
Oatmeal complex calms, moisturizes, and softens the skin. Shea butter is packed with vitamin E, a natural emollient that helps protect the skin against free radical damage. The natural cocoa seed butter deeply moisturizes and nourishes your skin, while the mango seed butter soothes the skin and evens out the skin tone.
Key Ingredients: Oatmeal complex, Shea butter, Natural cocoa seed butter, and Mango seed butter
Pros
Soap-free
Pleasant smell
Lathers well
Paraben-free
Gluten-free
Vegan
Dye-free
Cons
This Soothing Body Wash by Shea Moisture is formulated with oatmeal and vitamin E that cleanses your skin effectively, leaving it smooth and soft. It is made with ethically-sourced shea butter that nourishes the skin and is ideal for dry and delicate skin. Vitamin E clams your skin and increases elasticity for a firm feel. It is free from harmful ingredients and is cruelty-free. Moreover, it is unscented and works great for sensitive skin.
Pros
Creamy texture
Gentle
Unscented
Daily use
Cruelty-free
Value for money
Cons
None
The Tea Tree Oil Body Wash from Be-One Organics is formulated with organic and skin-friendly ingredients. It is infused with organic aloe juice, shea butter, and the essential oils of coconut, olive, sunflower, and jojoba to improve the skin's overall texture and elasticity. This body wash contains tea tree oil and organic peppermint oil that refresh and rejuvenate your senses. It gently cleanses the skin without causing irritation or dryness. The body wash can also be used to treat and combat skin conditions like eczema, acne, and psoriasis.
Key Ingredients: Organic aloe juice, Coconut oil, Olive oil, Sunflower oil, Jojoba oil, Shea butter, Organic tea tree oil, and Organic peppermint oil
Pros
USDA certified organic
No stabilizers or thickeners
Smells good
Suitable for everyday use
Cons
The Moon Jelly Natural Body Wash from Merinaturals is enriched with the enticing fragrance of rose that helps stimulate and awaken your senses. The damask rose extracts nourish the skin and uplift your mood, while the naturally derived ingredients thoroughly hydrate your skin.
Key Ingredient: Damask Rose Essential Oil
Pros
Lathers well
Cruelty-free
Vegan
Non-toxic
Cons
That was our round-up of the 11 best body washes for sensitive skin. These products are loaded with nourishing natural ingredients like aloe vera, plant extracts, and other calming ingredients that cleanse and nourish your skin without irritating it. Use any of the products from our list, and your skin will thank you!
Recommended Articles