The 15 Best Body Washes For Dry Skin You Must Try In 2022
Restore dull, dry, and damaged skin to a healthy, hydrated state with ease.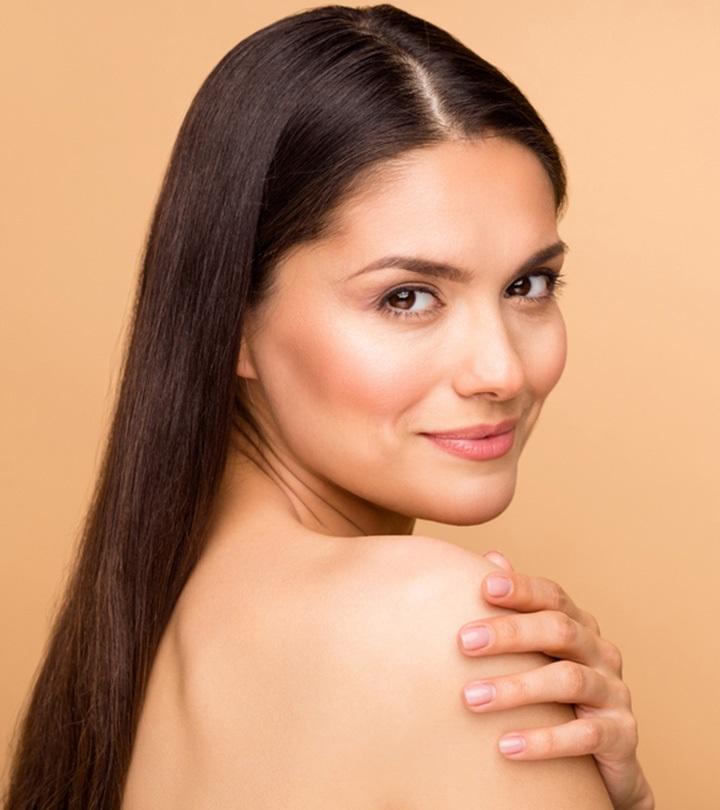 Not all body wash may suit all skin types. Some can strip the natural oils and make your skin extra dry and dull. That is when you should look exclusively for the best body wash for dry skin. If you do not use a body wash that suits your skin, your skin may start behaving weirdly. For example, you might experience tightness after bathing and may notice redness or white lines develop after every wash. Excessive dryness may also make the skin flake and peel. Therefore, it is best to use products developed for your skin type. You may use an ultra-moisturizing body wash if you have dry skin. Besides cleaning your skin, it can also repair the skin's barrier and maintain natural moisture.
So, wondering which is the best body wash for your dry skin? Do not worry! We can help. Scroll down to check out the list of 15 best body washes for dry skin which cleanse without stripping the natural oils.
Soothe Your Skin With Top 15 Body Washes For Dry Skin!
Oats to the rescue! Aveeno Skin Relief Body Wash infused with colloidal oatmeal will gently cleanse all the impurities, dirt, and oil buildup without disturbing the natural skin barrier. Soothing intensely and stimulating the skin to replenish and restore its optimum health, this soap-free body wash also provides relief from itchiness and redness. And to top it all, Aveeno has been a trusted brand in the market for over 65 years! Still, want to miss it?
Dr. Schwarzburg, a leading authority in the field of minimally invasive cosmetic and laser medicine in New York City, says, "Fragrance free products are best if you have sensitive skin. Fragrance typically involves alcohol which tends to dry out the skin rather than moisturize it."
Pros
Ideal to use daily
Leaves skin soft and smooth
Suitable for dry and sensitive skin
Dye-free, allergy-tested, and dermatologist-recommended
Cons
This Moroccan bliss is the ultimate TLC. Formulated with ultra-nourishing argan oil and water-based silk proteins, give your bath a spa-like experience with this extra hydrating body cleanser. Boosting hydration levels to combat dryness, claims to make your skin soft, smooth, and glowy with every use. So, if your skin has been feeling dehydrated lately, this argan boost will cleanse and quench the thirst like a pro. Radiating glow, anyone?
Dr. Schwarzburg, a leading authority in the field of minimally invasive cosmetic and laser medicine in New York City, says, "Always do a patch test or use the shower gel on your hand only with new products to make sure that you don't have any allergic reactions to your new product."
Pros
Rich lather
Ultra-moisturizing shower cream gel
Removes impurities and dirt
Paraben-free and sulfate-free
Cons
Not recommended if you are sensitive to smell
Fix the itch with this blend of olive and jojoba oils! Don't let your itchy skin turn you into a scratching animal in public when you can relieve the dryness with this soothing cleanser. Clinically proven to calm inflamed or eczema-prone skin, its intensely hydrating formula nourishes the dry areas and tackles the itch-causing bacteria too.  It is the best body wash for dry itchy skin as far as its cleansing power is concerned, consider your skin purified!
Pros
Dermatologist-recommended
Tackles flare-ups
Leaves skin healthy and soft
Non-irritating, gentle, and soap-free
Cons
Skin may turn slightly greasy
Heal your dry and damaged skin with this hydrating boost! Cleansing your body gently and leaving a refreshing glow, it also nurtures and protects the skin's natural barrier with every use. Infused with ceramides 1, 3, 6-II, and hyaluronic acid, it restores optimum health of the skin too. So, if you are looking for an ultra-hydrating body wash, CeraVe Hydrating Body Wash could be the one.
Pros
Foaming cleanser
Locks in skin's natural moisture
Gentle, non-irritating, and non-comedogenic
Paraben-free, soap-free, and sulfate-free
Cons
Like a comforting hug, do not ignore this body wash from NIVEA! A well-known brand in the skincare world, this ultra-moisturizing, and creamy cleanser will remove all the impurities and dirt without disturbing your skin's pH balance. Made of plant-derived oils, vitamins, essential skin lipids, and infused with a sweet floral fragrance, turn your bath session into a rejuvenating experience with Nivea. Give this creamy formula a try.
Pros
Hydrates intensely
Leaves skin healthy-looking
Ideal for daily use
Safe to use post-shaving
Paraben-free and free from microplastic particles
Cons
Not suitable if you prefer a rich lather
Blessed by Mother Nature, this natural body wash for dry skin will heal and repair your skin with its rich botanical blend. Formulated with tea tree essential oil and blended using traditional European techniques, it also relieves irritation and eliminates odor. Besides this, the other skin-conditioning ingredients ensure intense nourishment to leave a stunning and healthy glow. It is the best drugstore body wash for dry skin. Are you ready to feel loved?
Dr. Schwarzburg, a leading authority in the field of minimally invasive cosmetic and laser medicine in New York City, says, "Products free of harsh chemicals are ideal for anyone, particularly for those who have sensitive skin."
Pros
Body and foot cleanser
Combats flakiness and chapped skin
Cruelty-free and suitable for all skin types
Free from artificial colors, harsh chemicals, and parabens
Cons
Gentle for you and your family, this shower gel will make you fall in love with your skin! Boosting hydration by 90%, it soothes and cleanses at the same time to tackle dryness head-on. Also, this cleanser has a creamy and moisturizing foam, so your skin has no choice but to turn soft, smooth, and healthy instantly. With skin-protect complex and glycerin repairing and healing the skin intensely, there's no reason you must give this shower gel a miss.
Pros
Ultra-gentle cleanser
Safe to use daily
Soap-free and comforting
Paraben-free, soap-free, and colorant-free
Suitable for dry, normal, and sensitive skin
Cons
Not a fan of scented cleanser? Try Eucerin! With no fragrance to tickle your sensitive nose, this advanced formula also offers dual cleansing benefits for the body and face. And the best part— it cleanses intensely to make sure no residue is left behind and will not disturb the pH balance as well. Ideal for those who prefer a squeaky-clean feeling post-shower, Eucerin body wash for dry skin will not disappoint.
Pros
Dermatologist-recommended
Soap-free formula
Prevents skin from drying
Non-comedogenic and dye-free
Suitable for dry, normal, and sensitive skin
Cons
It may not produce a rich lather.
Staying true to its name, this body wash by Dove is purely pampering. Infused with vanilla and shea butter, this creamy cleanser will soothe, moisturize and nourish your skin intensely while eliminating the bacteria. So, not only the lost moisture is restored, but it leaves a healthy and stunning glow too. Also, it is ultra-mild and heals the pH balance of the skin as well! Yep, get ready to smell like a newly bloomed flower with this one.
Pros
Dermatologist-recommended
Penetrates deep into the skin
Cruelty-free, sulfate-free, paraben-free, and microbiome gentle
Cons
Let every day be bliss for your body with this insanely nourishing body wash. It has shea butter, glycerin, and niacinamide, that provides 24-hour hydration and calms your itchy and dry skin. Its gentle foaming formula cleanses the skin well without stripping the natural oils. This soothing body wash is ideal for babies, children, and adults with extra dry and sensitive skin.
Pros
 Allergy-tested
 Accepted by National Eczema Association
 Fragrance-free
 Soap-free
 Non-comedogenic
 Provides 24-hour hydration
 Suitable for extra dry and sensitive skin
Cons
What's special about this soothing body wash? It restores the natural moisture of the skin with the infused Fila grin complex and colloidal oatmeal! So, if you are dealing with very dry or sensitive skin, Cetaphil Pro Soothing Wash will calm and cleanse your skin without causing itchiness, redness, or rashes. Still unsure? It's dermatologist-tested! Try it.
Pros
Soap-free cleanser
Gentle and creamy
Fragrance-free and paraben-free
Suitable body wash for extremely dry skin
Cons
Nourishment level— max! Here's a body wash that your skin will thank you for. Infused with 65 vitamins, minerals, bladderwrack seaweed, neem oil, blue-green algae, Hawaiian kukui oil, aloe vera, and coconut oil, this gentle cleanser has only one goal— no more dry skin! Neem oil, which is antibacterial, combats dryness and protects skin, while the other ingredients work towards purifying and replenishing all the lost moisture. Yep, dryness, goodbye! 
Pros
Nourishes skin intensely
Soothes and calm inflamed skin
Vegan and cruelty-free
Gluten-free, SLS-free, paraben-free, and dye-free
Safe to use daily and post-shaving
Suitable for dry, very dry, and cracked skin
Cons
Not suitable if you prefer mild or no fragrance
Pure indulgence for your skin only! With raw and organic-certified shea butter and coconut oil, this body wash is too good to be ignored. Hydrating and moisturizing your skin to restore its natural suppleness, it also revitalizes with the infused Myrrh and Frankincense extracts. And the best part— hydrating body wash for dry skin is formulated to fight aging signs while cleansing too! Mature skin users or those with early signs, do not miss this all-natural bliss!
Pros
Rejuvenates dull and tired skin
Prevents premature aging
Eliminates dirt, oil buildups, and impurities
Protects skin from environmental damages
Suitable moisturizing body wash for dry skin
Cons
Not recommended if you prefer foamy lather
Do you know what's wild about this body wash? The infused soapberries, of course! Without disturbing the natural barrier or pH balance, it purifies the skin intensely. And as far as dryness is concerned, its ultra-moisturizing and botanical blend contains coconut, chamomile, shea butter, cucumber, and aloe vera. Also, to make your bath all the more relaxing, the essential Lavender oil ensures a soothing experience always! Now, why would you miss this bliss?
Pros
Ultra-moisturizing cleanser
Hydrates and nourishes intensely
Cleanses without leaving a greasy residue
Vegan and cruelty-free
Dermatologist-recommended and gentle
Safe and ideal for kids, women, and men
Free from SLS, sulfates, parabens, gluten, artificial fragrances, and silicone
Cons
May not lather up quickly
Lastly, this aloe vera and glycerin-infused body wash that'll refresh your skin and mood! Look out for its citrusy, lemony, and sage fragrance that will uplift your mood and keep your skin fresh and hydrated all day long. Also, it cleanses your skin intensely with a silky-smooth lather too! Yep, no more skin woes, only a happy glow! Try it.
Pros
Vegan and cruelty-free
Gentle and ultra-conditioning
Cleanses without disturbing natural moisture
Leaves skin energized and healthy-looking
SLS-free, paraben-free, phthalate-free, and SLES-free
Cons
Itching to try one, aren't you? There you go, those were the 15 best body washes for dry skin in 2021. Also, not sure which product to choose for your skin? We have let out some tips in the buying guide below.
Buying Guide:
How to choose the best body wash for dry skin?
Look out for the following features while choosing a body wash:
Non-drying formula: To fight dryness, pick the most nourishing formula that can hydrate and moisturize intensely to help the skin heal, repair, and be supple again.
Ingredients: Know what goes on your skin! Check the components, especially the nourishing ones, and if they are suitable for your skin condition. Mostly, cleansers infused with shea butter, aloe vera, and coconut oil are some of the best options.
Gentle cleanser: Since your skin is prone to drying, gentle cleansing is ideal, so it does not worsen the dryness or cause itchiness. So, before you choose a body wash, check if it is mild or gentle.
No harsh chemicals: Stay away from harsh chemicals such as parabens, phthalates, sulfates, alcohol, silicone, and more. These chemicals will not only reverse the effect of moisturizing but also dry your skin more.
Dermatologist-recommended: Lastly, if you are dealing with a severe dryness problem, it's ideal to choose a trusted brand or body wash that is dermatologist-recommended for the best experience.
Why Trust StyleCraze?
Vaishnavi Kothuri, who penned this post, is our skin care expert with over 100 articles to her name. She researched many product reviews and went through multiple online user feedback forums to bring you the best body washes to soothe your dry skin. She selected this list of products based on their ingredients, non-drying and non-toxic formulas. These body washes are enriched with hydrating ingredients and are gentle on your skin.
Frequently Asked Questions
Is Body Wash Good For Dry Skin?
A nourishing body wash is essential if you are dealing with dry or problematic skin. These gentle cleansers not only clean without disturbing the skin's natural barrier but also moisturize and replenish the lost moisture.
Does body wash kill bacteria?
An anti-bacterial body cleanser such as The Seaweed Bath Co. Body Wash is a great option if you are looking for a body wash to eliminate itchiness, flakiness, and skin damages due to bacteria or free radicals.
Will a body wash dry out your skin?
Yes! A body wash not meant for dry skin or packed with harsh chemicals may dry out the skin due to the unsuitable
ingredients. Hence, if you have dry skin, choose a gentle cleanser with moisturizing benefits.
How often should you use body wash for dry skin?
You can use your body wash for dry skin 2-3 times each week.
Do body washes for dry skin expire?
Yes. Body washes for dry skin usually have a shelf life of 3 years.
Recommended Articles