11 Best Body Wipes For Clean And Healthy Skin – Top Picks For 2020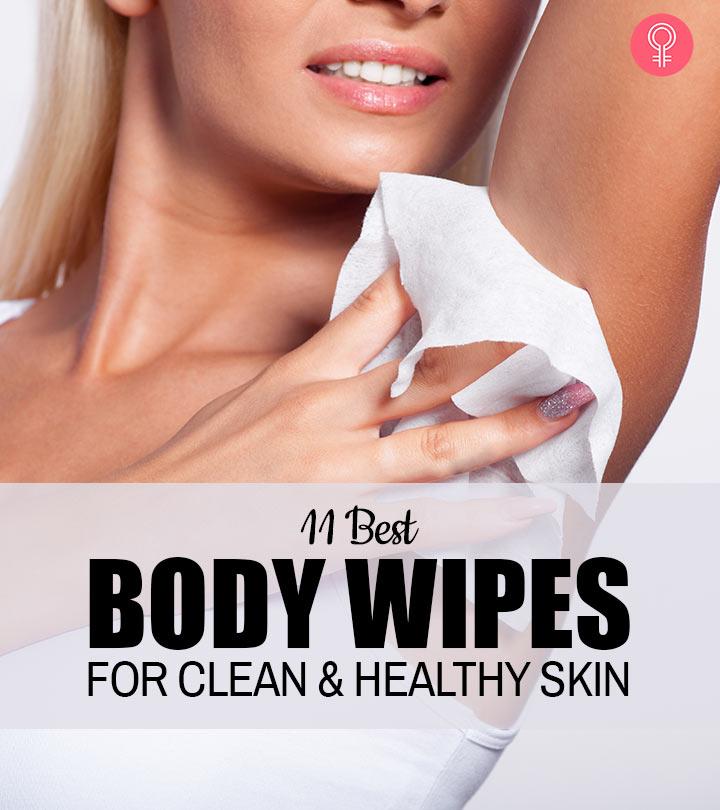 Personal hygiene when you are on the go, especially while camping, trekking, or after a sweaty gym session, is a must to keep your body healthy. If you travel a lot or are an outdoorsy sort of a person who likes to explore the hustle and bustle of an adventurous life, the availability of showers can be minimal. In such situations, the best way to keep yourself hygienic is by using body wipes! Body wipes, unlike baby wipes, are meant for adults. They help remove stubborn dirt, grime, and sweat and leave you feeling fresh from head to toe. There are several body wipes available on the market. Depending on your need, you can choose the best one from our list of the 11 body wipes available right now. You can also check out the buying guide that we have provided at the end of this article to make a better purchase. Take a look!
Top 11 Body Wipes Available Right Now
Surviveware Biodegradable Wet Wipes are the best solution to your camping and hiking hygienic needs. Surviveware was founded by a group of backpackers who try and test each product. Therefore, the reliability of these products is exceptionally high. Whether at home or on extended trips, these wet wipes will be of great help. They are environmentally-safe as they remain fresh for 28 days and take up to 6 months to a year to fully degrade. These wipes are hypoallergenic, pH-balanced, alcohol-free, and infused with natural aloe and vitamin E. This helps your skin stay healthier and nourished for longer. They are gentle enough for sensitive skin yet strong enough to eliminate stubborn dirt.
Number Of Wipes: 32
Pros
Great for post-surgery recovery and "no-rinse" bathing
Suitable for pets
Suitable for multiple uses
Upgraded package
Large and heavy-duty wet wipes
Lightweight
Unscented
Biodegradable
Cons
None
Dude Quick Shower Body Wipes wipes are created to replace a full shower. If you are trekking in the wild, access to a shower is highly unlikely! These shower wipes are absolutely perfect for fighting bacteria and sweaty body odor. They fit in your pocket and bag perfectly and help you stay fresh when you are on the go.
Number Of Wipes: 10
Pros
TSA-approved
Sustainable wipes
Extra-large and thick
Travel-friendly
Fragrance-free
Big full-body size wipes
Hypoallergenic
Made from plant-based fibers
Cons
None
Medline ReadyBath Antibacterial Bathing Cloth is a convenient and cost-friendly product that eliminates the need for soaps, linens, and body washes. They help kill germs and eliminate odors. These soft, heavyweight disposable washcloths are pre-moistened with a gentle, pH-balanced cleanser. Each resealable pouch contains 8 single-use washcloths. This reduces the chance of cross-contamination. The Z-folded cloths are easy to pull from the pack.
Number Of Wipes: 8 cloths per pack
Pros
Fragrance-free
No-rinse formula
Soothes and moisturizes your skin
One cloth sufficient for the entire body
Durable
Suitable for all skin types
Cons
None
No-Rinse Bathing Wipes are perfect for water-free cleansing, moisturizing, and deodorizing in one go. These wipes leave your skin clean, refreshed, and odor-free. Each pack contains 8 high-quality cloths infused with aloe and lanolin. You can also heat up the pack in a microwave to use them at room temperature. The wipes are made with a blend of polypropylene, polyester, and rayon that stays moist and fresh for a long time in the resealable package.
Number Of Wipes: 8 cloths per pack
Pros
Skin-friendly ingredients
Thick and durable wipes
Prevents cross-contamination
Rinse-free formula
Alcohol-free
Suitable for sensitive skin
Cons
None
ShowerPill Body Wipes are proven to kill 99.9% of germs while leaving your skin feeling clean, fresh, and moisturized all through the day. These on-the-go wipes are infused with aloe vera, witch hazel, and vitamin E. They let you enjoy the feel of a shower without using water.
These wipes were created by a group of athletes for heavy-duty cleansing. They are extra-thick and durable. They dry quickly, moisturize your skin, and reduce body odor without leaving a sticky residue. These wipes are individually wrapped for ease of transportation and preventing cross-contamination.
Number Of Wipes: 10 cloths per pack
Pros
Soothes the skin
Eliminates dryness
Mild neutral fragrance
Paraben-free
Alcohol-free
4 times thicker than baby wipes
Dries quickly
Suitable for sensitive skin
Cons
None
Cetaphil Gentle Skin Cleansing Cloths are infused with a mild and soap-free formula that does not strip away the natural oils and emollients from your skin. They are clinically tested hypoallergenic and non-comedogenic body cloths that do not irritate your skin or clog your pores. These soap-free cleansing body wipes do not leave behind a sticky residue. They help remove dirt, makeup, and impurities. These ultra-soft gentle cleansing cloths can be used on the face and body after working out, when traveling, or at home. Cetaphil is a dermatologist-tested and clinically proven brand.
Number Of Wipes: 25 cloths per pack
Pros
Suitable for sensitive skin
Fragrance-free
Does not dry out the skin
Alcohol-free
Refreshing formula
Dries quickly
Cons
Not as thick as other body wipes
Pure Active Body Wipes are individually wrapped personal hygiene wipes that are perfect for camping, hiking, and backpacking or after strenuous workouts. They are a great replacement for a standard shower. These wipes cleanse like soap and water and remove sweat, dirt, and bacteria instantly. They dry almost immediately and leave behind no residue.
Number Of Wipes: 20
Pros
Moisturizes the skin
Paraben-free
Alcohol-free
Cruelty-free
Large and thick wipes
Hypoallergenic
Cons
None
Freshen up whenever and wherever you are with Goodwipes Body Wipes. These wipes gently exfoliate your skin while eliminating dirt, sweat, and odor. The formula is infused with tea tree oil, peppermint, and ginseng. These ingredients create a cooling sensation from your face to your feet. You can use these wipes on the road, between flights, and so on.
Number Of Wipes: 10
Pros
Fresh lavender scent
Paraben-free
Alcohol-free
Biodegradable
Hypoallergenic
Extremely gentle on the skin
Refreshing and energizing
Large and durable wipes
Cons
None
Nurture Bathing Wipes provides a hassle-free, full-body bathing experience with no water required. They are great for hiking, backpacking, and post-surgery recovery. They are infused with a soothing formula made of aloe vera and vitamin E to cleanse, moisturize, refresh, and protect the skin. These wipes are pH-balanced, non-sensitizing, and hypoallergenic.
Number Of Wipes: 6 packs of 8 wipes each
Pros
Alcohol-free
Rinse-free
Fights sweaty odors
Leaves skin feeling soft and fresh
No sticky residue
Suitable for sensitive skin
Cons
None
These soap-based body wipes are designed for skin cleansing when you are unable to shower. They are soft but durable enough for heavy use. They are infused with tea tree and eucalyptus oils that help cleanse and refresh your skin. They also help fight bacteria and contagions and promote healthy skin. These wipes fit perfectly in gear packs, hiking bags, and duffel bags.
Number Of Wipes: 40
Pros
Paraben-free
Sulfate-free
Fragrance-free
Specially formulated for sensitive skin
Kills germs and microbes
Gentle and non-drying formula
Fights sweaty odor
Travel-friendly
Cons
None
Assurance Pre-Moistened Disposable Washcloths leave your skin feeling clean and fresh throughout the day. They are extra-large washcloths that are enriched with natural botanical extracts, vitamin E, aloe, and chamomile. These ingredients are good for the skin and provide instant freshness to it. These wipes are pre-moistened and disposable and are ideal to use while traveling. They are a quick and easy way to stay clean in any situation.
Number Of Wipes: 96
Pros
Clinically tested
Gentle on the skin
Easy-to-open lid
Rinse-free formula
Thick and durable
Suitable for sensitive skin
Cons
The wipes dry out quickly
These are the 11 best full-body wipes available right now. Now, let's check out the important features to consider while purchasing body wipes.
Body Wipes Buying Guide – Important Features To Consider
1. Ease Of Use
If you are planning to buy adult body wipes, it is very important to pick those that are sustainable and convenient to use. This is especially important if you are always on the run. Ultimately, you shouldn't find it difficult to use the wipes due to their complex packaging. Similarly, a sustainable body washcloth should act as an alternative to a shower.
2. Ingredients
Since you may be using the wipes on the most delicate parts of your body, you should be cautious about their ingredients. You must also check if they contain any allergens that can cause adverse side effects. It is recommended to purchase those body wipes that feature natural ingredients and hypoallergenic fibers. Choose the body wipes that provide adequate moisture and are pH-sensitive.
3. Size
Most body wipes come in different sizes. However, it is recommended that you buy wipes that are large and durable if you intend to use them on your whole body. This will help you cover all the regions perfectly without exposing your fingers while cleaning.
4. Materials
Another important feature to consider while purchasing body wipes is the material used. You should ensure that the material of the wipes is gentle on the skin. The wipe you choose should ensure that your skin is healthy and fresh at the end of the day. Since there are a variety of wipes available on the market, compare the quality of the materials used to avoid exposing yourself to allergies. Maximum comfort and protecting your sensitive skin are of paramount importance.
5. Packaging
The packaging of the body wipes is essential for their longevity. Compact and discreet packaging is the best option so that you can carry the wipes around while travelling. A press-open lid makes it easy for you to use the wipes.
Pick your favorite product from the list with the help of the buying guide, and enjoy the benefits of these body wipes while you are out in the wild!
Expert's Answers For Readers' Questions
Can you use antibacterial wipes on your body?
Yes. Antibacterial wipes are pH-neutral and safe to use on your skin. They can be used for cleansing your hands, body, and face instantly.
How long does the moisture on wipes last after they are opened?
It depends on the brand. Most body wipes stay moist for over a year, provided you keep them sealed, with limited air passage.
Can you clean your body with baby wipes?
Baby wipes can be used to clean your body, but they are not as effective as adult body wipes in removing stubborn dirt, sweat, and odors.
Recommended Articles
The following two tabs change content below.

Latest posts by Pooja Karkala (see all)

Pooja Karkala
Pooja is a Mass Communications and Psychology graduate. Her education has helped her develop the perfect balance between what the reader wants to know and what the reader has to know. As a classical dancer, she has long, black hair, and she knows the struggle that goes into maintaining it. She believes in home remedies and grandma's secrets for achieving beautiful, luscious hair. When she is not writing, she learns Kuchipudi, practices yoga, and creates doodles.