11 Best Boob Tapes Of 2022 That Are Comfy And Fashionable
Go bra-free with easy-to-use, skin-friendly choices that stay well-hidden under your tops and dresses.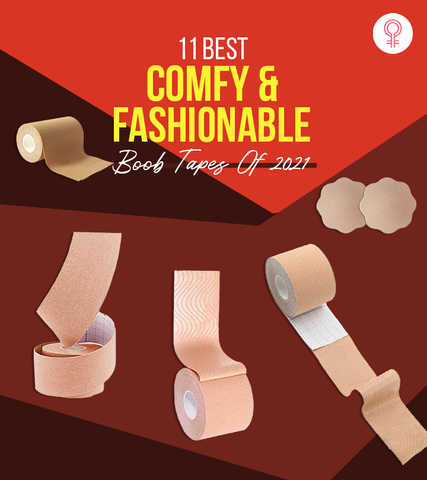 Regular bras are not good for deep-neck dresses, and backless or strapless bras do not always provide proper support. That is why you need to add the best boob tapes to your closet. They are versatile and more comfortable than stick-ons and tubes.
From flattening your breasts to defining your cleavage, boob tapes offer numerous benefits. They are ideal for people with big busts as they offer the freedom of going braless but with proper coverage and support. They also prevent side bulges and prevent your breasts from sagging. Boob tapes give your bust a stunning shape and allow you to flaunt your favorite backless dresses without any worries. Scroll down to explore our list.
11 Best Boob Tapes You Can Buy
This boob tape and backless nipple cover set from Okela is made from high-quality cotton and spandex to offer a safer solution than self-adhesive bra and gaffer tape. The soft, comfortable, and hypoallergenic tape features an ergonomic design and feels like sec ond skin. Both the boob tape and the nipple covers come with strong adhesion to prevent falling off easily.
This set works perfectly for deep neck and backless dresses. The tape is 16.4 feet long and  2 inches wide and provides the desired shape to your breasts while offering lifting and push-up effects. The tape can also be used on your feet to prevent your shoes from rubbing and hurting them and protect your muscles and tissues during exercise.
Pros
Reusable
Hypoallergenic
Comfortable
Non-woven fabric
Durable
Breathable
Strong adhesion
Stretchable
Can hold up to 8 hours
Waterproof
Cons
Hard to take off
Not suitable for sensitive skin
 Go bra-free with Cindy's Breast Lift Tape made from medical grade glue and 98 % cotton with 5% spandex. This transparent boob tape is soft, breathable, and hypoallergenic. The nipple cover is made of skin-friendly, non-woven fabric with medical-grade silicone. It is designed to perfectly shape and lift your breasts when you wear plunging and deep neck dresses.
This tape is 2.5 inches wide and 16.5 feet long. The tape and nipple covers feature strong adhesion, and they do not come off easily even if you are sweating or wet. The brand does not recommend the tape to be used on sensitive skin or to be on the skin for more than 12 hours.
Pros
Waterproof
Sweatproof
Hypoallergenic
Reusable nipple cover
Strong adhesion
Long-lasting
For all breast sizes
Latex-free
No residue
Cons
This boob tape from Brostown comes with a pull-on closure and is made from a blend of non-woven cotton and spandex. It also includes 10 nipple covers made of medical-grade, non-irritating silicone.
This eco-friendly boob tape can hold your breasts perfectly for long-lasting comfort and shape. The highly stretchable tape shapes your breasts and fits cup sizes from A to DD. You can use it under backless and plunging neck dresses, halter-tops, or swimsuits. It is recommended to use oil or lotion when removing this tape, especially if you have dry skin.
Pros
Reusable nipple covers
Waterproof
Breathable
Hypoallergenic
Stretchable
Strong adhesion
Long-lasting
Cons
Painful removal
May not suit sensitive skin
Tripsky's Breast Lift Tape is waterproof and made of imported cotton and spandex to hold well even on sweaty or wet skin. It has strong adhesive properties and medical-grade hypoallergenic glue, making it an skin-friendly option.
This natural tan-colored tape is 16 feet long and 3 inches wide and can be customized according to your needs. The extra width is suitable for heavier breasts. This boob tape is a perfect pick for big-breasted girls as it supports cups from A-G. It provides excellent stretch and can hold up to 8 long hours to get you through the day. It comes with one pair of petal nipple covers, which are reusable up to 20 times.
Pros
Waterproof
Strong adhesion
Hypoallergenic glue
Breathable
Stretchable
Reusable nipple covers
Cons
The Okela XL breast Lift Tape is 16.4 feet long and 3 inches wide. This wide tape is perfect for big-breasted women as it covers a larger area compared to other tapes and prevents side bulging. It is made of non-woven cotton fabric and 5% spandex, which is soft, durable, and hypoallergenic. It is suitable for cup sizes from A to E and adheres well to your skin without falling off or sagging.
The boob tape comes with a pair of silicone nipple covers. The waterproof material makes it easy to stay on sweaty or wet skin, and its nude color provides a natural look to avoid detection. The nipple cover is thin enough to be discreet under any dress and has a non-woven outer fabric to reduce the chances of slipping. The tape can also be used to protect your skin against shoe chafing and during exercises to protect against muscle injuries.
Pros
Waterproof
Nude color
Strong adhesion
Reusable
Breathable
Hypoallergenic
Multipurpose
Easy to use
Sweatproof
Cons
The Comfident Breast Lift Tape is made of 100% pure cotton and works exceptionally well for all breast sizes from A-H. It is 3 inches wide, making it ideal for preventing side bulges. This boob tape is an ideal choice for deep plunging necks and strapless dresses, and the tan color is a striking change from the regular nude color tapes. The comfortable design is gentle and doesn't leave any residue on the skin. This breast tape comes with reusable nipple covers that are made from hypoallergenic and premium quality silicone to offer great comfort.
Pros
Gentle
Strong adhesion
No residue
Reusable nipple covers
Hypoallergenic
Breathable fabric
Extra-wide
Water-resistant
Sweat-resistant
Cons
Say goodbye to thick and uncomfortable bras with the Medimama Boob Tape that is designed to support and lift different-sized breasts. It comes with five pairs of nipple covers that are comfortable to wear. The tape features strong adhesion and is made from medical-grade, soft, and breathable material to prevent irritation. The blend of 95% cotton and spandex is skin-friendly and doesn't slip off easily.
The boob tape is ideal for different dresses like tube tops, backless dresses, and plunging necks, as it prevents sagging and offers an instant lift. It is designed with heat-activation technology that ensures that the glue adjusts to your body heat and does not become loose. You can also use it during workouts to prevent tissue injury.
Pros
Easy to use
Instant lift
Strong adhesion
Hypoallergenic
Breathable
Seamless
Stretchable
Waterproof
Cons
Low support for large breasts
The Deilin Body Tape is a perfect choice if you want to flaunt your cleavage as it provides a great lift for cup sizes A to E. It is made of cotton and spandex, while the nipple cover has non-woven fabric on the outside and superior silicone lining on the inside.
This invisible breast lifting tape is suitable for all sorts of deep neck dresses, and it offers contouring and shape to your breasts. You can also use it on your feet to prevent any discomfort from rubbing or chafing from the shoes. It also comes handy as a safety tape during vigorous workout sessions to help you avoid injuries. The stay-in-place nipple covers are sweat- and water-resistant and stay secured in humid and wet conditions.
Pros
Water-resistant
Sweat-resistant
Strong adhesion
Invisible
For different cup sizes
Multipurpose
Reusable nipple covers
Breathable
Cons
This breast lift tape from Epic Elements comes with strong hold and durable adhesion to provide firm and long-lasting lift to your breasts. It is made of 95% cotton and 5% silicone and is breathable and comfortable. It enables you to go braless without the burden of straps digging into your shoulders. The black color goes with any outfit and shapes your breasts according to it. This seamless tape can be put to variable uses, such as preventing shoe bites and during workouts to prevent injuries. It comes with a pair of silicone nipple covers that are eco-friendly and reusable.
Pros
Waterproof
Sweat-proof
Breathable
Hypoallergenic
Seamless
Highly stretchable
Easy to use
Latex-free
Cons
The Universal Body Labs Boob Tape is made from a medical-grade and safe blend of cotton and spandex that can hold cup sizes from A to F. It works by offering a desired lift and shape to your breasts while eliminating any discomfort. The acrylic glue is hypoallergenic, making it gentle and non-irritating on your skin. You can flaunt any dress with this stretchable tape that can be customized to support your breasts in various ways.  It is easy to cut and formulated for heavy breast sizes that need super grip.
Pros
Waterproof
Sweat-resistant
Easy to use
Skin-friendly
Strong adhesion
Breathable
Stretchable
Hypoallergenic
Latex-free
Cons
Low support for large breasts
Tripsky's Breast Lift Tape comes extra width to cover a large area, providing optimal support to big cup sizes. It is made of imported quality cotton and spandex and comes with five pairs of disposable nipple covers. This hypoallergenic, soft, and comfortable set of breast tape and nipple covers lets you be bra-free while you wear any deep neck or plunging dress.
The push-up tape contours, lifts, and shapes your breasts to boost your confidence. It has strong adhesion to prevent slipping and is waterproof to keep you going while swimming or exercising. This multifunctional tape can also be used to protect your muscles and tissues during physical activities, prevent shoe bites, or as an emergency repair on garment tears.
Pros
Waterproof
Stretchable
Skin-friendly
Hypoallergenic
Breathable
Light
Non-woven fabric
Easy to cut
Cons
Now that you know about the best boob tapes, scroll down to find out how to choose one.
Things To Consider Before Buying A Boob Tape
Choose a boob tape made of high-quality and medical-grade cotton and spandex material. Make sure that the glue is hypoallergenic to prevent skin irritation. Gaffer tapes and duct tapes have also been used for the same purpose, but their industrial use feature makes them quite harsh on the skin. Thus, it is advisable to choose boob tapes that are made with stretchable, breathable, and skin-friendly material.
Always opt for a transparent or neutral shade that does not show when you wear a deep neck top or a backless dress. You may also opt for a black one to pair with your LBD.
Some boob tapes can accommodate all breast/cup sizes, while some are meant for only small breasts. If you have a large cup size, go for boob tape offering extra width. Generally, boob tapes come with a width of 2 inches, but you would need more of this tape to cover a large area compared to a tape that has a width of 3 inches.
Why Trust StyleCraze?
The author, Baishali Bhattacharya, is a certified image consultant and loves reviewing different fashion and beauty-related products. She has curated this list of the best boob tapes after going through numerous user reviews on trusted online forums and brand websites and researching the products in-depth. The tapes listed in this post are ideal for people with big busts as they offer good coverage and support.
Frequently Asked Questions
How to apply boob tape safely?
Take a long strip of boob tape that covers the entire width of your chest. Lean forward and paste the first strip at the base of your boobs. Take more strips and repeat this process till you reach the top of your breasts.
How to remove boob tape safely?
Take the free edge of the tape and gently start removing it. Apply a cotton swab with body oil or olive oil to remove stickiness and reduce tugging.
Does a boob tape work on small breasts?
Yes, boob tapes work on small breasts. Take a smaller strip of the tape and apply it from one armpit to another.
Is breast tape painful?
Yes, breast tapes are painful to remove but applying a body oil can solve the issue. The oil can remove extra stickiness and keep sensitive skin free of cuts or bruises from tight breast tapes.
Does boob tape burn your skin?
Yes, a boob tape may cause redness and inflammations on your skin. The skin around your boobs is far more sensitive than any part of your body. It is recommended to use breast tapes with gentle glues that are skin-friendly and toxin-free.
Can I reuse breast lift tape?
Yes, you may reuse a breast lift tape only if the adhesion is strong enough to be attached to your breasts. Do not use the ones that may slide off due to weak adhesion.
Does boob tape hold up to sweat?
Yes, there are boob tapes available in the market that are waterproof and sweat-proof. Avoid boob tapes that come loose due to sweating or heat.
How do you make a backless bra with tape?
Cover your nipples with cotton pads to keep them free of adhesives. Cut strips of the tape and attach them on the base of your boobs while lifting them. Make sure that the adhesive is strong enough and offering your breasts the right kind of support.
Recommended Articles