11 Best Bookshelves – Reviews And Buying Guide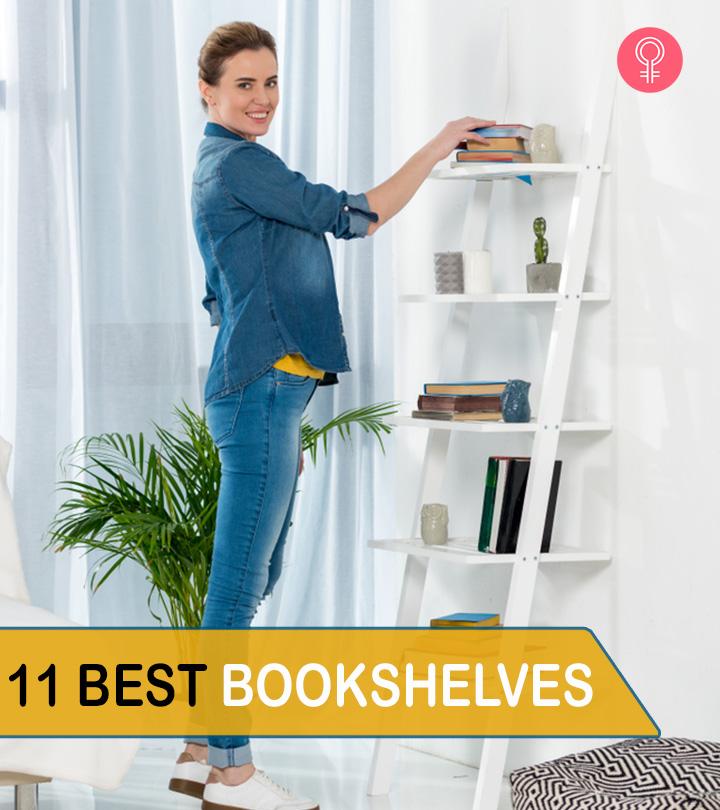 If you are a book lover, you probably have piles of books lying around your house. What can be better than a modern bookshelf to show off your collection?
A bookshelf can add a minimalistic touch to your home and also encourage reading. It also utilizes the unused space in your home and makes it look organized and attractive.
Whether it is a chic floating shelf or a vintage style ladder shelf, bookshelves are available in extremely creative designs these days. We have compiled a list of the 11 best bookshelves to keep your room clutter-free. Take a peek!
11 Best Bookshelves Available Online
This industrial-style rustic metal bookshelf by Coavas is attractive, functional, and affordable. If you are looking for a decorative piece to organize your books, flower pots, lamps, and other accessories, this one is a great pick. The folding bookshelf is easy to install and fold. It has a compact design and four shelves. It is highly durable and has a load capacity of 36 kg. The two sidebars with extra barracks make it more stable and reliable.
Features
Size: 23.6 x 11.8 x 49.4 inches
Material: MDF & Metal
Weight: 27 lbs
Load Capacity: 79 lbs per shelf
Pros
Foldable
Sturdy
No assembly required
Compact
Large storage area
Cons
Front snaps are difficult to secure.
The Wisome Wood Studio Classic 4-tier shelf is crafted with perfection. If you want a wooden bookshelf to organize your stuff, look no further. This rectangular shelf features ladder-style sides and narrow back rails to secure your books. Its open and airy design prevents foul odor and offers substantial storage and a sleek look.
Features
Size: 26 x 12 x 42 inches
Material: Solid beechwood
Weight: 29 lbs
Load Capacity: 50 lbs per shelf
Pros
Quick assembly
Open, airy design
Sleek finish
Multipurpose rack
Low maintenance
Cons
This 5-tier bookshelf by Homfa combines style and functionality. It is ideal for storing different items, such as books, flower pots, photo frames, etc. This sturdy industrial organizer features metal brackets and thick solid panels for durability. It is reinforced with a metal crossbar on its back for enhanced stability and protection.
Features
Size: 23.6 X 11.8 X 62.2 inches
Material: Square steel tube & Particleboard
Weight: 29.8 lbs
Load Capacity: 11.5 lbs per shelf 
Pros
Spacious racks
Long-lasting
Sturdy
Easy to maintain
Cons
The FurinnoPasir 3-tier Shelf integrates effortlessly with other furniture items and is highly compact. If you are looking for a small and space-savvy bookshelf for your living or bedroom, it is a perfect choice. It is not only economical but also functional. The unique structure with open rack display provides secure storage. This bookshelf is manufactured from CARB compliant composite wood with the Forest Stewardship Council Certification.
Features
Size: 22.7 x 31.5 x 9.7 inches
Material: Engineered particleboard
Weight: 20 lbs
Load Capacity: 20 lbs per shelf
Pros
Odor-free
Easy to assemble
Affordable
Eco-friendly
Suitable for small spaces
Cons
The space between each rack is very less.
The TomCare Cube Organizer is specially engineered to increase storage space in your room with its plastic cabinets. The closet features six cubes for modular shelving, and each cube measures 11.8×11.8×11.8 inches. The boxes are spacious and ideal for storing items like books, clothes, shoes, accessories, etc. This organizer can be used as a bookshelf, display shelf, closet, or toy storage. The shelves are connected and secured by high-quality ABS connectors and hold heavy items effortlessly.  The thickened PP panel makes this bookshelf sturdy.
Features
Size: 36 x 12 x 36 inches
Material: Plastic
Weight: 8.78 lbs
Load Capacity: 15 lbs per cube 
Pros
Lightweight
Easy to clean
Affordable
Strong foot connectors
Sturdy
Cons
Ladder shelves are perfect for small apartments and hold a decent amount of books and display items. This 5-shelf bookcase in Walnut Black from Nathan James is an ideal piece of furniture to add to your living room or office. The industrial ladder shelf is made using a high-quality metal frame and   reclaimed wood for a rustic vintage look. It comes with a lifetime manufacturer warranty.
Features
Size: 23.62 x 11.81 x 72.52 inches
Material: MDF with oak paper laminate
Weight: 40 lbs
Load Capacity: 50 lbs per shelf
Pros
Easy to assemble
Durable
Space-saving
Sleek and stylish
Lifetime manufacturer warranty
Cons
You need a sturdy and extra-large bookshelf if you have loads of books and display items. The Tribesigns 5-tier Industrial Style Bookcase comes with spacious compartments. It is constructed with solid steel tube support metal. The E1 class engineered wood offers a smooth and elegant finish to the shelf.  It also features non-slip adjustable pads to prevent scratching the floor and provide maximum stability and balance. The shelf has rounded desk edges to prevent injuries. 
Features
Size: 47 x 12 x 72 inches
Material: Carbonized steel tube and engineered wood
Weight: 62 lbs
Load Capacity: 33 lbs per shelf
Pros
Strong construction
Made with fine-edge technology
Spacious
Ample storage space
Cons
The paint may chip after extended use.
If you are looking for a lasting and elegant bookshelf, check out the Unbrand Metal Bookshelf. The rack features 5-tiered shelves and comes with bars at the sides and back for added support. Each shelf is 11 inches deep and offers enough room for storing books, flower pots, shoes, etc. The unique construction makes it stable, and the structure offers better resistance.
Features
Size: 12.7 x 5.0 x 36.7 inches
Material: Black painted metal
Weight: 15.52 lbs
Load Capacity: 16 lbs per shelf
Pros
Sturdy
Maintenance-free
Lightweight
Cons
The Bon AUGURE 4-Tier Leaning Industrial Bookshelf features four large tiers to accommodate books, plants, storage baskets, speakers, and other items. Each shelf has a gap of 13.78 inches and is highly roomy. The adjustable leg pads at the bottom add to the stability of the shelf. The decorative 'X' frame prevents the shelf from vertically separating and tipping over. This versatile unit can be placed in the living room, kitchen, hallway passage, or bedroom for different purposes.
Features
Size: 23.62 x14.17 x 51.18 inches
Material: MDF and metal tube frame
Weight: 26.4 lbs
Load Capacity: 55/80/110/120 lbs from top to bottom
Pros
Comes with adjustable leg pads
Features adjustable levelers
Easy to assemble
Well-balanced
Does not tip over
Cons
The IRONCK Industrial Bookshelf comes with 12 open shelves to store your books and display decorative items. This durable and solid bookshelf features a steel frame and is reinforced by 'X' crossbar for durability and style. The double-wide shelves offer ample storage space, while the two anti-toppling metal brackets and six floor-protective footpads provide safety and portability.
Features
Size: 53.2 x 13 x 70 inches
Material: Medium density fibreboard, Iron, Metal
Weight: 86 lbs
Load Capacity: 160 lbs per shelf
Pros
Sturdy
Comes with floor-protecting footpads
Scratch-resistant
Waterproof
Stable
Cons
Floating shelves are sleek and add extra storage or display space to your walls. The EKNITEY Floating Wall Mounted Bookshelf has two powder-coated brackets for sturdiness. They are easy to install and highly practical. These shelves can easily blend in with your furniture items, and the rustic design will add aesthetic beauty to your living area.
Features
Size: 16.5 x 5.9 x 5.4 inches
Material: Natural solid wood and metal brackets
Weight: 3.54 pounds
Load Capacity: 20 lbs
Pros
Space-saving
Easy to install
Low-maintenance
Durable
Cons
Now that you have explored our collection of top 11 bookshelves, here's a brief buying guide to help you choose the right bookshelf for your home.
Buying Guide – What To Look For When Buying A Bookshelf
The size (or dimensions) is the first thing you would want to look at while buying a bookshelf. There are small, medium, and large-sized bookshelves available on the market, so you can choose one as per the space available. For compact and small rooms, pick a small-sized and minimalistic bookshelf. For larger areas, like the living room or bedroom, you can choose the traditional wooden bookshelves that can accommodate multiple books and display items.
The storage capacity of any bookshelf depends on the number of shelves it has. Generally, a small-sized bookshelf has three tiers. Medium and large-sized bookshelves have four to eight tiers. More shelves mean more storage space. Also, check the space between each shelf to determine if your books and display items will fit in the shelf. Some bookshelves also come with different sized shelves to help you store more than books.
Modern bookshelves feature an adjustable shelf design. You can go for these kinds of bookshelves if you want to store items like shoes, clothes, flower pots, and decorative in addition to books. The adjustable shelves will accommodate multiple items comfortably without looking cluttered. They are generally made using metal and are foldable, so you can customize the shelf size as per your requirements.
The strongest bookshelves are generally made of natural wood. Some bookshelves like ladder-style bookshelves are made using metals like iron and steel. MDF, engineered wood, and powder-coated material are the most common materials used for making bookshelves. Particleboard is another budget-friendly option that looks like natural wood. If you are looking for a bookshelf that can hold maximum weight and is sturdy, go for wooden bookshelves. If you are looking for sturdy and minimalistic bookshelves, go for metal-based bookshelves.
The most popular bookshelves are made from wood and in honey, mahogany, and oakwood finishes. Metal bookshelves are mostly available in black and easily integrate with your home furniture and look classy. However, if you want to give a unique twist to your home furniture, you can pick customized bookshelves with different colors.
The ladder design, floating shelf design, the traditional rustic wooden bookshelf design, etc. are the conventional bookshelf designs available on the market. The right design will add to the beauty of your house and accommodate more books and storage items. There are also other options, such as corner bookshelves, leaning bookshelves, tower bookshelves, wall-mounted bookshelves, etc. Pick a bookcase with a stylish and functional design.
Bookshelves can weigh anywhere between 10 lbs and 40 lbs. If you are looking for a small bookshelf that can be easily moved from one room to another, go for a compact and lightweight alternative. If you are looking for a permanent storage unit for your living room, go for a large-sized, multi-layered bookshelf.
Most bookshelves come with a lifetime warranty. The heavy-duty bookshelves are durable and are engineered to last. However, the same cannot be said about metal-based bookcases. If you are unsure about the durability and construction of the bookshelf, always check the warranty before buying.
One of the most important things to keep in mind while buying a bookshelf is the load capacity. A bookshelf with a load capacity of up to 30 lbs per shelf is sufficient if you are willing to store only books on the shelf. However, if you are planning to store multiple items, such as baskets, flower pots, books, decorative items, and other items, pick a bookshelf with a high load capacity per shelf.
The best bookshelves listed in this article are designed to keep your living or work area organized. Each one adds storage, display, and function to your home in its unique way. Pick the best bookshelf that suits your requirements and artfully rearrange your books and display items.
Recommended Articles
The following two tabs change content below.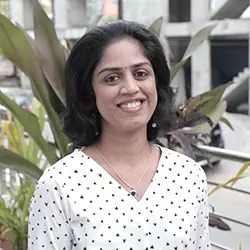 As Head Of Content Operations, Harini sets the tone and editorial direction for StyleCraze to deliver engaging, interesting, and authentic...
more