10 Best Boot Camp Shoes For Women – 2023
Perform all heavy exercises with ease with the right footwear to support and cushion your feet.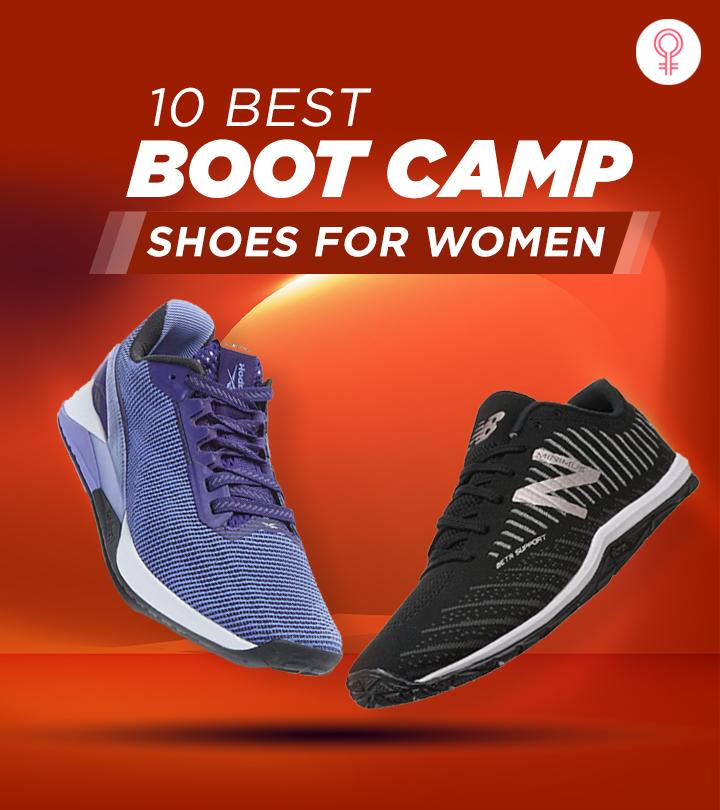 In a boot camp, where extreme stress is given to athletic training, the importance of the right shoe is invaluable. The best ones for boot camp are for those high performers, doing a multitude of high-intensity exercises in a short amount of time. Be it weight lifting, cardio, or jumping jacks, the right shoe can make all the difference. Without the right shoes, doing heavy exercises might give a person serious muscle and ligament injuries.
The shoes made for high-intensity workouts have a stable base, are non slippery, and help one connect to the training floor well. So are you someone looking for a good boot camp shoe and not sure what to buy? Don't worry, we have compiled a list of boot camp shoes for you to pick from. With a buying guide to help you out, you are set to buy the perfect pair for you. Scroll down to know more.
How Are Boot Camp Training Shoes Different From Regular Shoes?
Unlike regular running shoes that require intense flexibility and high cushioning, training shoes tend to be more stable and supportive. When you participate in a boot camp training, you are expected to perform various types of exercises in a short interval. Your weight is concentrated more on your heels, which is why these boot camp shoes tend to be on the heavier side to absorb at least twice your total body weight. This is different than your running shoes where the lighter the weight, the better your performance.
The best trainers for bootcamp can be considered a multipurpose hybrid of traditional sneakers and running shoes. They come with a wider outsole that enables a lot more movement than running shoes, typically because you need ideal side-to-side movements doing lateral burpees, side lunges, etc.
Let's now take a look at the best boot camp shoes for women.
10 Best Women's Boot Camp Shoes – 2023
The PUMA Women's Tazon 6 FM Women's Sneakers is one of the most popular options out there. These are great to support a range of different workouts. The sleek shoes feature a synthetic leather upper for a stylish look, a midfoot saddle for better fit and comfort, and a TPU shank for improved stability. The lightweight and breathable insole provides the ideal support, while the EVA in the heels absorbs shock, making it one of the best shoes for boot camp workouts. With extra padding in the tongue and collar, it gives you additional comfort for all-day wear. Plus, you get up to five different colors to pick from! Check out this video to learn about the tester's experience of using these shoes.
Pros
Stylish
Durable
Comfortable
Slim fit
Excellent arch support
Cushioned insoles
Cons
None
Get your stylish fit with the Ryka Women's Vida RZX Training Shoe that comes with a sleek training shoe structure. It features a smooth lining and cushioned insole with a proprietary Anatomical Precise-Return footbed. The design also covers a sleek upper with a round toe design and a lace-up front. Its custom engineered mesh comes with a multicolor print and adjustable cording.
The synthetic overlay helps provide intense support, and the rubber outsole imparts extra flexibility. The pivot points enable excellent ease of movement. The RE-ZORB high impact cushioned heel and Ultra Flex forefoot ensure you get the utmost comfort. It comes in five vibrant multi color options. Watch this video to learn about the reviewer's experience with these shoes.
Pros
Lightweight
Heavily cushioned
Flexible
High-impact
Cons
None

The ASICS Gel-Kayano 28 is built to suit both male and female foot sizes and color preferences. The OrthoLite X-55 sockliner makes the pair more comfortable, while the enhanced outsole placed strategically throughout the shoes makes them more durable. The shoes effortlessly take you through high-impact activities due to the added padding in the external heel counter that keeps the foot stable and offers effective shock absorption. The engineered mesh upper offers enough breathability to prevent any foot sweating and odor. The rear foot gel technology and the Dynamix Duomax support system makes these shoes perfect for the all-guns-blazing activities in a boot camp. Several reviewers on Amazon highly recommend these shoes for their breathability and durability.
Pros
Durable
Wide toe box
Soft
Good bounce
Retains the firmness
Added padding
Cons
The Reebok Nano X1 Women's Cross Training Shoes are your perfect companions if you live by the phrase, 'train hard or go home.' These versatile shoes are designed for functional training and have a Flexweave knit upper that improves breathability and comfort. The weightless heel clip lends stability for multi-directional movements, and the weightless Extra Floatride Energy Foam provides forefoot cushioning effects. This is a great option that provides the best of comfort, control, and speed in one, and it is available in 10 color variants.
Pros
Stylish appeal
Durable
Lightweight
Stabilizing foot support
Available in 10 colors
Cons
None

For shoes that keep your feet cool and dry even through the most active workout days, try the Nike Metcon 7. The lightweight shoes have a mesh upper and textured overlays that keep your feet well ventilated. The pair is backed by react foam that keeps you comfortable throughout high-impact workouts. Features like the flat heel and inner plate placement enhances better weight distribution on the feet, preventing any feet fatigue. The rubber arches on the heels and back allow for better grip and traction, whether you are climbing ropes or training on floors and pavements. The tab lock further prevents your laces from coming untied and keeps the shoes secure in place through all kinds of activities.
Pros
Stable
Sturdy
Well-cushioned
Good traction
Minimized drag
Cons
None
Get your fix of style and comfort with the Ryka Graphite Training Shoes that are ideal for intense and flexible workouts. They feature a printed engineered mesh that improves breathability, flex gear overlays that offer weightless support, and a rubber sole that provides a customized fit. The Anatomical Precise-Return insole enhances the overall arch and heel support, while the EVA midsole ensures you get a weightless and stable feel during your workouts. Reviews on Amazon indicate that these shoes are ideal for dancing and low-impact workouts. The pivot points are designed in a way that makes your twists and turns easier and effortless. The shoes are available in 3 colors- gray, black, and navy.
Pros
Excellent cushioned support
Breathable
Durable
Lightweight
Stylish design
Cons
If you are looking for a supportive training shoe to get you through the toughest of workouts without breaking a sweat, try the Reebok Speed TR Flexweave Women's Training Shoes. This all-day wear training shoe is designed with a flexible and lightweight upper and a highly durable full foot rubber outsole. It is powered by the Flexweave Technology that features a figure eight woven structure for dynamic construction and targeted support for all your workouts. This multipurpose training shoe comes with a low-cut design that enables ease of movement and ankle support for swift transitions.
Pros
Extreme comfort
Ideal for high-impact workouts
Durable
Lightweight
Flexible upper
Sturdy
Cons
None
The Eagsouni Cross Training Shoes are ultra-lightweight and flexible and can be worn all through the day. They feature an extremely breathable design with the fabric upper and mesh inners that also help keep your feet dry. The non-slip workout shoes have a pattern on the sole, making them abrasion-proof and ultra-stable for doing a variety of boot camp workouts. They are available in 16 vibrant colors.
Pros
Lightweight
Anti-slip sole
Abrasion-proof
Keeps feet dry
Durable
Sturdy
Vibrant color options
Affordable
Cons
None
These comfortable Altra Footwear Solstice XT 2 have signature balanced cushioning and designed mesh uppers for added breathability. The shoes aid in better performance due to the increased flexibility offered by the InnerFlex midsole technology. Available in black and white, the pair is suitable for cross-training, weightlifting, and various other boot camp activities. The reinforced toe design offers added protection whether you perform lateral movements in the gym or are out on the roads.
Pros
Sturdy
Breathable
Lightweight
Suitable for wide foots
Wider heel
Good cushioning
Cons
Short laces that get untied easily
The Avia Avi-Verge Women's Cross Training Sneakers are daily workout trainers that are highly versatile to support your active lifestyle, including walking, running, strength training, tennis, and work. They feature the proprietary MEMORYfōm that contours to the curves of your feet and provides a snug fit that feels customized.
These shoes are equipped with Avia's Cantilever Technology, an anatomical heel cradle, and a compression molded EVA midsole that ensure high stability, improved shock absorption, and enhanced cushion support. The thick rubber sole is sturdy enough to go through the everyday wear and tear without altering its quality. Several reviewers on Amazon praised these shoes for their cushioned feel and stability.
Pros
Durable
Lightweight
Extra wide
Removable sock liner
Grip-enhancing
Shock-absorbing
Sturdy rubber sole
Cons
None
*The prices provided in this article are based on the latest available information. However, they may vary due to changes in pricing by the seller and/or promotional offers.
Choosing the best shoe for boot camp is the first step to getting ready for your workout. There are varieties of shoes available that are specifically designed for different training routines. All these fitness products are selected after going through their unbiased, in-depth reviews online.
What To Look For In Women's Boot Camp Shoes
Movements: A training shoe is designed to allow free movement in all angles, especially side-to-side. Look for training shoes with a wider outsole that enable these movements required for exercises like lunges, sumo squats, deadlifts, etc.
Make sure to test the traction of the boot camp shoes on different surfaces to ensure foot comfort and safety.
Weight: Although a training shoe is heavier than a typical running shoe, it does not need to be as heavy as trekking boots! An ideal boot camp training shoe is strong enough to withstand the wear of your HIIT workouts while being lightweight enough to enable ease of movement.
Cost: A higher price doesn't necessarily guarantee a higher quality. So, check the material, durability, and strength of the shoes. Don't forget to read reviews and find the one that gives you the most value for your money.
Why Trust Stylecraze?
The author, Aditi Naskar, has a diploma in health & wellness. She stresses the importance of boot-camp shoes for women who are into high-intensity workouts. To make their search for the best easier, she has compiled the list of products after thoroughly researching many products available on the market. These high-quality and durable shoes are endorsed by users and have good ratings. They are non-slippery and provide a stable base.
Frequently Asked Questions
Do expensive women's boot camp shoes guarantee high quality?
No. The price of a women's boot camp shoe does not guarantee its quality. The quality also depends on the material, production, and strength of the overall construction.
Can you wear running shoes for boot camp?
Running and boot camp training have different requirements when it comes to footwork. While boot camp requires more stability, running shoes require more flexibility.
Which shoes are good for HIIT?
Shoes that offer ample midsole cushioning, traction for lateral movements, and shock absorption features are good for HIIT.
Can I wear cross-training shoes to boot camp?
Yes, cross-training shoes are suitable for boot camps as they offer the right amount of cushioning, support, traction, and a reduced toe drop for stability.
Can I wear basketball shoes to boot camp?
No, basketball shoes are generally heavy and come in the way of agility and fast movements required in a boot camp.
Recommended Articles