10 Best Boot Socks For Women Available In 2023
Wear the best "socks in boots" to maintain the comfort and health of your feet.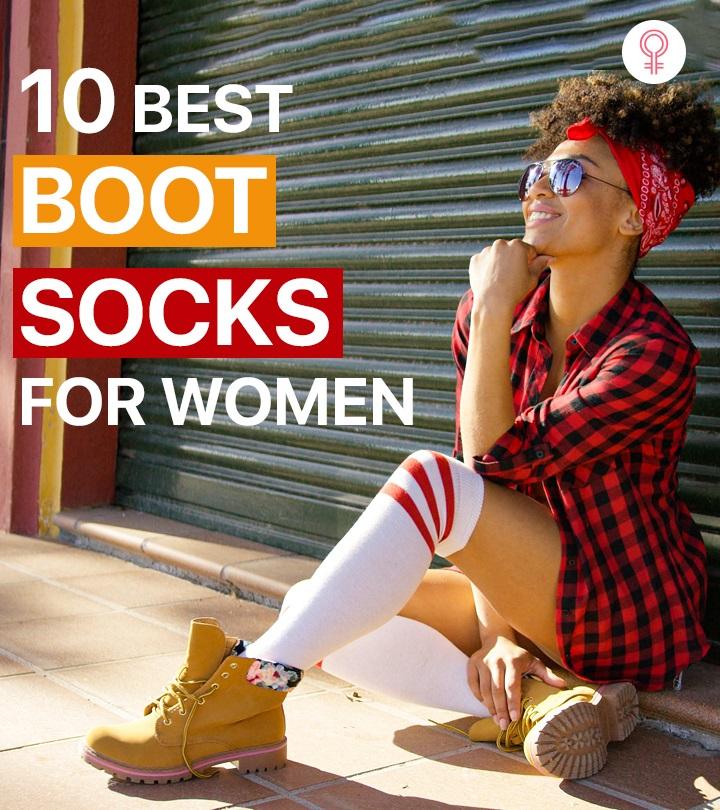 Its time to leave behind sandals and summer sneakers as winter approaches and switch to wearing boots that prevent frozen feet. This also means you need to call for the best boot socks for women to keep your boots company. Unlike regular socks, boot socks are made of wool and unique heat-absorbing materials that keep your feet warm. Not only are they practical, but boot socks are knitted to patterns to make them appealing and more fashionable. Besides this, they also come with anti-slip material that prevents bunching at the toes and provide a blister-free experience, especially for someone who doesn't skip their evening walks.
Choosing a pair that checks all your requirements can be tricky. To help you make this task easier for you, we have compiled the list of the 10 ideal boot socks for women that go well with your pair of boots. Check them out and pick the ideal one for all your winter adventures.
Top Picks
10 Best Boot Socks For Women
The thick knit poly yarn Silky Toes Warm Winter Crew Boot Socks keep your feet warm and cozy inside your shoes, even in the coldest temperatures. They are simple to wash and dry, and they keep getting more comfortable with each wash. Additionally, the socks' lace-like appearance adds a much-needed traditional or vintage touch, which is perfect for the impending holiday season. The socks also have a concealed elastic band to ensure that they will fit comfortably and remain securely on your calf even after engaging in strenuous activity. Not to mention, they make wonderful Christmas presents for your loved ones.
Pros
Designer look
Anti-slip band
Reinforced heel and toe
Easy to wash
Super soft
Cons
Not much warmth in snowy weather
Price at the time of publication: $16.95
Looking for boot socks to wear along with your work boots? Try these boot socks by Wrangler that offer ultimate support and comfort throughout the day. They feature a half-cushioned foot design, which provides impact protection, making them perfect for any work or high-impact activities. They also wick moisture and keep your feet cool and comfortable. The seamless and smooth toes reduce bulking or irritation for stress-free wear. The material is made of high-quality polyester, nylon, and spandex blend and has more stitches per inch, so the boot socks retain their color and shape for a longer period.
Pros
Moisture-wicking
Durable
Versatile wear
Good cushioning
Stretchable
Seamless stitching
Perfect fit
Does not ride down
Cons
None
Price at the time of publication: $17.84
The Yuedge Women's Walking Hiking Shoes by are perfect for daily wear or outdoor activities such as hiking, trekking, mountain climbing, etc. Its high-quality combed cotton composition keeps it extremely soft even after multiple wears. These socks have exquisitely designed heels with elastic rubber bands to ensure the sock's shape. Its moisture-wicking property helps keep the feet dry and comfortable throughout the day.
Pros
Protection from blisters
Relieve foot fatigue
Excellent moisture absorption
Breathable
Durable
Cons
Length and fitting might vary

Pro Tip
Soak the boot socks into a mix of cold water and gentle detergent for a few minutes before putting them into a washing machine on a gentle cycle to remove stains effectively.

Price at the time of publication: $18.99
These Alvada Merino Wool Hiking Socks for men and women keep your feet feeling cool, cozy, and dry and are made with 80% merino wool. The itch-free, temperature-regulating substance aids in maintaining body temperature without causing skin irritation. These wool socks use air channels and moisture-wicking fibers to simultaneously eliminate sweat and foot odor, making them an excellent option for hikes and trails during winter.
Pros
Moisture wicking fiber
Absorbs sweat
Eliminates foot odour
Soft wool
Cons
None
Price at the time of publication: $14.75
Looking for an ideal present? This will make a great gift for your wife, daughter, mother, or friends' birthdays.  These above-the-knee socks are made of soft, breathable natural cotton. Not only will it keep your legs and feet toasty, but it will also keep your feet dry throughout the day. This pair of women's thigh-high socks fits US women's shoe sizes 6-9. The elastic thread, black knee-high socks can be worn all year and by people of all sizes. These leg warmers in solid hues are timeless and stylish.
Pros
Good elasticity
Soft material
Cozy toe design
Comfortable
Breathable
Machine-washable
Set of 4 socks
Cons
Price at the time of publication: $18.99
HUNTER is a renowned British boot brand designing iconic boots since 1856, and their craftsmanship is nothing but exceptional. Their boot socks are made of 100% polyester and fleece, which keep your feet warm and ensure breathability. The opening has a gorgeous crochet design, which sits right above the boot for a classy look. This stretchable pair is perfect for extreme winters and is machine-washable.
Pros
Perfect for extreme winters
Super soft
Good stretch
Wide size range
Perfect fit
Good color range
Cons

Pro Tip
Soak the boot socks into a mix of cold water and white vinegar for around 30 minutes to remove bad odor and make the smell fresh as new.

Price at the time of publication: $47.89
The Yacht & Smith Womens Cotton Slouch Socks is the perfect pair to take a break from regular ones and ace the foot styling game for all seasons. The vintage outlook gives your fashion game a quick upgrade. These socks prevent rubbing against the back of any footwear and provide extra support when indulging in some intensive activity or sport. These scrunchie socks are supremely breathable and available in a wide variety of colors and patterns.
Pros
Moisture-Absorption
Well-cushioned
Provides great foot support
Available in assorted designs
Set of 6 pairs
Cons
Price at the time of publication: $24
Add a fun flair to your outfit with these cowgirl boot socks by Wrangler. These high-quality rayon blended boot socks offer a soft, silky feel for added comfort. They also ensure exceptional breathability, leaving your feet cool even after prolonged wear. The ribbed openings keep the socks in place for a comfortable and secure fit, while a seamless toe prevents chafing. These come in a set of three multicolored socks to suit your attire and boot color and are perfect for everyday casual wear.
Pros
Moisture-wicking properties
Durable
Versatile wear
Comfortable
Good cushioning
Stretchable
Seamless stitching
Perfect fit
Does not ride down
Cons
None
Price at the time of publication: $15
Indulge yourself in premium comfort and durability with these boot socks by Timberland. The full cushioned socks feature an oversized ripped welt and small detailing for a snug fit and stylish look. They can be paired with your favorite boots or lounge wear. This pack includes three pairs of multicolored socks that go well with any outfit.
Pros
Good cushioning
Wide color range
Machine washable
Snug fit
Does not ride down
Soft on skin
Cons
None


Quick Tip
Apply a moisturizer before wearing the boot socks to keep your feet hydrated for a prolonged period, avoiding dry cracked heels.

Price at the time of publication: $14.9
Keep your feet warm and toasty this winter with these winter socks by COZIA. The thermal socks have a soft-brushed fuzzy inner for advanced cushioning and feature reinforced yarn in the heel and toe to ensure added durability. The fully cushioned footbed gives you additional support and comfort. The socks have arch compression support, ensuring full-motion assistance and stability. The fabric is made of a blend of merino wool and synthetic fabrics, which provides a crease-free, snug fit and superior moisture control, is breathable, and wicks away any sweat to keep your feet dry and odor-free. These boot socks are perfect for everyday wear, trekking, camping, or hiking.
Pros
Durable
Versatile
Hypoallergenic material
Leaves your feet dry
Breathable
Crease-free
Snug fit
Good arch compression
Soft on skin
Keeps your feet warm
Good size range
Cons
None
Price at the time of publication: $17.98
It is a smart idea to invest in a good pair of boot socks to wear with your boots. They will keep your feet warm, sweat-free, and comfortable so that you can look stylish without being in discomfort. Here is a quick buying guide for you to check out before you invest in your next pair
How To Select The Best Boot Socks For Women
Boots socks come in various lengths from crew length, calf length, ankle length, to thigh length. Choose the right length according to your style and comfort.
Picking boot socks of good quality material help protect your feet and ensures comfort. Here are a few popular material choices and their benefits:
Synthetic Material: Man-made or synthetic materials like nylon, acrylic, and spandex are durable, comfortable, moisture-wicking, and quick-drying. They also help retain sock shape while providing ample arch support as well as a snug fit.
Merino Wool: Merino wool is perfect for winters as it is super soft, breathable, yet toasty. It has natural temperature regulating properties and is also durable.
Bamboo: Unlike merino wool, bamboo fabric is perfect for warmer months. It is naturally breathable, possesses antibacterial properties, and is super-soft and comfortable against your skin.
Cotton: Cotton is one of the best materials when it comes to fabrics. But, in the case of socks, cotton tends to absorb more moisture and get heavy, leaving you feeling itchy or uncomfortable. But if cotton is blended with other moisture-wicking materials like nylon or spandex, it is perfect for any weather.
Make sure that your boot socks are elastic enough to provide a comfortable fit without requiring you to pull them up constantly throughout the day. Also, keep in mind that low-quality socks tend to lose their elasticity and sag faster. Thus, choose socks with high-quality elastic.
Boot socks with a ribbed pattern provide a snug fit while also allowing stretching when you put them on. They provide also prevent the socks from bunching up at the ankle or causing friction.
Make sure you choose boot socks with double stitching and stronger seams, so they do not irritate your feet and minimize chafing. Also, look for reinforcements in the toe area and a tough fibrous heel construction or extra padding to protect your feet from irritation or injury.
Infographic: Points To Keep In Mind Before Buying Boot Socks
A pair of high-knee boots can keep you warm and cozy in the winter. However, you need the right pair of socks with these boots to keep your feet breathable and soft without sliding down. Check out the infographic below for more information.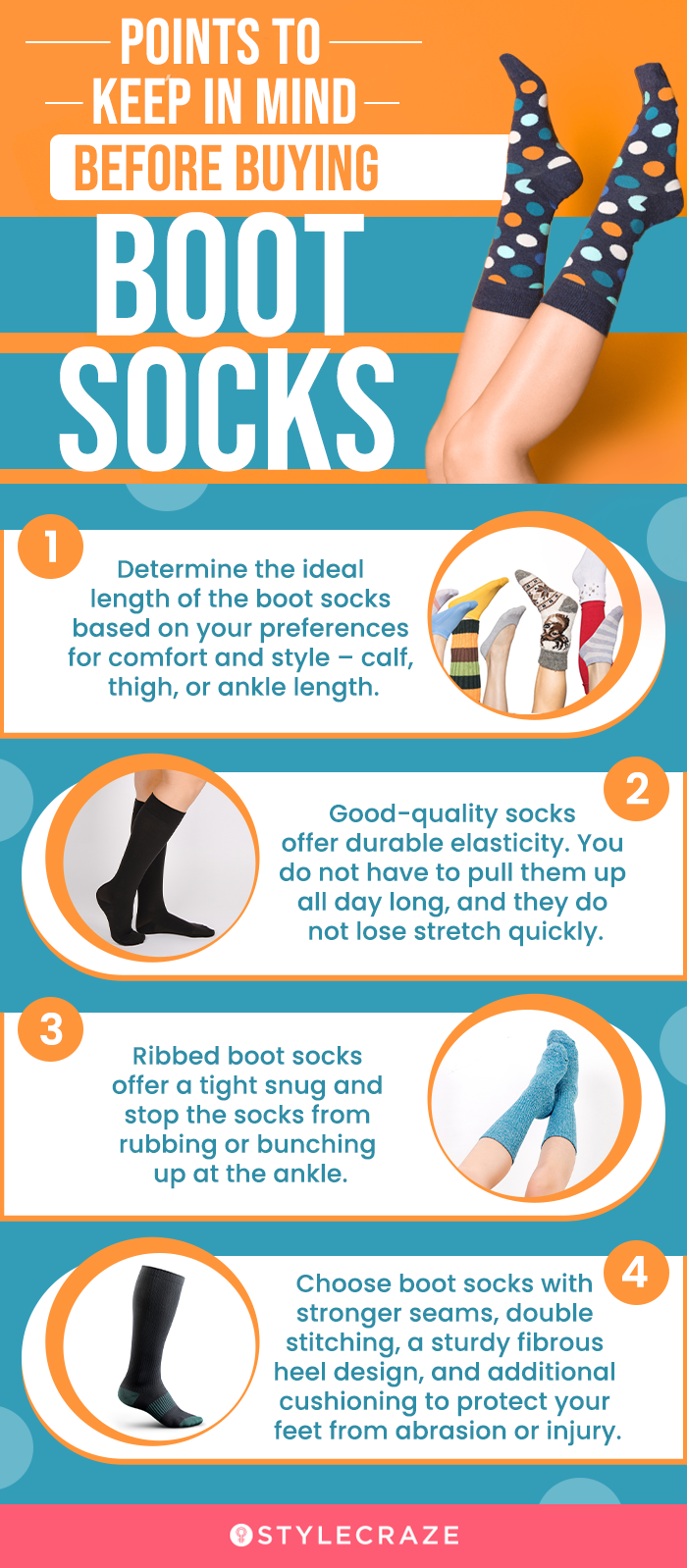 A pair of high-knee boots can keep your feet cozy and comfortable throughout winter. But, besides the pair of boots, you also need the right pair of socks to go with it. The best boot socks for women are made of wool and unique heat-absorbing fabrics that help to prevent frozen feet. Besides, they are knitted in different patterns that make them look more appealing. The reviewed options mentioned above are lightweight, breathable, feel soft on your skin, and do not slide down. Consider the length, material, elasticity, ribbing, fit, and stitching while choosing the best boot socks. Then, you can style these socks with your favorite boots for an Insta-worthy look.
Why Trust StyleCraze?
Baishali Bhattacharya, the author, is a certified image consultant and fashion enthusiast who loves experimenting with various fashion goodies. She understands that the arrival of winter makes boots a necessity, and so do boot socks. She researched on boot socks and curated a list of the best ones available. Not only do these socks keep your feet comfortable, but they are also fashionable.
Frequently Asked Questions
Are boot socks compression socks?
No. But mid-calf boot socks offer mild compression which helps improve soreness and swelling in your feet.
Are crew socks the same as boot socks?
Yes, there are many crew socks that can be used as boot socks.
Should I wear thick socks with boots?
Yes, thicker socks offer better cushioning and keep your feet from getting unnecessarily hurt or injured.
What are the best boot socks to keep feet dry?
Moisture-wicking boot socks like the Wrangler Women's Western Boot Socks are best to keep your feet comfortably dry.
How do I keep my boot socks from falling down?
To keep your boot socks from falling down, sew an elastic band on the top of your socks.
What is the difference between boot socks and regular socks?
Boot socks are mostly made for wearing with boots and they are usually thicker and offer great comfort during the winter season. These socks come with a specific height that covers your legs as properly as your boots. On the other hand, regular socks are lightweight and do not need to be as high in length as your boots.
The following two tabs change content below.