9 Best Boots For Snowshoeing That You Must Buy In 2023
Let the boots take care of your grip and comfort so you can go and win a snowshoeing game.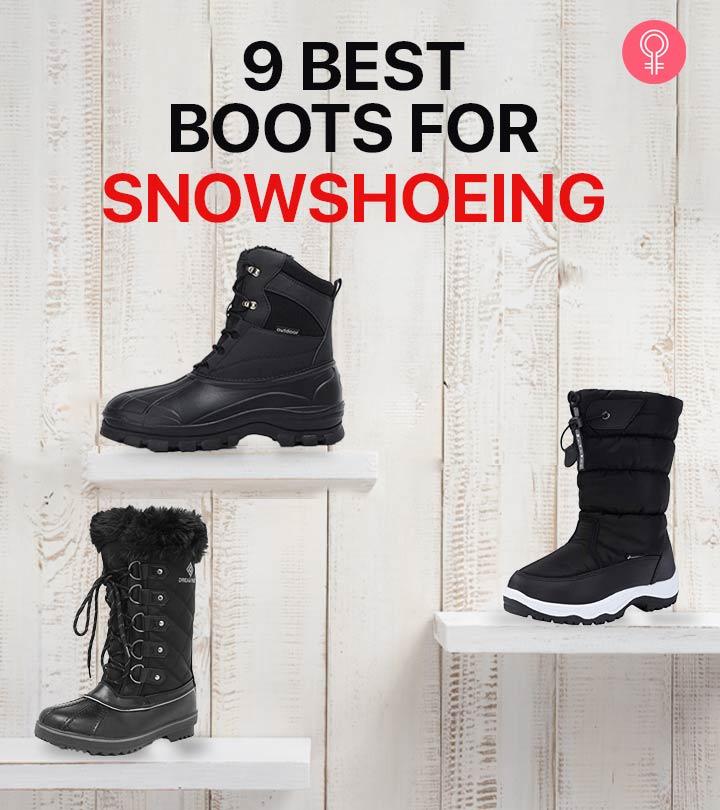 Walking in freezing weather can be a surreal experience if you have proper winter gear with you. Snowshoeing is a fun winter sport in which you tie your snowshoes to your boots and glide through snow trails. What you need is the best boots for snowshoeing that will keep your feet protected with insulation, traction, and a good grip while keeping them warm and stable. It is essential to choose boots that can be easily paired with most snowshoe models. Your snowshoeing experience depends on this essential winter apparel accessory.
We have compiled a list of some of our favorite picks of snowshoeing boots that you can choose from. So dive down, check them out, and have fun this winter!
Top Picks
9 Best Boots For Snowshoeing
Pros
Mildly waterproof
Insulated inner
Thermoplastic elastomer sole
Fur lining for extra warmth
Seam-sealed stitching
Durable
Windproof
Cons
None
Price at the time of publication: $59.99
The Duoyangjiasha snow boots for women are ankle-length and easy to slip on. The upper is designed with smooth, windproof sequined cloth fabric, while the inner has a plush fur lining. The elastic bands and zipper closures keep the boots snug on the feet and offer a stable grip. These boots feature a flat platform heel of 2 or 3cm with rounded toes. The rubber outsoles are anti-skid and wear-resistant with a three-dimensional design that offers increased traction on slippery ground. These boots have a fixed shape that provides support to the feet.
Pros
Warm fur lining
Windproof
Non-slip sole
Arch support
Easy to wear
Durable
Cons
Price at the time of publication: $30.51
The ankle-length Harence winter snow boots are comfortable to wear. They have suede fabric uppers and fur lining to wrap the feet in warmth. The anti-skid rubber soles ensure a good grip to walk on snow or ice. The insoles are thick yet breathable and keep the feet snug. These flat platform booties have adjustable lace closure to provide a secure fit. Use these fancy boots for multiple activities and match them with all your casual clothes.
Pros
Warm fur lined
Comfortable
Good arch support
Anti-skid
Durable rubber sole
Cons
Price at the time of publication: $37.67
These winter boots from Cior are made of suede or PU leather. They are mildly waterproof and lined with fur, which locks in warmth for heat preservation. These feature anti-slip rubber soles, which offer a stable and comfortable walking experience. The boots are designed with a hook and loop closure along with a full zipper and adjustable drawstrings. The stylish closures provide a snug fit and are easy to personalize. The durable textile upper with a synthetic toecap provides collision protection. The shock-absorbing sole offers excellent traction, allowing you to confidently navigate snow, rain, or ice.
Pros
Comfortable
Good heat retention
Anti-skid sole
Breathable material
Zipper and magic button design
Easy to put on and take off
Cons
Price at the time of publication: $49.29
Pros
Stylish
Keeps warm
Anti-skid
Waterproof
Double outsole
Knitted collar
Budget-friendly
Cons
None
Price at the time of publication: $49.99
These Upsolo Defender snow boots are 100% synthetic and have a full fur lining. They have a durable, waterproof, and skid-proof rubber sole. These boots are abrasion-resistant and provide a stable gait through snow, rain, and ice. The synthetic toecap provides anti-collision safety while the upper is also windproof. The material is breathable and quick-drying. The fluff collars and padded insoles keep the feet extra warm and dry even in -25°F. The multidirectional lugs provide traction and relieve the feet of fatigue. Wear these lightweight boots for trekking, hiking, camping, and outdoor sports in winter.
Pros
Fur padded insoles
Waterproof
Non-slip
Durable
Breathable
Lightweight
Warm
Cons
Price at the time of publication: $36.99
The lightweight Xpeti Oslo snow boots for women are ideal for hiking and outdoor winter activities. These Thinsulate insulated footwear feature a shaft measuring 8inches from the arch. These boots have a synthetic and fabric upper with a rubber toecap for collision protection. The heel molding TPU stabilizer offers stable support and controlled movement on uneven terrains. The molded EVA midsole with TPU inserts ensures stability while the polyester fleece insole lining withstands temperatures as low as -13°F. These hiking shoes are durable and feature a hydra-shield waterproofing system with a padded tongue and a fur collar to keep the feet extra warm. A 'one pull' speed lacing closure makes these quick to wear.
Pros
Insulation boots
Non-slip rubber sole
Waterproof
Lightweight
Comfortable
Excellent traction
Cons
Price at the time of publication: $29.99
These mid-calf winter boots from Gracosy have synthetic upper material and rubber soles. The booties have a 1-inch flat heel and are lined with fur for optimal warmth and coziness. The waterproof upper keeps the feet dry, while the non-slip sole makes these boots ideal for outdoor wear during rain, snow, or hail. These have a lace-up closure and elastic bands on the side for a snug, personalized fit.
Pros
Indoor and outdoor use
Easy wear and take-off
Elastic side bands
Waterproof upper
Fur lining
Cons
Price at the time of publication: $35.95
The fully fur-lined boots for men from Yiruiya are ideal as winter footwear. They feature thick and soft rubber soles with anti-skid properties, which adapt to various terrains. The upper of the shoes are waterproof and suitable for rainy or snowy weather conditions. The inner fur keeps the feet warm and maintains warm temperature inside the shoe. These boots are easy to clean and offer optimal support during inclined climbs or walks. The ergonomic hiking shoes can be used for both outdoor and indoor activities.
Pros
Non-slip
Water-resistant upper
Ergonomic design
Anti-skid soles
Warm inner lining
Easy to clean
Suitable for indoor and outdoor activities
Cons
Price at the time of publication: $39.99
Why Trust StyleCraze?
Baishali Bhattacharya, the author of this article, is a certified image consultant and a fashion expert. She loves experimenting with different fashion brands. She read through numerous trusted user reviews online and curated this list of the best boots for snowshoeing. They are durable, specifically designed to provide extra grip and keep your feet warm while having fun snowshoeing.
Frequently Asked Questions
What kind of boots are needed for snowshoeing?
Snowshoeing requires waterproof and insulated winter boots with thick insoles and shockproof leather outsoles.
Are hiking boots OK for snowshoeing?
Yes, hiking boots are a good option for snowshoeing. They are insulated and warm and keep your feet comfortably dry.
Do I need waterproof shoes for snowshoeing?
Yes, you need waterproof shoes for snowshoeing. The sole of snowshoeing shoes repels water, and the tongue keeps water out.
Can you wear rubber boots while snowshoeing?
Yes, you may wear rubber boots for snowshoeing.
Can I wear leggings or jeans for snowshoeing?
Yes, wear water-resistant tight leggings or jeans for snowshoeing.