5 Best Bowflex Home Gym Machines Of 2023 – Reviews & Buying Guide
Work hard on your body by bringing these ultimate exercise devices to your home.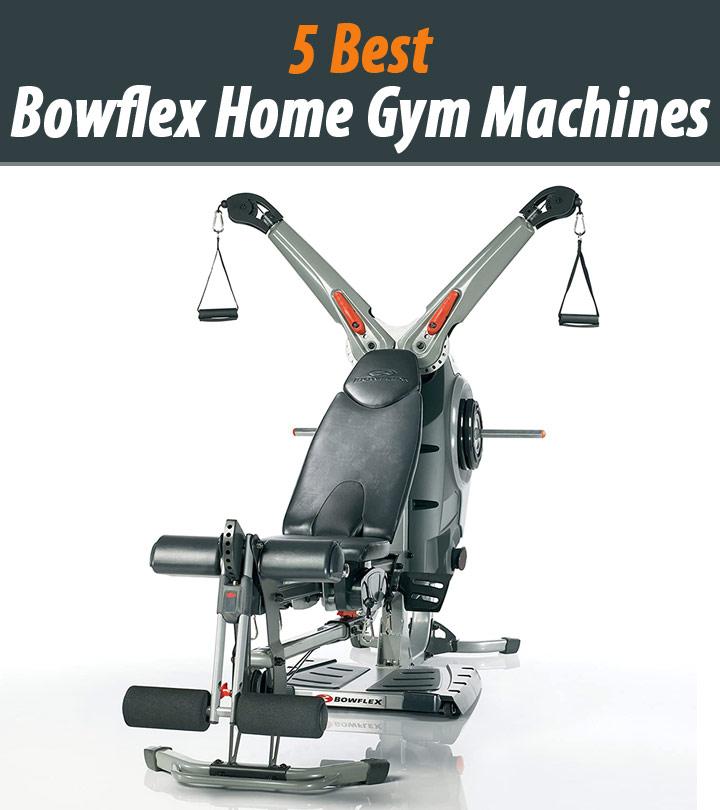 It is hard to find a reliable fitness brand when you are looking for some heavy home gym machines. Allow us to narrow down your search by introducing you to the best Bowflex home gym machine, one of the best exercise equipment manufacturers. It might look complex, but is very easy to use, plus checks all the boxes of innovation. Here are the 5 most useful Bowflex home gym machines of 2023 for you to shortlist.
The Top 5 Bowflex Machines of 2023
With this home gym, you can do over 60 exercises that work all of your muscle groups, including the chest, shoulders, arms, back, abs, and legs. It provides seven free trainer-built workout regimens. It has a sliding seat rail to let you do aerobic rowing and leg presses.
The lat tower has an angled lat bar that helps build the muscles in the shoulders and back. The multiple cable or pulley positions of this home gym enable you to do custom workouts. The machine comes with an instructional placard and triple function hand grip/ankle cuffs. The foldable bench and wheels make this machine easy to store.
Specifications
Weight Resistance: 210 pounds (upgradable to 310 pounds or 410 pounds)
Number Of Exercises: 60+
Dimensions: 229x97x211 cm
User Weight Limit: 136 kg
Pros
Triple function hand grip included
Folding bench and wheels for easy storage
Lat tower with angled lat bar (for back and shoulder muscle)
Includes instructional placard
5 years machine warranty, 60 days for parts, and lifetime for rods
Cons
Doing proper aerobic rowing can be difficult.
The seat and bench may feel wobbly.

Pro Tip
Avoid cleaning wipes and sprays containing alcohol, hydrogen peroxide, or bleach. These chemicals are known to cause damage and discoloration to equipment made of plastic or metal.
Price at the time of publication: $799.0
The Bowflex PR 1000 Home Gym has 210 pounds of resistance. It has a built-in rowing station for doing calorie-burning exercises. The built-in media rack and multiple cable pulley positions help you change the angle of resistance easily to enhance the effectiveness of the exercises. This versatile machine helps work the abs, chest, arms, shoulders, back, and the lower body.
It comes with triple-function hand grips for lat pulldown and a horizontal bench press. It also has roller cushions that can be used for leg extension and curl exercises. The rowing station can be folded after you are done with your workout. Watch this video for a thorough understanding of the product.
Specifications
Weight Resistance: 210 pounds
Number Of Exercises: 30+
Dimensions: 84L x 38Wx 82H inches
User Weight Limit: 300 pounds/136 kg
Pros
7 trainer-built workouts included
Media rack to watch training videos
Two training videos included
Built-in rowing station
Easy to put together
Great for upper body exercises
Compact home gym
Cons
Lower body exercises are less challenging.
Changing the machine configuration takes time.
Price at the time of publication: $699.0
The Bowflex BodyTower helps you add variety and increase the intensity of your workouts. It has seven different levels of adjustment that allow you to do over 20 exercises, including chin-ups, push-ups, pull-ups, crunches, single-leg squats, hanging leg raises, and tricep dips. It is equipped with unique EZ-Adjust arms that provide a wider range of options than most of the towers available on the market.
This is a heavy-duty body tower. It has powder-coated steel tubing with a wide base for improved stability. It also has high strength carabiners and D-ring hardware. It comes with a tower-mounted workout placard featuring eight exercises and a guide demonstrating 10 more. The set includes a non-absorbent foam cushion pad, hand grips, and sling straps. Here's a personal review video to help you get a better understanding of the product.
Specifications
Weight Resistance: Bodyweight resistance
Number Of Exercises: 20+
Dimensions: 127 x 127 x 196 cm (assembled)
User Weight Limit: 300 pounds
Pros
Handle grips and sling straps included
Non-absorbent cushioned back pad
Non-absorbent, microbial-resistant handgrips
Comes with a workout placard with 8 major exercises
Comes with a workout guide with 10 exercises
Cons
Wobbles a bit (if you are a taller person).
May feel a bit short for large people (over 6 ft).

Pro Tip
Check for wobble or free movement in the equipment at least twice a month. Tighten any loose screws and call for professional maintenance once every two months.
Price at the time of publication: $348.44
You can do over 100 exercises with up to 400 variations with the Bowflex Revolution Home Gym. This product is designed to work each and every body part and supports almost all workout routines, fitness and strength levels, and fitness goals. This home gym works on SpiraFlex Technology, designed for NASA, and works independently of gravity to provide resistance without any inertia.
This machine has independently moving arms with 10 positions that offer 170-degree adjustments. You can work with the leg press station with up to 600 lbs of resistance. It has a sliding seat rail for leg presses and aerobic rowing exercises. The vertical bench press helps you perform a wide range of exercises and folds easily, which makes it easy to store after the workout. Check out this video to better understand the functions of this product.
Specifications
Weight Resistance: 220 lbs (maximum 300 lbs)
Number Of Exercises: 100+
Dimensions: 248L x 97W x 185H cm
User Weight Limit: 300 lbs
Pros
Independently moving arms with 10 positions (170-degree adjustment)
600 lbs resistance (with upgrades) leg press station
Preacher curl attachment
Vertical bench press
Leg extensions
Versatile equipment
Sturdy and well-built
Folds easily
Good range of weights
Easy to switch and change exercises
10 years warranty (parts) and 90 days (labor)
Cons
Tough to get a good lat pulldown exercise (due to the design).
This home gym has a no-change pulley system, meaning you can do a full-body workout minus the cable change-overs. You can easily switch from one exercise to the other without affecting your heart rate. This home gym focuses on training all muscle groups, including those in the chest, shoulders, arms, abs, legs, and lats.
It has hand grips, a lat bar, and an ab crunch shoulder harness. To add more variety to your exercises, you can buy an ab attachment and a preacher curl. The machine also features an adjustable seat with polyurethane cushion and 5-way hand grip/ankle cuffs. The bundle includes the Bowflex Xtreme 2 SE Home Gym, two 50 lbs power rods, and two 50 pound rod attachments.
Specifications
Weight Resistance: 210 lbs (upgradable up to 310 or 410 lbs)
Number Of Exercises: 70+
Dimensions: 135L x 124W x 211H cm
User Weight Limit: 300 lbs
Pros
Compact, fit for smaller spaces
Lat tower and angled lat bar for back muscles
4-position lower pulley/squat station (for calves, hamstrings, and glutes)
Leg extensions
Abdominal crunch shoulder harness
Includes squat bar
7 free trainer-built workouts
Cons
Power rods may not provide enough resistance.
These are the best Bowflex machines you can buy. If you have been eyeing a Bowflex home gym machine and plan to get one soon, here are a few tips to consider before picking your device.
Things To Consider Before Buying A Bowflex Home Gym Machine
The Resistance And The Weight: Lower end models with 210 lbs power rods are suitable for light lifters. However, if you are a heavy lifter, pick a machine with at least 410 lbs resistance.
The Footprint Size Of The Machine: Some models are suitable for small spaces, while some might need a bigger space for setup. Evaluate the available space and buy one with the appropriate footprint size. Chandel Stallworth, an expert in Pilates, Strength Training, and Corrective Exercise says, "You also want to make sure that your workout space has enough clearance for you to use the machine and all of its accessories comfortably."
Types Of Exercises Available: Some home gym machines offer 50-70 types of exercises, while others offer over 100 types. High-end machines have more exercises. Pick as per your budget and requirements.
Check The Maximum User Weight: If you are planning to build muscles and get bigger, you should consider this option. Lower maximum weight means you can someday outgrow the machine or become too heavy for it.
The Cardio Features: Cardio features, like rowing, are good for toning and maintaining the current shape of your muscles. High-end home gyms usually have added cardio features.
Home gyms are becoming more and more popular as physical fitness has become a part of our lifestyles. The best Bowflex home gym machine lets you carry out your fitness journeys in the comfort of your home. You can now do several different exercises and target various muscle groups at once with the help of these multipurpose machines. These are easy to assemble, well-equipped, sturdy, and easy to use. Consider factors like resistance, weight, footprint size of the machine, and what exercise you can do with it before investing in a product.
Why Trust StyleCraze?
Aditi Naskar, the author of this article, is a certified wellness and health expert. Her extensive research on various healthcare products brings out the best for readers to choose from. The list of best Bowflex home gym machines is compiled by her after extensive research and reading many consumer reviews online. The gym equipment by this brand is long-lasting and sturdy. They are a perfect fit for your home gym.
Frequently Asked Questions
How long do Bowflex power rods last?
Bowflex rods are pretty sturdy, and they almost never break.
What is the recommended age for Bowflex machine users?
Bowflex machines are not intended for anyone younger than 14 years. Consult a doctor before you start to exercise.
Recommended Articles