9 Best Hair Dyes For At-Home Dye Lovers – 2023
Salon-quality results of professional hair dyes are right here at your fingertips.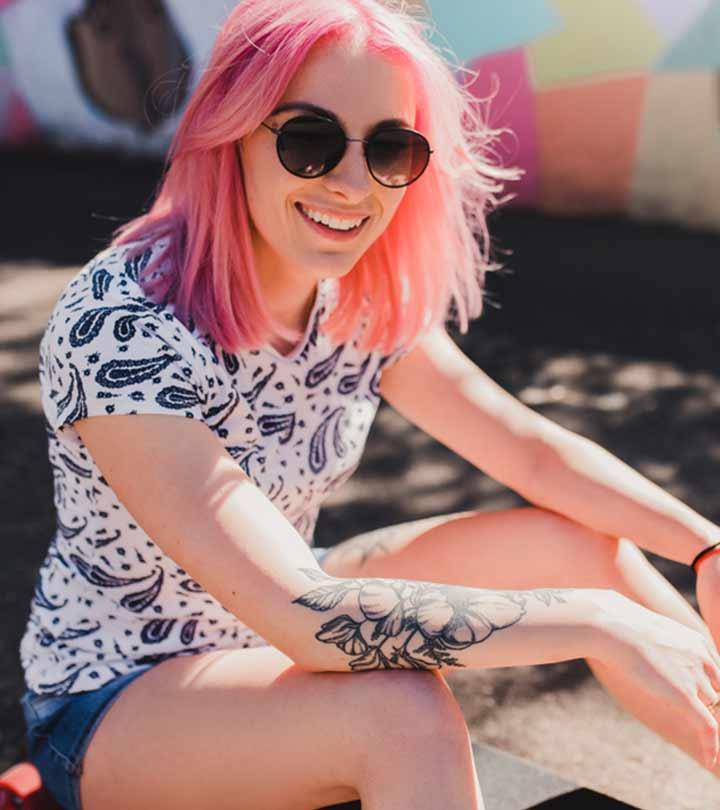 Post-pandemic lifestyles have seen many changes, and self-care is one among them. People have become more self-sufficient and have begun experimenting with skincare and haircare practices themselves. Jump on this bandwagon and treat yourself to the best box hair dyes for astonishing results that come at the convenience and comfort of your home.
If you are looking for a retouch of your hair color or need a complete color transformation, choose a hair dye from our list of the 9 best at-home box hair dyes this year. Not only can you control how much of it goes on your hair, but you can also minimize the parlor expenses that used to burn a hole in your pocket.
Top 9 Hair Dyes Of 2023 To Color Hair At Home
In addition to giving you a range of 39 colors to choose from, this Garnier hair dye nourishes your hair with its rich blend of avocado, olive oil, and shea butter. It is formulated with a unique color boost technology to provide you with permanent hair color, root touch-up hair color, even to the darkest hair shades. Our dark-haired folks need not fret when they want to experiment with bright shades of red or even platinum. To make things even better, the non-drip formula of this crème hair dye makes it super easy to use and remains non-messy! You can use this product from the comfort of your home. To get a better understanding of the product, you can check out this video on YouTube.
Pros
Easy to apply
Nourishes hair
Complete color package
Non-drip formula
Available in 39 shades
Does not contain ammonia
Cons
The color may not show on black hair at all.
Not for sensitive scalps
This at-home hair coloring dye gives you the results you want in 5 easy and non-messy steps. With 6 metallic colors to choose from, this multi-dimensional hair color is here to give you luscious deep colors that radiate a fresh glow. You will find a tube of color in this hair color box, an application bottle with the developer, an after-treatment tube, a pair of gloves, and an instruction leaflet. With an anti-fading effect, this metallic radiant color lasts you a long time. Check out the review of this product for more information.
Pros
Available in 5 colors
Ideal for all hair textures
Easy 5-step application
Offers a multi-dimensional look
Cons
May need to bleach hair first
Some dyes may not be ideal for dark hair
Price at the time of publication: $9.99
Here is an at-home color box that gives you salon-quality hair color from the comfort of your home. Although you have 12 beautiful shades to choose from, you can never really go wrong with any! These dyes leave your hair with a soft shine and nourish your hair too. Its anti-fade properties and 100% grey coverage ensures that the color is not only long-lasting but can easily be used as a go-to hair color whenever your roots start to show. The thick foaming formula is unlike any other; it prevents color residue and dripping while maximizing penetration and color traction. If you want to know more about the benefits of this product, check out this quick review on YouTube.
Pros
Available in 12 shades
Nourishing and moisturizing
Contains a post-color conditioner
Unique foaming non-drip formula
fade-resistant
Cons
Price at the time of publication: $11.92
If hair dye has ever touched your hair before, you have probably heard about this 'OG' product. Ideal for highlights and irresistible hair colors, this product comes with a control touch fingertip that helps you color hair with precision. With 5 natural-looking shades, this hair color is made for those looking for an added definition to their hair without making it look too out there. This product gives you quick results – as quick as 30 minutes!
Pros
Quick results
2-step application process
Comes with a control touch fingertip
Shades can be used together to create harmonizing highlights
Cons
Contains bleach and ammonia
May not be suitable for relaxed hair
Price at the time of publication: $13.94
With 37 natural-looking shades to choose from, Clairol Natural Instinct hair color lets you enhance your natural color within 20 minutes! With 80% of naturally derived ingredients, no ammonia, and parabens and added coconut oil and aloe vera, this natural hair color promises you a guilt-free hair coloring experience with an oh-so-shiny effect. It not only blends away greys easily but also adds an extra boost of shine that lasts you more than 28 washes.
Pros
Looks natural
Quick and easy results
No ammonia
Paraben-free
Cons
May drip and cause running
Not ideal for changing hair color drastically
Price at the time of publication: $23.97
If you haven't been living under a rock all this time, you would know that keratin is currently all the rage in hair care products. With the most intense and beautiful shades of brown, this product colors your hair from the depths. It not only makes your hair look healthy but also makes it stronger. It provides an even color from root to top using its protective pre-color serum.
Pros
No drip formula
100% grey coverage
80% less hair breakage
3 step easy application process
Even color from root to tip
Great for mature and brittle hair that needs inner repair
Cons
Contains ammonia
Colors may be more intense than shown on the box
Price at the time of publication: $11.97
Here is a clean and vegan cream formula that nourishes your hair while coloring it. It is formulated without ammonia, parabens, sulfates, silicones, mineral oil, phthalates, or gluten; practically anything that comes close to harming your hair or scalp! This long-lasting hair color will last up to 6 weeks with its vibrancy. This Revlon product promises to cover all your greys, even the most stubborn ones! Available in 15 shades, this affordable hair dye has something for everyone.
Pros
Vegan
Clean ingredients
Available in 15 shades
High-performing formula
Contains hemp seed oil for nourishment
Cons
Users must wait 14 days before applying on chemically-treated hair
Price at the time of publication: $5.38
Like all dyes on our list, Kao Liese is among the best at-home hair dyes to get salon-like results. Available in 16 shades, this product has something for everyone. You can choose to experiment with a unique shade like Milk-Tea-Brown or go for a natural sun-kissed looking shade like British-Ash. This little box brings all the ingredients and supplies you need for an at-home hair color session, including a foaming cap and gloves! Leave it on for 20 to 30 minutes and watch this bubble hair dye transform your locks.
Pros
Easy to use
True to color on the box
Available in many colors
Repair conditioner provided
Cons
No instructions in English
May not cover grey or bleached hair
Price at the time of publication: $14.5
Say hello to vibrant hair color right at the convenience of your home with the Lime Crime Unicorn Hair Dye. This semi-permanent hair color formula gives your damage-free hair a healthy transformation. This ultra-conditioning dye is infused with fatty acids and vitamins that moisturize the hair and increase its shine. It provides a full coverage rich coat with a high color payoff. Additionally, this Peta-certified dye is free of chemical additives and has a delicious sugary scent.
Pros
Gentle
Easy to use
Pleasant fragrance
Intense color payoff
Cruelty-free
Semi-permanent color
PPD-free
Peroxide-free
Cons
Stains a lot
Washes out easily
Price at the time of publication: $16.47
Well, that brings us to the end of our list of 9 best at-home box hair dyes of 2023 to help you get glossy, high-shine hair. To make the right choice for yourself, here is a buying guide to help you choose a box of hair dyes for your hair:
Things To Keep In Mind When Buying A Hair Dye
Consider your hair texture
When dyeing your hair, keep your hair texture in mind. Textured hair, such as curly and frizzy hair that have a hint of roughness to them tend to absorb more color and leave a blue-ish tinge behind. However, smoother and straighter hair tends to have a warm tinge. Our textured hair readers are advised to pick a warm and lighter color than their original hair color. Whereas, non-textured hair folks are suggested to opt for cooler shades.
Consider your hair color
Your original hair color plays a major role in deciding the result of a new hair coloring attempt. If you have black untouched, virgin hair, it is unlikely for a color to make an impression at your first attempt. However, if you have blonde hair, all colors will easily absorb into your hair and show from the very first use.
Consider your hair length
Don't go by the simple instructions on the box. If your hair is shoulder-length, it is likely that you wouldn't need more than 1 box of hair dye. However, if you have longer hair, 2 to 3 boxes are a must to see results!
Don't always trust the model on the box
We aren't saying the pictures are misleading or anything, all we are saying is those pictures on the box are taken in perfect settings to help the color pop. In reality, the color will almost always come out a little lighter.
How To Use A Box Hair Dye At Home?
1. Prep your hair
Hair prepping is an important part of dying your hair, especially if you want quick and easy results. Instead of washing your hair to dye them, add color to your 3-day-old hair so that your natural oils can protect your scalp from direct chemicals.
2. Follow the box instruction
Every box comes with similar yet different instructions. Make sure you read them carefully, arrange all the equipment and ingredients from the box in ascending order of application. Make sure you start coloring from the top, i.e. from your roots to all the way till your ends.
How Long Do Box Hair Dyes Last?
Although it varies from brand to brand, semi-permanent hair dyes last up to 28 washes. 28 washes or 4 weeks. Whereas, permanent hair colors last until your fresh roots start to show.
How To Remove Box Hair Dye At Home?

The best way to remove hair dye at home, without falling for internet DIY hair color trends, is to use a store-bought hair color remover. Despite being such a must-have product, it has failed to gain popularity. The right color remover not only removes the current hair dye but also gets rid of color build up.
Why Trust StyleCraze?
Medha Deb, the author of this article, has a keen interest in hair care. Her extensive research and continued track on emerging hair care trends always bring out the best for readers. The list of best box hair dyes is curated by her after thorough research and reading many online reviews from various trusted platforms. These dyes are convenient as they can be used at the comfort of your home.
Frequently Asked Questions
Is a dye really bad for your hair?
Not necessarily. Hair dyes do have a reputation for being bad for hair, but this reputation does not carry merit in our modern, hair coloring world! It is the ammonia that usually causes hair breakage in textured hair or leads to allergies. However, most hair colors have nourishing ingredients that help in overcoming the damage caused by ammonia. Also, there are a considerable number of hair dyes available in the market and mentioned on our list that doesn't contain this or any other harmful chemical.
Can a hair dye cause hair loss?
It is highly unlikely for hair dye to cause hair loss. In exceptional circumstances where the instructions are not followed correctly, and the product is used with other chemicals simultaneously, it may lead to hair breakage. A severe allergic reaction can also cause hair loss in rare circumstances.
Are box hair dyes permanent?
At home hair dyes that come in a box are permanent. However, despite being permanent they do fade and require reapplication once fresher and the original color of the roots is visible.
How often can you dye your hair from a box?
Since the color is permanent, the rule of thumb is to leave a gap of at least 4 to 6 weeks between reapplying.
Can you mix box hair dyes?
Yes, mixing two boxes of hair dye will give you a unique shade to your hair.
How often should you wash your dyed hair?
Wash dyed hair 1-2 times per week using a color-safe shampoo. You can use a dry shampoo in between wash days.
Recommended Articles: