15 Best Jump Ropes For Boxing In 2023, As Per A Strength Coach
Perfectly crafted for the intense workout that every boxer demands to keep on top of their game.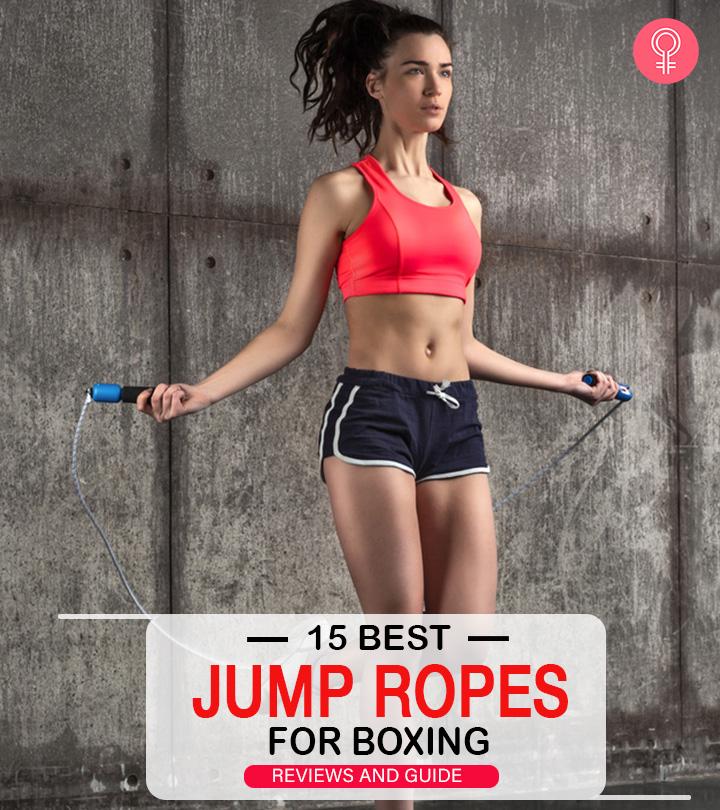 A professional boxer always undergoes intense fitness training drills with a jump rope to refine their footwork and coordination. They prefer a strong and durable jump rope with a sturdy structure and handles for smooth rotation. If you have the best boxing jump rope, it will help you with a full-body workout, aiding in your overall personal transformation. Rope jumping helps develop balance and boosts your stamina, consequently improving your boxing technique. Seamus Sullivan, a California-based Performance Health Coach says "It also helps create a mind-body connection of the feet to the brain which is great coordination and athletic movements." So, investing in a good jumping rope is necessary for boxers.
Whether you are a boxing pro or a beginner, this article will help you find a jumping rope for yourself that will aid in enhancing your athletic training. Scroll down and check out the 15 best jumping ropes for boxers with amazing reviews!
15 Best Boxing Jump Ropes Available Right Now – Reviews And Guide
WOD Nation Speed Jump Rope is a blazing fast rope for a full-body workout at home or at the gym. This lightning-fast jump rope promotes intense conditioning and is said to be the perfect jump rope for double-unders. It is perfect for elite athletes who use a jump rope for their warm-up or cool-down. The rope can also be used with other boxing equipment for better workout sessions. This patented 4-bearing system jump rope gives you a stable swing to help you recuperate from inaccurate swings. It has a 6.75 inches long ballistic nylon resin handle with tapered ends for extra grip.  You will need to customize the jump rope with a snip of a wire cutter. This jump rope should only be used on a smooth surface. Avoid using it on cement flooring or any rough surface since it can damage the coating on the cable. This jump rope is available in 9 attractive colors and comes in a nylon pouch.
Features
Material: Steel cable
Length: 122 inches
Pros
Lightweight
Very fast
Easy to adjust the length
Suitable for double-unders
Cons
Survival And Cross Jump Rope is easy to use and suitable for casual as well as serious jump-rope training. It is perfect for double-unders, criss-crosses, high-knees, and other jump rope styles. This speed jump rope is made from high-quality steel that increases its longevity. It is built with a 10-foot cable and 5-inch handles that help in enhancing speed and endurance. The handles are lightweight, and the steel cable ensures smooth rotation and fast speed without any twists or tangles. The jump rope can be adjusted easily with the help of two sliding screws and collars to set the handles as per your desired length. The cable length can also be reduced by cutting it off as per your convenience. This jump rope is light and travel-friendly and can easily fit in your backpack, briefcase, or purse. Survival And Cross provide lifetime guarantee service to their customers. If you experience any hassle with their jump rope, they will send you a brand new one for free. Watch how you can use this rope for various fitness exercises in this video that also includes the tester's experience.
Features
Material: Steel
Length: 06 x 5.2 x 0.16 inches
Pros
Superfast speed
Lightweight
Lifetime guarantee
Fully adjustable
Compact
Suitable for beginners and experienced athletes
Cons
The FEECO Weighted Jump Rope is a 9-foot adjustable rope, suitable for anyone between 5 and 6 inches in height. The professional ball bearings inside the handles allow you to spin the rope smoothly. The 5.5mm wide steel rope weighs 1/4 lb that is ideal for cardio, CrossFit, or jump training. The rope is covered by durable PVC that prevents it from tangling. Additionally, the aluminum handles of the rope are covered with silicon rubber that offers a durable and comfy grip. According to user insights, the product has a good build quality and is adjustable.
Features
Material: Aluminum
Length: 9-inches
Pros
Adjustable length
Durable
Robust
No-slip handles
Tangle-free
Comes in a storage bag
Cons
None

XYLsports Jump Rope is perfect for burning calories, improving flexibility, weight loss, strengthening the core, and improving heart health. This jump rope is easily adjustable and has comfortable foam grips. It is made from superior-quality materials that are designed especially for sports lovers. It is also a great cardio workout for boxers. This durable jump rope gives you a smooth swing without having to put in additional effort while jumping. It is suitable for all ages and provides lower-impact activity than jogging. XYLsports offers a 100% money-back guarantee and lifetime warranty to their customers. They will give a full refund if their customers are not satisfied with the jump rope.
Features
Material: Plastic
Length: 9 feet 8 inches
Pros
Durable
Exclusive design
Uncoils easily
100% money-back guarantee
Cons
The Epitome Fitness Ballistyx Jump Rope is equipped with two 360-degree rotating cables that increase your skipping speed. The heavier power cable supports cardio movements, while the lighter one is ideal for improving your speed. The rope is made with robust and thick cables prevent kinking, bending, and tangling. The ropes are designed with silicone-grip handles that help you gain an adept grip. The reviewers like that the product is easy to grip and durable.
Features
Material: Stainless steel
Length: 7.52 x 7.05 x 1.85 inches
Pros
Non-slip grip
Adjustable
Durable
Robust
Fast rotating
Cons
None

N1 Fit Premium Weighted Jump Rope is a comfortable, soft, and sweat-proof jump rope that ensures an efficient workout. It is a superior-quality heavy jump rope that spins slower than regular jump ropes due to its weight. Slow spinning provides accurate jump timing and corrects your upright posture. This allows your back and shoulder muscles to engage in the arc properly. This jump rope is suitable for men and women of all ages. It is made with high-quality materials and ergonomic non-slip handles that ensure maximum comfort during your workout. Its length can be adjusted easily as per your preference. A weighted jump rope is especially great for upper-body strength, which makes it a perfect warm-up option for boxers. It can be used by beginners as well as experts. N1 Fit provides a 2-year warranty to their customers. If the product is damaged, they replace the jump rope for free.
Features
Material: PVC
Length: 10 x 10 x 3.2 inches
Pros
Weighted rope
Strengthens the upper body
Non-slip handles
Sweat-proof
2-year warranty
Cons
Screws are too tight to adjust
Fit Viva Jump Rope is best for double-under and crossover skipping. The self-locking connection is an impressive addition to this jump rope. You need to push the cable to adjust the length of the coated cable rope. The handles are sleek with soft-touch silicone grip and a smooth turning bearing system that gives you the correct rotation for an improved workout. The package includes 2 cables with a manual which consists of a 30-day workout challenge. This jump rope is suitable for beginner or expert level workouts. Make sure you only use this jump rope on smooth surfaces or indoors. Avoid rough surfaces since it can cause damage to the rope. Fit Viva provides full refund if you are not satisfied with the jump rope.
Features
Material: Plastic
Length: 17″ x 3.5″
Pros
Slim handles
No bolts and screws
Silicone grip
Comes with a 30-day workout challenge
Money-back guarantee
Cons
YXwin Jump Rope is a tangle-free speed rope that is suitable for men, women, kids, teens, elders, beginners, and fitness experts and sports professionals of all ages. The package comes with 2 jump ropes. This speed jump rope helps in full-body workout, which is perfect for warm-up before boxing or crossfit workout. It contains ball bearings in the rope's handle along with woven wire that lets the jump rope rotate smoothly. It has breathable memory foam handles for a smooth and easy grip. Its tangle-free mechanism helps in relieving tension on your wrists and hands .Each handle has a humanized regulator of a 9-feet long rope which can be cut easily with a wire cutter to adjust the length as per your preference. It contains EVA sponge material which is sweat-proof and promotes anti-slip performance. It also has a thick braided steel wire which provides excellent durability along with reducing wind resistance. This jump rope can be used anywhere –indoors, outdoors, and on rough surfaces –without causing any injury.
Features
Material: PVC
Length: 9 feet
Pros
Ball-bearing handle
Sweat-proof
Tangle-free
Can be used indoors and outdoors
Cons
Benvo Weighted Ropeless Jump Rope is a cordless skipping rope that gives you a tangle-free performance. Ropeless skipping keeps you away from tripping and hurting your legs while skipping. This is a perfect option if you want to work out in a smaller space or a crowded area. Its handles weigh around 0.68 lbs, which ensures a heavy-duty and exhaustive workout. The tips are made with industrial-grade smoothed steel that allows the jump rope to spin faster. The grips are soft and padded to ensure ease while holding for a long time. The balls at the end help you determine whether you are synchronizing your hand movements correctly or not. It is portable and can be carried in your bag easily. Benvo provides their customers with a 1-year warranty and 30-day money-back guarantee. This jump rope is suitable for all ages and does not require any adjustments.
Features
Material: PP and elastic sponge
Length: 3 inches
Pros
Cordless
No need to adjust the length
Portable
Tangle-free
Can be used indoors and outdoors
Prevents injury
Cons
The Honor Athletics Speed Rope is a lightweight, ergonomic fitness gear that offers superior control and maximum comfort. It is an adjustable, 5mm thick vinyl PVC rope with an ergonomic and tangle-free design. This high-resilience rope has unbreakable handles, making it ideal for intensive workout programs. Fifteen minutes of training with this rope is a great cardiovascular exercise for effectively building your muscles and improving your heart health. Reviewers have found it to be great for aerobic training and doing freestyle.
Features
Material: Pvc
Length: 9.53 x 5.43 x 1.42 inches
Pros
Ergonomic design
Lightweight
Adjustable
Durable
Tangle-free
Cons
The Loocio Jump Rope is engineered using high-end steel wires coated with PVC material. This jump rope boasts built-in, soft, ball bearings to help you execute comfortable jump exercises. You can modify the rope length according to your height and preferences. This rope supports fast jumps without getting tangled, thus ensuring complete safety. It has ergonomic foam handles that have a non-slip texture and moisture-wicking potency that help you get a strong grip.
Features
Material: Alloy steel, PVC
Length: 6.73 x 4.76 x 1.54 inches
Pros
Durable
Easy to handle
Adjustable
Tangle-free
Ergonomic design
Portable
Cons
Not suitable for tall people
KDG Jump Rope is a unique skipping rope with an elastic press button to adjust the length of the rope without cutting it. This screw-free and self-locking system is easy to use and can be used by multiple people of different heights. The non-toxic jump rope also contains double anti-wear pipes and cables that protect the part that touches the floor frequently, thus preventing it from breakage or damage. The aluminum handles are light, durable, anti-slip, and provide a firm grip while skipping. This jump rope contains 360-degree ball bearings that aid smooth, tangle-free, and fast rotation. KDG provides lifetime replacement guarantee to their customers.
Features
Material: Aluminium
Length: 44 x 4.99 x 1.61 inches
Pros
Elastic press button
Slim handles
Firm grip
Tangle-free
Cons
The Bear KompleX Speed Jump Rope is a lightweight hummer speed jump rope that helps accelerate your skipping speed and support your intense workout sessions. It features speed bearings that help you gain momentum while you exercise. The ropes are coated with two wires that extend their durability. Additionally, the rope is designed with aluminum handles that help you grip it properly and prevents any slipping accidents. This product is ideal for CrossFit trainers, double unders, fitness enthusiasts, and boxers.
Features
Material: Aluminum
Length: 6.3 x 6.22 x 1.42 inches
Pros
Easy setup
Adjustable length
Lightweight
High-quality
Cons
Cables may come out of the handles
Wire kinks
Ellenium High Speed Jump Rope comes with a self-locking mechanism that holds the rope in place. This jump rope can be adjusted by applying pressure to the top of the handle, inserting the cable into each handle, and letting go. The initial set up does not require any tools or screws and, hence, can be used by multiple people with different length preferences. This jump rope is perfect for mastering double-unders as well as triple-unders and can be used for boxing, lower body, MMA training, cross fit, bodybuilding, and gym workouts.  This superior-quality jump rope is made of aluminum and stainless steel to increase durability and prevent rust. The 360-degree hyper-bearing rotation provides fast and flawless swinging. The handle is lightweight and anti-slip, which provides a firm grip while skipping. Ellenium provides a lifetime warranty and satisfaction guarantee to their customers.
Features
Material: Aluminium and stainless steel
Length: 1 x 5.31 x 1.34 inches
Pros
Anti-slip handle
Lightweight
Self-locking mechanism
100% money-back guarantee
Cons
CyberDyer Ropeless Jump Rope is a tangle-free and fast skipping rope. This rope-free equipment protects you from tripping, hurting your legs, or any unwanted disruption during skipping. It is a perfect option to use in a tight space like your bedroom or even outdoors. Additional weight blocks can be added on the handles for a high-intensity workout. The length of the rope can also be adjusted as per your preference. This ropeless skipping rope is suitable for the people of all sizes and heights. According to the reviews, it provides a good and comfortable grip and is easy to use. CyberDyer provide a 90-day guarantee with a 100% refund or replacement policy.
Features
Material: PVC
Length: 18 x 0.79 x 0.79 inches
Pros
Ropeless
Weighted handles
Tangle-free
Prevents injury
100% refund or replacement policy
Cons
The 15 jump ropes listed above are the best for boxers. Now, let us check out why you need a jump rope and what to consider when buying one.
Jump Ropes For Boxers – Buying Guide
Why Do Boxers Jump Rope?
Jumping rope provides great conditioning along with improved rhythm, footwork, and agility, which are very essential for a great performance in the ring.
Benefits Of Jumping Rope for Boxing/Kickboxing
Builds mental endurance
Improves coordination
Increases stamina
Perfects speed and swiftness
Increases punching power
Improves balance
Improves footwork
Increases ability to time movements
What To Look For When Shopping For A Jump Rope
Make sure your jump rope is of the correct length. Step on the middle of the rope and then pull it towards your shoulders. The cables should reach right around your underarms. Most jump ropes have adjustable handles to increase or decrease the length.
Choosing a jump rope of the right material is important for it to last long. Vinyl jump ropes can be used on rough surfaces, whereas plastic jump ropes can only be used on smooth surfaces. Also, look for durable handles and ball bearings to achieve smooth rotations.
The weight of your jump rope depends on the level of your skill. If you are a beginner, then start with a jump rope weighing half a pound. Experts can use heavier ropes to develop more strength.
Choose jump rope handles that have soft foam or are sweat-proof to give you a firm grip while skipping. Lightweight handles help in smooth and fast rotations. Weighted handles improve your strength. 
There are many jump ropes in the market that offer special features, such as weighted or ropeless jump ropes. Weighted jump ropes have heavier handles and ropes. Ropeless jump ropes are cordless and suitable for tight spaces. These special features improve your performance and keep you motivated.
Additional Tips For Picking The Best Jumping Rope
Know your goal before buying a jump rope.
The rope should be 3 feet taller than you are.
The cable should reach the top of your chest without the handles.
Check whether you will be jump roping on a smooth or a rough surface.
Leather ropes are popular in boxing but are durable outside of a gym.
Why Trust StyleCraze?
The author, Aditi Naskar, is a fitness enthusiast with a diploma in health and wellness. Every boxer improves their footwork and coordination with the help of jump rope workouts. But a feeble and weak jump rope can ruin important workouts. This is why the author recommends using these jump ropes. She poured over multiple products and their reviews online, investigating and studying each individually, before settling on this list. Each of these products was chosen because of their benefits like their material and dimensions, adjustable size, weight, and durability.
Frequently Asked Questions
Is jumping rope good for boxing?
Yes, jumping rope is great as a warm-up before a boxing workout as it imitates the weight transfer from one foot to the other, which is similar to a boxer punching and shifting their weight while boxing.
How long do boxers jump rope for?
Boxers usually jump rope for 10-15 minutes continuously without rest.
How can I jump rope better for boxing?
You can start by practicing basic jumps, which involves jumping with both feet together and landing on the balls of your feet. You can also start running in place, side swing, and doing one-legged hops regularly along with the basic shuffle to improve your performance.
Which one is better for boxing – jumping rope or running?
Jumping rope is better than running for boxing because it gets your blood pumping. It helps in exercising your legs and stretching your body.
Can jump rope increase your stamina?
Yes, jumping rope can increase your stamina. It helps you tone your calves, tighten your core, and improve your lung capacity.
Recommended Articles