10 Best BP Monitors Available In India – Reviews and Buying Guide
Stay on top of your game with these simple, accurate, and reliable devices.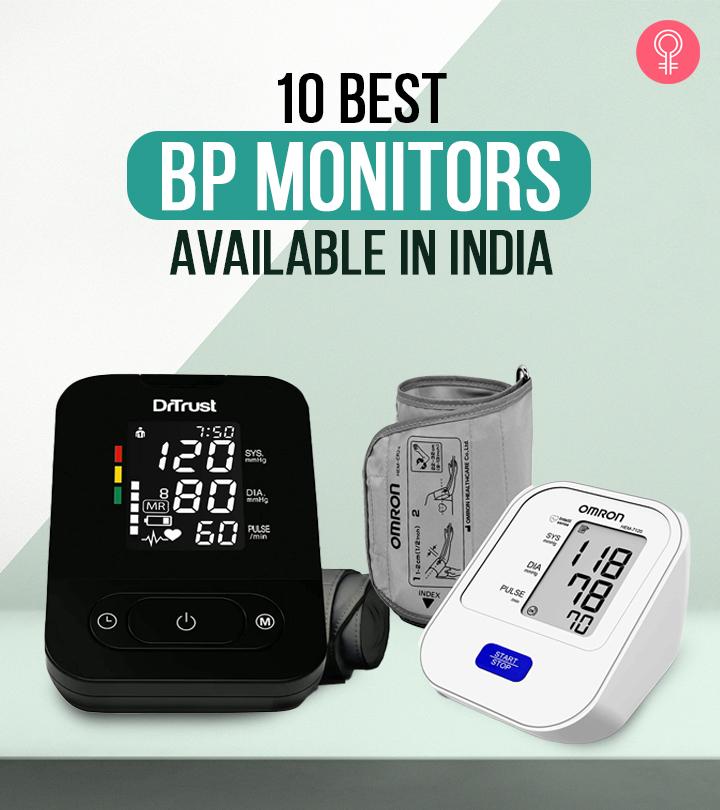 Hypertension or high blood pressure is a very common medical condition among people. Apart from other biological reasons, our modern lifestyle plays a key role in causing it. If you or anyone in your family is constantly worried about the sudden rise or drop in blood pressure levels, investing in a good BP monitor or blood pressure monitor/machine is a good idea.
This compact device helps you monitor your blood pressure levels in the comfort of your home or on the go. In recent times, the innovations in design and technology have led to a wide variety of devices. To help narrow down your search, we have compiled a list of the 10 best blood pressure monitors in India with a variety of features to cater to your needs. Read on and take your pick!
Note: Readings from blood pressure monitors are only for general information purposes. These devices cannot be used as a substitute for medical examination.
What Is A BP Monitor?
It is a device used to measure the blood pressure. It has an inflatable cuff that is wrapped around your arm, at the vertical height of your heart, to restrict blood flow and give you a proper BP reading.
Let's now take a look at the best BP monitors you can buy in India
10 Best BP Monitors Available In India
This automatic BP monitor by Omron comes with a medium-sized cuff that is perfect for individuals with an arm circumference of 22 to 32 cm. It is compact, easy to use, and convenient for checking your BP at home or on the go.
This device is designed with IntelliSense Technology that inflates the cuffs automatically without any need for reinflation or pressure setting. It works by using an oscillometric principle to measure your BP and pulse rate. The tool has a body movement indicator that also blinks if your systolic or diastolic pressure is outside the standard range. The brand also offers a three-year warranty and lifetime support for this device.
Specifications
 Power Source: Battery powered
 Weight: 331 g
 Warranty: 3 years
Pros
 Easy to use
 Automatic inflation of cuffs
 Regulated movement
 Durable
 Portable
 Sturdy
Cons
None
The automatic BP monitor by Dr Trust comes with a USB port and supports any USB devices. It also works with four double AA batteries and is perfect for on-the-go tests. The device helps measure your systolic BP, diastolic BP, pulse irregularities, and heart rate. It is designed with an advanced algorithm that prevents the cuff from over pumping and gives a comfortable experience.
The monitor comes with an extra wide cuff that measures 22 to 42 cm, thus fits all sizes. It can also store up to 120 results of two users that can be easily recalled when needed. The large LCD screen displays readings in large fonts. The hypertension color indicator on the side of the LCD lets you know if your BP is moderate, normal, or high. This smart BP monitor also has a dual talking guidance, which gives you the results in both English and Hindi, and you can mute it if not required.
Specifications
 Power Source: Corded electricity and Battery powered
 Weight: 500 g
 Warranty: 5 years
Pros
 Large screen
 Backlit display
 Dual voice feedback
 Portable
 Records up to 120 readings
 Lightweight
 Easy to use
 Regulated movement
Cons
Get this fully automated, compact, and lightweight BP monitor by Dr. Morepen that gives you super-fast and reliable results. It helps you measure your diastolic blood pressure, systolic blood pressure, and pulse frequency. This device is designed with a user interface for two users and can store up to 120 results in its memory. It averages the last three readings to give you precise results. This BP monitor shows your blood pressure in three color ranges for easy understanding. The comfort inflation technology ensures stress-free testing every single time.
Specifications
 Power Source: Battery powered
 Weight: 431.9 g
 Warranty: 1 year
Pros
 Lightweight
 Stores 120 readings
 Durable
 Easy to use
 Regulated movement
 Travel-friendly
Cons
None
The Beurer BM35 Upper Arm BP Monitor has an elegant silver design and an extra-large, easy-to-read display for added convenience. The results are shown in large fonts for easy reading. It also displays the date and time along with low battery indication and incorrect usage message.
This device gives you an average result from the readings of the last seven days and can store up to 60 results of two users. It also has a resting indicator, which shows whether you are sufficiently rested when the blood pressure is taken, for accurate results. This easy-to-use device inflates and deflates the cuff with the click of a button.
Specifications
 Power Source: Battery powered
 Weight: 440 g
 Warranty: 5 years
Pros
 Easy to use
 Wide range cuff
 Low battery indicator
 Error indicator
 Memory storage properties
 Automatic function
 Large display
Cons
None
This BP monitor by BPL Medical Technologies comes with a WHO classification indicator chart. Along with the blood pressure, it also shows the heart rate deviation, letting you know when you need to consult a doctor. The device has an internal memory that stores up to 100 recordings of two users. It can be operated using batteries as well as a micro-USB adapter. The large cuff measures 3 cm in width and can cover an arm circumference of 23-32 cm.
Specifications
 Power Source: Corded electric and Battery powered
 Weight: 178 g
 Warranty: 1 year
Pros
 Low battery indicator
 Visual error indicator
 Irregular heartbeat detection
 Latex-free cuff
 Portable
 Easy to operate
 Dual power source
 Big display
Cons
None
The Mievida Mi-Heart 101 Blood Pressure Monitor features a three-colored backlight display for added convenience. It uses intelligent pressure technology to give you accurate results and measurements. The device measures your pulse rate and BP in a single click and can store the memory of two users for up to 192 results each. The extra-large cuff allows you to take accurate measurements with any arm circumference. This BP monitor has a voice activated system, which makes it user-friendly and interactive.
Specifications
 Power Source: Corded electric and Battery powered
 Weight: 400 g
 Warranty: 1 year
Pros
 Voice activated system
 Large screen
 Large memory
 Easy to use
 Regulated movement
Cons
Check your BP with a single touch with this BP monitor by AccuSure! It features a high precision gauge sensor system to deliver accurate results every time. The WHO classification indicator chart lets you know the level of your BP spike with green, red, and yellow colors. It can also detect irregular heartbeat and store up to 60 recordings for future reference. The wide and large LCD screen is convenient and user-friendly.
Specifications
 Power Source: Battery powered
 Weight: 449 g
 Warranty: 1 year
Pros
 Extra-large display
 Motion detector
 Easy to use
 Durable
 Lightweight
 Latex-free cuff
Cons
The cuff of the Equinox Digital Blood Pressure Monitor is powered by comfort inflation technology to ensure less pressure on the arm and generate quick results. The device also features DPDA technology to maintain accuracy and can store up to 60 results. It also detects irregular heartbeat. The large LCD screen shows the results in a big font for added convenience and readability. It also features a BP classification indicator, which gives you the classification of your readings.
Specifications
 Power Source: Corded electric
 Weight: 249 g
 Warranty: 18 months
Pros
 Easy to use
 Large LCD screen
 Durable
 Detects irregular heartbeat
 Large cuff
Cons
None
This compact BP monitor by AmbiTech uses the oscillometric principle for accurate results and precise measurements. It supports a user interface of four users and saves previous readings up to 30 each. The extra wide display shows your readings in a large font and creates a comfortable user experience. The cuff measures 22 to 30 cm in diameter, making it perfect for all arm sizes.
Specifications
 Power Source: Battery operated
 Weight: 200 g
 Warranty: 1 year
Pros
 One-touch operation
 Four-user interface
 Irregular heartbeat indicator
 Large display
 Large font
 Portable
Cons
None
This blood pressure monitor by ELKO is designed with the oscillometric technology, which measures your blood pressure during inflation for accuracy. It can support two users at a time and store their recordings up to 120 each. The device also detects heart arrhythmia or irregular heartbeat for added convenience. The unique WHO indicator feature allows you to access your BP results between six levels, ranging from optimal to hypertension.
Specifications
 Power Source: Battery powered
 Weight: 520 g
 Warranty: 12 months
Pros
 Large memory
 Easy to use
 Extra wide cuff
 Large LCD screen
 Durable
Cons
None
Blood pressure monitors come in handy and also give you quick results. This helps you constantly monitor your health conditions and stay advised. There are multiple benefits to these machines. Let's find out about them.
What Are The Benefits Of Using BP Monitors?
 Self-monitoring your blood pressure can help you stay alert about underlying health conditions.
It helps you know if your lifestyle changes or medications are working properly. It can also help your doctor make decisions about adjusting dosages or changing medications.
Using a BP monitor can give you better control and responsibility of your health. You will feel more motivated to control your BP with an improved diet, proper medication, and physical activity.
It helps you keep track of sudden spikes or falls in your blood pressure and regulate your lifestyle accordingly.
The modern BP monitors are easy to use and read. This allows people of all age groups to conveniently check their blood pressure and stay healthy. In case you are unsure of how to run this device, given below is a quick guide to help you out.
How To Use BP Monitors
Step 1: Always wait for 30 minutes after eating, consuming alcohol, or using tobacco products. Ensure your bladder is empty.
Step 2: Sit in a comfortable position without your ankles and legs crossed and make sure your back is supported.
Step 3: Elevate your left arm to the level of your heart and place it on a desk table and sit still.
Step 4: Switch your device on and wrap the cuff around the upper part or wrist.
Step 5: Most BP monitors are automatic, and the cuff will inflate on its own with just a push of a button. In case you are using a manual model, inflate your cuff to the point where there is at least a finger gap between the cuff and your hands.
Step 6: Check the display for your BP reading and then release all the air from the cuff.
In case you want to repeat the procedure, wait for at least a minute or two before redoing it.
There are a variety of BP monitors available on the market that offer multiple features, smart technology, added health guides, and much more – all this to cater to every budget. Before you get confused and overwhelmed by all the available choices, read through the next section to know about the factors to keep in mind while choosing a BP monitor for domestic use.
How To Choose The Best BP Monitor – Buying Guide
Most blood pressure monitors are equipped with a function to store the readings (sometimes multiple readings of multiple users). This feature comes handy if there is more than one person in your house with hypertension. You can also share these results with your doctor or a health professional to know what food or lifestyle is perfect for you.
Make sure that you choose a simple and user-friendly BP monitor for ease of use. For instance, the display on the device should be easy to read and the control buttons should be large and ergonomically designed.
Make sure that you choose a blood pressure monitor with comfortable cuffs that fit the circumference of your wrist or upper arm perfectly. Choosing one with a long cuff size can result in inaccurate readings.
The price is one of the most important factors to look at when choosing a BP monitor. Make sure your device is feature-loaded and offers bang for your buck. Also, a cheap BP monitor can wear out easily and cost you more in the long run.
Warranty plays a huge role in the durability and maintenance of the product. Always look for BP monitors that have a long warranty period, so you do not have to worry about spending a lot on constant repairs.
Check if the accuracy of the BP monitor is at least + or -5%. Make sure your BP monitor is clinically approved.
If you are someone who travels frequently, you might want to consider a portable, wrist mounted BP monitor.
Other Features
 Monitors that link to your devices: A few BP monitors can link to your android or iOS device wirelessly using Bluetooth. This is the perfect option to store your data electronically and refer to it whenever you want.
 Irregular heartbeat detector: Check if your BP monitor also detects an irregularity in your heartbeat. This helps you keep track of the potential health risks and heart troubles.
Backlight: An LCD screen with backlight allows you to effortlessly check your reading even in low light surroundings.
Maintaining your blood pressure is key to staying healthy. One of the ways of doing this is by monitoring your blood pressure regularly, especially if you are prone to hypertension. These BP monitors can also help you figure out if your medications are working or there are irregularities in heartbeats. Take your pick from our list and get one step closer to a healthier lifestyle!
Frequently Asked Questions
What time is best to check your blood pressure?
The best time to check your blood pressure is in the morning or at night before bed. Always wait for 30 minutes after eating, using tobacco, or consuming alcohol and do it on an empty bladder.
How long does a BP monitor last?
Most home blood pressure machines last for about two or three years. After that, check it at your doctor's office annually to make sure it is still accurate.
How accurate are these BP monitors?
These monitors are almost accurate and have a slight inaccuracy between – / + 5%.
How often should I check my blood pressure at home, and what is the best time of day to do it?
You can check your blood pressure twice a day at first, once in the morning before medication and again in the evening. Also, the best time to measure blood pressure is in the morning, before taking medicine, and at the same time every day.
What are the potential risks of not monitoring blood pressure regularly?
Untreated hypertension can cause severe complications like heart attack or stroke. Individuals with hypertension and those facing a risk of hypertension should monitor their pressure levels. Any change in the levels can be an indication of an underlying medical condition.
How can tracking blood pressure trends over time help with early intervention?
With regular blood pressure readings, the doctor forms a pattern trend which makes it easier to detect any change within time. The healthcare provider may be able to connect any fluctuation with an underlying medical condition.
Recommended Articles