7 Best Bras For Seniors With Arthritis That Are Comfortable
Find your comfort and personal style with the right lingerie at hand.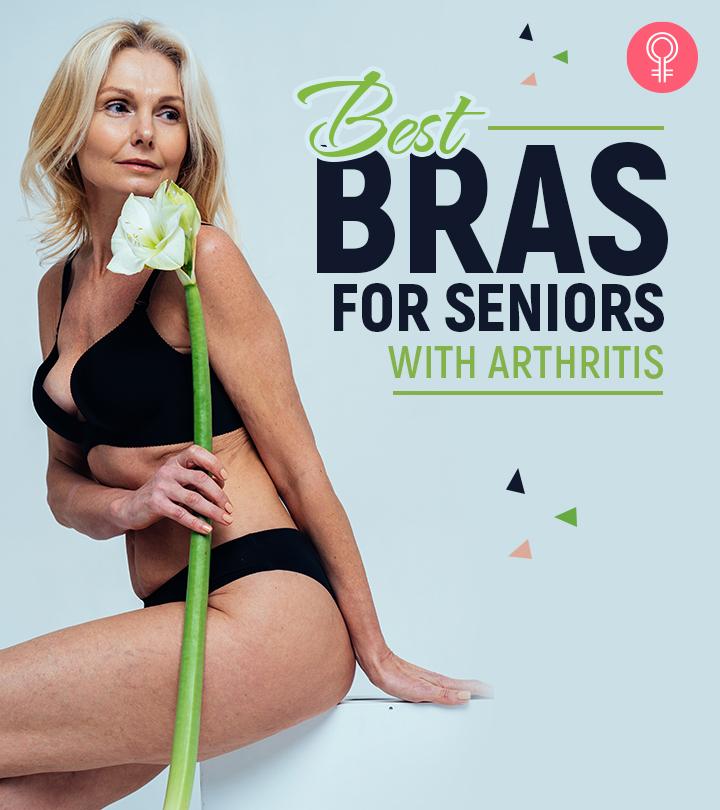 Choosing the best bras for seniors with arthritis requires you to look into certain features to ensure it helps support the condition. As we progress in age, we know for a fact that our physical movement slows down. Arthritis leads to inflammation, or in simpler terms, swelling of the major as well as minor joints, which makes movement very painful. In such a condition, wearing bras that require precise movement by swollen finger joints can be tedious, painful, and frustrating, especially when it comes to zips and hooks.
So, choosing to buy a bra for an elderly woman with arthritis can be a cumbersome task that requires understanding of the limitations in movement. Read on to learn more about the best suited bras for arthritis.
7 Best Bras For Elderly Women With Arthritis And A Buying Guide
Here are some of the best bras available online for elderly people who have arthritis:
This front closure cotton bra from Fruit Of The Loom is a mixture of cotton and spandex, lending it a soft feel and great stretch. The full-coverage bra has a hook and eye front closure for easier access and no underwiring. It is very soft, comfortable,  and can be worn while performing a large number of activities. Its key purpose is to offer optimum support and ease of wearing. This full coverage bra is made from a breathable material for all day comfort and has straps that stay in place all day.
Pros
Soft material
Breathable
Full coverage
Stretchable fabric
Machine washable
Unwired
Unlined
Front closure
Cons
None
The WANAYOU Zip Front Sports Bra is designed to provide comfort during the post-surgery days. Usually, in such situations your movement becomes difficult and restricted, thus, this bra has a front zip closure to give you maximum flexibility and ease of wearing. The material is a combination of nylon and spandex which makes it highly stretchable and comfortable. The active wear bra has a modern racer back design and removable padding so you can wear it as per your preference. Its broad straps ensure to lighten the burden on your shoulders and offer great support.
Pros
Front zipper closure
High elasticity
Removable padding
Wide shoulder straps
Suitable for everyday use
Suitable for active wear
Cons
May give the appearance of a uniboob
Price at the time of publication: $31.99
The Glamorise Women's Plus Size WonderWire Bra is designed for curvy women to ensure ease and optimum comfort. It is underwired and padded, and offers soft cushioning and good support. The material consists of a combination of polyamide, polyester, and elastine, and has a hook and bar front closure. Its cups also consist of side-bust control to shape and support your breasts effectively. The wide straps are slightly cushioned to relieve any pain and the quick-drying fabric keeps sweat away. However, it can only be handwashed and needs to be handled delicately.
Pros
Front closure
Cushioned underwire
Wide straps
Padded cups
Side bust control
Good support
Quick-drying fabric
Cons

Quick Tip

We recommend a full-coverage bra with an underwire for extra support and to prevent your breasts from sagging and causing upper body pain.

Price at the time of publication: $39.9
Avoid awkward peekaboo straps with the Hanes Women's Cami. It has a built-in shelf-bra and is made of a combination of cotton and spandex material. Its pull-on closure makes it easy to wear for someone suffering from arthritis. The material is machine washable and durable, and its soft, cotton fabric offers all day comfort. This soft camisole bra offers light support and all-day comfort. The best feature of this product is its slender straps that can be worn under any sleeveless top without visibility.
Pros
Cotton-based
Breathable
Pull-on closure
Machine washable
Extra-soft fabric
Ideal for all day wear
Skinny straps
Cons
May not give optimum support
Price at the time of publication: $13
The Genie bra offers optimum stretchability and is made from nylon and spandex. It has pull-on closure making it easy to put onand take off. The material is soft and can be machine washed. It is an all-day comfort bra without any wiring, zips, adjustable straps, or hooks. It gives a smooth and seamless silhouette under your tops and offers the perfect amount of lift and support needed to perform various tasks. The bra provides full coverage and has removable padding so that you can wear it the way you feel more comfortable.
Pros
Pull-on closure
Machine washable
Seamless
Wire-free
Good support
Super soft
Cons
Price at the time of publication: $29.99
The Underworks Arthritis bra features big unrestricted cups and a broad band that offer optimal comfort. Blended with 55% cotton, 10% spandex, and 35% polyester, the bra has a velcro hook and loop closure that allows you to wear and remove it easily. The bra also has a new hook tab that acts like a lock to keep its closure from getting opened or the strap from curling up. The hook tab also keeps the closure smooth and flat. This bra is free of any metals and wire, making it super comfortable for women who suffer from ailments like arthritis, fibromyalgia, and multiple sclerosis.
Pros
Easy to wear
Comfortable
Latex-free
Wire-free
Can be worn as an oncology bra
Cons
Price at the time of publication: $29.99
The True & Co Women's True Body V Neck Bra is highly stretchable as it is made from a combination of two materials — nylon and elastane. The bra has a pull-on closure which makes it an easy-to-wear lingerie item for those who have arthritis or other physically restrictive ailments. It is designed with a sleek looking v-neck pattern and is seamless under all clothing items. It also offers removable padding and a non-wired structure for optimum comfort and hold throughout the day.
Pros
Pull-on closure
Sleek design
Soft fabric
Wire-free
Non-wired
Removable padding
Seamless
Machine washable
Cons
None

Quick Tip

Avoid extra-tight padded bras as too much pressure on your lymph nodes may restrict blood circulation.

Price at the time of publication: $22.94
These are some of the best options available online for those suffering from Arthiritis. Next, we have curated a buying guide with some essential tips to consider while choosing a bra that will help you make the right and informed decision.
Things To Consider Before Buying A Bra For Arthritis
Here are a few tips that you may consider while choosing the best bra for arthritis:
The width of the strap should be broad enough so as to distribute the weight across the shoulders. A narrow strap is sure to put pressure on a narrower area of the shoulder and may lead to pain across certain parts of the upper body
 Look for a bra that gives good support to the breasts, because one that does not provide good support may lead to bending forward of the spine, and drooping of shoulders, besides sagging breasts.
 A bra that has a front clasp is always preferred over one with a clasp at the back. Many people with arthritic conditions have a tough time putting their arms behind their backs, so one can just imagine how difficult it would be for them to hook a bra with a back clasp
Some patients with chronic arthritis may find closing the clasp, or hooking the bra a little difficult, in such a situation, a bra with a zipper in the front may be a better choice. Ensure that the zipper is not flimsy or unsmooth.
The best bras for seniors with arthritis should be easier to put on and remove. The above options have been thoughtfully curated keeping in mind the ease of use and the comfort of elderly women with arthritic pain. Patients suffering from chronic ailments already have enough to deal with and plenty of adjustments and lifestyle changes to make, besides learning to cope with their ailment. Looking for the right bra that fits their needs should not add to their list of problems. And that's why, we believe our list and buying guide are going to be of great help if you are looking for a bra that is hassle-free even on the worst days of the ailment.
Why Trust Stylecraze?
Srijani Roy Chowdhury, the writer of this article, is a certified style and image consultant and a thorough professional when it comes to curating well-structured and research-driven content. Her expertise lies in writing about makeup and fashion, and has suggested a list of the best bras for seniors with arthritis above. She has also prepared a buying guide for you to help you make the right choice while choosing a bra for yourself. Read the post above to gain all the information you need before purchasing a new bra.
Frequently Asked Questions
How do you put on a bra with arthritis?
Try looking for bras that have front closure with zipper or velcro, or a bra that you can simply pull over your head.
The following two tabs change content below.