9 Best Bralettes With Support That You Can Wear Every Day – 2023
Replace your boring bras with these exclusive pieces that have a chic vibe about them.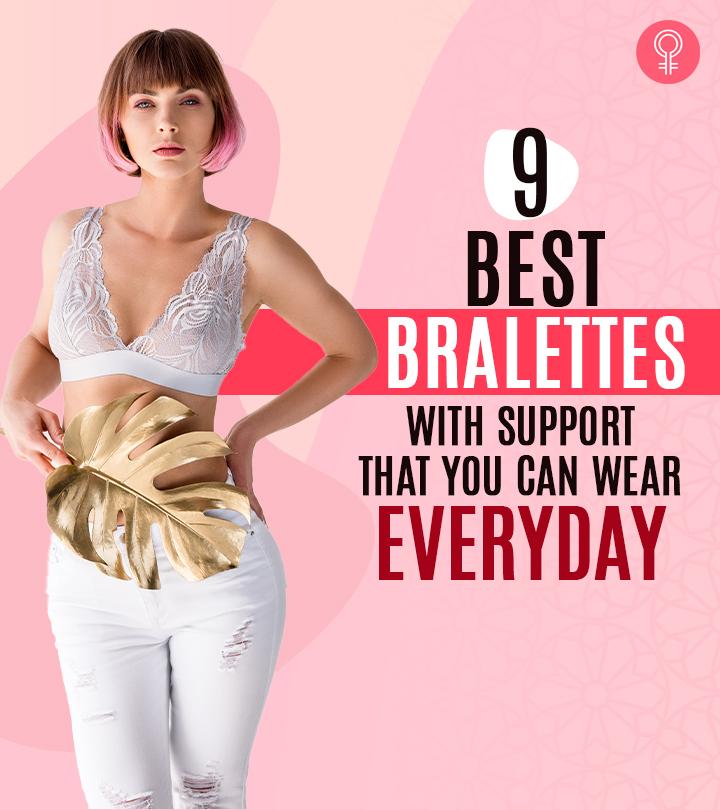 Lingerie is an important part of a woman's wardrobe. Long gone are the days of boring lingerie. The most modern lingerie staples are the best bralettes with support. Not only are these uber-stylish, but also extremely lightweight and functional. These versatile pieces act as lingerie as well as independent tops. You can style these with trousers, jeans, skirts, or even formal blazers. For the perfect chic vibe, you can even pair these with a good pair of joggers. These offer enough coverage and support and can be worn comfortably all day.
From models to influencers, everyone's wardrobe has made a place for these bralettes. But finding the right bralette for your size and style is no small task. Here, we have listed the 9 best bralettes that can be worn as crop tops too.
A good quality bralette with support lifts and shapes your breasts while escalating your overall ensemble. It flatters your silhouette to give you a stunning appearance. Go ahead and check out the list to find yourself the next addition to your wardrobe.
What Is A Bralette?
Bralette is a trendy outfit essential that falls under the umbrella term 'bra.' Like a regular bra, this piece of lingerie supports your bust without the pinching or poking of underwires or fastenings. From low to high impact activities and running a few errands to relaxing at home to party nights, these exclusive outfits essentially suit all purposes with utmost comfort.
Let's check out what other women have to say about the benefits and drawbacks of bralettes.
Bralettes: Benefits And Drawbacks
Bralettes are way more comfortable and flexible than underwire bras.
These are affordable, making them one of the most preferred choices among women.
Investing in a few bralettes prevents stretching out your go-to-bras. Now, you can rotate your innerwear, extending the durability of your favorite bras.
Besides great comfort, what lacks the most in bralettes is support. Therefore, bralettes are not suitable for anyone above B-cup.
Most bralettes require to be pulled over your head which loosens the elasticity of the band. As a result, it gets stretched out too easily than traditional bras.
Keeping the benefits and drawbacks aside, celebrities, fashion influencers, and women everywhere are choosing the wire-free comfort of bralettes. Here are the 9 best bralettes that support and lift your breasts.
9 Best Bralettes That Support And Lift Your Breasts
The Free People Women's Adella Bralette is made with 60% cotton and 40% nylon. The high-end guipure lace and sheer pattern of the bra give it a very attractive appeal. The double strap silhouette offers this bra a perfect fit, making it suitable for wearing all day long.
This partially lined bralette is available in a wide range of colors allowing you to choose one according to your style. You can wear this bralette on its own as a crop top as well.
Key Features:
Double strap silhouette
Guipure lace design
Partially lined
Pull-on closure
Pros
Easy to wear
Stretchable
Comfortable
Versatile
Cons
Not machine-washable
May irritate the skin
Price at the time of publication: $38
Add the Jockey Women's Natural Beauty Seamfree Molded Cup Bralette to your wardrobe and support your breasts with a relaxed fit. The body area of the bra is made with 38% modal, 35% cotton, 24% nylon, and 3% spandex, making it super comfortable for wearing all day long. The wide band of the bra is made with a blend of modal, cotton, nylon, and vis that holds the bra in place without pinching the skin. The cami straps and the built-in molded cups of this bralette give excellent support. The bra has a plunging neckline that makes it ideal for wearing under low-cut tops or shirts.
Key Features:
Built-in molded cups
Wireless design
Plunge neckline
Wide bottom band
Cami straps
Pros
Available in multiple colors
Machine-washable
Stretchable
Comfortable
Cons
Does not provide enough support
Price at the time of publication: $16.99
The Calvin Klein Women's Invisibles Bra supports and accentuates your natural bust shape. The smooth microfiber fabric of the bra feels soft against the skin. This lift and support bralette features removable pads enabling versatile fit. It also has fully adjustable straps that help you customize its fit and the pullover design of the bra makes it easy to wear. This lightweight bra also is lightly lined that offers optimum coverage to your chest area.
Note: Order one size up to get an ideal fit as these bralettes run small.
Key Features:
Seamless design
Removable pads
Adjustable straps
Pull-over design
Pros
Lightweight
Flexible fit
Comfortable
Adjustable Straps
Ultra-slim
Cons
Not machine-washable
Has a foul odor
Price at the time of publication: $24.94
Looking for one that would be stylish and works for many occasions? Try out Dobreva Women's push-up bralettes. These buttery-soft bralettes are made from the polyamide-spandex blend, making them a great choice for everyday wear. They feature a sexy V-neckline, push-up padding, and seamless, wire-free cups that render an appealing look. The under-bust wide band feels smooth and soft, and flatters both large and small chests. Besides great support, its high side wings smooth out unwanted bulges and spillage. Plus, this bra is suitable for daily wear, sports, office wear, and workouts.
Key Features:
Push up pad
Longline
Non-wired cups
Lace detailing
V-neckline
Pros
Seamless cups
Supportive
Smooth fabric
Great support
Prevents spillage
Pullover style
Cons
Feels too tight around ribs
Underband roll up
Price at the time of publication: $26.99
The Blue 55 Women's Bralette features removable pads and adjustable spaghetti straps for ultimate comfort. It is a perfect layering bralette for everyday use. This bra is available in multiple sizes and colors, so you can pick the one that caters to your needs well. This wireless bra has a pull-over design that makes it easy to wear. It is an ideal option to wear under t-shirts and low-cut shirts.
Key Features:
Deep Neck
Removable pads
Pull-over design
Wireless
Pros
Suitable for everyday wear
Lightweight
Wireless
Offers snug fit
Easy to wear
Cons
Price at the time of publication: $18.98
Selecting a perfect bralette for heavy breasts is not a problem anymore. These wide strap, super-lightweight cotton bralettes from Amazon Essential make a perfect choice for ladies looking for maximum coverage. These cotton, plus size bralettes feel smooth against the skin and provide added stretch for a better fit. Moreover, its hook-eye closure and machine washable feature add a few more points in making these bralettes the best bet.
Key Features:
Hook and eye closure
Soft microfiber
Pros
Super lightweight
Soft cups
Stretchy fabric
Flexible fit
True size
Maximum coverage
Cons
Price at the time of publication: $20.7
These Felina Finesse Cami bralettes blend in style and comfort perfectly to render a gorgeous look seamlessly. Its fashionable lace design and four-way stretchable fabric ensure comfort. These have been designed incorporating the latest technology that blends tactile spandex and nylon that feels soft and smooth throughout. Additionally, its adjustable straps provide customized fit and shape retention properties that support you all day.
Key Features:
Lace designs
Adjustable strap
Pros
Four-way stretch
Retains shape
Full coverage
Good support
Cons
None
Price at the time of publication: $28
Lounge around in perfect adorable bralettes from Fellina to experience comfort throughout the day. These are made from soft modal material that renders a silky touch for a barely-nothing feel. Moreover, its adjustable spaghetti straps prevent digging in to keep you free from pain and strap marks. Additionally, breathable, moisture-wicking fabric maintains your body temperature and ups your innerwear game.
Key Features:
Adjustable Spaghetti Straps
Smooth finish
Pros
Breathable
Moisture-wicking
Soft and comfortable
Great fit
Cons
Price at the time of publication: $34.95
The Kalon Women's Demi Padded Bralette is made with a blend of 92% nylon and 8% spandex, making it a staple for your everyday closet. This bralette comes with demi-cut cups with removable pads and is ideally designed for those with fuller chests. The bra also features hook-and-eye closure, making it easy to wear. It also has adjustable straps that you can redesign and wear as a crisscross back.
Key Features:
Demi-cut cups
Removable pads
Hook and eye closure
Convertible and adjustable straps
Pros
Easy to wear
Stretchable
Wireless
Comfortable
Available in multiple colors
Cons
Price at the time of publication: $34.99
Whether lounging at home or breaking the glass wall, a comfortable bralette can always support you. However, in the myriad of options available, picking up the perfect lingerie can be confusing. Don't worry, gal! We are here for you. Here is a buying guide to help you pick the right bralette to nail the desired appealing look. Here's what you need to look for!
What To Look For When Buying A Bralette?
Adjustable Straps: Bralettes with adjustable straps ensure a more secure fit as you can customize its length as per your body shape.
Adjustable Wide Band: Bands are great for good support. One must look for bralettes with adjustable and wide bands with high spandex content for overall support. Moreover, adjustable back hook-and-eye closure would patch up nicely with a wide band to provide you with great support.
Sizing: Sizing between brands may not always be identical. Hence, it is recommended to opt for a specific brand that suits your body size.
Maintaining the longevity of the innerwears widely depends upon the cleaning process. But there's no rocket science in doing the same for the bralettes. Here's how to do it!
How To Clean A Bralette?
Experts recommend handwashing and air-drying your bralettes to maintain its longevity. Dryers are a natural enemy to the bras and bralettes as they wear out the elasticity of the band and affect your overall fit in the long run. Alisia Grenville, a fashion designer, remarks, " The best post-wear care is what will make your bralettes last and maintain both their fits and forms over time. So, ensure to wash your bralettes the right way"
Why Trust StyleCraze?
The author, Baishali Bhattacharya, is a fashion and makeup expert who loves putting together new styles. She believes that the best style should keep you comfortable and confident throughout the day. Baishali went through numerous online reviews to curate a list of the best regular wear bralettes that offer optimum support without compromising the comfort factor. The products she listed in this post are perfect combinations of function and style.
Frequently Asked Questions
How do you get more support with a bralette?
You can opt for a bralette with adjustable or wider underside straps to get more support.
Do you wear a bra under a bralette?
Yes, you can wear a bra under a bralette for your comfort. However, if you feel like your bralette cannot hold your breasts, wear a bra underneath.
How do you know what size bralette to get?
You can measure the underside of your breasts snugly and the breasts a tad bit loose to know what size of bralette you need.
How do you wear a bralette the grown-up way?
You can wear your bralette with high-waisted pants or a skirt and a tailored long waistcoat.
Can I wear bralette in public?
Yes, it is okay to wear a bralette in public. You can wear your bralette like a crop top over high-waisted jeans or a skirt.
What is the difference between a bra and a bralette?
A bralette is without any molded cup or underwires, unlike a bra.
How tight should a bralette be?
Bralettes are designed to stretch over time, so your bralette should fit you snugly and not uncomfortably tight.
Can you sleep with a bralette on?
Yes, you can wear a bralette while sleeping if you are uncomfortable with keeping your breasts bare.
Recommended Articles