15 Best Bralettes For All Bust Sizes In 2022 – Stylecraze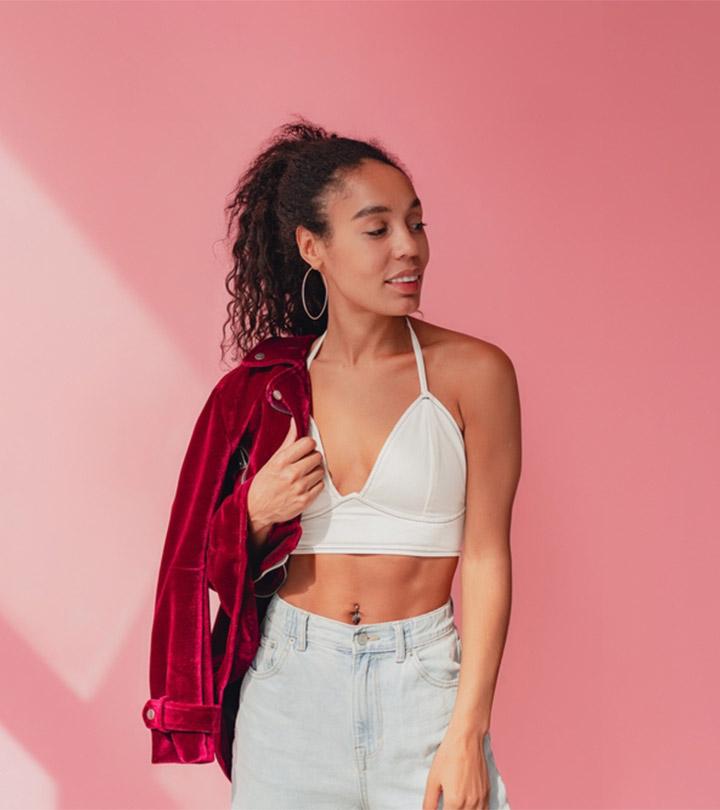 Ladies, if only we could absolutely do away with bras! But instead, you can try the next best thing – the best bralettes.
We all despise hard underwires and restrictive seams and bands. So, the bralettes are great a replacement for regular bras. They are made of soft material, cotton, synthetic, or blended fabric and are lightly padded or lined. These lightweight pieces are comfortable to wear and extremely stylish too!
Bralettes are also extremely versatile pieces of lingerie. Not only can you wear them as lingerie, but you can also style them as tops. They are available in different designs that are adorned with laces or straps. Some come in classic black and whites and also in vibrant colors. A few pieces of attractive bralettes are a must-have for women who want to take some time off from regular bras or be fashionably cool!
Here, we have made a collection of our favorite bralettes offered by different brands and available on the market right now. Go ahead, take a look!
15 Best Bralettes To Lounge Around Or Go To Work In!
Smart & Sexy offers women's bralettes composed of 94% nylon and 6% spandex that feature soft and removable cups. Plunging deeply in the front and back, this bra's necklines really elevate the look of your bone structure. The signature embroidered lace runs all over the women's bralette and extends into the bottom band. Thick front camisole straps offer security and reduce the pressure on your shoulders. Paired with an open-front cardigan, this bralette makes for the ultimate cozy day look.
Pros
Available in 10 colors
Stretchable and soft
Removable cups
Thick shoulder straps
Plunging V-neckline
Lightweight
Cons
Might not be ideal for large bust sizes
89% polyamide and 11% elastane has gone into the construction of YIANNA's cute bralettes. The rayon mesh aids in breathability to prevent any boob sweat which also keeps unpleasant odors at bay. Removable thin cups line the front for support, giving your breasts a streamlined look. These lacy bralettes feature a racerback design that distributes pressure across your shoulder blades and looks oh-so-sexy under a tank top.
Pros
Breathable
Prevents sweat and odor
Removable soft cups
Reduces pressure on shoulders
Skin-friendly
Available in 5 colors
Cons
Might not be supportive enough
With Kalon's set of pretty bralettes, think of your summer wardrobe as sorted! With a composition of 92% nylon and 8% spandex, these tops feature a V-neckline and a rear hook-and-eye clasp. Each one is a simple bralette that lies seamlessly under clothing in case you want to flaunt something figure-hugging. The demi-cut cups offer mid-level support while the adjustable shoulder straps are gentle without digging in.
Pros
Pack of 4 neutral colors
Adjustable straps
Adjustable rear hook-and-eye closure
Mid-level support cups
Seamless
Removable padding
Cons
Some might find the underband to be constricting.
Halter, crisscross, or the classic style—this cute bralette by Maidenform can do it all! The full-on filigree lace looks absolutely stunning and is aided by the longline design for all-round support. With 90% nylon and 10% spandex in the front, the fabric combines with mesh on the sides and back to keep you from becoming a sweaty Betty. In the back, 74% nylon is combined with 26% spandex so you can stretch easily for the hook-and-eye closure. The foam cups in these nude bralette shape the breasts and the wirefree construction keeps you pain-free.
Pros
Convertible and adjustable shoulder straps
Available in 15 colors
Breathable mesh panels
Adjustable hook-and-eye clasp
Foam padding
Lightweight
Cons
Might cause side spillage for some
One of the best supportive bralettes, this one by Fruit Of The Loom has 2-ply triangle-shaped cups for opacity. 90% cotton is used for ultimate comfort while the 10% spandex keeps this top flexible. Both the shoulder straps and rear hook-and-eye clasp are adjustable so you won't need to deal with irritating bands that dig into skin and leave marks. This is the best cotton bralette for the hotter days as it is bound to keep you cool and still on top of your style game!
Pros
Set of 2
Wirefree
Adjustable shoulder straps
Hook-and-eye clasp
Breathable
Lightweight
Cons
Might not offer enough support for bigger busts
Mae brings to you the best padded bralette that is decorated with soft scalloped lace trims. The high-neck design combined with a T-back that has a center cutout makes these bralette styles ideal for fun parties. 97% nylon and 3% spandex is blended to obtain a fabric that is not only smooth against the skin but wicks away sweat. The mild level of support takes care of your girls while you dance the night away.
Pros
2 color options available
Soft and smooth fabric
Moisture-wicking
Adjustable straps
Lace detailing
Cons
Fabric might not be anti-pill
Free People designs beautiful guipure lace bralettes for women that are a must-have when it gets warm outside owing to the 60% cotton and 40% nylon blend. Partially lined, this lacy bralette is sheer with fancy detailing and features thin double straps of which one pair sits criss-crossed at the back. The neckline is deep and plunging, ready for a daring impression while the lace ensures you're constantly ventilated.
Pros
Thin and double adjustable shoulder straps
Available in 8 colors
Fancy lace detailing
Breathable
Stretchable
Comfortable
Cons
Some may find the lace to be flimsy.
HATOPANTS' stretchy bralette is composed of 92% nylon and 8% spandex with an attractive criss-cross front. Offering a classic look in an array of solid colors, these tops can be donned solo or layered seamlessly under your blouses. This braless bralette has no padding for days you want low coverage, making it desirable for lazy weekends when all you want to do is lounge around.
Pros
Available in 36 colors
Optimally stretchable
Soft and smooth texture
Seamless
Strappy front
Breathable
Cons
May not offer adequate support
Jockey offers some of the best bralettes with padding that can be chucked out, and they are so buttery soft you won't know they're on! 95% nylon and 5% spandex make this bralette with adjustable straps able to repel sweat and keep you dry. Stitched with no seams in sight, Jockey makes sure to minimize the friction against your skin and keep your undergarments as muted as possible.
Pros
Breathable
Stretchable
Seamless
Adjustable shoulder straps
13 color options available
Removable padding
Cons
Some might find the underband a little too snug.
Bali's comfy bralettes need your attention ASAP as they are seamless all over with a 4-way stretch to expand your range of motion. Wide shoulder straps lie gently on the shoulders, divide pressure, and don't dig into skin or leave marks.With 91% nylon and 9% spandex in this construction, these are the best bralettes for a large bust owing to the inclusive bralette size. Knit-in sides and the built-up back do a great job of smoothing underarm and back spillage while the underband is flat for support.
Pros
Available in 7 colors
Seamless stitching
Stretchable
Smooth down spillage
Supportive underband
Wide shoulder straps
Cons
Some might find the cups to be flattening on the bust.
SheIn's long lace bralette is straps galore with an open with a back that is open without giving everything away. With a fully-lined inner, the 90% polyester and 10% spandex construction combines with soft scalloped lace trims for the ultimate sexy look. This lace push-up bralette elevates your girls for a fun weekend date night so your partner won't be able to take their eyes off you!
Pros
Available in 7 colors
Offers full coverage
Fully lined
Soft lace trims
Open back design
Cons
Might only have a minimal stretch
With a fabric blend of 53% cotton, 35% modal, and 12% elastane, Calvin Klein's classic small bralette features a repeating logo on the underband. The silhouette is lightly lined to allow your skin to breathe and offer some coverage. These cotton bralettes are so flexible that their gentle nature gives you a second-skin feeling. You'll find 3 neutral colors that are a must-have for your top drawer.
Pros
Available in 3 neutral colors
Stretchable
Breathable
Flexible
Deep V-neckline
Logo detailing
Cons
Some may find the straps to be thin.
The SPANX sport bralette gives you an all-hosiery smoothing across the back, banishing lumps and bumps. With no elastic in the construction nor any pesky metal hardware, this nylon-spandex construction is going to have you singing praises! SPANX's unpadded bralette is bound to be a favorite among girls that can't stand too much material as it keeps you comfortable for virtually anything.
Pros
Soft and smooth texture
Wide shoulder straps
Also available in nude
No wire, pads, elastic, or hardware
Has a smoothing effect
Supportive underband
Cons
Vanity Fair's bralette with removable cups extends both support and shape no matter what your bust size is. 93% nylon is mixed with 7% spandex for a stretchable fabric that keeps you comfortable through low-impact workouts. The narrow elastic straps are adjustable in the rear while the underband holds your breasts up to prevent sagging. This Vanity Fair women's bralette is also wirefree for enhanced coziness and seamless layering.
Pros
Pack of 2
Shapes and supports
Stretchable
Suited for low-impact activities
Adjustable straps
Wireless
Cons
Some might find the thin straps uncomfortable.
79% nylon for breathability and 21% spandex for stretchability keep Wacoal's long bralette moving along with you. This supportive bralette for large busts features foam pads that are removable and gently shape your chest. Seamless, wire-free, and sporting thick shoulder straps, this full figure  DDD-cup bralette only needs to be slipped into and it works to smooth down your back as well.
Pros
Available in 8 colors
Stretchable
Breathable
Wire-free
Seamless
Thick shoulder straps
Cons
Some might find the bottom band to roll up.
Now that we've gone over the best bralette list, it's time to learn how you can pick out the right one for your size!
How To Choose The Right Bralette For Every Cup Size
A bralette is just an extended bra which means you need to know your correct size before going to the store. Measure yourself with a tape at home or have the sizing done professionally for a precise fit. If you have a smaller bust, you can do away with lightly lined bralettes and a thinner strap on the bottom and shoulders. A large bust bralette must be able to give you maximum support with thick and wide shoulder straps which must also be adjustable. If you can, look for removable padding so you can keep or ditch the pads depending on your preference. A lace bralette for a large bust must be accommodating with no constriction while the best bralettes for an A cup can be smaller.
Cotton, polyester, and nylon are great choices for bralettes as they are cooling owing to their breathability. They repel sweat to keep you dry and are also soft against the skin. Look for these materials that are blended with spandex so that you move around with ease with the stretchability.
A lot of bralettes come in the form of regular bras but some have convertible straps which can be transformed into a halter neck, racerback, or crisscross. You can also choose those with an open back or multiple straps in the front or rear for a flattering look. Plain bralettes in solid colors can lie seamlessly under your clothes for a bit of support. But during the summer months when you want to spruce up your wardrobe, lacy and strappy designs can be sought out. These can be paired with jeans, shorts, or skirts for a casual look.
After you've bought a bralette you can't wait to wear, it's time to go over what advantages this piece of clothing can offer.
What Are The Benefits Of Bralettes?
Bralettes are super comfortable as they lack wires, seams, and heavy padding which can be removed in some cases.
They are lightly lined on the inside which works to keep boob sweat away and provides modest coverage without bulky pads.
They are a good choice for pregnant and nursing women as well as those recovering from surgery owing to the support and comfort they lend to changing bodies.
As bralettes are offered in a wide variety of styles and designs, they can be worn as undergarments, lingerie, or can be paired with other wardrobe staples.
Bras are generally the last thing women want to wear, be it during work or especially when lounging around at home. But ditching this piece of clothing altogether is also not always comfortable nor is it advisable. When you're torn between these minds, a look at our list of the best bralettes will help you arrive at a decision. A perfect compromise, bralettes are not only soft but aren't as constricting as regular bras. Not to mention, they also lend a hand with both support and coverage, pair well with almost anything from your closet, and come in a plethora of styles. No matter what your bust size, there is a bralette waiting for you to sport it on a casual or formal occasion.
Why Trust StyleCraze?
The author, Priyam Gupta, is a fashion aficionado and enjoys reviewing products to help her readers make the right fashion choices. She has compiled this list of the best bralettes after checking a wide range of products and going through their specifications in detail. These bralettes have been shortlisted considering user reviews. They are skin-friendly, made of breathable material, and a perfect alternative to regular bras.
Frequently Asked Questions
Is it bad to wear a bralette everyday?
No, as bralettes can extend the same kind of support a bra does, but without annoying underwires or seams.
Is a bralette comfortable?
Bralettes are pretty comfortable as they offer slightly more coverage compared to a bra. A few are designed to be seamless, wire-free, and contain a thick underband for added support.
What's the difference between a bra and a bralette?
Bras are made to shape and support the breasts, are most often padded, and are structured. Bralettes, on the other hand, are lightly lined and give a natural shape.
Recommended Articles: