15 Best Smoothing Bras To Cover Back Fat Without Making You Uncomfortable
Flaunt your curves the right way with these bras that hide extra fat and sculpt your look.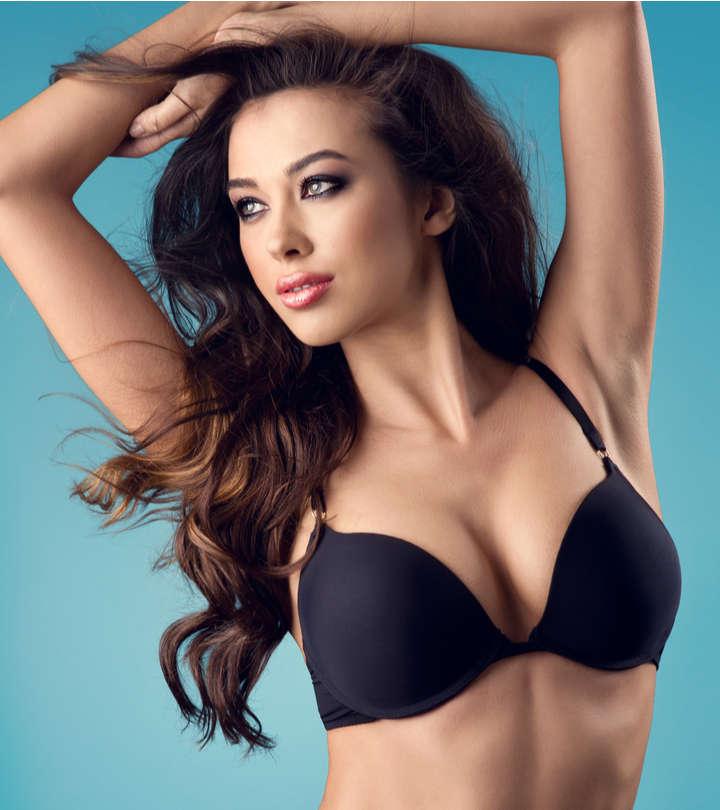 Back fat is uncomfortable and can be a result of wearing ill-fitted lingerie. So, add the best bras for back fat in your wardrobe and avoid this situation. These bras offer proper support and keep your skin from bulging out. They flatten, contour, and define your beautiful curves while providing the right amount of compression to prevent breast sagging. These versatile garments offer a sultry look and help you flaunt your dresses with confidence. Swipe up to grab them from our list.
Should You Get A Bra For Back Fat?
Yes. Back smoothing bras flatten bulges in the back and underarms, creating a streamlined silhouette. With these babies on, you can wear your spring tops and summer dresses with much ease. They don't dig or cut on the sides and feel like second skin while you go through the day.
Let's now take a look at the best smoothing bras for women.
15 Best Smoothing Bras For Women
This bra from Bali is made of nylon and spandex and makes you feel comfortable. It provides comfort and shaping without sacrificing the fit and support. It has a front closure for easy fastening and a wider back for a smoothing effect. The foam cups provide extra lift and support for comfort, while the classic lining makes the cups soft and smooth on the skin.
Pros
 Easy to fasten
 Strong support
 Stretch fit cups
 Comfortable bands
 Cushion tipped underwire
Cons
Price at the time of publication: $22.99
Your search for a comfortable bra that offers full coverage ends here. This seamless side and back smoothing bra is designed to cover bulges. The wire-free Cool Comfort cups with soft lining wick moisture and provide a smoothing look under your clothes. You get four-way support with higher sides and a taller back for extra side and back support. This full-coverage bra comes with hook-eye closure and adjustable no-slip straps.
Pros
 Seamless lining
 Breathable
 Wireless
 Tagless
 4-way support system
 Adjustable straps
Cons
 Back hooks may be difficult to close
Price at the time of publication: $16.99
Bras provide support, but do they improve your posture? This bra from Delimira does exactly that. The X-shaped back reinforcement bra offers back support and helps correct your posture. Its wire-free design and non-padded, soft cups with thin elastic lining offer comfort. This high control full-coverage bra is made of polyamide and spandex and has a front hook and eye closure for convenience. The straps are adjustable up to three possible positionings for a comfortable fit.
Pros
 Easy to wear
 Wireless
 Comfortable lining
 Wide adjustable strap
 Stretchable cups
Cons
Price at the time of publication: $24.99
Don't let underarm bulges stop you from wearing cute summer dresses. The Warner's No Side Effects Underwire Contour Bra completely covers the bulges to give you a flattering silhouette. It comes with adjustable straps, extra side panels, and flexible foam cups. The side panels use elastic-free fabric to smooth out the cleavage and extend extra side coverage to reduce underarm bulges. The cups features light foam that adjusts to your body for a perfect fit. This bra can be fastened through a double hook and eye closure at the back.
Pros
 Extra side coverage
 Flexible foam cups
 Front adjustable straps
 Elastic-free side panels
Cons
 Might stretch out after a few wears
Price at the time of publication: $19.99
No matter what your size, you can now slip into your sleeveless dress or top with confidence. The soft Underwire Contour Bra from Olga, made of 83% nylon and 17% spandex, comes with adjustable straps and elastic-free sides for a perfect fit. Its triple hook-and-eye closure supports your back bulges, while the flexible foam cups offer a comfortable fit for the bust. The underwired bra with elastic-free sides to provide a sleek look.
Pros
 Front adjustable straps
 Elastic-free sides
 Flexible cups
Cons
Price at the time of publication: $30.8
The Glamorise WonderWire Bra is a cushioned underwired beauty that gives you full support with no side bulges. Its versatile straps can be clamped in T-style, ensuring no slip from the shoulders, while the front clasp closure allows ease of wearing and gives a seamless finish. The fabric is made from a blend of polyamide, polyester, and elastane that ensures durability.
Pros
 Adjustable T-back
 Cushioned underwire
 Easy to clasp
 Stylish
 Prevents wire poke
Cons
Price at the time of publication: $39.9
This plush back smoothing bra from Vanity Fair features four-way stretch fabric for ultimate back-smoothing. It offers full coverage and features a unique crossover design with lined cups to provide a sleek and seamless look under your clothes. The narrow yet supportive straps offer support to the bust and give you a smoother appearance. The broad sides provide ample support and prevent side bulges.
Pros
 Wide straps
 Four-way stretch fabric
 Seamless look
 Light-lined cups
 Soft fabric
Cons
 Sharp metal loops can cut through the skin.
Price at the time of publication: $22.99
This bestselling bra from Warner's is made from soft, cushiony fabric that feels comfortable on the skin. In addition to back smoothing, this bra offers coverage and support to the bust, thanks to the lightweight, contour cups. The fabric is a blend of nylon and spandex that feels soft on the skin. The hook and eye closure and front-adjustable shoulder straps ensure ease of wearing.
Pros
 Back smoothing panels
 Soft fabric
 Front adjustable shoulder straps
Cons
Price at the time of publication: $22.99
All curvy beauties, rejoice!! We have found a bra for you that hugs your contours and fits like a glove. The underwired bra from Wacoal supports and shapes your figure and enhances your silhouette. It comes with two seamless cups made of Bodysuede stretch fabric that enhances the natural shape of your breasts. The adjustable back straps minimize slipping, while the wide center front does not flatten your bust. This smoothing bra is made of 85% nylon and 15% spandex to offer comfort and support to full-sized women and is available in H size.
Pros
 Extra inner sling support
 Stretchable fabric
 Minimizes side bulge
 Minimizes slipping
Cons
Price at the time of publication: $55
A bra with a fit so comfortable that you can live in it! The True & Co Bra is made of 77% nylon and 23% elastane. The pull-on closure bra with convertible straps does not cut through your shoulders and gives you a comfortable feel. The seamless design has no elastic and bulky seams for a smooth look. It features removable straps, and the wire-free style pulls over with ease.
Pros
 Machine washable
 Seamless design
 Slim and adjustable straps
 Removable pads
Cons
Price at the time of publication: $44
This lacy affair adorned with all-over delicate floral motifs from Goddess is a must-have. It provides maximum coverage and support, while its hook and eye closure ensures a good fit. This bra has lined, non-padded, non-stretch cups that shape and support the bust for optimal fitting. The full coverage bra is made of nylon and elastane, and the front is fully covered with lace to enhance the look.
Pros
 Full coverage
 Good support
 Affordable
 Adjustable straps
Cons
 May not suit spaghetti tops
Price at the time of publication: $49.44
The Shapeez Shortee Back Smoothing Bra comes with a crop top design for ultimate comfort. It is made of four-way stretchable nylon-lycra fabric that absorbs moisture and keeps you cool and dry all day long. The smooth back design with no straps and closures prevents any bulges or straplines. The adjustable straps offer optimal fit.
Pros
 Comfortable
 Adjustable front straps
 Moisture-wicking
Cons
Price at the time of publication: $89
The Olga Women's Signature Support Satin Bra is made with 75% nylon and 25% spandex and comes with a hook and eye closure design. The cups have lightly padded underwire for enhanced comfort and side support. The broad straps with comfortable fit prevent the strap from falling. The satin lining on the neckline extends until the middle to support the bust and give a smooth look.
Pros
 Non-slip straps
 Comfortable fabric
 Lightly padded underwire
 Wide shoulder straps
Cons
Price at the time of publication: $25.2
This bra from Goddess is made of 58% nylon, 30% elastane, and 12% polyester and can be a go-to choice for plus-sized women. The integrated underwire bra provides superior breast support. The foam cups extend the beautiful shape of the cups. The stretch lace on the top cups adds a sublime touch of elegance to this bra. The double-layered back with enclosed elastic provides a back smoothing effect.
Pros
 Seamless cups
 Soft fabric
 Easy fit
 Double-layered back
Cons
Price at the time of publication: $37.2
The Chantelle Women's C Back Smoothing Bra is made of 77% nylon and 23% elastane. The ultra-comfortable back smoothing bra is practically invisible under clothing. The wired cups plunge deep in the center to provide a perfect 'V' look. The double-lined mesh bands smooth your back and sides. The straps are adjustable to reduce shoulder slippage, and the U-shaped back provides additional support.
Pros
 Breathable fabric
 Full coverage
 Adjustable straps
Cons
Price at the time of publication: $74.88
Here are a few points to keep in mind before you choose the best bra for back fat.
How To Choose The Best Bra For Back Fat – Buying Guide
Ensure the back smoothing bra has:
 Front Closure: The bras that are enclosed from the front naturally extend a smoother appearance in the back as the finish looks seamless and is not hampered with clasps.
Wide Band: Wider bands can hold more skin, preventing it from forming lumps over the edges, and offer better coverage.
Skin-Friendly And Durable Material: Choose a bra from a good brand that is made of durable material that will not crumple over a period.
Why Trust StyleCraze?
Baishali Bhattacharya, the author of this article, is a certified image consultant and has a deep knowledge of fashion. Understanding that the right bra is key to comfortable daily wear, she has gone through reviews on websites and has compiled a list of smoothing bras for back fat. This list contains bras that provide the right amount of compression and prevent your skin from bulging out, allowing you to flaunt the dresses with panache.
Frequently Asked Questions
Does wearing a smoothing bra help to reduce back fat?
No. Wearing a smoothing bra regularly may even out your back fact eventually, providing you a more toned appearance. However, they do not reduce back fat and cannot bring in any dramatic change in appearance either.
Do back-smoothing bras conceal cleavage?
Some back-smoothing bras like the Delimira X-Shaped Back Support Posture Bra provide full coverage and conceal your cleavage, while a few others like the Shapeez Shortee Back Smoothing Bra enhance your cleavage. You can choose any model based on your requirement and the type of outfit you plan to wear.
Is it okay to wear smoothing bras to cover back fat every day?
Yes, most back-smoothing bras are safe for daily use. Unlike corsets and waist trainers, they do not restrict your body or clench your skin. The products listed in our article keep you comfortable while smoothing out your back fat.
Recommended Articles