13 Best Bras For Large Breasts
Upgrade your wardrobe with the high coverage and full support bras handpicked for you.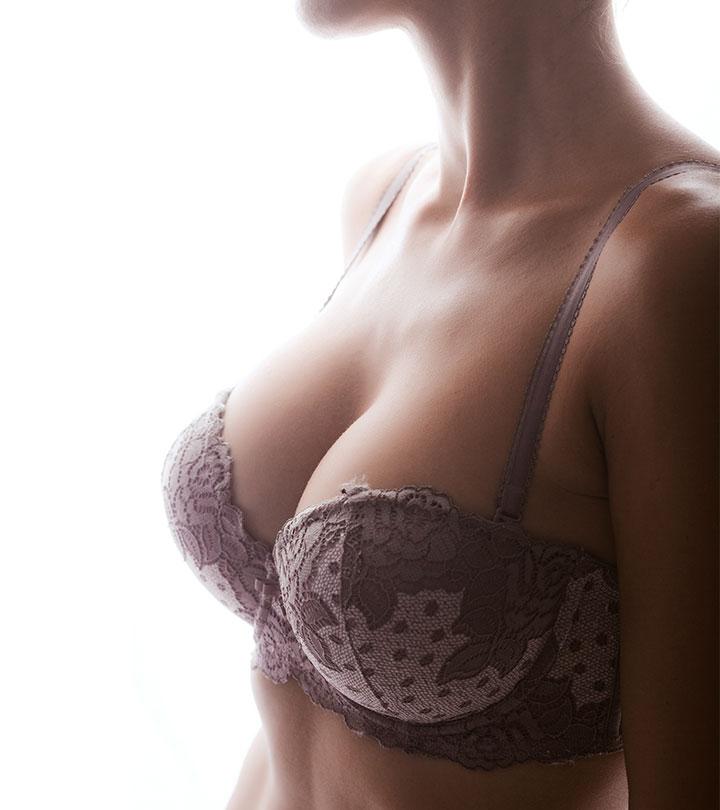 Women with larger breasts say they'd do anything to swap sizes with those with smaller breasts, and some of us who are not well endowed would love to have it the other way around. This is yet another "grass is always greener on the other side" debate that is perpetual, but on a serious note, I think we all have our little battles with how differently each of our bodies is made. The best thing to do is to embrace it with grace and look for ways to work around with what we have. Moreover, we need to make sure we take care of our innerwear more than we do our outerwear. Women with larger breasts have the risk of them getting sagged much faster than others, and choosing the right bra is one place most of us tend to go wrong. So, let's look at the options we have, and what are some of the best bras for large breasts available for us.
What Is The Bra Size For Large Breasts?
A significant portion of women in any country fall under either B or C sized cups, and the average keeps changing with time, generation, and various other reasons with no specific explanation. Twenty years ago the standard was 34B, but now it's 36C. So, anyone with a bra size bigger than that typically falls under this category. The major difference between women with larger breasts is the fact that they need a bigger cup space to hold the fort, but all the other details remain the same. So, first, it is essential for you to measure your bra size and get a professional fitting done once, and then map it to the respective type.
Now, let's look at the best bras in different types for women with larger breasts. Check them out.
Most Comfortable Bras For Large Breasts
1. Victoria's Secret Full Support Front Closure Bra
Victoria's Secret is the first thing that comes to our mind when we think of intimates. They carry delicates from sizes 30 to 40 that go up to DDD cup size. This front closure bra is great for sleeveless summer dresses as it comes with racerback straps and mesh at the back and full coverage at the front.
2. Strapless Pushup Bra
Strapless bras for women with larger breasts can be tricky, I mean, you cannot just pick up any random brand. A lot of brands are coming with strapless options, and the sizes go above 40 DDD too. Strapless bras or stick on bras are a blessing when it comes to dresses and racerbacks. Not many companies offer stick-on yet, but strapless and transparent ones are a great alternative.
Quick Tip
Push-up bras are a great choice for those with east-west shaped breasts or bell-shaped breasts.
3. Sports Bras For Large Breasts
Wearing the right bra for workouts is non-negotiable for women of all sizes, so there are no new rules here. However, as we just spoke, for bigger breasts you need to go with a bra that is sturdy, gives you support, and holds the girls intact even when you undergo high impact or any form of physical training. The soft-wired support bra from Panache is one such bestseller.
Quick Tip
Razor back sports bras or those with criss-cross strap design at the back generally are more supportive than designs with regular straps.
4. Nursing/Breastfeeding Bras
New mothers invariably need a wardrobe upgrade, and that starts from within. And, they can't stress enough about how necessary a comfortable and soft bra is for your already tender breasts. Luckily brands understand all of this, and make bras that are both functional and comfortable. As you near your delivery, pick up bras that double up as feeding bras too, and you could use it otherwise as well. Look up for Beatrice Soft Cup Nursing Bras; they have great options.
5. Wireless/Lace Bras
There's nothing like the feel of soft, lacey, and comfortable bras on your skin. However, that's not very easy to find if you have large breasts because most of them look like demi bras that have been made for petite frames and smaller breasts. Elila Soft Cup Lace bras come with thick straps that hold the weight while providing excellent coverage. This one is a great find.
6. Lace Maternity Bras
It is important to pamper yourself when you're pregnant and shop for both inner/outerwear without living those nine months in Santa's clothes. Anyway, wearing lace and fancy bras is one of the few ways to feel good and make sure you take care of the health of your breasts and not let them sag. Hotmilk Temptation Nursing Bras have quite a few options and specialize in making bras for maternity and nursing too.
7. Double Racerback Strap Lingerie
Addition Elle has launched an exclusive collection in association with Ashley Graham, making changes to the way women perceive bras for big boobs. From push up, racerback, soft, wireless to lingerie editions, they have a lot in store for you. Phenomenon Double Strap is one such exciting option that gives you excellent coverage while making you feel sensual.
8. Strapless Plunge Bra
It is a real struggle to wear dresses with plunged necklines or deeper backs because you have to take into account a lot of things, and your bra could be the deal breaker here. And, when you are slightly more busty, you know you need something reliable to avoid a mishap, so here is a bra that is a pushup, gives you great support, and is seamless too. This bra from Wonderbra is called the Ultimate Strapless Bra, and it probably is.
9. Soft Push Up Bra
Push Up bras have to be comfortable, with a soft underwire and padding that does not poke you or ride up your breasts. So, if you have been on the lookout for something that is yet to seal the deal, check out the Temptress Plunge Push Up Bra, which takes care of all of it with good coverage.
Temptress Plunge Push Up Bra – Déesse Collection
10. Balconette Bra For Larger Bras
Balconette bras have to be your best friends when you have larger breasts. They are encompassing and hold it all together without suffocating you. Panache has many such bras in store for you with collections like 'PORCELAIN ELAN', etc.
11. Best Soft Cup Bra For Large Breasts
You know what they say, never underestimate the power of sensual and exciting lingerie; you don't really need a special occasion to wear good lingerie, you should wear it to feel good about yourself. If you agree, check out Ashley Graham's collection.
12. T-Shirt Bra
Most of our bra collections comprise T-shirt bras, and we are constantly looking for something that gives us a seamless look while being soft and comfortable on our skin. It is not a pleasant sight to see a protruding bra strap under a T-shirt. Brands like Déesse have special collections that focus on just this. Check them out.
13. Caged Bra
When you are in a mood for some fancy bras, or for some style change while keeping the functionality intact, you need bras like these. The molded cups hold the girls firmly, while the caged straps give extra support – while looking stylish. Wear racerback or side open T-shirts to flaunt this bra.
The biggest challenge while shopping for bras for large breasts lies in knowing your precise breast size. Once you are past this stage, you realize that every shopping experience only gets better. You will start to listen to your body, pay attention to the straps, band, gore, and other details that make a bra. Mostly, you will finally understand the importance of investing in good lingerie, and that it goes a long way. What is the biggest challenge for you? Is there something specific you are looking for? Let us know by dropping in a text in the comments section below.
Frequently Asked Questions
What are some of the challenges faced by women with large breasts when choosing bras?
Women with large breasts find it a bit difficult to get the right size bra at times due to a gap between the breasts and bra or a spillover.
What are some of the best ways to care for and maintain bras for large breasts to extend their lifespan?
Rotating your bras frequently will prevent the elastic from rupturing very soon. Always hand wash your bra with cold water and soap to maintain its shape.
The following two tabs change content below.