11 Best Bras For Narrow Shoulders In 2023
Get this specialized yet stylish lingerie designed especially for women with lean body shape.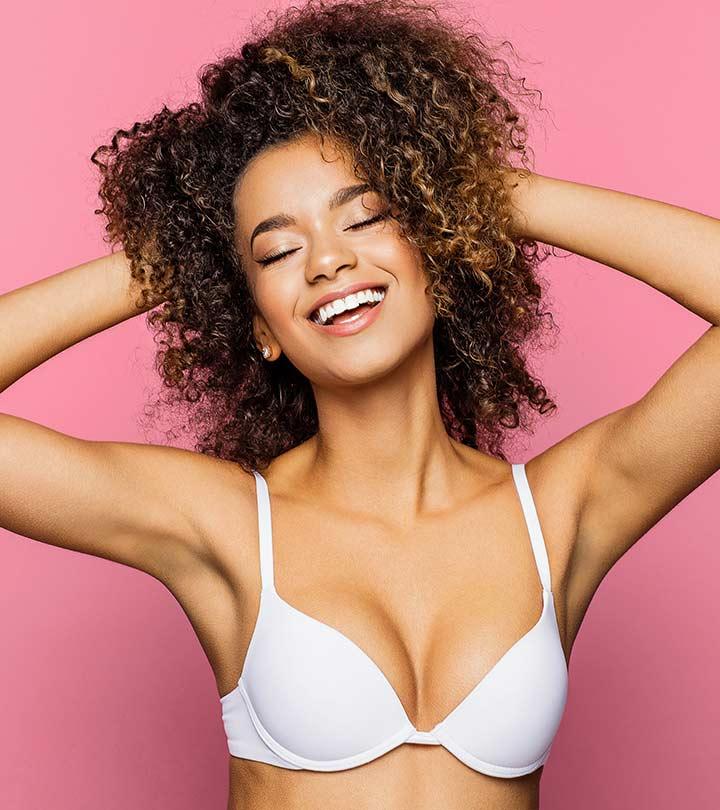 A well-fitted bra is every girl's dream. However, if you are someone with narrow shoulders, finding the perfect bra is an arduous task as the bra straps are prone to sliding off often. To combat this problem, you must get yourself the best bras for narrow shoulders to prevent the bra straps from sliding off the shoulders and keeping you comfortable all day long.
We know that one bra size doesn't fit all. Hence, those with narrow shoulders should choose bras crafted especially for them, while those with broad shoulders should pick bras that deal and combat those concerns. Besides this, it would also help if you considered other points like sliding straps, visible lines, and cup size. All of these will ensure you have a well-fitted bra that provides optimal comfort and support. There are numerous brands today that have options for bras, but these may overwhelm you. So, to help you out by giving your wardrobe a makeover, we have a curated list of the 11 ideal bras for narrow shoulders. Check them out. Keep scrolling through!
What Is The Best Bra For Narrow Shoulders?
The best bra for narrow shoulders is one that is designed with adjustable wide-set straps, full-coverage and well-fitting cups, and an elastic 4-way stretch fabric that doesn't slip. A bra with the perfect balance of comfort, support, and just a little bit of delicate style mixed in, is the ideal pick for the modern woman who doesn't like to compromise when it comes to her underwear. Read on and you'll be one step closer to finding your perfect fit.
11 Best Bras That Complement Your Narrow Shoulders Perfectly
If you're looking for a gorgeous, full-coverage bra that stays in place as you hustle and bustle through your day, you're going to love this underwired masterpiece designed especially for fuss-free daily use. The revolutionary Smooth-U design ensures that the adjustable straps give you great fit and support without slipping out of place, making this one of the best bras for narrow shoulders. Comfortable, snug, and oh-so-stylish, this bra is ideal for all-day wear and definitely deserves a place in your underwear drawer.
Pros
Full-coverage contour bra
Adjustable criss-cross back straps
Ultra-thin stretchable foam cups
Ideal for all-day wear
Cons
Price at the time of publication: $22.99
Want to wear that cute halter top but don't know which bra will work best? Try this fun and stylish racerback T-shirt bra, which not only feels great against the skin but also has a unique design that ensures it is almost invisible under your clothes. This full-coverage bra features beautiful lace detailing and a front-closing design, making it a breeze to put on and take off. Whether you have narrow shoulders and hate bra straps that keep slipping off, or you want to wear cute, strappy clothes without your bra peeping through, this front closure bra promises both superior support and ultimate comfort.
Pros
Beautiful lace detailing
Comfortable T-back design for extra support
Full coverage cups
Available in multiple sizes
Cons
Some might find the cups of this bra a bit pointy.
Price at the time of publication: $18.99
Amp up your workout wardrobe and add a bit of oomph to your look with this comfortable and supportive underwire sports bra for narrow shoulders. Featuring a racerback design, this bra is made of a breathable fabric that wicks away sweat, keeping you feeling cool and fresh as you crush your workouts. The wide, adjustable padded straps and full-coverage cups ensure your bra stays in place as you master those grueling jumping jacks. And there's more! The flattering fit and easy closure design make this bra the ideal pick for active women who like their workout look to always be on point.
Pros
Breathable, quick-drying fabric
Wide adjustable padded straps
Comfortable and versatile design
Ideal for activewear
Cons
Might be slightly difficult to take off
Price at the time of publication: $26
Full-figured ladies can now rejoice! Here's an underwire bra designed to accentuate your natural curves and provide incredible support and comfort. This full coverage bra comes with seamless fabric cups, and adjustable angled back straps are just a few things that make this the bra of choice for all-day wear. Available in multiple plus sizes, the straps of this bra stay in place and are virtually invisible under your clothes as you go about your busy day. Get your hands on this beautiful wardrobe staple, and you'll definitely thank us later.
Pros
Full coverage design
Seamless 2-ply fabric cups
Comfortable, adjustable straps
Available in multiple plus-sizes
Cons
Some might find the fabric a bit thin.
Price at the time of publication: $68
Understated and chic, this lightweight and comfortable bra is the perfect solution for those looking for functional underwear that remains invisible under clothing. Made with a smooth and flexible microfiber, this bra has a stylish V-neck and thin adjustable straps that stay in place even for those who have narrow, sloping shoulders. Clean cut and seamless, this bra is ideal for all-day wear and is great whether you're going out for a walk, getting dressed for work, or engaging in light yoga.
Pros
Lightweight and comfortable design
Seamless elastic waistband
Flexible narrow shoulder fit
Made of smooth, flexible microfibre
Convenient removable pads
Cons
Might not be ideal for those with bigger cup sizes
Price at the time of publication: $40
The Natori Women's Contour Underwire Bra offers good support and comfort. The full-figure, unwired cups offer enough lift to give your confidence a little boost while the adjustable straps support your back for easy all-day wear. This supportive bra is versatile enough to pair with t-shirts and the straps do not dig into your skin or slide off your shoulders. The contour cups offer a projected yet natural shape.
Pros
Full coverage
Stretchable fabric
Ideal for all day wear
Sleek style
Smooth fit under clothing
Cons
The underwire might break easily
Not for women with heavy bust
Price at the time of publication: $49.58
If you're full-figured and looking for a good wire-free option, give this awesome t-shirt bra a try. Thoughtfully designed, the bra features wide straps that are cushioned for extra comfort, seamless cups that don't show through clothes, and a flattering custom fit that is sure to make you both look and feel fantastic. This bra shapes and contours without the use of pesky wires and offers adequate support without compromising on style. A wardrobe staple, this wire-free bra allows you to embrace your natural curves.
Pros
Wide, padded straps
Seamless cups
Quick-drying fabric
Flattering fit
Cons
Fabric might be slightly thin
Price at the time of publication: $42
If you can't be bothered about dealing with hard-to-use hooks and prefer a fuss-free style, this understated pullover bra is made just for you. Made of soft, breathable fabric, this bra is suitable for both daily wear and light, physical activity. Featuring built-in cups and a seamless racerback design, this bra is the perfect pick for those who want the same bra to take them from their yoga practice to breakfast date, all the way to a relaxing stroll through the park. Comfortable and versatile, this bra offers good support and works as the ultimate slipping strap solution.
Pros
Built-in padded cups
Seamless racerback design
Easy-to-use pullover style
Ideal for daily wear
Cons
Might not be suited to those with larger cup sizes
Price at the time of publication: $10.44
Add some glamour to your wardrobe and feel like an absolute diva with this beautiful plunge bra that offers superior comfort and support without giving up on style. The convertible bra straps and removable J-hook let you wear the bra with almost any article of clothing — be it a cute halter, a sporty racerback, or a strappy tank top. Designed for all-day wear, this seamless bra has a deep U-shape that prevents it from riding up from the back and has straps that stay in place, making it ideal for narrow shoulders.
Pros
Beautifully embroidered cups
Convertible straps
Removable J-hook
Soft and comfortable fabric
Cons
Might not be true to size
Price at the time of publication: $70
Say hello to ultimate comfort with this beautiful underwire bra that strikes the perfect balance between good support and delicate femininity. The super-soft fabric, lightly-lined cups that provide gentle lift, and adjustable straps with pretty lace detailing at the rear are just some of the features that make this bra an absolute must-have. The elastic-free back conceals side fat and keeps your back comfortable. Ideal for daily wear, this bra will give you just the right amount of contouring and shaping so you can step out with confidence.
Pros
Lightly-lined cups
Attractive lace detailing
Adjustable straps
Comfortable, flattering fit
Cons
Padding might not be firm enough
Price at the time of publication: $34.5
Here's a lingerie-drawer essential that features full-coverage cups, gorgeous lace detailing, back smoothing panels, and a fit so comfortable, it definitely deserves your attention. Adjustable shoulder straps angle towards the center of the back to prevent them from slipping out of place, making this one of the best bras for narrow shoulders. The fully-lined cups ensure a natural round shape and adequate support, while the concealed seams make for a smooth silhouette. Suitable for all body shapes and ideal for daily wear, this bra is equal parts functional and versatile.
Pros
Full-coverage design
Beautiful lace detailing
Adjustable shoulder straps
Suitable for all body shapes
Cons
Some might find the fabric of this bra a bit thick.
Now that we've had a look at our pick of the 11 best bras for narrow shoulders, let us look at some things to consider when trying to find your perfect fit.
How To Choose Bras For Narrow Shoulders
Depending on the kind of clothes you're planning to wear, pick a style that enhances your natural curves without showing through your clothes. While a racerback style might be best-suited with a narrow top, a plunge-style bra might be more appropriate when wearing an outfit with a deeper cut. Pick a style that works for you and your wardrobe without compromising on comfort.
When it comes to lingerie, comfort is everything! Pick a fabric that is super soft and breathable, so that you can go about your day feeling cool and fresh. A blend containing cotton is ideal for a bra that you intend to wear all day, while spandex is great for that extra bit of elasticity to keep everything in place.
A bra should give you just the right amount of lift and support to accentuate your curves so that you both look and feel fantastic. Bras with lightly-lined cups and an underwire are great for that extra bit of lift, whereas wide, cushioned straps work well to keep from digging into your skin or sliding off. Don't hesitate to try a few before you find your perfect fit.
Don't let your narrow shoulders make you hide behind oversized sweatshirts and baggy clothes. Here are the best types of bras for narrow shoulders and petite frames.
Types of Bras for Narrow Shoulders
Embrace your sporty avatar and get ready to flaunt those toned shoulders in a racerback bra, which is the ideal pick for those cute sleeveless tops and pretty sundresses.
The perfect pick for those low-cut blouses and deep backs, every wardrobe needs a well-fitting plunge bra to wear on starry cocktail nights.
A cross between a sports and daily wear bra, these bras are easy to put on and eliminate those pesky hooks with a seamless design.
Ideal for strappy, slinky dresses and sweetheart-cut tops, these are a wardrobe essential that every young woman needs.
Why Trust StyleCraze?
The author, Priyam Gupta, is a fashion enthusiast who loves to stay up to date with the latest trends in the fashion industry and is a firm believer in choosing products that are the perfect blend of fashion and functionality. To find and review the best bra for narrow shoulders, she has done extensive research on numerous options of different brands. The products she has handpicked are comfortable, snug, offer great support, come with adjustable straps, and look stylish.
Frequently Asked Questions
How do I keep my bra straps from falling off my shoulders?
To start with, make sure you've measured yourself correctly and have picked a bra that is well-fitting and comfortable. Wear a bra with straps that can be adjusted to your size, and you'll be good to go.
What style of bra is best for narrow shoulders?
There are many great options available for those with narrow shoulders. Racerback, plunge-style, and strapless bras are a few that work well to keep your straps in place while ensuring a great fit.
What causes bra straps to slide down?
Bra straps can slide down if not adjusted properly. They can also slide down if your cup or band size is incorrect. Sometimes, bras tend to age and lose their elasticity. This can be one of the main reasons for bra straps to slide down.
Does a bra affect my posture?
Yes, your bra may affect your posture. Correctly sized and good quality bras can support your shoulders, neck, and spine while encouraging your posture to be straight. Similarly, not wearing a bra can lead to over-arched spine and rounded shoulders.
How do you measure bra sizes for narrow shoulders?
Use a measuring tape to measure bra sizes for narrow shoulders. Stand upright while measuring your back and your bust area. Measure under your bust where the band of the bra usually is placed to get your band size. For the cups, measure around the fullest part of your chest to get your bust size. Now, subtract the band size with your bust size to receive your cup measurement. Combine your band and cup sizes for the final measurement, for instance, 34B.
Recommended Articles:
Best One-Shoulder Bras To Feel Stylish Inside And Out
Best Minimizer Bras That Take All Worries Off Your Chest!
Best Bras For Shoulder Pain
Best Back Support Bras For All-Day Comfort