10 Best Bras For Wedding Dresses(2022) – Breathable & Comfortable
The right bra for the right dress helps you look the best on your important day.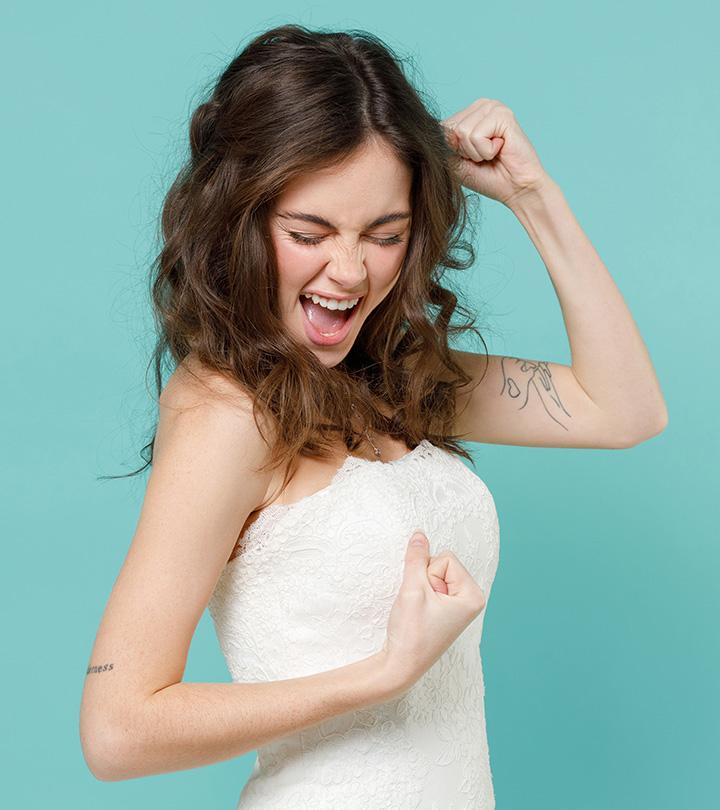 Whether you opt for a plunging, backless, or strapless wedding dress, the last thing you want to see in your wedding pictures is a rogue strap or poorly supported or shaped busts. Your wedding bra has to suit your figure, shape, and dress style rightly. Hence, you need the best bras for a wedding dress.
Planning a wedding is all fun until you are the bride, and there is a lot on your list to accomplish. You have to run around to book venues, check florist appointments, and buy a dress that fits you like a dream. While you are busy ensuring that everything goes smoothly on your D-day, you might forget to buy the right bra for your wedding outfit. Unfortunately, an ill-fitting bra can change your entire look on such an important day.
Of course, as you walk down the aisle, all eyes are bound to be on you. So, to help you pick the best bra for your wedding dress, we have curated a list of the best bras for wedding dresses that might work for you. Keep scrolling to find a bra that matches your dress perfectly!
10 Best Bras For Wedding Dress That Stay Put Through Happy Dances
Niidor's bustier bra for wedding dress is self-adhesive and pushes up the bust for a natural-looking lift. It has a butterfly-shaped design with holes for breathability and is composed of 87% nylon with 13% spandex to fit the breast correctly. With no binding straps, a strong metal clip in the front provides support for a fuller look. Made of sticky and skin-friendly silicone adhesive, the sticky bra for wedding dress doesn't slip easily or cause any irritation. You can stick it on easily with no pain as it is both soft and lightweight. Niidor's backless bra is a great candidate for your backless dresses as it is also easy to clean.
Pros
Breathable and lightweight
Front metal clip closure
Hypoallergenic
Non-slip
Soft and smooth edges
Available in 2 colors
Cons
Adhesive may become weaker when exposed to sweat.
DELIMIRA's wedding gown bras are made with 90% polyamide and 10% spandex. The bandeau-style bra is covered in floral lace for an elegant look and the push up molded cups are lined with a thin padding to add some volume. You get adjustable and removable straps that can be worn several ways or removed altogether for a strapless dress. For extra support, the underwire and side boning are present while silicone strips prevent shifts and slips.
Pros
Available in 3 neutral colors
Lace-covered
Thin inner padding
Underwire and side boning support
Detachable, adjustable, and convertible straps
Silicone anti-slip strips
Cons
Containing 84% nylon and 16% spandex, these bras for bridesmaid dresses have a wide underband and side bone to keep them in place. You could remove the straps or wear them in halter, crisscross, or standard styles depending on your wedding dress. The smooth and silky outer fabric combined with molded push-up cups gives you comfort and adds definition to your bust. With the plunge design, you can use this deep V wedding dress bra for necklines that are deep and plunging.
Pros
Available in 3 neutral colors
Removable and adjustable straps
Soft material
Side and lower support
Adds definition
Ideal for dresses with deep necklines
Cons
Dominique's longline bras for wedding dresses are made with soft 100% microfiber polyester. The back is adjustable with a hook and eye closure made of 69% nylon and 31% spandex. Elegant and strapless, the corset flatters your figure by hugging the body's contours cinching the waist. Stretching spandex net panels on the backside of this no-show bra for wedding dress give a good fit and support you with detachable garters. Molded contour cups are not only soft but also hold your bust in place. When worn, this full figure strapless bra for wedding dress will give a clean look and elevate your wedding dress fit.
Pros
Flatters body shape
Net panels for support
Molded contour bra cups give a good fit
Soft material
Detachable and adjustable garters
Hook and eye closure
Cons
The underwire might dig into the skin.
Felina's strapless bras for wedding dresses are offered in 3 colors and are made of 87% nylon and 13% spandex. The sleek bustier fits seamlessly under your wedding dress for a perfectly contoured silhouette. A hidden wire is inserted in this push up bra for wedding dress to give you support with streamline boning for the right fit. Made with soft foam, the push up cups have anti-slip silicone accents so that the bra stays put, giving you freedom to move. If you fancy, you can use the detachable straps of this push-up bra however you like with varying levels of support and wear it like a high-quality strapless bra.
Pros
Seamless appearance
Available in 3 colors
Soft foam cups
Anti-slip silicone
Detachable straps
Hidden underwire and boning
Cons
Might be long for those with smaller torsos
The best adhesive bra for wedding dress, this one by Muryobao keeps your chest well-lifted in a comfortable position. Sticking gently onto skin, the silicone has high-strength stickiness and is painless. Its clasp closure design lifts your bust naturally so that it appears fuller. With a 3D cup design and smooth edges, the invisible bra for wedding dress feels soft against the skin and is non-irritating. As it happens to be backless, you can use it for a seamless fit under tighter wedding dresses.
Pros
Offers a natural lift
Available in 2 colors
3D cup design
Smooth edges
Clasp design
Anti-slip silicone
Cons
Some may experience discomfort during removal.
A good bra for a wedding dress needs to be versatile and this is true of the YBCG Push Up Strapless Bra. You get clear and colored shoulder straps so you can use them according to your preference. As the straps of this multi-way bra are adjustable and removable, they can be switched for different looks. The anti-slip belt design keeps the bra secure with the thick pads and underwire contributing to a good lift and support. Available in 3 colors, this bridal shapewear will carry you through all your wedding parties.
Pros
Clear and colored straps
Removable and adjustable straps
Anti-slip belt
Thick padded cups
Available in 3 colors
Underwire support
Cons
The underwire might poke skin.
Felina's low back wedding bra is made of 76% nylon and 24% spandex. It features a seamless design with a bodice for optimal bust support and has a mini-corset look. Non-slip, you can happily dance away at your wedding with no worries of these wedding dress undergarments shifting. Multiway straps are included and the fabric doesn't cause discomfort by clinging to your dress. A low-profile hook and eye closure on the backside, soft boning, and power mesh lining all ensure a good fit that stays put against your skin.
Pros
Available in 2 colors
Non-slip
Multiway straps
Hook and eye closure
Soft boning
Mesh lining for breathability
Cons
MITALOO offers the best bra for under wedding dress that has a deeper neckline. It stays on with the help of a sticky silicone adhesive which feels soft against the skin. The front clasp is easy to use; the half bra for wedding dress has edges that are thin and don't cause any discomfort by digging into skin. Covering the entire bust, the cups enhance its shape and give a lift which looks natural and adds elegance to your dresses.
Pros
Sticky silicone adhesive
Front clasp closure
Soft and thin edges
Doesn't dig into skin
Covers full bust
Cons
BOHONG's bras for backless wedding dress are lightweight and adhere to the skin with the help of natural silicone. The fabric is skin-friendly and features holes for air permeability. To give the illusion of fuller cleavage, the drawstring closure pushes the cups up for a lift. With a butterfly-shaped design, the cups have smooth edges that don't cause any discomfort to the skin. With this pack you can get 2 bras which can be used for occasional or casual wear.
Pros
Skin-friendly fabric
Drawstring closure
Breathable
Smooth edges
Natural silicone adhesive
Suitable for sensitive skin
Cons
May cause discomfort during removal
Now that we've looked at the best wedding bras, let's look at how you can choose the best one for your big day.
How To Choose The Right Bra For Your Wedding Dress
As there are different types of bridal gowns, each will look good with a different style of bra.
Strapless adhesive bras are the best option if your wedding is backless or one-shoulder because the cups give a natural feel. There are push up, strapless, and lace up options you can choose from that hide all unnecessary straps to keep the spotlight on your back.
A longline strapless bra is ideal for all strapless dresses as it can give you added definition and support. With a corset-like bodice, your figure is accentuated and all lines are smoothed down for a flawless overall look. They also keep your wedding gown from slipping down so you can dance around to your heart's content. If you want a natural lift, you could look for a push up or padded option as well.
A V plunge bra can be worn with dresses that have plunging necklines. Low necklines can be taken care of with this bra that has a dip in the center but offers ample support on the sides.
If your dress has straps and you want a bra with straps for added support, there are many types of this too. Most strapless bras are convertible and come with detachable and adjustable straps. You can wear them the standard way, criss-cross for a stronger hold, use a single strap for a halter neck, or just ditch it altogether!
Try on your bra of choice with your wedding dress and move around to ensure that it is comfortable. If your bra has underwires, it should not be poking you in the skin.
Nylon is a great bra fabric as it is long-lasting, molds the cups well, and allows for a good stretch. But even so, it retains shape and can withstand most wear and tear. When blended with cotton, you can keep air flow to the skin constant and not feel overheated. If you want something a little more alluring, you can try bras that have an outer layer of lace or net panels on the sides.
Most women get their bra size wrong and this not only creates an unflattering look but might be uncomfortable for you to wear. On your wedding day, the correct fit is super important. Measure your bra size at home and write the measurements down or have a professional do so. You need to measure the band and bust which will then determine your size. Wear a size that isn't so loose that it looks baggy but you must also not wear something so tight that the fabric digs into your skin and causes irritation.
On your wedding day, looking confident is a big key to looking gorgeous overall. And as most of it is internal, you need to have a strong foundation or in this case, well-fitted undergarments. Not only does a good bra for wedding dress keep everything in place, it adds an elegant look. You will need something that flatters your bodyline, fits your gorgeous gown, and allows you to boogie with all your might! After all, it is your special day so don't let a badly-fitted bra stop you. With our list, you can pick from various styles, designs, and colors that offer comfort, style, and flexibility. Bag a well-matched bra and check one thing off your wedding checklist!
Frequently Asked Questions
What type of bra can I wear with a wedding dress?
Bra converters, a racerback bra, or a T-back bra are best to wear with a dress. However, it depends on the design of your dress as well.
Do you need a bra with a strapless wedding dress?
Yes, wear a strapless bra with your strapless wedding dress. It will give you good shape and a comfortable seamless look.
What do you wear under the white dress?
A silicone, skin color bra can be ideal with a white dress.
Can bridal bras be worn as regular bras?
Yes, you can wear bridal bras as regular bras.
Do you need to have a perfect body to wear a bridal bra?
No, it's not necessary to have any definite body type to wear a bridal bra. These bras come in different shapes and sizes to suit different body types.
Recommended Articles
Best Adhesive Bras For Wedding Dresses To Look Seamless
Best Sophisticated & Lightweight Beach Wedding Dresses
Best Adhesive Bras That Are Perfect For Strapless Outfits
Best Wedding Shapewear To Feel Confident On Your Special Day
Best Strapless Bras For DD Cups