9 Best Bras That Hide Underarm Fat – 2022
Well-fitted lingerie that provides the perfect amount of coverage for you to flaunt your favorite dress.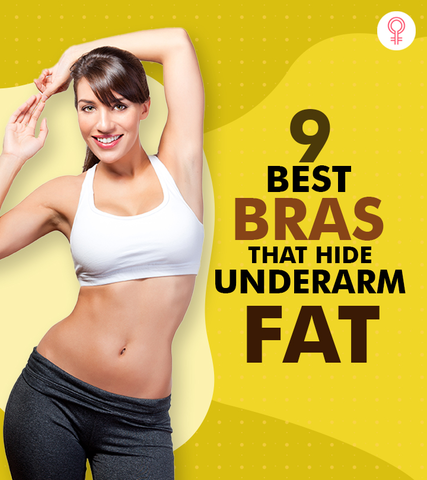 Underarm fat can be embarrassing, especially when it is visible through a stylish outfit. But you can always hide your underarm fat by using the right bras. The best bras to hide underarm fat are ideal for wearing along with your t-shirts, bodysuits, and attractive outfits. These bras are available in various bra styles to smoothen the unwanted bulges giving you a sculpted appearance.
You can wear these bras even for the bodycon dresses that you wear for an event. However, finding the best bra can be demanding. So, in this article, we have curated a list of the 9 best bras that hide your underarm bulges. Check them out below!
9 Best Bras That Cover Underarm Bulges
If you are looking for a high support bra that offers full coverage, the Playtex 18 Hour Ultimate Lift & Support Wirefree Bra is the one for you. It comes with the proprietary truSupport bra design for a 4-way support system. It also features higher sides for shaping, zero-dig wider straps, rounder cups for no spillage as well as a built-up back for smoothing.
This bra comes with magic rings that offer an ideal lift to your breasts for a naturally shaped look. Its cushioned straps provide a comfortable fit and relieve shoulder pressure, thereby staying put. The cool comfort fabric wicks away moisture to keep you feeling dry and cool for longer.
Specifications
Material: Nylon, Spandex
Color Options:11
Wired: No
Padding: No
Closure: Back hook-and-eye closure
Coverage: Full
Pros
Snug fit
Zero ride up band
High support
Provides a lift
Budget-friendly
Cons
None
Price at the time of publication: $14.99
The Vanity Fair Beauty Back Smoother Bra provides all-day support to your breasts. It features a unique crossover design with a four-way stretch fabric that smoothes your back and sides for a seamless appearance under your clothes. These underwired cups are lightly lined, provide proper containment, and offer full coverage while the comfort straps stay in place without slipping off. Additionally, it comes with three hooks and three adjustment settings, and the band width increases as the cup size increases, where it can go up to four hooks tall.
Specifications
Material: 90% Nylon, 10% Spandex
Color Options: 4
Wired: Yes
Padding: No
Closure: Back hook-and-eye closure
Coverage: Full
Pros
No poke underwire
Stays in place
Provides a lift
Sturdy
Durable
True to size
Budget-friendly
Cons
None
Price at the time of publication: $18.99
A perfect fit and highly stretchable comfort are what you get with the Warners Easy Does It No Bulge Wirefree Bra. Its super soft fabric is designed to provide a lightweight feel and a snug fit, regardless of your band size. This bra comes with extra side coverage to provide a smooth silhouette by hiding underarm bulges.
Specifications
Material: 94% Nylon, 6% Spandex
Color Options: 14
Wired: No
Padding: No
Closure: Back hook-and-eye closure
Coverage: Full
Pros
True to size
High compression
High support
Provides optimal lift
No roll-up
Snug fit
Cons
None
Price at the time of publication: $17.99
Tired of ill-fitting bras with straps that keep falling throughout the day? Well, no more. The Bali Comfort Revolution Shaping Wirefree Bra has a revolutionary Comfort-U design that holds the straps in place all day long. It features a seamless four-way stretch fabric for a more customized fit, modesty foam cups for increased comfort and shaping, along with special knit-in zones for targeted support.
Specifications
Material: 79% Nylon, 16% Polyester, 5% Spandex
Color Options: 1
Wired: No
Padding: Yes
Closure: Back hook-and-eye closure
Coverage: Full
Pros
Soft fabric
Removable modesty pads
Affordable
Optimal support
Cons
Price at the time of publication: $27.94
The Glamorise MagicLift Seamless Sports Bra is best suited for medium-impact activities and combat bounce and moisture. This helps provide breathable comfort and a dry feel, especially while you're working out. It comes with a patented wire-free MagicLift criss-cross design with an inner bust band to offer optimal lift, shaping, and support.
The non-stretch cups provide a seamless fit, while the wide, non-stretch straps can be adjusted to stay in place comfortably throughout your workout. It also offers a two-way backstretch to ensure zero slips and flexible wear.
Specifications
Material: 75% Polyester, 20% Polyamide, 5% Elastane
Color Options: 5
Wired: No
Padding: No
Closure: Triple hook-and-eye closure
Coverage: Full
Pros
Wide straps
Flexible fit
Moisture-wicking fabric
Controls bounce
Machine washable
Cons
None
Price at the time of publication: $37.8
If you have trouble finding the right supportive bra for your heavy breasts, try the Olga Women's No Side Effects Underwire Contour Bra. This bra is specifically designed with side panels to smooth underarm bulges for a sleek fit, so that you can wear any dress with confidence. The elastic-free sides and back ensure a seamless finish, while the foam cups provide a flexible and snug fit.
Specifications
Material: 82% Polyester, 18% Elastane
Color Options: 6
Wired: Yes
Padding: Yes
Closure: Back hook-and-eye closure
Coverage: Full
Pros
Soft fabric
High support
Seamless finish
Adjustable straps
Provides a lift
Cons
None
Price at the time of publication: $28.84
When you need a seamless bra that offers a special smoothing effect while looking absolutely stylish, try the Wacoal Retro Chic Underwire Bra. This full-coverage bra features a sheer mesh window with Chantilly lace on top of the cups, along with two-part seamed cups that deliver intense lift, shape, and support. Its fully adjustable straps allow a more customized fit, and the leotard (U) back prevents the straps from slipping off. The bands and sides minimize unwanted bulges, making it ideal for full-busted and full-figured ladies.
Specifications
Material: 82% Nylon, 18% Spandex
Color options: 14
Wired: Yes
Padding: No
Closure: Back hook-and-eye closure
Coverage: Full
Pros
High coverage
Durable
Excellent support
Stylish
Snug fit
True to size
Cons
None
Price at the time of publication: $65
The seamless and bulge-smoothing Marvelous Side Smoothing T-Shirt Bra by Felina is a must-have for daily wear lingerie. This functional and stylish bra provides comfort and support that lasts all day long. Its lightly padded foam-lined cups offer a velvet touch and a contoured effect for added convenience. This bra features fully adjustable stretch straps, leotard back design, hook-and-eye closure with a no-show neckline to maximize comfort and support. It is made with a unique side detailing and power mesh band that wicks away moisture for a dry and cool feel.
Specifications
Material: 88% Nylon, 12% Spandex
Color Options: 5
Wired: Yes
Padding: Yes
Closure: 4-row hook-and-eye closure
Coverage: Full
Pros
Lightweight
Available in larger sizes
Anti-chafing
Soft fabric
Stretchable
Seamless fit
High support
Cons
None
Price at the time of publication: $34.95
Looking for a bulge-smoothing bra that provides excellent support? Leonisa brings you the perfect smoothing bra. It offers high coverage in the underarm and back areas, with double-layered proprietary PowerSlim for superior compression for a sleek look. Its flexible side boning keeps the bra in place and prevents any roll-downs. This daily wear bra features a supportive underwire, deep coverage cups, and a wide underbust band that combines to maximize comfort while delivering a lightweight fit.
Specifications
Material: 87% Polyamide, 13% Elastane
Color Options:2
Wired: Yes
Padding: No
Closure: 4-level Back hook-and-eye closure
Coverage: Full
Pros
Super support
Provides smoothing effect
Convertible
Lightweight
Adjustable straps
No roll down
High coverage
Cons
Price at the time of publication: $46.75
Underarm fat bulges caused by ill-fitted bras can be highly uncomfortable and embarrassing. Especially on occasions and date nights. But, with the right lingerie at your disposal you can step out in confidence. To help you make a decision, here are some key factors.
Factors To Consider While Picking The Best Bras To Hide Underarm Fat
A stretchable material is always a good choice to avoid spillage from the sides. It accommodates the shape of your body and prevents bumps for a smooth look. However, it should provide the right amount of support too. There are multiple fabrics and fabric blends that can help you get the right tension and compression like nylon, spandex, polyamide, or polyester + elastane.
Choose a bra with a wider band and side panel to cover the sides of your breast. It can also help in smoothening side fats without making your chest feel overly compressed. Always measure yourself before bra shopping. Body fluctuations are not uncommon in women. Also, brands differ in their sizing ranges, so it's best to know your size in centimeters or inches instead of cup sizes.
For women with larger breasts, full coverage bras provide the best support. Bras that offer proper coverage gives your breasts a well-defined shape. The bra fabric must go around your whole bust.
Apart from the material, the design of your bra decides whether or not it will create underarm spillage. Make sure that the bra you pick has adjustable bra straps and back band. Such bras stay in place without affecting the distribution of your breast tissue. While the multiple rows of hooks and eye closure at the back allow you to adjust the bra's fitting as per your comfort levels.
Why Trust StyleCraze?
The author, Baishali Bhattacharya, is a certified image consultant. She understands that fashion is not one size fits all, and with the right choices, anyone can look their best and most stylish self. Underarm fat is among the top concern as no one wants the bulge to show up when they dress up in their favorite outfits. She recommends wearing a bra that hides underarm fat to address this issue. To help our readers find the best options, she has carefully checked multiple brands and bras in different cuts and designs and considered user feedback. These handpicked bras are a treat for the eyes, made highly comfortable, and smoothen the unwanted bulges for a sculpted appearance.
Frequently Asked Questions
How do you get rid of armpit fat under a bra?
• Practice a healthy diet and engage in regular exercises, especially strength training activities.
• Wear well-fit bras to avoid squeezing your skin and resultant bulges.
• Surgical removal of fat is another common way to get rid of your armpit fat. However, it comes with a portion of risks.
Why does my bra give me underarm fat?
Often, women wear tight-fitting bras, which cause their skin to bulge around their underarms. Additionally, some bras have ill-fitting bands that cause your skin to roll up in your underarms.
How long does it take to get rid of the bra bulge?
You can get rid of your underarm bulge after six to twelve weeks of surgical treatments. And, if you wish to reduce underarm fat by exercising, it might take several months depending on how much fat you will have to lose.
How do you get rid of armpit fat in a week?
It is difficult to eliminate your armpit fat in a week. Even when engaging in strength training exercises, you will notice an improvement only after several months. However, certain exercises like pushups and jumping jacks if done consistently might show the right results.
How should a bra fit on the side?
Bras must hold all your side breast skin in. No amount of skin must be visible being pushed out towards your armpit.
Recommended Articles