14 Best Bras To Wear With Tank Tops – Top Picks Of 2023
Sport your tank tops worry-free with bras that offer excellent support and perfect fit.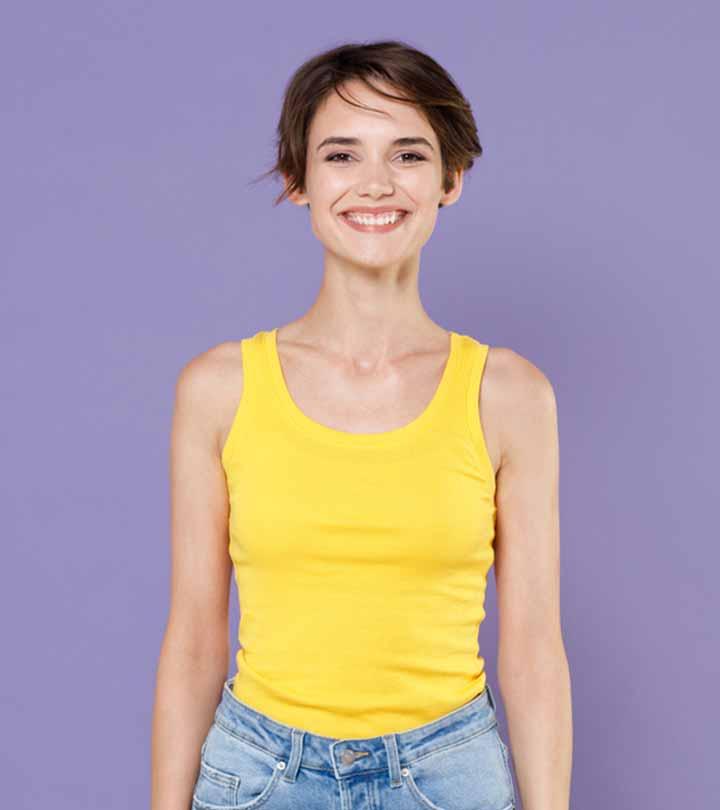 Summer is almost upon some parts of the world, which means ditching the oversized trench coats for breezy tank tops. Despite being the universal uniform for women when the sun finally begins to melt away the chill, it's impossible to believe that a formula hasn't been invented to create the perfect bra that is both supportive and invisible. Or has it? After scouring the internet for the best bras to wear with tank tops, we came up with 14 options that are varying degrees of sneaky and overt. Whether you want to announce how great your bra is or keep your pretty little secret under wraps, we have them all! You can go strapless, combine a tank and a bra, or show off your sexy back with a pop of color — the choice is yours.
While there's no one kind of bra you can don under a tank, strapless is the best for those who want secrecy and all-day comfort. Multiway bras are a good option for anyone who wants to experiment with halters, racerbacks, or criss-cross designs. For a dressy pick, lace bralettes or longlines are your best friend. With all these bra ideas, you can turn even the most basic outfits into a dream look.
The 14 Best Bras To Wear With Tank Tops And Sleeveless Tees
Pros
Comfortable
Multipurpose
Good casual wear
Lightweight
Removable cups
Cons
None

Price at the time of publication: $37.99
Pros
Machine washable
Seamless design
Flexible
Super soft
Moisture-wicking
Lightweight
Well-padded breast cups
Underwired
Cons
Price at the time of publication: $40
Pros
Removable cups
4 color options available
Moisture-wicking
Medium support offered
Retains shape
Mesh for breathability
Cons
Straps might be slightly tight for some
Lemedy's bra for tank tops combines nylon and spandex to keep the fabric lightweight, stretchable, and breathable. It features pads that can be removed as per your preference and aid in supporting your bust optimally. The scoop neckline gives your chest a flattering look, while the slim-fitting crop length can be worn solo or under your tops for any medium-impact exercise. Available in a wide variety of sizes and colors, this buttery-soft top with a built-in bra is super-snug and easy to wear for hours.
Pros
Moisture-wicking
Breathable
Lightweight
Removable pads
Medium level of support
17 color options available
Cons
Might not be ideal for ladies with bigger busts
Price at the time of publication: $21.99
Pros
Lightweight
Moisture wicking
Soft breast cups
Suits different body types
Convertible shoulder straps
Cons
Slightly short
Not machine washable
Price at the time of publication: $72
Pros
Removable cup paddings
Full-coverage
Machine washable
Skin-friendly
Comfortable
Slip-on closure
Cons
Relatively short
Thick fabric
Price at the time of publication: $52.5
Pros
Machine washable
Comfortable
Tag-free
Lightweight
Seamless design
Skin-friendly
Cons
May strain the shoulder muscles
Price at the time of publication: $15
Pros
Good fit
Slip-on closure
Comfortable
Sleeveless design
Can be worn alone
Available in various colors
Machine washable
Cons
Not suitable for plus-size
No waistband
Price at the time of publication: $35.99
Romansong's bras for racerback tank tops are strappy and bandaged in the back for a sexy look and extend well-rounded support across the back. Made with 73% nylon and 27% spandex, they are wirefree and feature removable padding, while the fabric wicks moisture away without sacrificing breathability. Retaining shape due to the high-quality construction, this piece of clothing carries you through yoga or pilates classes, beautifying your silhouette and staying close to your skin.
Pros
Available in 4 colors
Supportive across back
Removable pads
Retains shape
Breathable
Moisture-wicking
Cons
The lowest band might be slightly loose for some.
Price at the time of publication: $24.99
Pros
Skin-friendly
Lightweight
Stretchable fabric
Moisture-wicking
Breathable
Comfortable
Cons
Hand washable only
No underwire
Price at the time of publication: $27.98
Sinzelimin's bras for high neck tank tops have a highly elastic underband that sits softly against the skin. Sleek with a keyhole design for added ventilation, this bra has thick shoulder straps and is lined with cotton to keep you cool and dry no matter how intense the workout. The cups are deep and shape your bust to look sultry, while the support they provide is unmatched for limitless movement. Go for this one if you want something well-made that can endure exercise sessions with ease.
Pros
Available in 5 colors
Stretchable underband
Keyhole design
Breathable material
Supportive cups
Cons
Might be slightly snug for larger busts
IHHCOXK's under-tank top bras have a front zipper closure for a customizable fit and X-shaped back straps for evenly distributed pressure. The zipper is supplemented with a lining to prevent chafing or pinching while the high-rise sides keep bounce at a minimum. The 3D molded cups are skin-friendly, thanks to the fabric composition of 76% nylon and 24% spandex. Moisture-wicking and breathable, these bras don't pill and give you a long period of wear.
Pros
Available in 6 colors
Front zipper closure
Thick and wide straps
Minimizes bounce
Molded soft cups for support
Anti-pill fabric
Cons
The underband might roll up a little sometimes.
Pros
Line-free
Breathable fabric
Comfortable
Super smooth
Stretchable
Supportive
Cons
No underwire
Not machine washable
Price at the time of publication: $17.99
CRZ YOGA's bras for high neck tank tops use a mix of polyamide and spandex, which gives them the right amount of stretch. The second-skin feeling is real with this one, as the fabric is buttery-soft and has a 4-way stretch for maximum mobility. Adding to the convenience is the cropped hem that combines with the wide-strapped racerback design to keep you stylish and comfortable. With removable pads and an inner bust band, the bra keeps you stable through high and low-impact activities.
Pros
Available in 10 colors
4-way stretch
Cropped hems
Wide shoulder straps
Removable padding
Medium support
Cons
Might bunch up at the bottom sometimes
Now that we've looked at some of the best bras you can sport with your tank tops, let's learn which ones actually look good when layered.
What Bra To Wear With Tank Tops
Technically speaking, any kind of bra can be worn under your tank tops, but the choice depends on your personal style and preference. Each design has its own purpose, but whatever makes you comfortable should take priority.
If you want absolutely nothing showing through your tanks, strapless is the way to go. Some come with adhesive silicone on the inner lining, which ensures that the bra remains secure. This kind, however, isn't the best if you're looking to sneak in a workout. A variation of this involves straps that are made of transparent plastic and won't show through. If strapless bras intimidate you, this is a safer no-show option.
These bra styles often combine the 2 shoulder straps at the back in a curved or a big X-shaped formation. Becoming a thick band in the center, this extends support and keeps the pressure equally divided between your shoulder blades.
The shoulder straps are often divided into multiple at the back, which is also great for support. Additionally, these kinds of bras give off a sexy look under your tank tops.
Longline bras are a good choice for women looking for a slimmer, more streamlined silhouette as they keep your bust well-supported and help cinch your waist.
These bras run halfway down your midsection and are great for medium coverage.
Now that we've seen what the best bras are to wear under your tank tops, here's how you can go about choosing the right one for yourself.
How To Choose The Best Bra Under Tank Tops
Fabrics such as nylon and polyester are a good choice for bras as they are lightweight, allow airflow, and wick away any sweat by absorbing it. Look for bras that feature an inner lining of cotton for softness or mesh for better breathability, so you keep sweat away without a care. These materials mixed with spandex make for a combination that doesn't fail as the elasticity keeps you moving at your comfort level.
While padding is a good feature to have, not everyone is comfortable with it. Therefore, look for pads that are removable so you can insert them when you see fit. 3D molded cups and pads are convenient as they conform to your breast shape instead of flatly lying down and sticking out.
Straps should have elasticated or rounded hems to prevent any chafing or irritation. If you can find padded straps, even better, because this keeps your shoulders comfortable. Wide and thick ones are better than spaghetti as they divide pressure equally and won't lead to aches or pains.
The underband of any bra must be gentle against the skin or else it will dig in, leaving marks. Some bands also roll up or slide down, causing you discomfort. Elasticated bands covered with a soft fabric are a good choice.
A bra mustn't be so loose that it deforms your bust, but it shouldn't be too tight, either. This is because a constrictive inner can lead to breathing problems or leave red marks on your skin. Tighter bras also keep you from performing at your best and enjoying fluidity in your movements. Before shopping, measure yourself or seek the help of a professional in finding the right-fitting one.
Why Trust StyleCraze?
Pratima Ati, the author of this article, is a fashion enthusiast and loves to be on top of the latest fashion trends. She believes that racerback, strapless, longline, and cropped bras are the necessary accessory that goes well with tank tops, and they are a must in your wardrobe. She browsed various online forums and read user feedback and product specifications to provide you with the best bra to wear with tank tops. These bras are stretchable, made of breathable material, and help minimize bouncing.
Which one is better: a tank top that has a shelf bra or a tank top with an external bra?
This depends on your body type and personal preference. Some built-in bras don't provide enough support for bigger breasts and might bunch up as one entity. On the other hand, they are a good choice for smaller sizes and those who don't like wearing too many layers.