10 Best Bread Machines For Home Bakers Of 2020 – Buying Guide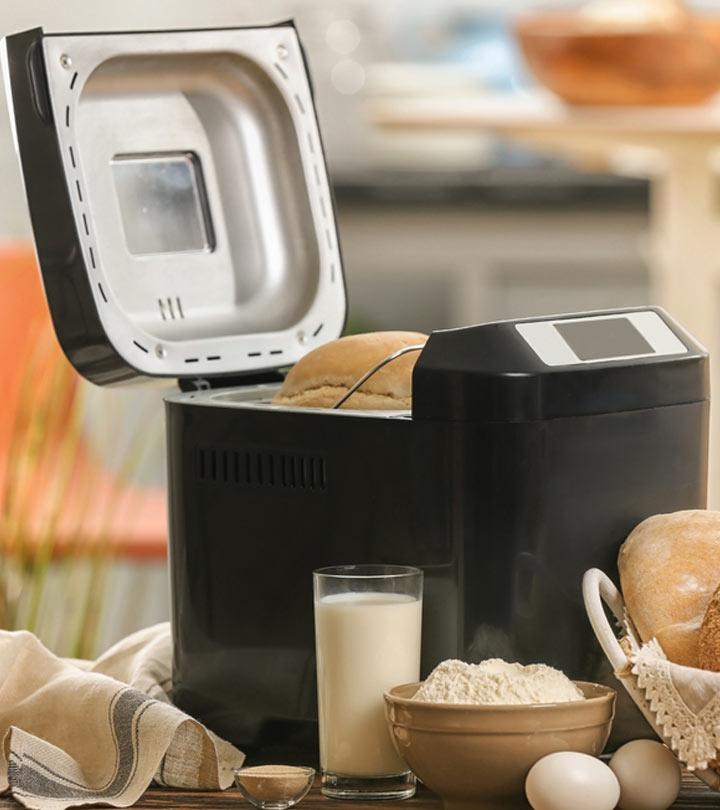 Don't you just love the delicious smell of a baked loaf just out of the oven that fills your house with a warm and soothing aroma? And moreover, no store-bought bread can match the taste of homemade one, not even a bakery loaf. We are sure a lot of you would agree with us! But ask a home baker or anyone who bakes regularly, bread making can be a time-consuming and intimidating process. Therefore, if you simply don't have the patience and want to cut down on time you spend kneading and proofing the bread yourself, we bring you the best bread machines.
These machines do everything – mix, knead, proof, and bake a loaf of bread. All you have to do is measure and combine the wet and dry ingredients into the machine, switch it on, and allow it to do its thing. And after 3 to 4 hours, you will have a beautifully baked loaf. If you are on the lookout for this handy kitchen appliance, we have compiled a list of the 10 best bread machines available in the market right now!
Top 10 Best Bread Machines To Buy In 2020
Say goodbye to grocery store bread and say hello to warm, homemade loaves with this Convection Bread Maker by Cuisinart. This is a highest-rated bread machine that has a wide selection of settings and can produce around large varieties of bread. It boasts of 16 different pre-programmed options, including low-carb and gluten-free settings. Made of smooth-brushed stainless steel, this versatile tool features strong and large stay-cool handles that make transferring easy. All while its convection feature allows air to circulate to give the bread the perfect crust and texture all the time. Besides bread, this 680 W appliance also has programs for sweet cake, pizza dough, and jam, as well as 3 loaf size, 3 crust color, and bake-only options. Measuring 12 x 16.5 x 10.25 inches, it is compact, which makes it a perfect choice for a small kitchen.
Pros
BPA-free
3-year warranty
16 preset settings
Power failure backup
3 crust color and 2 loaf size options
The baking cycle can be delayed up to 12 hours
Features 2 audible tones – the first tone indicates the time to add mix-ins, and the second one prompts you to remove paddle or dough.
Cons
Might be too slow
May make only small loaves of bread
This bread making machine makes its way into our list of the best bread makers and for a good reason. Baking bread in this machine takes the same amount of time as it takes to go to the nearby grocery store to get packaged bread. Yes, that's right! As the name suggests, this 650 W electric appliance utilizes an EXPRESSBAKE cycle that can bake up to a 2-pound loaf of bread in less than an hour. It comes with a non-stick aluminum pan that ensures even heat distribution and is easy to clean, while the transparent window on the lid allows you to watch the bread when it's baking. This model includes 12 bread and 3 crust settings and can make many types of bread, dough, jams, and jellies. It also features a 13-hour delay timer when you want a toasty loaf as soon as you wake up in the morning.
Pros
40-inch cord
2-pound capacity
Affordable
Includes a warm setting
Durable and versatile
Ideal for larger families
Easy-to-clean removable lid
Comes with a measuring cup and spoon
Has a signal that lets you know when to add fruits or nuts
Cons
May not have a gluten-free setting
From the multigrain and whole wheat to gluten-free and sugar-free bread, you can make many types using Zojirushi Home Bakery Virtuoso Plus Breadmaker. One of the best bread maker machines, this slightly horizontal bread machine features a heating element on the lid and the bottom of the pan to give you evenly baked and uniformly browned bread. It can make a traditional rectangular shaped 2-pound loaf with the choice of 3 crust colors. While the large glass window allows you to view the kneading, proofing, and baking of the dough, the non-stick double kneading blades deliver better results. This versatile stainless steel machine also comes with a Homemade course with 3 memory settings, which allows you to program in your own recipes.
Pros
12-hour clock
13-hour delay timer
Easy-to-clean pan
Large LCD panel
700 W power and 39-inch cord
Can also make pizza dough, jam, and cake
Includes measuring cups and a spoon
Features recessed handles for easy transportation and storage
The rapid course setting can create whole wheat and white bread in 2 hours and 25 minutes.
Cons
Expensive
The non-stick coating may peel off.
Want to come home or wake up in the morning to the aroma and taste of freshly baked bread? Give this bread maker a try! With a 2lb capacity and 17 customized settings, you can bake various types of bread, including gluten-free, sugar-free, whole wheat, French bread, and milky loaf, as well as make jam, yogurt, and rice wine. This programmable bread machine comes with a bread pan, a hook, a measuring cup and spoon, a stirring rod, and a removable fruit and nut dispenser. The pan is made of food-grade ceramic that provides even heating to create uniformly baked bread and has a non-stick coating to prevent the dough from sticking for easy cleanup. This bread making machine also has settings to choose 3 crust colors and 3 different loaf sizes. Other noteworthy features of this machine are that it has a 15-hour delay start, a 1-hour keep-warm option, 360° surround baking, and an LCD panel.
Pros
17 menu settings
Touch panel control
Automatic fruits and nuts dispenser
Longer working 710 W AC motor
Ceramic pan is dishwasher-safe
15-minute memory keeping option
Made of sturdy and brushed stainless steel
Tempered glass panel and lid
Cons
Might produce under mixed dough
With a bread machine such as this one at your disposal, you have complete control over what ingredients go into your loaf, making it easy to accommodate food preferences and allergies. An individual with gluten intolerance can easily make gluten-free bread in just a touch of a button. Also referred to as a gluten-free bread maker, this kitchen equipment includes 15 programmable settings that allow you to make bread, jam, cake, and pasta. With its 15-hour delay start control, you can always wake up in the morning to the mouthwatering smell of homemade bread. Plus, once it is baked, the machine automatically changes over to the 1-hour keep-warm setting. Constructed with brushed stainless steel, this 700 W machine comes with a measuring cup and spoon, a kneading blade, a hook, and a recipe book.
Pros
Makes up to 2-pound loaf
3 loaf size options
15-delayed start function
Doubles as a pasta maker
LCD with an indicator light
Choose between 3 different crust colors
Easy-to-clean non-stick coated handle and pan
Cons
This Mini Breadmaker will not take plenty of space on your kitchen counter, thanks to its compact and slim design. Ideal for couples or small families, this 450 W small bread machine can bake a 1-pound cube-shaped loaf that's usually tall rather than wide. Use this device to create multigrain bread, basic bread, quick bread, cakes, pizza/pasta/cookie dough, and jams. Although it does not have a wide range of baking functions, it does have a quick baking cycle that will reward you with a loaf of bread in less than 2 hours. In addition to letting you adjust the bread texture between soft, regular, and firm, it has a crust color setting that allows you to choose regular or light. It comes with a removable lid, non-stick baking pan and kneading blade that are easy to clean.
Pros
2-hour setting
13-hour delay timer
LCD control panel
Features a viewing window
Has a cord storage option
Lightweight and compact bread machine
Sturdy handle for easy carrying and storage
Comes with an instruction manual and recipe booklet
Cons
May not have a gluten-free setting
Makes only a small square-shaped bread
With one of the best bread making machines such as this one, you can have freshly made warm, nutritious loaf right at your fingertips. There is no need for you to knead the dough or wait for the yeast to rise. Simply measure and dump all the ingredients in the pan, choose your preferred setting, and let the machine do the rest of the work. It comes with 14 programmed settings, so it not only bakes different types of bread but also makes sourdough starter, jam, and cake. This stainless steel machine also has a delay start timer, which means you can add all the ingredients, and the device will begin the baking process later. It gives you the option to choose the size of the loaf and color of the crust according to your preference. It includes a measuring cup and spoon, a paddle removing tool, and a kneading paddle.
Pros
14 preset functions
Features a delay timer
Easy-to-read LCD panel
Automatic keep-warm setting
Choose from 3 crust shades and 3 loaf sizes
Dishwasher-safe non-stick bread pan
Cons
Considered one of the top-rated bread machines, SKG 3920 Automatic Bread Machine allows you to bake loaves weighing up to 2 pounds. It has more pre-programmed settings, to be specific 19, which includes basic, whole wheat, cornbread, gluten-free, French loaf, jam, and yogurt options. It features a 15-hour delay timer – all you have to do is fill the bread pan with the ingredients, set the bread machine, and time it accordingly. Whether for breakfast, snack, or dinner, you will always have hot delicious bread ready to be devoured. This 550 W device comes with a removable non-stick coated pan and kneading blade that keep the dough from sticking, making cleanup a breeze. Plus, it features non-skid feet that provide excellent stability.
Pros
19 preset functions
Low noise device
Beginner-friendly
Includes a viewing window
3 crust and 3 loaf size options
1-hour automatic keep-warm feature
15-minute power interrupt-recovery
Also comes with a metal hook, a measuring cup, and a double-ended measuring spoon
Cons
May not be a durable product
Whether you want to bake a perfect loaf of bread, whip up your own pizza or pasta dough, or make homemade jam, this bread maker has you covered. Unlike other bread machines, this device can produce 4 different sizes of loaves, ranging from 1 to 2.5 pounds, making it an excellent choice for large families. It also features a dispenser tray that automatically adds fruits, nuts, and other mix-ins at the optimum time, without you having to do it manually; you would only have to fill the tray with the extra ingredients. It has 13 automatic settings that are easy to use and 9 custom settings to make your favorite dishes and store them. What we love the most about this 830 W machine is that it includes a collapsible kneading blade that mixes the ingredients and right before the bake function begins it folds down, providing more space for the dough to expand.
Pros
Easy-to-use dial
3 crust color settings
Kneading blade that is collapsible
LCD screen with indicator
Can make up to 2.5-pound loaf
60-minute backup power
Includes a recipe booklet with 46 recipes
Cons
May not be bulky and unstable
Don't want to be limited to one type of bread? What you need is an automatic bread maker machine like this bread maker by Breadman. It has 14 different preset settings, including low-carb, artisan, French and gluten-free loaves, pizza dough, and jam. This professional bread machine has 3 crust color options and 3 loaf size options, allowing you to make any loaf you want depending on your mood or requirement. It utilizes a Perfect Bake Technology, which means you get evenly baked bread with the perfect crust color and texture every single time. It includes a collapsible kneading handle that collapses to prevent craters at the base of the loaves. Meanwhile, the fruit and nut dispenser automatically dispenses the ingredients at the right time during the baking process. This versatile 850 W bread machine features a stainless steel exterior, a bread pan, a display panel, and a large viewing window.
Pros
Easy-to-use dial
Can make up to 2-pound loaf
Features a bake-only button
Provides even heating
15-hour delay bake timer
1-hour keep-warm option
Comes with a measuring cup and spoon
Includes a recipe book with 80 recipes
Cons
The kneading paddle might scrape the pan.
Before you invest in a bread-making machine, you need to consider a few essential factors. Given below are some points that might help you.
Buying Guide
Why Get A Bread Machine?
A bread machine is an excellent device for anyone who needs to make many loaves of bread but doesn't have the time or physical ability to do it by hand. Plus, having freshly made bread is better compared to the store-bought one. With homemade loaves, you can ensure that there are no preservatives or chemicals. Also, for individuals with allergies or sensitivities, using this tool allows you to control the ingredients that go into the loaf.
How To Choose A Bread Machine
Pan: Most bread machines produce tall loaves of bread because of how the bread pan is shaped. However, there are a few models that will give you a traditional rectangle bread. Ultimately, it comes down to your preference, and if the shape of the loaf doesn't matter to you.
Paddle: Paddles have a huge role to play in a bread-making process because it is the component that combines the ingredients and kneads the dough. While some devices have a single paddle, the others, especially wide bread pans, come with 2 paddles. However, the number of paddles does not matter as much in how the dough turns out.
It is also to be noted that some models feature collapsible kneading paddles that fold down to prevent holes from forming in the bottom of the loaf. But if you don't mind using a machine. But you could opt for a device that will indicate when you need to take the paddle out, which is right before the baking process starts.
Loaf shape: As mentioned earlier, most bread machines generally create taller loaves. But if you prefer a traditional shape, you could pick one with a wide pan and 2 kneading paddles.
Durability: You need to make sure that the model you choose is made of sturdy and durable materials. Since many bread machines are slightly on the expensive side, they need to last for longer. If not, you should at least be able to get replacement products because pans and paddles are the components that wear off faster.
Settings: Many machines knead, proof, and bake varieties of bread and feature different types of pre programmed settings. It also features functions to make pizza dough, jam, and cake and allows you to choose your preferred loaf size and crust color. Other noteworthy features of this machine include a delay timer that may vary from device to device and a keep-warm function.
Capacity: One of the main features of a bread machine is the loaf size setting, and most of them can create up to 2-pound loaves of bread. However, some models can produce 2.5 to 3-pound loaves, which are great for larger families.
Extra Features: When looking for a bread maker, you could also check for additional features such as whether it has a quick-bake function when you want to make a loaf quickly or a timer that indicates when the baking is done. Plus, a viewing window that allows you to see the bread baking. An automatic fruit and nut dispenser is also a great extra feature in a bread machine. You could also opt for double loaf bread machines if you want to make more loaves in minimum time.
Advantages Of Owning A Bread Machine
You can control what ingredients to add in your bread.
It allows you to tweak the recipes based on your allergies or dietary restrictions.
An excellent tool for people who consume a loaf of bread but have a busy schedule to make it on their own.
Great for individuals with arthritis or physical disabilities as they don't have to go through the kneading process.
An economical option for those who consume a lot of bread
Tips For Using A Bread Machine
Always read through and follow the instructions before using it to understand its functioning. Although all machines do the same, which is to bake bread, the operation may slightly vary depending on the brand.
Use fresh ingredients. And add wet ingredients first and then the dry ingredients.
Monitor the kneading and baking process through the glass viewing window. While this might not be possible all the time, it's best to see whether the dough is mixing well or if the crust is turning too brown for your liking.
Wash the pan gently by hand with soapy water or opt for a dishwasher-safe model.
To prevent the paddle from sticking to the dough, coat it with cooking spray.
Hopefully, with our list of the 10 best bread machines, you will find something that will help you make a perfect loaf of bread every time. Invest in a good bread machine, and you won't have to spend a lot of time making bread. In addition to that, these devices drastically cut down the cleaning time and effort since you only have to wash 1 pan. Plus, making bread at home can also help save money, especially for those who consume a single loaf in a day. So have you gone through our list, and found the right model? Do share your feedback with us by leaving a comment below!
Expert's Answers For Readers' Questions
Are bread machines worth it?
We would say yes because you get to control the ingredients to add and size of the loaf. It is convenient and economical, especially if you have a busy life and don't have the time to do the kneading by yourself or wait to keep checking if the dough has risen.
Is bread maker better than an oven?
A bread maker is a great device but may not be better than a convection oven. The loaves made in a bread maker are more square-shaped, but with rounded edges and corners and most times, the kneading paddle creates holes at the bottom.
Is bread maker bread healthier?
Yes, in comparison to shop-bought bread, homemade loaves are much healthier because it does not contain preservatives and you can make it nutritious based on the ingredients you add.
What else can I make in a bread machine?
You can make pizza dough, pasta dough, jam, and jellies.
Do bread machines use a lot of electricity?
A typical bread maker uses 0.36 kWh to bake a single loaf of white or whole wheat bread while an electric oven consumes 1.6 kWh per use. To sum it up, we can say that these devices use average energy but less in comparison to a oven.
Can I leave bread in the bread machine overnight?
No. Once the bread is baked, you have to take it out from the pan and place it on a wire rack to cool down completely. If left in the pan, it could turn soggy and mushy.
What is the best flour for bread machines?
Bread flour with a high concentration of gluten or any flour with high protein content is an ideal option for bread machines. But since most bread makers have gluten-free and low-carb options, you could use flours specifically made for that.
Is bread machine flour necessary?
Bread machine flour, also known as bread flour works best for baking bread because it has high protein content, which helps in creating a beautifully risen loaf.
Does a bread machine need special yeast?
You don't really need a special yeast, but there is something called a bread machine yeast that is specially formulated for bread machines because they activate quickly. But you could use active dry yeast as long as it is dissolved in water before being added to the machine.
Why does bread machine bread collapse?
The main reason why a bread machine bread collapses is that you might be using too little or expired yeast.
Is it cheaper to make your own bread with a bread maker?
It is considerably cheaper to make our own bread than buying from a store. Once you have purchased a bread maker, you only have to spend on the ingredients, which are quite simple – flour, water, salt, and yeast.