12 Best Electric Breast Pumps Available Right Now – 2023
Take your own little breaks while feeding your newborn baby with affordable products.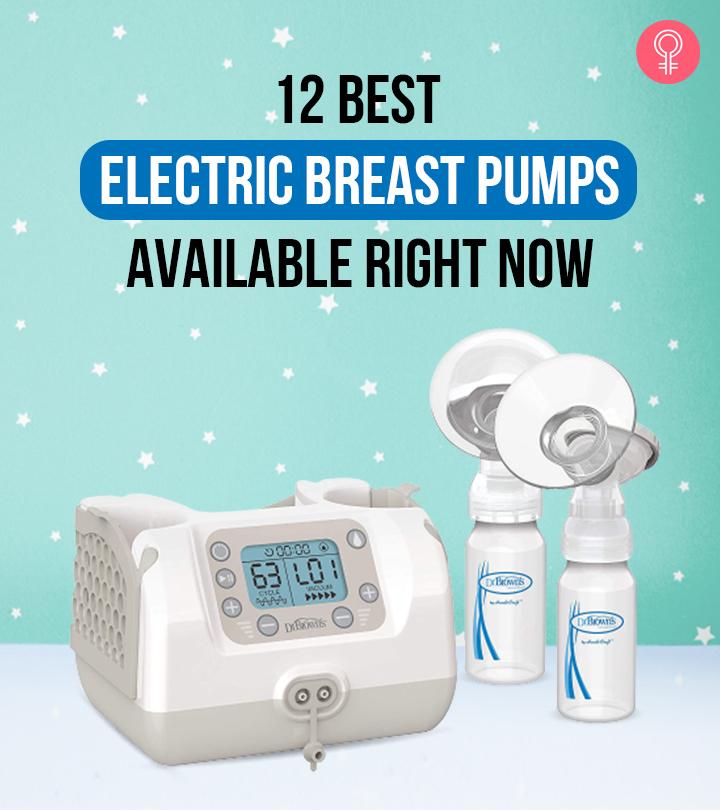 Breastfeeding your infant may not always be possible, especially when you are a working mom or traveling or stuck in heavy traffic or shopping. So, you can use the best electric breast pumps to pump and store breast milk at your convenience. They are noiseless, portable, painless, and comfortable to use. The suction settings for pumping the milk out without any leakage or contamination is an added advantage of the electric breast pump. Some electric breast pumps can also be charged, allowing easy usage.
Selecting the ideal breast pump from the wide pumps available in the market is challenging. Hence, we listed the 12 best electric breast pumps for your convenience. Keep scrolling to learn more.
12 Best Electric Breast Pumps Available Right Now
Hansilk's Hands-Free Breast Pump is a lightweight and portable device that can easily slip in a braandpump out milk for your baby. Unlike the single electric breast pumps, this double-wearable electric pump saves time by letting you store milk. It is equipped with two modes – massaging and pumping. Massaging helps in improving blood flow and relieves discomfort while breastfeeding. The pumping mode, on the other hand, allows you to pump and store milk for future use.
This breast pump features Anti-Reflux Technology that enables hands-free usage and allows you to pump the milk into the collector directly. It also features 9 adjustable pumping levels and an LCD indicator for your convenience. The pump is designed with silicone material that keeps the milk safe and healthy for the baby. It comes with a 1200mAh battery that charges within 2.5 hours and works for up to 100 minutes. Its closed design prevents milk from entering the tube, and it shuts down automatically after 30 minutes.
Specifications
Weight: 1.5 pounds
No. Of Modes: 4
Capacity: 180 ml
Material: Silicone
Batteries Required: Yes
Pros
Easy to clean
Prevents leaking
Easy to operate
Relieves discomfort
Made of food-grade material
Sturdy
Does not make much noise
Features memory settings
Cons
Only one size
Harsh suction
Price at the time of publication: $82.99
Dr. Brown's Customflow Double Electric Breast Pump is equipped with a wide range of settings and various express modes to help you comfortably produce milk. This dual electric breast pump pumps milk gently. It is equipped with a one-piece silicone soft shape that shields for better flexibility. It features silicone stretch walls to hold wide-sized bottles and easily fit in your bag. The built-in timer and pause button allow you to start and stop the machine based on your schedule. The memory setting streamlines the milk production sessions.
Specifications
Weight: 04 pounds
Of Modes: Multiple
Capacity: 120 ml
Material: Silicone
Pros
Pumps more milk
Gentle suction
Includes two size B 25mm shields
Portable
Lightweight
Narrow bottles
Includes travel caps
Slow flow nipple
Easy storage
Cons
Price at the time of publication: $139.99
The TheElectric Wearable Breast Pump from Carer Spark has a hands-free design, making it an ideal choice for working moms with busy schedules. This lightweight and portable pump has no wire or tube and operates almost noiselessly. It also features no-spill technology to prevent messes. This wearable breast pumping device has two modes. One is for massaging and increasing blood flow, while the other is for breast pumping and designed to imitate actual sucking frequency. It features 5 pumping levels to offer more comfort and choice without causing any pain. Unlike traditional breast pumps, this wearable electric pump can also be charged using a power bank, computer, laptop, etc. Its fully charged battery allows you to use it 3 to 5 times. This easy-to-use breast pump is made of BPA-free silicone and non-toxic material to assure the milk's safety and quality. Additionally, it features auto cut-off technology and turns off after 20 minutes of use.
Specifications
Weight: 09 pounds
Of Modes: 5
Capacity:180 ml
Material: Silicone
Pros
Memory settings
Convenient design
Easy to use
Includes a storage bag
Travel-friendly
Cons
A little bulky
Pumps less milk
Needs to be charged after every use
Price at the time of publication: $55.99
The Bellababy Double Electric Breast Feed Pump comes with 4 modes and 9 levels of suction for easy operability. The 9 suction level modes massage and stimulate the breasts for a comfortable and painless pumping experience. The 4 sucking modes function according to your body's response. It comes with a high-definition screen with an in-built 2200 mAh li-ion battery that displays the working mode, suction level, time, and battery status for convenient usage. The set also contains 2 sets of milk bag adapters, made from food-grade PP and silicone material and 10 pieces of storage bags, safe for babies and mothers. Here's video review of the product. Check it out.
Specifications
Weight:
No. of Modes: 4
Capacity:
Material: PP/Silicone
Pros
USB rechargeable
Comes with 2 storage bag adapters
Suitable for travel purposes
Lightweight
Easy to use
LED Display
Easy to assemble
Easy to clean
Low working noise
Latex-free
Cons
Low battery life
Suction might be strong
Price at the time of publication: $44.69
The Philips Avent Double Electric Breast Pump expresses more milk in less time. Its unique design lets you pump milk simultaneously from both breasts while sitting straight. This easy-to-operate breast pump works with the press of a button to activate gentle stimulation to get the milk flowing, and its 3 different suction levels help in expressing effortlessly. It is equipped with a soft massaging cushion and petals that mimic natural suction frequency. This electric pump also features a soft power button which is ideal for stronger suction. Moreover, it prevents the milk from backflowing into the tube by ensuring that it flows directly into the container. Watch this youtuber's experience with this breast pump in this review.
Specifications
Weight: 27 pounds
Of Modes: 3
Material: Plastic
Pros
Easy to use
Breast-shaped nipple
Quiet operation
Portable
Lightweight
Easy to set up
Easy to clean
Includes a travel bag
BPA-free
Cons
Price at the time of publication: $300
This Electric One-Handed Breast Pump from Evenflo features powerful operations to offer you more flexibility and freedom while expressing milk. This gentle and comfortable breast pump includes 28 mm and 30.5mm flanges for effective pumping, and its slouch-free design prevents shoulder and back pain. Its closed system design stops the milk from backflowing and keeps the parts dry and clean to function properly. It also comes with a balanced and standard neck slow-flow nipple for compatibility with a collection of breastfeeding bottles. The Evenflo breast pump also has interchangeable parts to help simplify pumping. Check out this video review of this product to understand its scope.
Specifications
Weight: 39 pounds
Of Modes: 2
Material: Silicone
Pros
Safe from bacteria
Comfortable pumping
Painless
Includes two flanges
Relaxed pumping
Perfect fit
Portable
Lightweight
Easy to operate
Includes an AC adapter
Works with 3AA batteries
Easy to clean
Cons
Low suction power
Inconsistent performance
Price at the time of publication: $50
The NCVI Double Electric Breast Pump includes 4 different modes and 9 levels for stable suction and pain-free lactation. The pump is fitted with an HD mirror touchscreen panel that showcases the working status of the device and can also be used as a mirror. It features 4 different flanges of 21,24,28, and 32mm to fit different breast sizes. Its oval TPR bell mouth fits snugly on the breast and prevents leaks and spills. This breast pump is equipped with a single and double-free switch to be used as both unilateral and dual-sided pumps to express more milk in less time.
Its massive 2200mAh battery can be charged using a mobile power source or computer for added convenience. The device features an anti-backflow design that prevents the backflow of milk and keeps bacteria away to maintain freshness and hygiene. This pump comes with color-changing milk storage bags to know whether the milk is at the appropriate temperature or not. Plus, it offers low-noise operation by producing only 40dB of sound while operating.
Specifications
Weight: 5 ounces
Of Modes: 4
Material: Silicone
Pros
Noiseless operation
Portable
Lightweight
Painless
Strong suction
Prevents contamination
No leaking
Fast charging
4 flanges
Mirror touch panel
BPA-free
Cons
Price at the time of publication: $59.99
No products found.
The Lansinoh Signature Pro Double Electric Breast Pump provides a comfortable fit due to its soft and flexible rim that stays gentle on the skin and offers optimum suction. This breast pump is equipped with 8 suction levels for efficient, hospital-strength pumping. Moreover, it has 3 pumping styles to imitate the natural feeding patterns to express milk. This easy-to-use breast pump features an electric LED display with 3 power options for customized pumping, and its portable design is fitted with easy-to-operate buttons.
Specifications
Weight: 51 pounds
Of Modes: 3
Material: Silicone
Pros
Portable
Lightweight
Compatible with Lansinoh bottles and bags
Soft and flexible flanges
Three power options
Prevents spilling
Mimics natural feeding patterns
Cons
Painful suction
Leaks from the flanges
The Elvie Double Electric Wearable Smart Breast Pump is the ideal choice to pump milk anytime and anywhere. This small and light pumping device is easy to use and features noise-free technology to let you pump in peace. It easily fits inside a standard nursing bra and can be operated hands-free. This breast pump has 5 parts that can be assembled within minutes. You can connect this pump to the Elvie pump app to monitor the volume and track pumping history. Moreover, it turns off automatically from stimulation to expression mode when the bottle is full.
Specifications
Weight: 8 ounces
Of Modes: 2
Material: BPA-free plastic
Pros
Lightweight
Compact
Portable
Easy to operate
Cordless
Hassle-free design
Variable suction
Rechargeable
Custom-fit
Reusable bottle
BPA-free
Cons
Not noiseless
Poor battery life
Price at the time of publication: $279.99
This Electric Breast Pump from Spectra comes packed with a hospital-grade pump, 4 flanges of 2*24mm and 2*28mm with a wide neck bottle, a backflow protector, tubing, detachable pongs, and a 12-volt AC power adaptor. It is equipped with a closed system design that keeps the tubing dry and eliminates the need to clean. It prevents airflow between the tubing and expressed milk to protect the milk from bacteria and viruses. The spectra electric breast pump comes with customized settings to let you find your comfort level of pumping using an adjustable suction and two-phase cycling for let-down and expression mode.
Specifications
Weight: 3.3 pounds
No. Of Modes: 1
Material: BPA-free plastic
Pros
Rechargeable
Lightweight
Travel-friendly
Includes a night light
Backflow protector
Massage mode
Cons
Price at the time of publication: $216.0
The Willow's Wearable Breast Pump is designed to fit perfectly into your bra to let you pump milk from any position you like. It uses patented no-spill technology to prevent spilling. It is equipped with 7 suction levels and sensitivity settings that offer optimum comfort while being used. Its smart suction technology can be adjusted as per your liking to maximize the milk output. The expressed milk can be stored in storage bags or reusable containers to keep it safe and hygienic and prevent spilling. These containers are sold separately.
Specifications
Weight: 5.89 pounds
No. Of Modes: 1
Pros
No loud suction
Easy to clean
Adjustable settings
Lightweight
Portable
Dishwasher-safe
Easy to assemble
Spill-proof
Cordless
Mobile app available
BPA-free
Rechargeable
Battery life up to 5 sessions
Not very noisy
Hand-free
Cons
Price at the time of publication: $499.99
The Tsrete Electric Breast Pump offers efficient pumping due to its 2 modes that mimic a baby's natural feeding patterns. Each mode consists of 9 levels to effectively produce milk in a short time. The massage mode stimulates breasts to promote fast and comfortable, painless pumping. It comes with a 27mm flange that is suitable for most breast sizes. It also has an adjustable bra buckle that ensures easy breast pumping hands-free. Made from food-grade silicone gel and anti-backflow design, the breast pump ensures no contamination of breast milk. The closed wearable breast pump is comfortable to use anytime on the go.
Specifications
Weight:
No.of Modes: 2
Material: Food-grade silicone
Capacity: 14.89 ounces
Pros
Adjustable breast pump
Easy to clean
Durable
Great suction power
Hands-free
Safe
Prevents backflow
Painless pumping
No contamination
Lightweight
Portable
Cons
None
Price at the time of publication: $55.49
An electric breast pump will make your day easier and ensure proper nutrition for your toddler. Listed following are a few details that you need to keep in mind before investing in a breast pump.
How To Choose A Breast Pump
Hands-Free
Hands-free breast pumps allow you to carry on other activities while pumping. There are also wearable breast pump options, which can be placed in a bra to pump discreetly.
Noiseless Operation
Many breast pumps make very little noise. Look for these to conduct peaceful and relaxed pumping.
Adjustable Suction
Many breast suction pumps are equipped with different suction modes to let you pump milk at your convenience. They also allow you to adjust the speed to pump more milk flow in less time.
Breast Shields
The breast shield should be of an accurate size to let you comfortably pump milk. Some breast pumps feature with dual shields to pump milk from both breasts simultaneously.
Now, let's learn how to use a breast pump.
How To Use An Electric Breast Pump
The following steps will help you use a breast pump comfortably:
Step 1: Switch on the breast pumping machine.
Step 2: Select a suitable speed for efficient and painless pumping based on your baby's natural sucking frequency.
Step 3: After this, the machine will start doing its job while you can sit back and relax.
Step 4:When you observe that the milk flow has reduced, switch off the device and carefully remove the breast shields.
Step 5: Then, open the bottles and put caps onto them.
Step 6:Once done, wash the pieces that touched your body parts using warm soapy water.
Step 7: Now, let the washed pieces dry.
Note: the milk stays fine at room temperature for about 4 to 6 hours. You can consider placing the milk in the refrigerator for a maximum of 5 days.
Why Trust StyleCraze?
Aditi Naskar, who wrote this article, has a diploma in health and wellness. She understands that it's not always convenient for nursing mothers to breastfeed their babies. So, she recommends using these electric breast pumps. She spent a lot of time researching each product and going through their reviews on many forums. She settled on the above-mentioned products because they are easy to use, painless, noiseless, and portable.
Frequently Asked Questions
Does an electric breast pump increase milk supply?
Yes, electric breast pumps increase milk supply as they feature stronger suction, helping you produce milk for your baby faster and maximize your milk production.
Does an electric breast pump have side effects?
Yes, an electric breast pump can cause nipple and breast tissue damage if used the wrong way. Also, an incorrect setting might induce severe pain.
Are electric breast pumps worth it?
Yes, An electric breast pump is suitable for women who pump frequently or a working mother since it is faster than a manual pump and allows you to produce and retain more breast milk in less time.
Can I use an electric breast pump every day?
Yes, you can use an electric pump daily. Pump every 3 hours, or at least 8 times daily, until you have good milk production.
How much milk do you get from an electric breast pump?
An electric breast pump can get you 750-1,035 mL of milk.
Recommended Articles