10 Best Breast Tattoo Designs And Ideas For Women To Try
Inspiring works of ink art that embody the delicateness and power of women perfectly.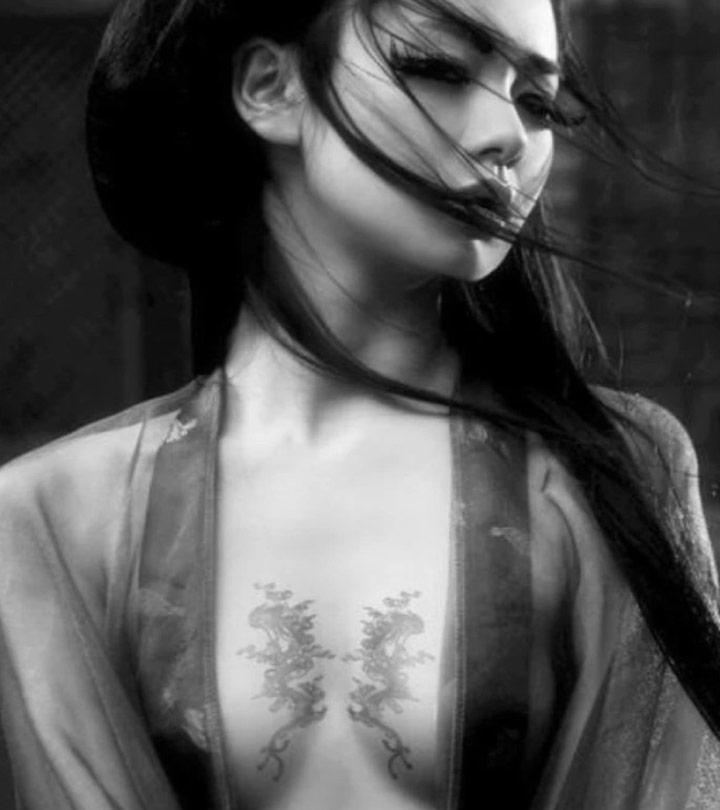 Want to get a tattoo that enhances your sexiness? Breast tattoo designs have become a rage among girls these days. The breast is the best place to get a tattoo for girls because it looks highly attractive, charming, appealing, and captivating. Recently many women are getting breast tattoos made after surviving breast cancer. We have collected some of the top breast tattoo designs for you in this article today. We have covered everything, including under the chest to side tattoos and quotations tattoo designs. Scroll down and check them out.
The Best of Tattoo on Breast Designs
Quick Tip
It usually takes about 7-10 days for breast tattoos to heal. Make sure to keep the area clean and dry. You may use an unscented soap for the first two days.
1. Butterfly breast tattoo:
Tattoo with butterflies and other extended designs have become very common among girls these days. Butterfly tattoo give a feminine look and look very charming, mesmerising and hypnotic. Adding colours to it will only make it more attractive.
2. Sexy breast tattoo:
Want to do something erotic? Get a beautiful tattoo made on your cleavage. These tattoos look very sexy and charming. Breast tattoos have the ability to attract others attention very easily. And if made on personal areas, these tattoos look more sensual.
3. Sweet breast tattoo:
Get a sweet and cute breast tattoo made to enhance your look. A tattoo on breast can look very trendy and classy. Woman who aren't held back by the words of the society can get these cute, feminine looking and colourful tattoos made on their breast.
4. Breast cancer awareness tattoo:
Want to spread breast cancer awareness? Get a breast cancer awareness tattoo inked. Not only do these tattoo look striking but will also help in spreading awareness among others. A variety of designs are available and you can choose the one you like.
5. Flowery breast tattoos:
Breast tattoos with different flowery patterns look very charming. Getting flowery breast tattoos made is a perfect idea for women, especially if the main of the tattoo is aesthetic appeal.
6. Quotation breast tattoo:
Quotation breast tattoo looks very charming and eye-catching. You can get any quote of your choice made on your skin. Getting quotations related to breast cancer or any other attractive quotes tattooed on your breast is a nice idea as well.
7. Funny breast tattoos:
Want to do something different? Looking for different tattoos at places where it looks very attractive? Get a funny tattoo made near your breast. These tattoos look very different, smart and hilarious.
8. Red ribbon tattoo:
Red ribbon specifies breast cancer. More and more women are more are getting these ribbons tattooed near their breast to spread breast cancer awareness among people all over the world. These red ribbon does not look sexy but play an important role in spreading awareness.
9. Designer breast tattoo:
Love beautiful designs? Want to get it tattooed on your breast? It is really a great idea. These tattoos are very eye catchy and add a very sensuous touch to your look. Get beautiful designs made and you can even add colours to make it more striking.
10. Celtic breast tattoo:
Want to get something different tattooed on your breast? These knot work designs are very attractive and different. Celtic breast tattoos are a very nice idea if you are looking for a breast tattoo that will stun! People are getting these tattoos made after undergoing breast surgeries after breast cancer.
Did You Know?
Miley Cyrus, Sarah Hyland, Demi Lovato, Rihanna, and Chloe Grace Moretz are some celebrities with breast tattoos.
Infographic: 5 Unique Breast Tattoo Ideas For Women
More and more women are open to getting inked on the breasts now. Breast tattoos ooze confidence and sensuousness. Breasts can handle any tattoo and enhance its appeal times ten. Many tattoos also stand testimony to a person's struggle, as breast tattoos often do to many an arduous battle with breast cancer. In this infographic, we cover five such designs that you will love.


While the term breast tattoos bring up an image of your whole chest covered in ink, it's not just that. Today, women are embracing different breast tattoos that show off their natural curves and bring out their sexiness. Many women who have survived breast cancer are getting inked to symbolize their strength and spread awareness. Be it a flowery breast tattoo or a Celtic knot design, the options are endless. All you need to do is look through some of the breast tattoo designs in this article for some inspiration.
Frequently Asked Questions
What is the tattoo between the boobs called?
Tattoos between the boobs are also known as sternum tattoos.
Is a breast tattoo painful?
Getting a breast tattoo can be excruciatingly painful. Due to the numerous nerve endings in that area, the nipples and breasts are particularly sensitive locations, making tattooing them extremely painful.
How long can you not wear a bra after a tattoo?
It depends on how well your tattoo is healing. Usually, you are advised not to wear a bra for two weeks. But always seek advice from your tattoo artist because each tattoo is unique and may call for a distinct set of safety measures.
The following two tabs change content below.