10 Best Breast Tattoo Designs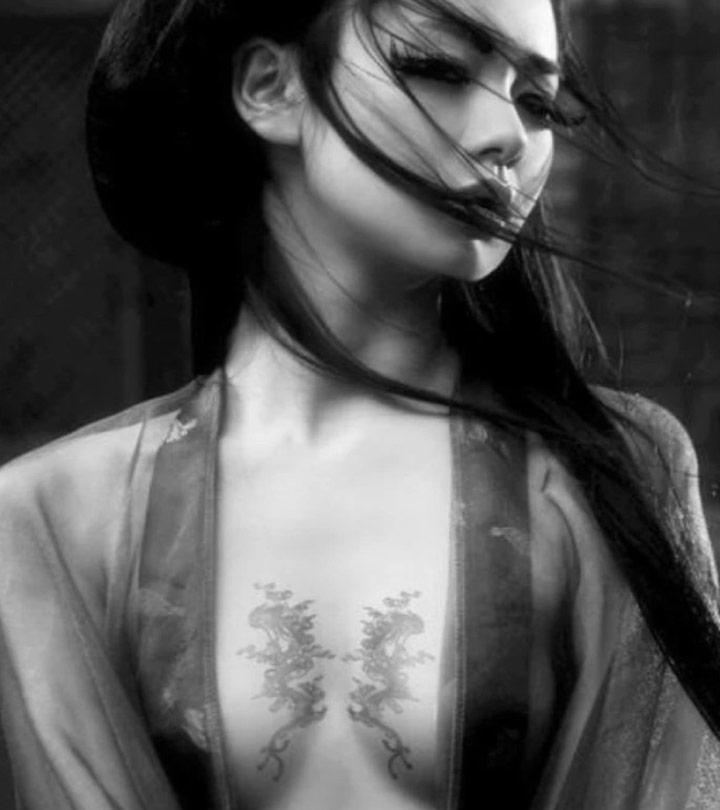 Want to get a tattoo made which enhances your sexiness? Tattoos on breast has become a rage among girls these days.  Breast is the best place to get a tattoo made for girls because it looks highly attractive, charming, appealing and captivating. Recently many women are getting breast tattoos made after surviving breast cancer.
The Best of Tattoo on Breast Designs
1. Butterfly breast tattoo:
Tattoo with butterflies and other extended designs have become very common among girls these days. Butterfly tattoo give a feminine look and look very charming, mesmerising and hypnotic. Adding colours to it will only make it more attractive.
2. Sexy breast tattoo:
Want to do something erotic? Get a beautiful tattoo made on your cleavage. These tattoos look very sexy and charming. Breast tattoos have the ability to attract others attention very easily. And if made on personal areas, these tattoos look more sensual.
[ Read: Foot Tattoos for Girls ]
3. Sweet breast tattoo:
Get a sweet and cute breast tattoo made to enhance your look. A tattoo on breast can look very trendy and classy. Woman who aren't held back by the words of the society can get these cute, feminine looking and colourful tattoos made on their breast.
4. Breast cancer awareness tattoo:
Want to spread breast cancer awareness? Get a breast cancer awareness tattoo inked. Not only do these tattoo look striking but will also help in spreading awareness among others. A variety of designs are available and you can choose the one you like.
[ Read: Chinese Tattoo Designs ]
5. Flowery breast tattoos:
Breast tattoos with different flowery patterns look very charming. Getting flowery breast tattoos made is a perfect idea for women, especially if the main of the tattoo is aesthetic appeal.
6. Quotation breast tattoo:
Quotation breast tattoo looks very charming and eye-catching. You can get any quote of your choice made on your skin. Getting quotations related to breast cancer or any other attractive quotes tattooed on your breast is a nice idea as well.
[ Read: Star Tattoo Designs for Girls ]
7. Funny breast tattoos:
Want to do something different? Looking for different tattoos at places where it looks very attractive? Get a funny tattoo made near your breast. These tattoos look very different, smart and hilarious.
8. Red ribbon tattoo:
Red ribbon specifies breast cancer. More and more women are more are getting these ribbons tattooed near their breast to spread breast cancer awareness among people all over the world. These red ribbon does not look sexy but play an important role in spreading awareness.
9. Designer breast tattoo:
Love beautiful designs? Want to get it tattooed on your breast? It is really a great idea. These tattoos are very eye catchy and add a very sensuous touch to your look. Get beautiful designs made and you can even add colours to make it more striking.
10. Celtic breast tattoo:
Want to get something different tattooed on your breast? These knot work designs are very attractive and different. Celtic breast tattoos are a very nice idea if you are looking for a breast tattoo that will stun! People are getting these tattoos made after undergoing breast surgeries after breast cancer.
So which one of these designs is your favourite? Leave us a comment!
Image Source: 1 , 2 , 3 , 4 , 5 , 6 , 7 , 8 , 9 , 10
The following two tabs change content below.