8 Best Breathing Exercise Machines To Buy In 2023
Much-needed devices allow you to breathe freely in the fresh air and rejoice!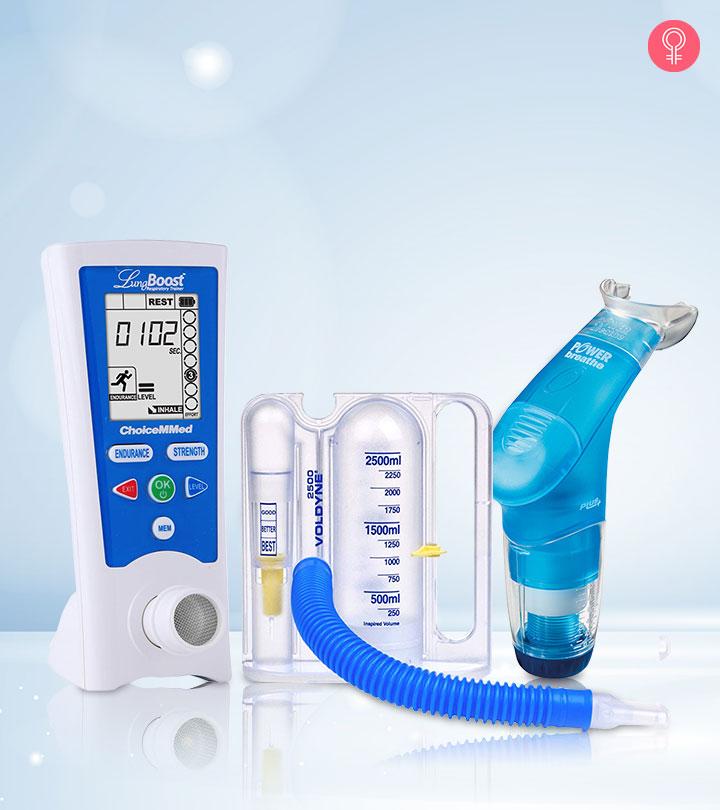 With the best breathing exercise machine by your side, you can perform lung exercises to enhance your breathing capacity. Don't worry; we have already curated a list of the most effective breathing exercise machines that you must consider now. Since breathing helps in coping with emotional trauma, relaxing the mind quickly, and giving the body the required stamina, you must take a moment to observe your breath. If you notice shortness of breath, make sure to consult a doctor immediately.
Top 8 Breathing Exercise Machines To Buy In 2023
This breathing exercise trainer improves the strength of the respiratory muscles and increases oxygen intake. Regular use of this device will help your breath get much deeper and longer. It also increases your breath-holding capacity and improves endurance through efficient lung function.  The is specially designed for COPD patients to remove trapped air in the alveoli for better air exchange. To find out more about this product, check out this video.

Pros
Easy to use
Improves oxygen circulation
Suitable for people with asthma
Comfortable silicone mouthpiece
Durable
Cons
None
Price at the time of publication: $25.0
Start your journey to fitness with the Ketoscan Mini Breath Meter. This portable machine measures your ketone levels and body fat-burning rate while exhaling breath. The device is noninvasive and needs to be blown into for 3 seconds for quick and optimum results, helping you monitor acetone levels, and body weight and keep track of calorie count.
The machine measures breath acetone concentration at 100 resolutions and gives highly accurate results. It is highly sensitive to hydrogen and ethanol while helping to monitor your acetone levels precisely. The device comes with the Ketoscan mobile app, which enables you to set your fitness goals and monitor your progress regularly. It helps to adopt healthy nutrition habits and switch to a fitness-based lifestyle.
Pros
Tracks diet and fitness
Monitors body metabolism
Accurate sensitive sensor
Quick precise results
100 measurement levels
Monitors weight, acetone level
Smart Ketoscan app
Calculate body fat burning rate
Easy to use
Cons
Price at the time of publication: $149.99
The Nemstar Breathing Exercise Device helps you improve your lung capacity and body stamina. The pulmonary exercise machine helps you tone your abs, burn more calories and build muscle strength through a healthy breath-holding habit. The respiratory exercise machine has multiple modes and gives you the option to train at the desired level of resistance. It enables you to build breath endurance along with strengthening lung capacity against environmental polluters and allergens. The machine is portable, simple to operate, and easy to clean. It is made of high-quality silicone material that ensures excellent durability even after frequent usage.
Pros
Improves breath control
Strengthens lung muscles
Adjustable resistance levels
Durable
Portable
Improves body stamina
High quality material
Easy to use and clean
Cons
None

Price at the time of publication: $19.99
This lung exercise device is suitable for people with COPD, asthma, dysphagia, and sleep apnea. It activates and strengthens the respiratory muscles. The highlight of this device is that it trains both the inspiratory and expiratory muscles independently. It improves airflow through the vocal cords, which is helpful for singers. It reduces short breathing and promotes diaphragmatic (deep) breathing. This video review will allow you to understand more about the product.

Pros
Lightweight and portable
Increases lung strength
Helps circulate oxygen to vital organs
Adjustable pressure settings
Easy to maintain
Cons
Price at the time of publication: $49.95
This scientifically proven breathing training device improves the strength and endurance of respiratory muscles. It is an upgraded version with 65% improved airflow dynamics. The lung exercises machine strengthen the respiratory muscles when you begin training. Check this YouTuber's video for a detailed review of this product.

Pros
Washable
Reduces breathlessness
Portable
immediate results
Cons
Price at the time of publication: $69.97
This breathing trainer has two training modes – endurance mode and strength mode – that are meant for enhancing your lung's physical strength. It is designed for athletes and singers who want to increase their lung capacity. When you inhale and exhale into this device, your lung effort level is displayed on the screen.

Pros
Easy to use
Multiple resistance levels
Removable mouthpiece
Cons
Price at the time of publication: $89.99
The breathing exercise devices are meant for people who are looking to benefit more from their physical training and workout regimen. Athletes and professional singers who want to improve their endurance and breath control through high lung volume capacity can go for this product. With regular use, this device will increase the volume of air you take in, with much deeper and longer breath cycles.

Pros
Multiple adjustable settings
Lightweight and portable
Includes a CD with a user guide
Durable
Cons
This breath training mouthpiece is designed to train your tongue to stick to the roof of your mouth for perfect nasal breathing. It is an ideal device for people with sleep apnea. It allows proper tongue placement in the mouth to avoid breathing from your mouth. This custom-fitted personal breathing device and the mouthpiece is made with medical-grade silicone material.

Pros
Lightweight and portable
Improves sleep
Enables maximum nasal breathing
Cons
Price at the time of publication: $35.0
These devices help minimize breathing problems in individuals with asthma and other breath-related conditions. Now, let's move on to the buying guide, which will help you find the right product.
Breathing Exerciser Buying Guide
1. Resistance
Depending on how strong your respiratory muscles are, you can pick a device's resistance level. Some devices provide resistance during inhalation and exhalation, and some provide it only during inhalation. Hannah Shine, a personal trainer, advises, "When it comes to choosing a respiratory muscle training device, it's important to listen to your body and start with a level of resistance that feels comfortable for you. Gradually increasing the resistance over time can help improve respiratory strength and endurance." For quick improvement, you can use a device that comes with double resistance. But if you are looking to increase your strength slowly, and if your breathing problem is relatively minor, a single resistance device will work just fine.
2. Portability And Size
Some breathing exercise machines with large volume capacity are heavy and huge. These devices are suitable if you plan to use them at home. But, there are other devices available that are lightweight and handy. If you travel often, these portable devices are perfect for you.
Improving your breathing can improve your quality of life. Pick a product that suits you, try it out, and let us know about your experience in the comments section below.
Why Trust Stylecraze?
The author, Aditi Naskar, holds a diploma in health and wellness and is always on the lookout for tools and devices that make life easy. She has done extensive research and read many online reviews on trusted forums to compile the list of the best breathing exercise machines. These listed exercise machines can effectively boost your lung capacity. These are also easy to use and effectively manage breath-related conditions like asthma.
Frequently Asked Questions
How does breathing exerciser work?
A breathing exerciser provides resistance and stability as you inhale and exhale. This helps your lungs work harder and get stronger over time.
how to increase lung capacity?
It enables your lungs to pump more volume of air in and out for maximum breathing experience.
Do breathing exercise machines work?
Yes. Consistent use of breathing exercise devices improves lung capacity and airflow. These machines are also effective in curing breathing issues like asthma.
How often should you use a breathing exerciser?
Use a breathing exercise for one to two hours daily for the best results.
Do breathing exercises make your lungs stronger?
Yes. Daily breathing exercises increase the oxygen level in your body, eliminate the collective stale air from the lungs, and help the diaphragm to breathe easily. Therefore, breathing exercises make your lungs stronger.
Is spirometer exercise good for the lungs?
Yes. A spirometer increases the amount of oxygen breathed in and aids in clearing the mucus from the lungs. But if you have active respiratory infections like Covid-19 and pneumonia, avoid using the device around people.
How do you know if a lung trainer is working?
A lung trainer improves your overall health. It relaxes your mind and makes you feel refreshed. So, if you sleep well and wake up the next day less agitated after using the lug trainer, you will know that the machine is working.
Can I do breathing exercises while driving?
Yes, you can engage in breathing exercises while driving. However, practice the exercises beforehand and become accustomed to them to avoid getting distracted on the road.
What are the benefits of breathing exercise machines?
Breathing exercise machines improve the overall breathing condition. They strengthen the lung capacity and increase the oxygen level in your body. With the effective use of these machines, you can experience easy breathing. They help treat respiratory diseases like chronic bronchitis, asthma, and emphysema.
Recommended Articles