13 Best Bridal Lingerie Sets For A Memorable Wedding Night
Adorn the fanciest and most comforting undergarments that flatter your body type.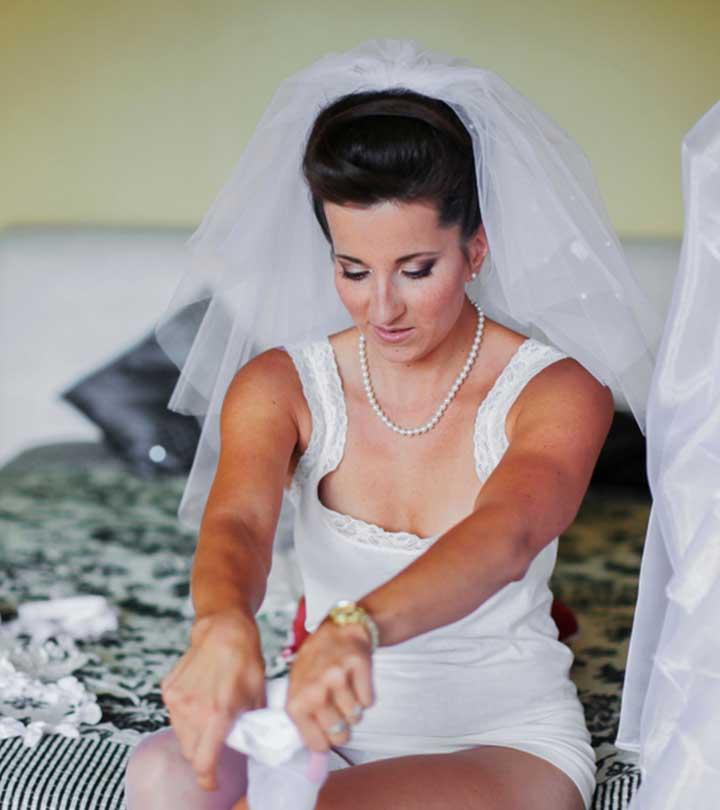 Often forgotten, the best bridal lingerie must be the topmost priority in every bridal shopping list as the wrong one would heighten the chances of a wardrobe malfunction. Beautifully crafted lingerie can make your wedding trousseau elegant and luxurious. Be it a romantic lace style or a vintage style; the ideal lingerie set can make you carry your wedding dress with confidence without a worry in the world. Whether you prefer a minimalist style or extravagant style, traditional white or a bold color, there's something out there for you. Besides styles, bridal lingerie also comes in various types, including sexy plunging necklines that are perfect for making a statement or even slip dresses and silk camis that are ideal for a minimalist look.
With so many options, choosing comfortable lingerie from the wide variety of lingerie can be overwhelming. To help you out and check off one thing from your to-do list, in this article, we sifted through the list of the 13 ideal bridal lingerie that you can wear ideally for your wedding night or honeymoon. We're sure that when you're done with this list, you'll find a set that works with all your needs and will make your special day all the more eventful!
13 Best Bridal Lingerie Sets For Your Wedding Night And Honeymoon
This super cute and elegant plus-size bridal lingerie lace number is the perfect addition to your wedding trousseau. It's made from a combination of cotton and polyester, which sits gently against your skin without irritating it or making it feel itchy. The lace Kimono robe is the perfect cover-up for your nightgown, lingerie and can be worn as a casual summer cardigan as well. It's popular because of the feminine features that include sheer lace design, butterfly sleeves, matching G-string underwear, and a satin belt that ties it all together. The added touch of having lace trimming along the edges of the robe takes the whole design to the next level, especially if you get it in black.
Pros
Soft and comfortable fabric
Butterfly sleeves
Mini length
Matching G-string underwear
Versatile
Available in a variety of colors
Cons
The belt may fray after a few washes
This stunning chemise is perfect for any bride and would make a great addition to your wedding wardrobe. The material combines soft lace and mesh and comes in a baby doll design that looks sexy and cute. It features front open closure, along with a deep V-neck and an asymmetrical hem that ties the whole style together. The front open closure can be cinched with hooks; it helps enhance the bust line without making it look tacky, and it won't bind your belly. This lace chemise is perfect for all body types because the fabric is quite stretchy. It will create the ideal silhouette without looking over the top. Lastly, the sexy chemise is available in over ten beautiful colors. If you don't want to stick to the traditional white route and would like to go bold, you can choose the perfect color for you.
Pros
Adjustable straps
Front open hook closure
Stretchable
Asymmetrical hemline
Available in over 10 colors
Suitable for all body types
Cons
The material may shrink a bit after the initial washes
Price at the time of publication: $9.99
This stunning plus-size bridal lingerie set is sexy without being too revealing. The nylon and spandex fabric sits perfectly on your body, highlighting your curves and giving you proper support. Although the cheeky design is made from delicate lace and elegant floral details, it also comes with a supportive bustier with playful satin bow accents on the straps. Speaking of straps, the ones in this set are quite comfortable and adjustable, so they won't be digging into your shoulders; also, the bra comes with a hook and eye closure, giving you optimal support and a snug fit. Additionally, the garter belt has heart-shaped cut-out panels that definitely impact and help create a memorable silhouette. Suppose you are looking for a soft lingerie set without being flimsy. In that case, we highly suggest that you consider purchasing this one.
Pros
Adjustable straps
Hook and eye closure
Supportive bustier
Snug fit
Stylish cut
Cons
It may not be true to size; you may have to size down
Price at the time of publication: $22.99
This plus-size bridal lingerie set hits all the right curves by providing optimal comfort and support. It's soft and non-itchy, thanks to the nylon and polyester fabric combination. The lingerie set has stylish yet practical features, like full floral lace cups, adjustable spaghetti straps, hook and eye closure, along a scalloped edge which adds to the whole feminine vibe. It's perfect for brides who want a high-waisted design for a smooth silhouette because it comes with a matching G-string panty and strappy cincher garter belt that gives the perfect illusion of long legs. This garter set is perfect for women who want to look sexy and have a smooth silhouette.
Pros
Stretchable
Non-itchy fabric
High waisted design
Full lace cups
Hook and eye closure
Adjustable straps
Cons
May not come with stockings
Price at the time of publication: $17.99
If you are looking for lingerie that you can wear under your wedding dress and on your wedding night, then this corset set by Topmelon is a great choice. It will provide you with a snug fit that won't suffocate you while giving you the desired hourglass shape. The soft material combines polyester and spandex, making it stretchable and gentle on the skin. In addition, the set includes premium quality components like a corset top, a G-string, and 4 garter belts, which are durable and suitable for any other formal outfit. The corset top also has supportive "bones" that provide structure and shape to your torso; the back also has hook and eye closures of different sizes, so you can adjust according to what you find comfortable.
Pros
High compression tummy control
Adjustable straps
Stretchable
Corset attached "bones" for support
Suitable for formal or semi-formal outfits
Cons
Must not be machine washed
Price at the time of publication: $23.99
We think you will agree that a classic baby doll slip style will never go out of style! The material is a soft and comfortable combination of polyester and spandex, making it lightweight and stretchy. The pattern also features adjustable shoulder straps, stretchy lace cups, and a snug under-bust band that fits well and does not sink into your skin. The sheer mesh skirt also has an open-back design which pairs perfectly with the matching lace panties, escalating the sexy and comfy vibe that all new brides will love. If you want to deviate from the classic white lingerie on your wedding night, we suggest you try the crimson or black variant, as it looks good on all body types.
Pros
Soft and comfortable
Stretchable
Adjustable straps
Underbust band for optimal support
Open back design
Cons
Some may find the g-strings fit uncomfortable
Price at the time of publication: $9.99
This adorable and sexy plus-size bridal shower lingerie set includes a 2-piece teddy that is soft and stretchable. Some of the appealing features of this set include a sheer floral chantilly lace detailing, along with scalloped lace trim, and adjustable straps that will sit comfortably on your shoulder without sliding down or digging into your skin. This is a perfect gift for any bride-to-be as it is stylish and silky soft as well. The set can be tied and untied with the help of the ribbons, and you can adjust the fit however you like, thanks to the ribbon length.
Pros
Tie-up closure
Soft
Stretchable
Adjustable strap
Sheer lace trim
Cons
May not be suitable for large bust sizes
Price at the time of publication: $19.99
Not only is this pattern flattering on everyone, but it is super comfortable as well. This white bridal lingerie is lightweight and breathable, making it perfect for your wedding night and honeymoon. Some appealing features include adjustable spaghetti straps and a sheer lace neckline with scalloped trim along the edge. The satin waist tie has a cute bow that accentuates the feminine design. The sheer eyelash lace skirt makes the whole design look sexy and alluring. The nightwear also has a back keyhole design and matching thong panty that takes the whole look to the next level. The whole White Lace Nightwear Set screams adorable without sacrificing sex appeal.
Pros
Hook and eye closure
Back keyhole design
Satin waist tie
Sheer lace skirt
Lightweight
Breathable
Cons
Some may find the fabric flimsy
Price at the time of publication: $13.99
Now, suppose you want a bodysuit that provides proper fit all over and a smooth, shapely silhouette. In that case, this bodysuit corset top is definitely the answer. It offers proper shape without any annoying underwire or boning structure; in fact, it is made from soft, stretchy fiber that is great to wear under form-fitting dresses as well. The corset size is more fitted than your regular size, so we recommend you size up if you don't want a fitted top. The bridal bodysuit also features a body con style slim pattern that highlights your curves and an adjustable strap that provides perfect lift and shape to your bust. Finally, suppose you are looking for classy bridal lingerie. In that case, we recommend this piece because it oozes sex appeal without being too revealing.
Pros
Underwire-free
Adjustable straps
Provides a smooth silhouette
Enhances your curves
Soft and comfortable
Cons
It may be too large for petite body types
If you're a bride who loves the allure of vintage bridal lingerie, then you will love this gorgeous floral lace lingerie set. Available in nine beautiful colors, this lace piece is made from a combination of high-quality polyester, polyamide, and elastane that feels soft to touch and won't leave you feeling itchy as well. The hook and eye closure keep the bra in place and ensure that you receive the best support. The fabric is lightweight and breathable, so you will feel cool and dry when you wear it. The sheer lace also has some beautiful floral details that make the whole ensemble look sexy and cute and helps add the much-need sensual charm to your appearance.
Pros
Lightweight
Breathable
Premium quality lace
Hook and eye closure
Adjustable straps
Cons
The material may not be very durable
Price at the time of publication: $27.99
Suppose you want something that resembles Victoria's Secret bridal lingerie designs while being on a budget. In that case, we suggest that you purchase this set by Kaei&Shi. The high-quality lace projects a wonderful feminine charm over the bra cups and thongs, and it provides the best support and a snug fit. The bridal bralette design also has a scalloped lace trim, which makes the set all the more attractive. In addition, the back hook and eye closure provide good support and an underwire that gives you good fixation. This push-up bra and panty set is perfect for any bride-to-be. It is soft and displays a super feminine style that suits every personality.
Pros
Hook and eye closure
Scalloped lace trim
Bralette style underwire
Sheer lace cups
Elastic waistband
Comfortable fit
Cons
The underwire may start poking out after long term use
Suppose you have a conservative style and would rather opt for something simple than something bold. In that case, we recommend this sweet lace chemise nightgown for your wedding night. The lace-trimmed polyester number is quite comfortable and soft on the skin. It's the perfect addition to your nightwear collection because the material is lightweight, breathable, and does not restrict any movement. This elegant number features minimal yet sultry features like a deep V-neckline, adjustable spaghetti straps, and floral lace details on the neckline and sides of the chemise. If you don't want to take the white route, you can always opt for colors like black and red that look equally mesmerizing when you wear it.
Pros
Deep V neck
Breathable
Lightweight
Sophisticated design
Floral lace detailing
Doesn't restrict movement
Cons
The chemise may not offer too much stretch
Bring out your sultry side with this seductive number! This vintage-inspired luxury bridal lingerie-inspired piece may look complicated, but it's easy to wear and super comfortable. The fabric is breathable and soft, and the lace sits perfectly on your skin without feeling itchy. The lingerie set is designed to highlight your curves in the best manner, without being over-the-top; it includes a lace bralette, high-waisted lace panties, and a waist cincher that has adjustable garter straps. The intricate lace details are perfect for brides who don't mind letting their feminine side shine; the garter belt has two cheeky heart-shaped keyholes that really add to the overall aesthetic of the lingerie set.
Pros
Soft and comfortable
Itch-free
High waist garter belt
Adjustable strap
Breathable
Lightweight
Available in six bold colors
Cons
Some may find the bra straps flimsy
Now that you know about the best bridal lingerie available online, you must know about the important features to look at when shopping for the perfect bridal lingerie set. Keep reading our buying guide to know more!
How To Choose The Best Bridal Lingerie
Many elements make a good luxury bridal lingerie, but the first thing you must look at is style. If you like the lean and classic style, we suggest you choose lingerie with a bra and panty set in a silk and lace combination. On the other hand, if you want a bold aesthetic, look for deep necklines, fun detailing, and striking patterns.
When looking for white bridal lingerie, you must look at the material and the fabric combination. This will let you know if it is soft, stretchy, and gentle on the skin. Look for materials that combine cotton or polyester and spandex as they are soft and lightweight. These materials also sit properly without rolling down or digging into your skin, and they are quite breathable too.
This is another essential component that determines whether the lingerie stays put and that it shouldn't ride up or roll down. You must consider this component when selecting thong or G-string styles in the lingerie set. These underwear styles tend to ride up or roll down when you move around or when you sit. So, you need to look for styles that stay put and don't move around. Also, look for bras that offer good support, and come with adjustable straps too.
The Bottom Line
Why Trust StyleCraze?
The author of this article, Priyam Gupta, is a fashion enthusiast who likes to explore and review products from reliable brands. Her quest for comfort in fashion has led to her researching the best bridal lingerie sets available on the market. She has gone through several online platforms to prepare this list. According to her, these lingerie sets can make you carry your wedding dress with confidence without a worry in the world. They are stylish, soft, and comfortable, and suitable for all body types.
Frequently Asked Questions
What are the various types of bridal lingerie?
Lingerie is available in many styles, from bra and panties, satin chemises, strapless bridal lingerie, to fitting corset bod suits. You will even find that slip dresses, garter belts, and suspenders fall into the bridal lingerie category as well.
Can I wear bridal lingerie under my wedding dress?
Of course, you can! However, you have to ensure that the bridal set you select is comfortable, breathable, and suits your dress style.
Is white lingerie only for weddings?
It's usually considered customary for new brides to wear white lingerie on their wedding night. However, you can break the rules and opt for a different color that makes you feel confident and sexy.
Recommended Articles:
Best Bras For Wedding Dresses – Breathable & Comfortable
Best Bralettes With Support That You Can Wear Every Day
Best Bralettes For All Bust Sizes
Best Lace Nursing Bras To Use For Every Need
Best Adhesive Bras For Wedding Dresses