10 Best Bridal Nail Polishes Of 2022 To Match Your Sparkling Ring!
Complement your look with vibrant yet classic nail polishes on your special day.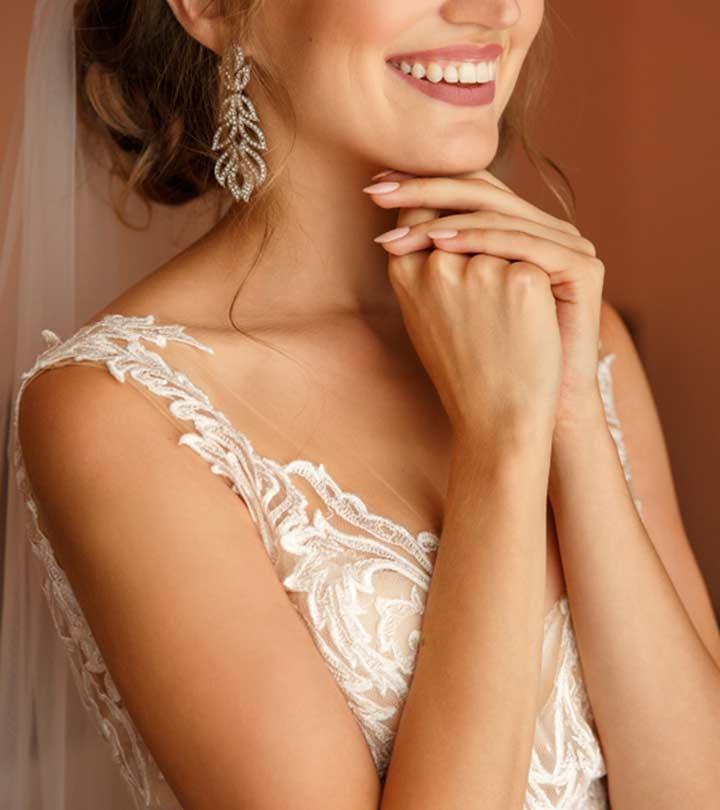 Before your wedding day, there are a lot of decisions you have to make. Starting from your wedding dress to venue, makeup, and the list goes on. Amidst so many things, you need to be picky about the nail color that you choose to wear. The best bridal nail polish should complement your entire look and your ring. When there are so many stunning colors available, don't go for a regular manicure. Though pastels and neutral colors are an all-time favorite, when it is your wedding day, you should step out of your comfort zone and try choosing a little more vibrant shade.
Whether you plan to be a classic, conventional bride or looking for something extraordinary, you can always choose a bridal nail polish that will go with your look. Here, we have wrapped up some of our top picks of the best bridal nail colors that you can choose from. Keep scrolling to find the best nail colors to wear on your big day.
Top 10 Bridal Nail Polish Colors That Are Absolutely Bride-Worthy!
Some might say that minimalism is the best way to live life and this barely-there pink-peach fusion lacquer will steal your heart on the first sweep. Intensely pigmented and leaving a flawless finish, it goes on smoothly and will not streak or leave an uneven layer. A great option for the minimalist bride looking for a subtle hue to go with the posy, you can trust this option from OPI wedding colors to save the day. To understand the nuances of the product in detail, you can check out this review.
Pros
Rich color
Chip-resistant formula
Long-lasting for up to 7 days
Ideal to use as a base coat too
Suitable for all nail types and skin tones
Cons
Some may find the consistency slightly runny
You'll need more than just the ring to make your nails blush, girls! Yep, let's make nail blush a thing this 2022 with this pink plush lacquer by Sally Hansen. With a long-lasting formula, you can enjoy the nuptials and everything afterward without having to touch it up for up to 8 days! This wedding gel nail color is a 2-step hybrid gel that requires no UV/LED light curing. Give it a try! Check out this YouTuber's review of this product.
Pros
Stunning gloss finish
Salon-worthy glow
Chip-resistant formula
Easy to apply and remove
The quick precision brush ensures a smooth application.
Cons
It may take a long time to dry.
Divine and diva-like, baby pink is going bridal this season. So, if you are looking for something pretty and pristine for your big day, this wedding nail polish will be a lovely match to your wedding day gown, bouquet, and ring. The formula is long-lasting, and it dries quickly, which means you don't have to worry about smudging or chipping post-application. You can also check this video out for a brief review of the product.
Pros
Sheer finish
Non-thickening formula
Creamy
Glides smoothly
Ultra-smooth texture
Cons
May require several coats for an opaque finish
Flaunt the color of pearls, now on your nails! Right out of a fairytale, this touch of pearl is all you need to get a princess-like feeling on your big day. The lacquer has a hint of sparkles that will add a subtle shimmer to your nail bed instantly. A stunning color with the shine of the natural pearl, the texture goes on smoothly, is chip-resistant, and has UV inhibitors to prevent fading too. Also, it has a round-tip brush that ensures even and optimal coverage with every sweep.
Pros
Sheer finish
Long-lasting formula
Delivers full coverage
Streak-free
Quick-drying
Suitable for French manicures and daily wear
Cons
Some may find it too sheer
Sassy, classy, and criminally underrated for the wedding season, this regal red will make the crowd go gaga over your nails. Formulated with a patented shock-resisting polymer technology, it ensures a limitless shine for up to 10 days. And that's not all; this sophisticated color is rich, vibrant, and claims to protect and strengthen nails too. Do you think you can handle the compliments? It's butter-smooth consistency glides on your nails like a dream and settles as a gel-like finish.
Pros
Ensures full coverage and shine
Fade-resistant
Chip-resistant
Free from formaldehyde, DBP, camphor, toluene, and more harsh chemicals
Cons
If sophistication was a color, Blushing Bride by Essie would be it. Exuding summer in every sweep, this subtle nail shade with a flush of pink can be worn alone or with nail art for a trendy chic appeal. It provides flawless coverage and is an ideal option for those who want to keep it simply sassy and beautiful this summer.
Pros
Fresh and bright texture
High on quality and durability
Free from formaldehyde, toluene, and DBP
Suitable for French manicures
Budget-friendly
Cons
This bright nail polish brings the ultimate bling factor that'll make you feel like a star! Give that gorgeous stone some gems and sparkles to shine with. Staying true to its name, Bronzed & Beautiful will give your nails a reason to glow in the spotlight. Luminous, vibrant, and leaving a metallic finish, this next-gen bridal color is a must-try for the trendsetters out there. And given its long-wear formula, your nails can enjoy a flaunt-worthy shine for up to 10 days!
Pros
Rich texture
Salon-worthy finish
Award-winning formula
Suitable for medium, deep, and deeper skin tones
Ergonomic design, cuticle-friendly, and streak-free
The brush ensures a smooth application. 
Cons
If you are looking for white nail polish, you must try this set of 4 vegan white nail lacquers. It includes Blanco Tiza (creamy white), Snow White (pearlescent silver-white), and 2 gorgeous white shimmers (Cosmopolitan and French) that ensure a flawless and salon-worthy sophisticated look with every sweep. With the shimmers adding the right amount of glamor to your avatar, there's no reason to give this heavenly bliss a miss!
Pros
Shimmery finish
Ensures high coverage
Fast-drying and long-lasting
Suitable to apply on natural nails, acrylic nails, gel nails, etc.
Free from formaldehyde, DBP, parabens, gluten, animal-derived ingredients, etc.
Cons
We found you something blue too! Dripping with elegance, this grey nail polish with mild blue undertones is making classic neutrals the new "hip" again. It delivers an opaque and slick finish in just 2 coats, so don't blame us if you cannot move on to another color after applying this effortlessly gorgeous hue. Richly-pigmented and good for the nails, it goes on smoothly and is easy to remove too.
Pros
Creamy texture
Vegan
Cruelty-free
Pregnancy-safe
Long-wear
Award-winning formula
Free from formaldehyde, toluene, DBP, camphor, and more harsh chemicals
Cons
May not suit all skin tones
When in doubt, trust the classics and Essie's Allure is a classic neutral with a seductive and sophisticated charm that'll chic up your bridal look instantly. It delivers a finish so flawless and pretty that you'll want to gram your nail look right away. Just the long-lasting formula you are looking for with a salon-worthy finish, this creamy and alluring sheer beige will have all eyes (even his) on your gorgeous nails. Still, want to miss it? 
Pros
High gloss shine
Streak-free application
Easy-glide brush
Even application 
Cons
Some may find the consistency slightly runny.
With that, we've got your nail needs covered for the big day! There you go, those were the 10 best bridal nail polishes of 2022 to explore. Do you still need assistance with choosing the best bridal nail polish? We have some tips for you in our buying guide below!
How To Select The Best Bridal Nail Polish?
Do you want your nails to be the star of the party and gossip? Look out for the following features before buying the product:
Although pastels and neutrals are safe options since they pair beautifully with every skin tone, you can experiment and choose a bold color too. Shades such as wine, red, lavender, and turquoise blue are quickly becoming a favorite amongst brides this season. Pastels, neutrals, or bold colors such as red or turquoise would look stunning on fair and light skin tones, while for medium to deep skin tones, deep pastel pink, beige, red, antique, or bronze-golden are ideal colors to explore.
Nail polishes are available in sheer, glossy, and metallic finish. Sheer nail polishes are a must-try for a natural look but may require more than 2 coats to deliver an opaque finish. Sleek and metallic nail polishes have intense pigments but may take longer to dry. You can also browse through reviews to get a better understanding before purchasing.
Save yourself from the embarrassment of nail polish fading or chipping. Pick a nail paint that is long-lasting, chip-resistant, and fade-proof. Ideally, gel polishes are great for brides as they last longer than regular ones.
Lastly, let not the excitement push you into picking a nail paint that might damage your nails or turn them yellow. Look for a nail strengthening formula, or choose a nail polish that does not contain harsh chemicals such as formaldehyde, camphor, toluene, DBP, and more.
Why Trust StyleCraze?
Chaitra Krishnan, the author of this article, is a makeup enthusiast who experiments with the latest products and brands. She considers makeup as an art form and makes every effort to select the best items for her readers. For this article, she has chosen the top bridal nail polishes that are affordable and skin-friendly. Her recommendations are based on well-researched reviews and user feedback gleaned from various sources.
Frequently Asked Questions
What kind of nail polish should I get for my wedding?
Choose a gel nail polish rather than a regular nail polish because they last longer and have a strong adhesive, which means they won't chip or fade quickly. Sally Hansen Miracle Gel Nail Polish and Butter LONDON Patent Shine 10X Nail Lacquer are some great options you can try.
Can a bride wear red nail polish?
Absolutely! Do not underestimate the flawless glow of red nail polish on your nails. The color goes beautifully with every skin tone and adds an instant oomph to the nails with its shine. If you are looking for a red nail polish to try, Butter London's Regal Red would be ideal.
Can I wear white nail polish to a wedding?
Yes, you can as long as you pair it with a white dress. White is a tricky color to pull off, however not if you have Eternal Cosmetics Bride to Be Set in your collection. It has pearlescent white with silver undertones and shimmer to make white a trendy color for all.
How soon before your wedding should you get your nails done?
Get your nails done one or two days before the wedding. A bride must wait till the last minute to get the nails done, so it looks fresh out of a salon on the big day and lasts longer through the week.
Recommended Articles