16 Best Brightening Face Masks To Remove Dead Cells & Tan Quickly
Bid farewell to dullness and dryness and brighten your skin from deep within.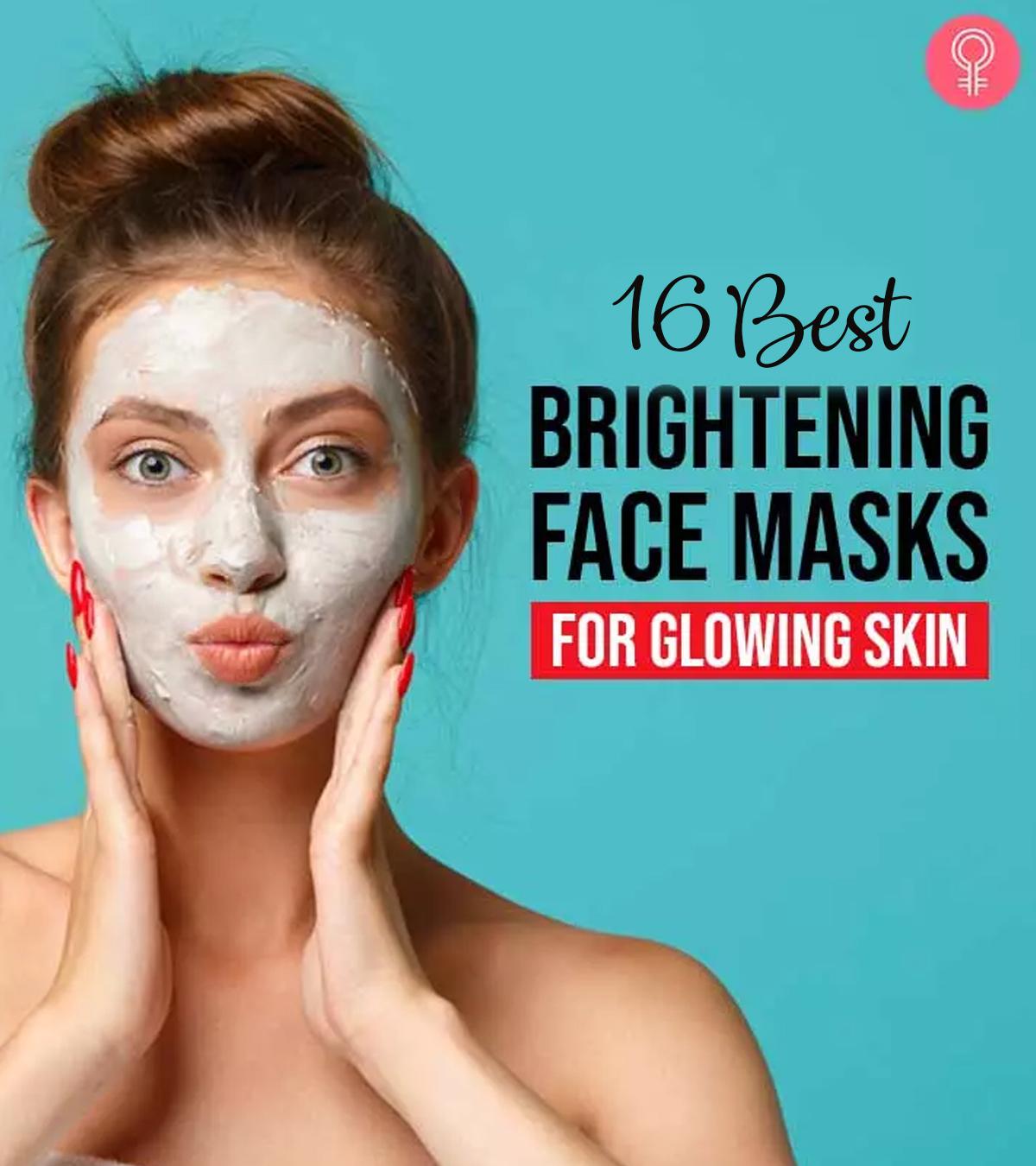 A dull face with dark spots and dryness can concern many of us. This condition can be due to various reasons. But what if we tell you choosing the best brightening mask can solve these issues in a shot? Yes. There is a range of face masks you can choose from. These are made of beneficial ingredients which can effectively tackle skin issues. However, with so many options, choosing the best product suitable for you can be tricky. So, read on to choose the one which suits your skin type.
16 Best Brightening Face Masks For All Skin Types
Skin Type: All skin types (do a patch test if you have super-sensitive skin)
This brightening mask contains a blend of fruit stem cells, vitamin C, and glycolic acid. These ingredients have an exfoliating effect on your skin and reveal brighter skin. This mask also contains nourishing ingredients like manuka honey and organic pumpkin extracts and is rich in beta-carotene that helps to give you an even skin tone and smooth texture. Once you apply it on your face, you will experience a tingling sensation. This is due to the AHA, and it means that the mask has started working.
Pros
Contains 98% nature-derived ingredients
Gluten-free
Cruelty-free
Vegetarian product
Non-GMO project verified
pH-balanced
Hypoallergenic
Paraben-free
Sulfate-free
No synthetic fragrances
No petrochemicals and preservatives
Cons
None
Skin Type: All skin types
This is a brightening sheet mask that contains pearl extracts. The powder of freshwater pearls infused in this mask has a clarifying effect on your skin. It has anti-aging benefits and brightening essences that improve and balance the skin tone and make your skin healthy and glowing. The mask also contains Lactobacillus that helps to nurture the skin microbiome and a white flower that keeps it moisturized.
Pros
Paraben-free
Sulfate-free
Hydrates the skin
Has a brightening effect
Doesn't irritate the skin
Made from biodegradable material
Cons
Skin Type: All skin types
St. Botanica Vitamin C, E & Hyaluronic Acid Brightening Face Mask is an antioxidant-rich brightening face mask. It is enriched with vitamin C, vitamin E, hyaluronic acid, botanical extracts, and zinc oxide. It removes dull skin cells to impart radiance and leaves your skin soft and shiny. Vitamin C naturally brightens the skin and plays an important role in the production of collagen. Hyaluronic acid diminishes the appearance of fine lines and wrinkles while providing deep hydration to your skin. Vitamins B3 and E treat dryness and bolster the skin's UV defense. Zinc oxide defends your skin against the harmful UVA/UVB sun rays and restores its elasticity. This face mask is loaded with powerful antioxidants and free-radical fighters that give you younger-looking and positively radiant skin.
Pros
Antioxidant-rich cream
Removes dull skin cells
Hydrates the skin
Reduces the appearance of wrinkles and fine lines
Moisturizes the skin
Brightens the skin
Cons
None
Skin Type: All skin types
The Mario Badescu Brightening Mask is formulated to address skin issues such as discoloration and dryness. This specially developed product contains a blend of ingredients like kojic acid and licorice root, mulberry, and grapeseed extracts that help minimize uneven skin tone. It also contains ingredients like olive leaf extract and vitamin E that nourish your skin and beeswax that helps lock in essential vitamins and nutrients, giving you a brighter, glowing, hydrated, and clear skin.
Pros
Fades dark spots effectively
Visible and fast results
Effective in reducing pigmentation issue
Pleasant fragrance
Contains botanical extracts
Cons
Contains parabens
Might leave a residue after washing.
Skin Type: All skin types
This brightening face mask works as a perfect detox mask for your skin. It contains a potent blend of Moroccan argan extract and chlorella. The Moroccan argan extract conditions your skin and keeps it moisturized, while chlorella provides your skin with essential vitamins and omega-3s that add glow to your face. It also contains niacinamide that improves the appearance of your pores and reduces dullness and pomegranate extracts that provide anti-aging support to your skin and reduce fine lines.
Pros
100% vegan product
Paraben-free
Sulfate-free
Mineral oil-free
Petrolatum-free
Formaldehyde-free
Cruelty-free
USDA-certified biobased product
Pleasant fragrance
Doesn't irritate the skin
A little goes a long way
Travel-friendly
Cons
Quantity is very less for the price.
Skin Type: All skin types
The bliss mighty marshmallow Bright & Radiant Whipped Mask has an airy texture that glides smoothly onto your skin. The hydrating marshmallow root extract helps illuminate your skin. Vitamin C combats free radicals and protects the skin collagen while reducing uneven skin tone. Olive leaf extract restores the skin's natural moisture barrier.
This face mask also contains naturally purifying citrus, eucalyptus, and pine oils that act as natural toning agents and remove toxins. It rejuvenates and smoothens dull, tired skin and treats discoloration.
Pros
Hypoallergenic
Vegan
Cruelty-free
Sulfate-free
Paraben-free
Phthalate-free
Mineral oil-free
Lightweight
Non-greasy
Cons
None
Skin Type: All skin types 
This is a fast-acting brightening face mask. This skin treatment contains vitamin C and lactic acid that help reduce dark spots and pigmentation and refine your skin pores, reducing their appearance. It helps to remove dead skin cell build-up and contains pre-exfoliator particles that promote better ingredient absorption. This will help your skin get the full benefit of the ingredients. This product claims to give you even-toned skin in just one use. With regular use, you will achieve clear and brighter skin.
Pros
Contains salicylic acid
Paraben-free
Sulfate-free
Light and pleasant fragrance
Cons
Contains PEG
May not give the same results for all skin types.
Skin Type: All skin types
This is a gentle exfoliating face mask loaded with active botanical ingredients. The main purpose of this mask is to restore your skin, improve radiance, brighten it, and refine the appearance of skin pores. It contains a locally sourced superfruit, Davidson plum, which helps brighten your skin and rejuvenate it. The desert lime extracts hydrate your skin and boost collagen development, aloe vera soothes the skin and reduces redness, and bentonite clay deep cleanses your skin and eliminates impurities. It also contains witch hazel that draws out excess oil and vitamin E that protects your skin from free radicals.
Pros
Paraben-free
Sulfate-free
Natural ingredients
Contains bentonite clay
Cons
Might cause a burning sensation.
Skin Type: Combination and dry skin types 
This is a natural enzyme and BHA-powered mask that claims to reduce dullness and the appearance of your skin pores to give you bright and healthy-looking skin. It contains natural BHA derived from white willow bark extracts that exfoliates your skin and minimizes the appearance of pores. The pomegranate enzymes in this mask slough off dead skin cells and improve skin texture. It also contains pink clay that absorbs excess oil and dirt build-up to refine the pores. Together, all these ingredients give you radiant and glowing skin.
Pros
Cruelty-free
Paraben-free
Sulfate-free
Formaldehyde-free
100% vegan
No synthetic fragrances and colors
Phthalate-free
No harmful chemicals
Cons
May take time to show results.
Skin Type: Normal, dry, combination, and oily skin types
This overnight facial mask has a souffle-like texture that melts instantly into your skin. It contains vitamin C and wild rose extract that penetrate deep into your skin, provide intense hydration, and reduce dullness, uneven skin tone, and texture. The fatty acid-rich wild rose oil in this product is further boosted by hyaluronic acid and leaves you with plumper and brighter skin by morning. This sleeping facial also enhances skin elasticity and improves the appearance of wrinkles.
Note: It may contain traces of nuts/wheat. If you are allergic, do not use the product.
Pros
Dermatologically tested
Recyclable packaging
Vegetarian product
Paraben-free
Sulfate-free
Phthalate-free
Non-greasy
Non-sticky
Cons
No products found.
Skin Type: Normal, oily, dry, and combination skin types 
This anti-aging mask features the antioxidant-rich superfruit Japanese beautyberry along with two types of vitamin C and AHAs naturally derived from fruits. The Japanese beautyberry helps stabilize vitamin C and improves its efficacy. The 10% AHA complex derived from fruits helps remove dead skin cells and improve skin texture. It also promotes cell regeneration. This product also features Tatcha's signature trio – green tea, rice, and algae extracts – the anti-aging superfoods that help restore bright and youthful skin.
Pros
Contains naturally derived ingredients
Paraben-free
Sulfate-free
Gluten-free
Cruelty-free
Formaldehyde-free
Phthalate-free
Cruelty-free
Non-comedogenic
Non-irritating
Dermatologist-tested
Non-sensitizing
Urea-free
Mineral-oil free
No synthetic fragrances and colors
Cons
None
Skin Type: All skin types
This brightening facial mask is made from 100 % gel. Compared to paper sheet masks, this skin-brightening hydrogel mask holds up to 50% more essence/serum. It is a single-use facial sheet mask that claims to work in 15 to 30 minutes. It is enriched with vitamin B3 that hydrates your skin and makes it bright, luminous, and even-toned.
Pros
Non-comedogenic
Clinically proven results
Hydrating
Visible results
Cons
Some users may not like the fragrance.
Skin Type: All skin types 
This brightening face mask is inspired by iontophoresis, a skin treatment in which the skin is saturated with brightening ingredients. The Ion Force Technology helps the brightening ingredients get deeply absorbed into your skin layers to give effective results. It brightens the skin and helps improve the glow and natural radiance. It is made with highly elastic materials, so it fits any face shape easily.
Pros
Paraben-free
Sulfate-free
Phthalate-free
Clinically tested
Dermatologist-tested
Ophthalmologist-tested
Keeps the skin hydrated
Helps reduce dark spots
Cons
Skin Type: All skin types
This mask is infused with diamond particles and hyaluronic acid that gently exfoliate dead skin cells, supply moisture to dull, dry skin, allowing it to absorb essential nutrients better. The presence of niacinamide in this product brightens and even tones the skin while cranberry and pomegranate extract soothe the skin, improve its elasticity, giving it a healthy, youthful glow. The whitening and moisturizing effect of the mask leaves your skin feeling fresh and full of life.
Pros
100% cellulose mask
Silicone-free
Mineral oil-free
Cons
Might irritate sensitive skin
Alcohol-like smell
Skin Type: All skin types 
This is a skin-brightening and moisturizing facial mask. It contains shea butter that deeply hydrates your skin and helps protect and strengthen the natural moisture barrier of your skin. It protects your skin from any damage caused by environmental exposure and irritation that might cause dark spots, pigmentation, and skin discoloration. It improves skin tone and texture and restores radiance and hydration to dull and dehydrated skin.
Pros
Paraben-free
Fragrance-free
Allergy tested
Keeps the skin moisturized
Reduce blemishes
Improves uneven skin tone
Cons
Skin Type: All skin types 
The face mask contains pumpkin and neem extracts along with fruit enzymes and vitamin E. It is like a superfood specially developed for your skin with all-natural and skin-loving ingredients. These ingredients help to instantly balance and restore tired and dull skin. It contains glycolic acid, which has a mild exfoliating effect on your skin and helps reveal fresh and bright skin. It delivers essential nutrients, antioxidants, essential amino acids, vitamins, and minerals to your skin to keep it bright and glowing.
Pros
Non-GMO
Paraben-free
Phthalate-free
Vegan
Gluten-free
Cruelty-free
Sulfate-free
Cons
None
Why Trust StyleCraze?
Shiboli Chakraborti, the author, is a certified skin care coach and an expert on all things skin care. A brightening mask reduces dark spots and dryness. This is why Shiboli recommends using these brightening masks. She chose these products after spending hours reading through reviews and conducting extensive research. Keep your skin radiant with these masks thanks to their special ingredients and skin care benefits.
Frequently Asked Questions
How do you use a brightening mask?
Apply a brightening mask to clean skin and keep on for around 15 minutes before washing your face with lukewarm water. Then, follow up with a moisturizer or serum.
What happens if you keep a mask on too long?
When you wear a facemask for an extended period, your face sweats excessively. Sweat and heat, along with the friction caused by the masks, can clog your pores.
How long can sheet masks be kept?
You can keep sheet masks on for 15-25 minutes. However, sheet masking should not last more than 30 minutes.
Can I apply serum after a face mask?
Yes, you can apply serum after using a face mask.
Do I use moisturizer after a face mask?
Yes. After you remove your face mask, moisturize your skin while it is still damp.
Recommended Articles