10 Best Bronze Eyeshadows Of 2023
Get ready to dazzle in the parties by just dabbing these shimmery shades on your lids.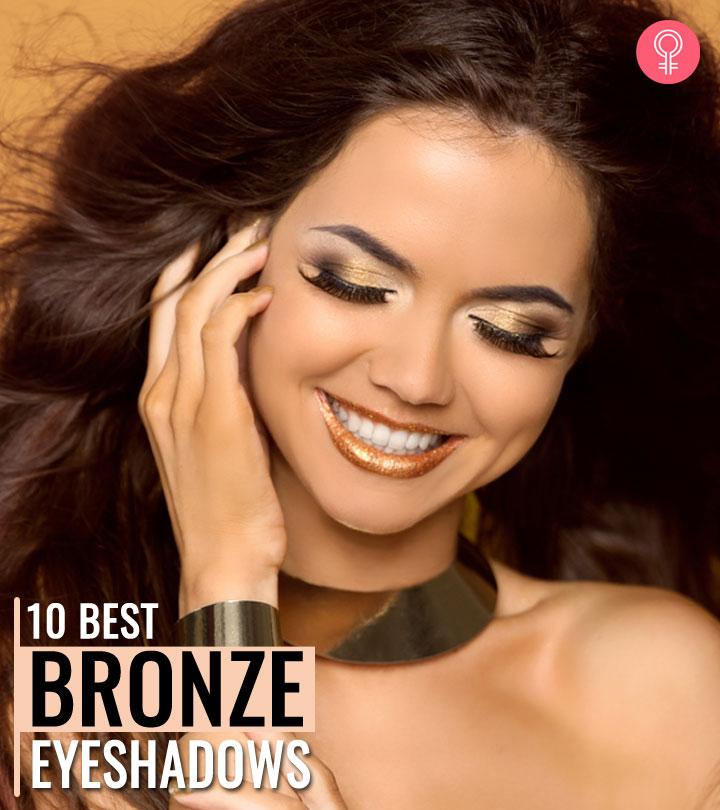 There is something about wearing the best bronze eyeshadow that can turn heads. As flattering and versatile as it is, it compliments almost every skin tone and gives the highlight that makes your eye makeup the focus of your face. If you haven't experimented with shades of eyeshadow already, we will give you enough reasons why bronze should be your go-to color. Bronze complements your looks for every kind of dress-up. Be it an extravagant party or just a day at the office, a dab of this metallic color will never let you down. Here are 10 shades with the highest rating to always keep your eye makeup on point.
10 Best Bronze Eyeshadows Available Right Now
Maybelline Eyestudio 24 Hr ColorTattoo eyeshadow in the shade Bad to the Bronze is highly recommended for its creamy texture and saturated color. This gel-cream eyeshadow glides smoothly on the skin and lasts for 24 hours! The innovative ink technology ensures the color is intense and does not crease or dry out. This beautiful bronze shade compliments most skin tones. For a more detailed review of this product, here's a video.
Pros
Long-wearing
Crease-resistant
Does not fade
Highly pigmented
Blends easily
Cons
Starts to dry out after six months
Price at the time of publication: $11.5
This warm bronze shimmer eyeshadow from Julep is highly pigmented and crease-resistant. This long-lasting creme-to-powder eyeshadow sets in 30 seconds and lasts for a long time. You can use the built-in smudger to blend the bronze shimmer. This waterproof eyeshadow stick does not bleed and is easy to use. It is enriched with vitamins E and C that protect the skin from sun damage, free radicals, and aging. These nutrients also improve your skin tone and texture. The bronze shimmer adds a subtle hint of glamour and drama to your basic makeup. Know more about this product in this video.
Pros
Sets instantly
Waterproof
Does not crease
Brush-free application
Long-lasting
Nourishing formula
Cons
The quality of the stick can be improved
Price at the time of publication: $16.0
Maybelline New York The City Mini Palette in Rooftop Bronzes contains six hades of bronze. It is inspired by the colors you can from NYC rooftops, making this eyeshadow palette truly iconic. The warm rose and copper tones in creamy formula glide seamlessly on your eyelids, adding depth and dimension to them. The rich pigments accentuate your eyes and can be used to create custom eye looks, from subtle natural everyday looks to sultry party makeup. This New York City-themed palette is one of the best bronze eyeshadow palettes currently available. Learn more about this product in this video.
Pros
Creamy formula
Effortless application
Highly pigmented
Versatile
Affordable
Cons
Price at the time of publication: $7.16
Maybelline New York Expert Wear Eyeshadow Quad is compact, portable, and lightweight. The 4 different bronze shades compliment each other and can be used to create different makeup looks. The eyeshadows blend well as they are made with jet-milled pigments that give them a silky finish. These eyeshadows last up to 12 hours without creasing or fading. This palette is affordable and easy to use.
Pros
Easy to blend
Silky smooth finish
Long-lasting
Reasonably priced
Comes with simple instructions
Cons
Price at the time of publication: $5.98
Maybelline Color Tattoo Eye Chrome Eyeshadow in the shade Bronze Sheen has an intensely metallic finish. This liquid eyeshadow is highly saturated and long-lasting. Its doe-foot applicator helps in an easy and precise application, while the creamy formula glides over the eyelids smoothly. This eyeshadow is bold and vibrant, making it perfect for a night out.
Pros
Highly pigmented
Bold metallic finish
Long-wearing
Easy-to-use doe-foot applicator
Blends easily
Cons
Price at the time of publication: $4.9
WUNDER2 Super Stay Stick Eyeshadow is lightweight and waterproof. It blends well and lasts long without drying out as it contains aloe and silk proteins. The shade Antique Bronze offers an intense color that can be used as an eyeshadow or an eyeliner. The eyeshadow does not smudge or transfer and is very comfortable to wear. It comes with a sharpener and is easy to use.
Pros
Long-lasting
Transfer-resistant
Smudge-proof
Cruelty-free
Paraben-free
Waterproof
Cons
Not suitable for oily skin
Price at the time of publication: $19.0
This beautiful matte and shimmer palette in natural bronze tones from CATKIN is highly pigmented. The creamy texture blends well and is safe to use. It is made with high-quality ingredients that are plant-based. The SUNSET palette has nine bronze-based shades that can be used for different occasions such as parties, weddings, and even nude makeup looks.
Pros
Highly pigmented
Creamy texture
Cruelty-free
Vegan
Waterproof
Cons
Price at the time of publication: $9.99
Pure Ziva Eyeshadow in the shade BrownSun Drenched Chocolate is a beautiful bronze shimmer pressed powder that will accentuate your eyes. This dermatologically tested eyeshadow is cruelty-free and safe to use. It does not contain talc or parabens, making it suitable for all skin types. The neutral shades bring out your natural eye color beautifully. This velvety matte eyeshadow can be used to create a gorgeous bronze smokey eye look!
Pros
Dermatologically tested
Paraben-free
Talc-free
Vegan
Matte finish
Cruelty-free
Cons
May flake or crumble easily
Price at the time of publication: $13.99
Urban Decay Eyeshadow Compact in the shade Half Baked is a beautiful bronze eyeshadow with a shimmer finish. It is highly pigmented and long-lasting. This cruelty-free eyeshadow can be used as a wet or dry product to achieve different finishes such as shimmer or satin. The creamy product blends well and does not fall out. This bright bronze eyeshadow does not crease or smudge easily. It is recommended by makeup artists and beauty gurus for its versatility.
Pros
Easy to blend
Richly pigmented
Can be used wet or dry
Versatile finish
Cruelty-free
Cons
Price at the time of publication: $23.8
Palladio Cosmetic Baked Eyeshadow in the shade Bronzee is a weightless powder with a subtle shimmery finish. It can be used wet or dry to create various looks. The smooth texture of the eyeshadow blends well into the skin and can be used to achieve subtle highlights. The highly pigmented color of the eyeshadow lasts long and does not streak. This eyeshadow is suitable for people with sensitive skin as it does not cause any irritation.
Pros
Lightweight
Shimmer finish
Silky smooth texture
Suitable for sensitive skin
Can be applied wet or dry
Highly pigmented
Cons
None
Price at the time of publication: $7.99
You can quickly get that perfect metallic look on your eyelids when you use a bronze eyeshadow that effortlessly soothes your skin. But choosing the best bronze eyeshadow that works can be challenging. So, to help you find the right bronze eyeshadow, check out this buying guide.
What To Consider Before Buying The Best Bronze Eyeshadow
Bronze eyeshadows are available in both powder and creamy forms. Creamy eyeshadows usually apply smoothly, add depth and last longer on the skin. At the same time, powder eyeshadows are lightweight and set in quickly to provide seamless coverage. So, choose the best one that soothes your skin type and formula preference.
Ensure the product has moisturizing components that hydrate your eyelids, as dry formulations are difficult to apply and might look cakey. Avoid using toxic ingredients that could hurt your sensitive eyelids. Instead, look for bronze eyeshadows free of substances like phthalates, alcohol, talc, sulfates, and other toxic chemicals. Ensure the product is safe for the skin. So, invest in a bronze eyeshadow that has passed ophthalmological and dermatological testing.
Waterproof eyeshadows will give you those added hours of durability that you seek from any of those. It will also help you retain the solid look without getting it all over your face, giving you a smudge-free result.
Make sure your bronze eyeshadow blends well. Bronze eyeshadow is shimmery and usually difficult to blend once it is set. Therefore, check the description to know if the product is easy to apply and gives you the best results.
Ensure that the bronze eyeshadow you choose is reasonably priced. You can also find high-quality goods for less money. However, a low price is not usually a sign of good quality. To choose the best eyeshadow, research online, read reviews, or look for recommended products.
Bronze eyeshadows are extremely versatile. They are available in different textures and finishes, such as creamy, satin, matte, shimmer, and metallic. From warm tones to neutral shades –there is a bronze eyeshadow for everyone! So, go ahead and grab a bronze eyeshadow from our list to create that Insta-worthy makeup look!
Why Trust StyleCraze?
Eyeshadows are a must for the perfect makeover. Here, Baishali Bhattacharya, certified in makeup techniques, has curated a list of the best bronze eyeshadows to enhance your look. She has compared and reviewed several products available in the market and has prepared this complete guide, apart from listing features, pros and cons, and buying links for her readers. Go through this post to pick the best one product for you.
Frequently Asked Questions
Does bronze eyeshadow suit green eyes?
Yes. Bronze eyeshadow makes your green eyes pop. It complements the green tints of your eyes and makes them appear more prominent.
Is bronze eyeshadow good for blue eyes?
Yes. Bronze eyeshadows with orange undertones look flattering on blue eyes.
Is bronze eyeshadow good for brown eyes?
Yes. Light bronze eyeshadow brings out the hazel hints of your brown eyes.
How long does an eyeshadow palette last?
The shelf life of an eyeshadow palette is one to two years.
How do you clean an eyeshadow palette?
• Pour a few drops of the makeup remover or micellar water on a cotton pad.
• Take a small brush and wipe off the excess color particles from the body of the palette.
• Press the pad on the palette surface or in between the shades. Wipe the pad and remove the dirt.
• Wipe the palette with a clean cloth.
How do you fix a broken eyeshadow palette?
• Transfer the broken eyeshadow into a small plastic bag. Seal the bag tight.
• Take a spoon and press it against the plastic bag and crush the eyeshadow particles into powder.
• Pour the powder into an empty container.
Recommended Articles