11 Best Bronzer Brushes of 2023 To Get A Flawless Sunkissed Glow
Opt for brushes that help achieve patch-free, flawless, and natural makeup looks.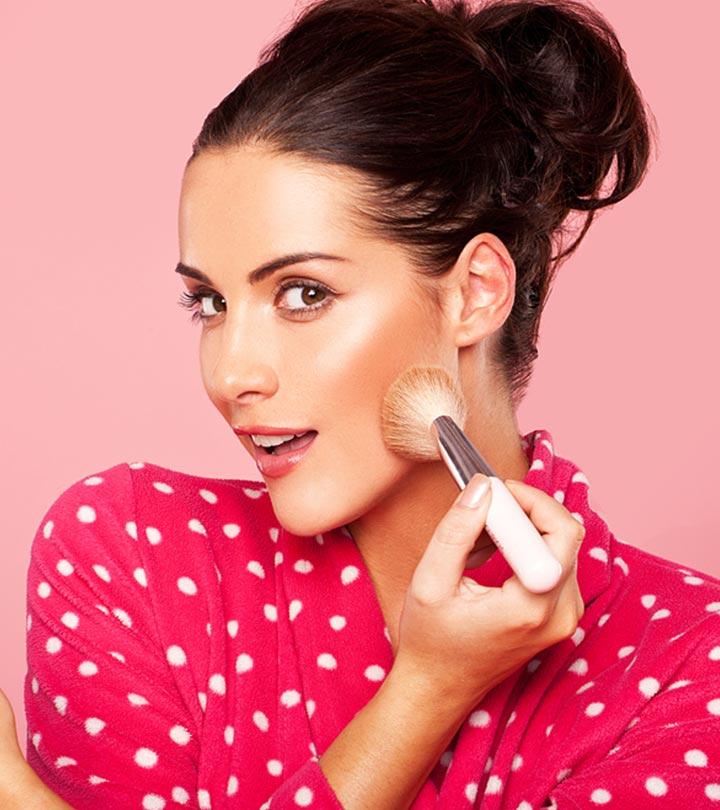 Using a bronzer without the best bronzer brushes may not be as effective as you think. A bronzer brush ensures that you apply just enough product without wasting too much. It also ensures that your bronzer does not look patchy or flaky on your skin. Although these brushes may be slightly expensive, we suggest you invest in one to get the perfect golden-beige glow. Check out this article to know more about bronzer brushes and pick from the list – these are built to give you a flawless, natural-like tan without the sun.
What's a Bronzer Brush?
A bronzer brush or kabuki brush is available in different sizes with dense bristles that allow seamless blending. You can also use a stippling brush instead if you are comfortable using one. Now, these brushes are available with synthetic bristles, which are suitable to use with cream or liquid bronzers, and natural bristles, which are ideal for pressed powder bronzers.
Why the difference? Synthetic bristles may not hold powder efficiently, whereas there's a high chance that natural bristles may absorb all the moisture in the cream or liquid product. So, according to your needs, pick an ideal one!
Now, go get bronzed with the best bronzer brush below! Check out our list of 11 best bronzer brushes of 2023 for you:
Read on to know more!
Top 11 Best Bronzer Brushes Of 2023 You Cannot Miss! (With Reviews)
Ultra-luxe is the word for this bronzer brush. With a large head full of feather-soft bristles, this bronzer brush promises a full coverage with a luxurious feel. Gliding on the skin without causing any irritation, it can also be used to powder or blush the cheeks. And did you notice the metallic copper handle? Adding a premium touch to your makeup collection, this large-headed bronzer brush is a great option to cover maximum areas on the face in one go. If you need further convincing, check out this YouTuber's review.
Pros
Cruelty-free product
Delivers a sheer coverage
Promises a high definition look
Enhances complexion with a mattified finish
Cons
Price at the time of publication: $10.99
For all the vegan makeup lovers out there, here's a kabuki brush that'll make you feel glorious inside-out. Made of recycled aluminum, plastic, as well as 80% bamboo fibers and 20% cotton, it's a great option for earth-conscious makeup lovers too. Use it to apply powder or bronzer; its synthetic, dense, and super-soft bristles ensure high-performance and full coverage only. Also, this compact brush comes with a lid, which means you can use it on-the-go, and it will fit in your backpack or handbag easily! Why skip it, busy bees? You can check this video out if you need to know more about the product.
Pros
Cruelty-free product
Compact and easy-to-use
High-quality brush and ultra-soft
Ideal to use with cream and liquid bronzers.
Environment-friendly and packed with tree-free paper
Cons
Not recommended to use with a pressed powder bronzer
Price at the time of publication: $8.37
Blend like a professional makeup artist with this kabuki brush set! A great option for those who switch between powder or liquid bronzers regularly, these brushes guarantee an airbrushed finish with every use. Use the flat kabuki brush with liquid or cream bronzers and watch them cover even the most problematic areas effortlessly. The rounded kabuki brush, on the other hand, guarantees a flawless finish and covers large areas like a pro too. Just the cute addition you need in your makeup kit to flaunt your bronze look— give them a try!
Pros
Easy to use and clean
Compact and travel-friendly
High-quality and made of raw materials
Ultra-soft and silky-smooth bristles
Chemical-free and cruelty-free product
Crafted by makeup artists for long-lasting usability
Cons
Price at the time of publication: $9.99
What's so flawless about this bronzer brush? Its super-soft synthetic bristles have strong holding power and will deliver sheer and natural coverage too. And adding to this, it has a slightly pointed top to provide seamless contouring as well! Covering all the large areas and providing a high-definition sunkissed glow, who needs a beach getaway when this drugstore bronzer brush by e.l.f can deliver a flawless finish in the comforts of your home! Try it.
Pros
Cruelty-free and vegan product
Ensures a no-streak even coverage
Easy-to-use with an ergonomic design
Free from phthalates, triclosan, parabens, nonylphenol, triclocarban, etc.
Suitable to use for liquid bronzer, powder, and blush
Cons
May require frequent cleaning
Not ideal for pressed powder bronzer
Price at the time of publication: $4.19
Looks premium, doesn't it? Well, it feels like one too! Reawaken the beauty and bronze goddess within you with this dome-shaped kabuki brush by Anne's Giverny. Too cute and soft to be skipped, its lightweight structure with a large head will cover large areas like cheeks and forehead in a few sweeps! And since the bristles are made of natural fibers, they'll pair with powdered bronzers perfectly. Just what you need to pamper your skin with a luxurious tanned look, don't miss this rose-pink bronzer brush this season!
Pros
Cruelty-free product
Large and high-quality bronzer brush
Delivers medium to sheer coverage
Easy-to-use with good-grip structure
Suitable to use with finishing powder, blush, and foundation
Cons
May be too large for a petite face
Price at the time of publication: $7.98
Meet the father of all kabuki brushes! With a colossal bristle head that'll easily cover large areas, this one will blend the bronzer like a dream. Ultra-soft and structured with a sturdy copper and wooden handle, the brush gives you the power to control the tan coverage on the skin. Ideal to use with liquid or cream bronzer, the bristles are made of synthetic fibers that feel no less than a bunch of feathers across the skin— yep, they are that soft! Do you think you can handle this pamper?
Pros
Blends quickly and evenly
High-quality, extra-large, and premium brush
Ensures a smooth finish within seconds
Enhances complexion with a flawless coverage
Cons
Expensive
Bristles may shed
Price at the time of publication: $12.98
Do you want the tan to look more enhanced and professional? Then, this angular kabuki bronzer brush by Mypreface will be ideal for you. Designed to deliver a high-definition and flawless finish, the 100% non-porous bristles will deposit enough pigment for your skin to look stunningly sunkissed within minutes! Also, it does not pull while gliding or blending, making it a great option for contouring and highlighting as well. Easy-to-use and with a premium rose-gold metallic and wooden blue handle, this cruelty-free brush is sturdy and durable too.
Pros
Made of soft synthetic fibers
Delivers a streak-free coverage
Glides smoothly and easy-to-clean
High-quality, soft, and flexible bristles
Non-shedding, non-bleeding, and vegan product
Ideal for blending, finishing, stippling, buffing, and more
The handle is made of lightweight and sustainably-sourced wood.
Cons
It may have a synthetic odor initially.
The bristles may shed.
Price at the time of publication: $6.58
Don't mind loosening your purse strings a little? Then try this high-end kabuki brush that claims to deliver a flawless tan with its goat hair bristles. Have you been missing the sun too much or looking for a natural tan effect? Glide this one on as it promises medium to full coverage with its super-soft yet high-quality fibers. Holding on the powder efficiently and spreading on a layer seamlessly, the brush is quick, high on performance, and versatile. Just the kind of splurge that'll make your skin feel like a luxury, add this brush to your makeup collection today.
Pros
Improves complexion
Delivers a flawless tan
Lightweight, easy-grip, and sturdy handle
Ideal to get a broad-range coverage
Cons
Expensive
There might be some shedding.
Price at the time of publication: $29.95
Beach trip, canceled? Fulfill your tan dreams with this angular brush by Keshima. Claiming to blend a tan, contour, or blush flawlessly on the skin, watch your squad and frenemies wow in wonder if it's natural or not. And since it's made of high-quality synthetic fibers, you don't have to worry about the product absorbing into the bristles too. Super-soft and enhancing your features like no other, let this brush be your secret tool to get a sunless tan this season.
Pros
Ensures effortless application on skin
Non-shedding and easy-to-clean
Picks and delivers the right amount of pigment
Ideal to use with powder, liquid, and cream bronzers
Cons
The bristles are small-sized.
Price at the time of publication: $8.95
Do you end up wasting a lot of product because of the brush? You must-try this angular kabuki brush instead. Why? It claims to pick up the right amount of pigment and deliver it seamlessly on the skin. And also, its blending power is no joke! It promises to leave a natural and stunning tan across your skin within minutes. Made of high-quality and non-porous bristles that won't soak in the cream or liquid formula, the brush ensures a perfect sunkissed look with every use. So, basically, you waste less and get a high-performance look all with this one brush! Still, want to skip it?
Pros
Delivers a high-definition look
Cruelty-free, hygienic, and vegan
Non-bleeding and non-shedding brush
Silky-soft, durable, and flexible bristles
Ideal for contouring, finishing, buffing, blending, and stippling too
The handle provides a comfortable and easy grip.
Cons
It may be slightly stiff.
Price at the time of publication: $6.49
This brush is so gorgeous that you would rather have it as a decor— not kidding! With a unique and handcrafted rose design and super-soft bristles, it's like showering your skin with some love-packed tan. Ultra-fluff and made of high-quality synthetic fibers, the brush has long bristles as well that ensure to deliver a full and flawless coverage effortlessly. A great option for gifting too, if you are looking for a premium tool to flaunt while doing your makeup, this rose brush would be an ideal addition.
Pros
3D flower design
Cruelty-free and vegan product
Durable, sturdy, and firm handle
No-scent and non-shedding brush
Suitable to use with cream or liquid bronzer, blush, and foundation
Cons
Expensive
Not ideal to use with pressed powders
Price at the time of publication: $12.99
Can't wait to try them, right? Those were the 11 best bronzer brushes of 2023 that you cannot miss! Do you still need assistance with buying the best bronzer brush? Read our buying guide below.
Buying Guide — Best Bronzer Brush
How to Choose the Best Bronzer Brush?
Here are some features you must look out for:
Blending power: Pick a brush that ensures quick and seamless blending. Though makeup users mostly blame the formula for not blending effortlessly, the bronzer brush can be at fault too. So, choose one with strong holding power, and that blends seamlessly.
Synthetic or Natural bristles: Kabuki brushes are available in synthetic and natural fibers. So, if you are planning to use pressed powder bronzer, opt for natural bristles, whereas for cream or liquid, you can settle for a synthetic bristle brush.
Round, Flat, or Angular shape: These brushes are designed differently to allow various benefits. A round kabuki brush is ideal for covering large areas, whereas a flat kabuki brush will conceal all the problematic areas with a seamless finish. The angular kabuki brush, on the other hand, ensures to enhance your features and deliver a more high-definition look, which is why it's ideal for contouring too.
Non-shedding brush: Though slight shedding is normal while cleaning, a bronzer brush should not shed during application. Hence why you must opt for a high-quality bronzer brush for long-lasting usability.
How to Use A Bronzer Brush?
Using a bronzer brush may vary depending on whether you are using it with pressed powder, liquid or cream bronzer.
With pressed powder: Swirl the brush gently on the powder, then dust off the excess. Next, glide it across the areas where you want a natural tan and blend until you get the desired results.
With liquid or cream bronzer: Dispense a pearl-sized amount on a makeup dish or your palm. Now, with your synthetic bronzer brush, dot the areas you want the tan on and then blend until you get the desired glow.
Why Trust StyleCraze?
The author, Chaitra Krishnan, is a makeup enthusiast and loves to review different makeup products. She curated a list of the best bronzer brushes you can use to apply the bronzer effectively. She went through numerous customer reviews and feedback on trusted online forums and brand websites to pick the best bronzer brushes. The shortlisted products ensure your bronzer does not look patchy on your skin and provides you with the best tan that you can flaunt.
Frequently Asked Questions
Which Brush Do You Use for Bronzer?
To apply a bronzer, one should ideally use a kabuki brush or a bronzer brush to get that natural and seamless finish.
Can You Use A Bronzer Brush for Blush?
Yes, you can use a "round" bronzer brush such as Real Techniques Powder & Bronzer Brush or Matto Bamboo Makeup Brush Set to apply blush on the cheeks.
Can You Use A Bronzer Brush for Foundation?
If you are looking for a bronzer brush that you can use for applying foundation too, then Mypreface Bronzer Brush and Anne's Giverny Kabuki Bronzer Brush are great options.
Can You Use A Bronzer Brush for Highlighter?
Yes, you can use Mypreface Bronzer Brush or Mypreface Angled Kabuki Bronzer Brush for highlighting and enhancing your features too.
Can I Use The Same Brush For Powder And Bronzer?
Yes, you can use the same brush for powder and bronzer provided you clean it before using it, or else, you will end up ruining both the products.
Which Kind Of Brush Is Best For Bronzer?
Kabuki brushes are ideal to use with a bronzer. Now, the type of kabuki brush to use may vary depending on whether you are using a pressed powder, liquid, or cream bronzer.
Recommended Articles