15 Best Bronzer For Dark Skin Tones of 2021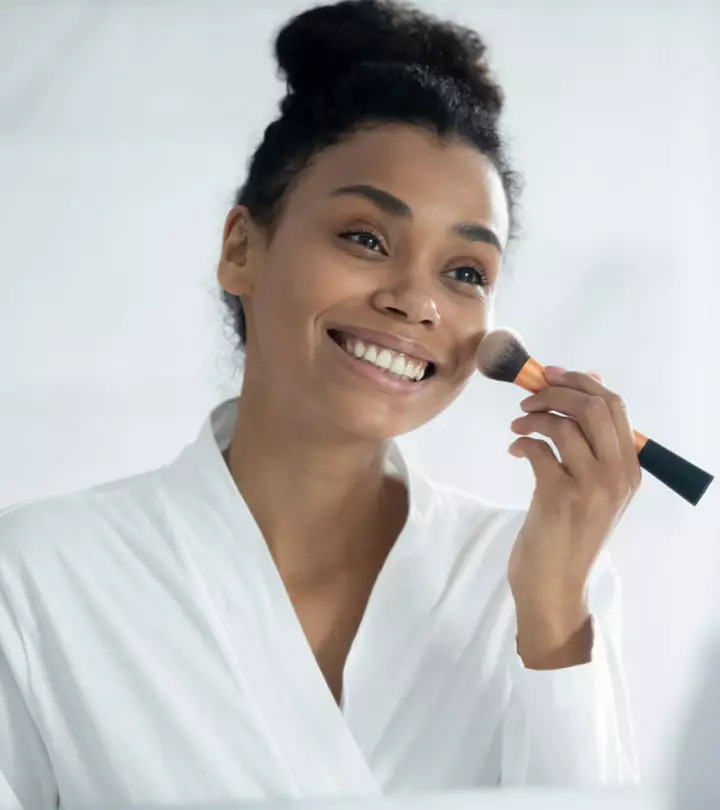 The trend of contouring is taking the world by storm these days. Women around the globe use bronzers to enhance and sculpt the face. Bronzers add illuminating radiance and a healthy glow to the face while highlighting the sharp features. Since the bronzer's primary purpose is to darken the skin for adding a tanned effect, it is assumed that bronzers are not for dark skin. The best bronzer for dark skin is the one that gives you sun-kissed luminous glow and enhances facial features.
However, just as women with lighter skin tone swear by bronzers to fake a tanned look, women with dark skin can also use a bronzer to add more warmth and gleam to their skin. So if you have dark skin and are skeptical about buying a bronzer, here are the best bronzers for dark skin that'll change your mind.
Top 15 Best Bronzers To Illuminate Dark Skin
A face that is sharply defined with a classy bronzer is hard to ignore, and when you are using this bronzer that is infused with vitamins, antioxidants, and moisturizers, your skin will glow up instantly. The bronzer features a lightweight and powder formula that smoothly glides and settles on the skin, providing a healthy-looking glow.
Pros
Hypoallergenic and sensitive skin-friendly
Buildable formula for a lasting effect
Streak-free and odor-free product
Blends very well
Complete matte finish
Cons
May look powdery on medium skin tone.
This nice and frost-free powder is an ideal product to give a rich finishing touch to your makeup. This powder can be worn on the skin for a warm glow or can be used as a bronzer for dark skin. This bronzer is perfect for sculpting your face and to create a more natural tanned look.
Pros
Great for everyday wear
Feels light on the face
Controls oil without drying out the skin
Completely matte powder
Cons
May not work for sensitive skin.
These bronzers offer a perfect combination of pigment and shimmer. If you are looking for a bronzer that can sculpt your face and leave your skin with a hint of shimmer glow, this is the ideal bronzing powder to choose from. The brown powder comes with a golden shimmer and offers a dewy finish for medium to deeper skin tones. Also, this bronzing formula is recommended over any other heavier powder.
Pros
Fills pores and lines for smooth skin
Shiny finish enhances skin color
Long-wear product
Offers a natural tanned look
Cons
May look blotchy on the skin with cool undertones.
If you are struggling to find the right bronzer for your skin tone, consider this invisible bronzer by bareMinerals that easily sits on the skin and has perfect pigmentation to make your skin look glowing. The bronzer also consists of mild glitter that will highlight the important areas of your face. It also leaves a beautiful brown tan with a pink undertone on your skin.
Pros
Thin and dusty formula
Offers a glittery radiant finish
Oil-absorbing bronzer
Can be used as a powder too
Perfectly pigmented
Cons
Some may find it muddy and chalky.
If you are a fan of makeup products by Bobbi Brown, this deep and high impact bronzing powder is worth giving a try. The bronzer makes the dark skin look sun-kissed and glorious. The powder features a soft matte finish and instantly gives your skin a tanned effect. Especially if you have warm undertones, this will become your go-to bronzer. Once you use this, you won't be able to quit bronzing quite soon.
Pros
Works for sensitive skin
Doesn't look cakey
Ideal for warm undertones
Smoothes lines and wrinkles
Blends in well with skin
Cons
Provide an awesome finishing touch to your makeup with this terracotta bronzing powder. The rich, velvety texture of the powder glides easily on the skin and settles with perfection. The powder has a slightly luminous finish and, thus, is ideal for everyday use. Plus, the bronzer is also infused with minerals and moisturizing ingredients to keep your skin nourished and safe.
Pros
Doesn't dry out the skin
Long-lasting comfort
Offers a slightly shimmery finish
Leaves no residue
Cons
You can warm up and glorify your skin with this mineral bronzer that is designed especially for darker skin tones. This mineral-enriched powder-based bronzer offers a tanned effect without any shimmery effect. Plus, it features a hypoallergenic formula that won't clog pores or damage your sensitive skin. This is undoubtedly one of the best bronzers if you want to look like a tanned diva.
Pros
Offers controlled shine
Good coverage
Blends and sets quickly
Doesn't look creasy on skin
Oil-free powdery consistency
Cons
May not work for medium skin tone.
This bronzer can become your ultimate travel companion and it works well even during summers. The bronzer easily glides on the skin and smoothes out fine lines and wrinkles while leaving your skin flawless. The bronzer will never look patchy on your skin and offers a very natural look, so whenever you are off for a date night or a vacation, carry this and look stunning always. It is the best bronzer for african american skin.
Pros
Doesn't leave brown streaks
Subtle hints of glitter
Available in an attractive packaging
Smudge-free product
Cons
Not a water-proof bronzer
Women love this bronzer for its illuminating and refreshing afterglow. The bronzer comes in 3 different shades and can be worn as a complete complexion enhancer when you are off for a special event. The bronzer offers a long-lasting and tanned effect plus. It lasts for hours, so you don't have to get frequent touch-ups. The rich brown hues of this bronzer will definitely become one of your favorites. It is the best bronzer for medium dark skin.
Pros
Comes in 3 different shades
Less sheer and more opaque
Highly pigmented
Can be used as an eyeshadow and blush too
Works well for oily skin
Cons
Makeup products by NYX professionals are always highly functional and seamless, and this bronzer will bring life to your skin for offering a completely irresistible look. This matte bronzer provides a radiant and warm glow without any glitter, and thus, if you are looking for a natural everyday wear bronzer, this one is an ideal pick available at a great bargain!
Pros
Cruelty-free product
Offers full coverage
Aids color correction
Doesn't cause breakouts
Lasts all-day
Cons
Enriched with SPF-15, this natural bronzer will keep your skin safe from the sun while offering a sun-kissed glow. Its rich formula makes it easy to apply and feels lightweight on the skin. Simply grab your favorite bronzing brush and apply this creamy formula on your face for a perfectly sculpted look.
Pros
Works for neutral undertones
Easy-t- apply
Water-proof formula
Lasts for 10 hours
Complete matte finish
Cons
May look dark on medium skin
If you are a fan of highlighting and contouring your face, sculpt your jawline to perfection with this sleek makeup contour kit. Ideal for dark skin, this bronzer comes as a duo of compact powder with a shimmer highlighter to give your face a perfectly illuminating glow every day. It is the best drugstore bronzer for dark skin.
Pros
Cruelty-free
Strong pigmentation
Stays all-day
Doesn't irritate the skin
Cons
May feel creasy on dry skin
Make the high points of your face more noticeable with this ultra-sheer and super glowing bronzer. This deep bronzer is designed to suit dark skin tones and bring out the warmth without making the skin look greasy or too glittery. The creamy, rich formula doesn't dry off the skin and easily blends with the skin for a natural look.
Pros
Infused with buriti oil for nourishment
Highlights the skin
Offers a translucent glow
Smell-free product
Cons
Bronzing will turn more delicious and exciting with this dark chocolate deep tan bronzer. The bronzer defines and sculpts the face with a buildable and flattering tan. Plus, it is infused with 100% cocoa and smells delicious. Plus, it's free from parabens, sulfates, and harmful toxins that can damage your skin. Also, this long-wear bronzer will look stunning for up to 8 hours without creasing.
Pros
Soft and velvety texture
Offers a dark matte sculpt
Blends well
Buildable coverage
Cons
May look unnatural if not applied properly
Here's a bronzer that effortlessly blends pigments with liquid for a smooth, creamy texture. The bronzer feels super soft on the skin and doesn't dry off or create lines. This bronzer is ideal for dark skin tone and is free from sulfates and other harmful toxins so you can apply it on your skin without worrying about breakouts.
Pros
Long-wear product
Doesn't look ashy on the skin
Doesn't irritate the skin
Opaque and thick
Richly pigmented
Cons
Some may find it too sparkly.
We have guided you with some of the best bronzers available. Now it's the time to consider some features before buying the bronzers for dark skin.
How To Choose The Best Bronzer For Dark Skin
If you are struggling to choose the right bronzer for your dark skin, here are the things you can keep in mind and pick the bronzer that doesn't make your skin look muddy and patchy.
The first thing to keep in mind while buying a bronzer is the undertone of your skin. If you have dark skin tone, pick the shades with warm hues such as gold, copper or red this will create a buildable texture on your skin and enhance the glow
The other thing to keep in mind is the shade of the bronzer. Keep in mind that you pick 1 shade darker bronzer than your skin tone. This will prevent a muddy look and will help you contour and highlight your cheeks, temples, jaw, etc. areas for a youthful glow.
The third thing to keep in mind is to pick a bronzer with a shimmery base. The glittery bronzers are ideal for dark skin tones as dark skin tones are pigmented in areas like chin, jaw, temples, etc. You simply need to highlight these features, and that can be easily done using a bronzer with shimmer or glitter base.
How To Apply Bronzer For Dark Skin
You may find it tricky to apply bronzer on dark skin tone, but with the right bronzer and correct technique, you can easily apply bronzer on your skin. Here are the tips you need to keep in mind.
1. Pick the right shade
Remember that for dark skin tones, you need to pick a bronzer that is 1 or maximum 2 shades darker than the skin tone. Pick a bronzer with warm undertones like red and copper to enhance and highlight the key features of your face.
2. Choose the bronzer with the right finish
There are plenty of bronzers available these days. Some bronzers offer a crisp matte finish while some are glittery or shimmery. For dark skin tones, a radiant and healthy glow can be achieved by highlighting the features. So pick the bronzers with a shimmer base.
3. Use the proper technique
You can't apply the bronzer all over your face when you have a dark skin tone unless you want your skin to look oily and patchy. Your purpose is to highlight the special areas of your face and, thus, use it to highlight your cheekbones, jawline, temples, and nose tip for the best results.
Frequently Asked Questions
Is bronzer good for dark skin?
Yes. Bronzer is beneficial for women with dark skin as a bronzer can naturally bring out the glow and radiance of dark skin. Though women with dark skin tone do not need a fake tan, they do need the bronzer to highlight and define the most delicate features of their face for an edgy look.
Is Hoola Bronzer good for dark skin?
Hoola by Benefit is the ideal choice of bronzer for plenty of ladies. Catering to the demand of bronzers for dark skin tone, Hoola launched bronzers like Hoola Caramel and Hoola Dark for women with dark skin tones. The bronzers are designed for warm undertones and over a rich matte finish with buildable coverage for a glorious glowy look. These bronzers offer a slight shine to the skin without making it look blotchy or oily and are thus great for dark skin tones.
What do I do if my bronzer is too dark?
If your bronzer is too dark, you need to blow off the excess bronzer, and for this, use a fluffy brush. If you are using a liquid-based bronzer, use a sponge to remove the excess bronzer and then blend it in and again remove the excess that makes your skin look dark or patchy.
Should I wear blush or bronzer?
Blush and bronzers are designed for different purposes. Blush gives a vibrant glow to your cheeks while the bronzer is used for contouring and highlighting the face. So if you are willing to make your skin look tanned or contoured, use a bronzer. Using a bronzer, you can highlight areas like jawline, temples, nose tip, etc. and make your face look more appealing.
Bronzers are exceptional and can make the dark skin look even more radiant and lit-from-within. With the right bronzer by your side, you can enhance the way your naturally dark skin looks. So if you are already determined to try a bronzer, the above given are the best bronzers for dark skin that need your attention. These bronzers are illuminating, adequately pigmented, and will jazz up your makeup game.
Recommended Articles
The following two tabs change content below.