11 Best Bronzers For Light Skin That Give A Sun-Kissed Glow – 2023
Get the sun-kissed glow with bronzers that can transform pale skin into natural skin.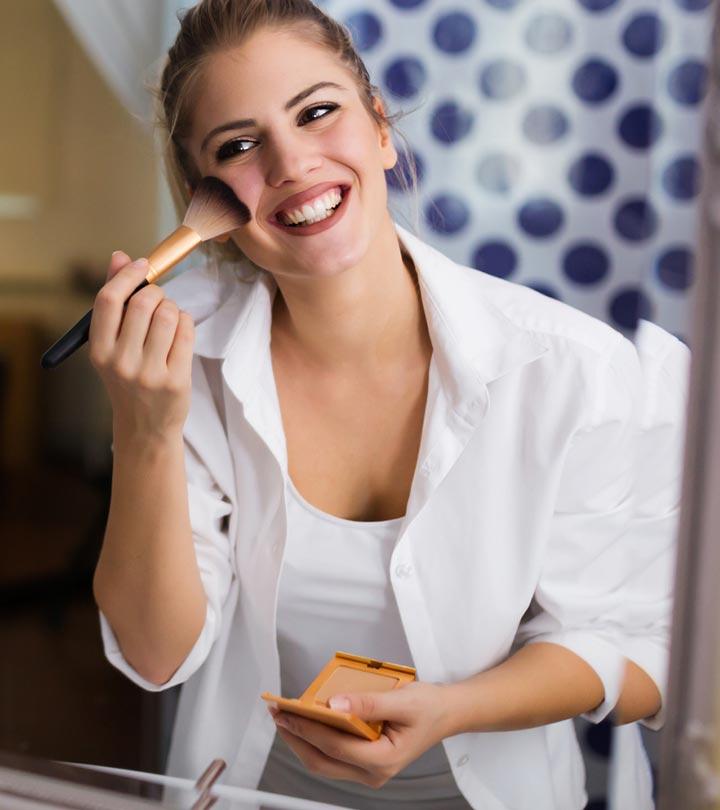 You no longer need to roast yourself out in the sun to get a sun-kissed glow. The best bronzer for light skin can do it for you within seconds. Light skin can look pale without the perfect strokes of a bronzer. While natural suntans are risky, you can try a bronzer for the ultimate golden-beige glam look. Make sure to choose a shade that suits your skin tone and does not make you look orange-ish. Also, make sure to look out for one that matches your undertones.
A good-quality bronzer adds the perfect, almost-natural glow to your makeup. But getting the perfect shade for a lighter skin tone can be a challenge. In this article, we have listed the 11 best bronzers for light skin tone. Go ahead and choose the one that suits you perfectly – and you no longer have to compromise with the "almost right" shade.
Top 11 Best Bronzers For Light Skin Tone
No more waiting around for the sunny days to get a nice, tanned look. It is probably true to say that your skin may never get a natural tan in these weather conditions. Get yourself this Beauty Cosmetics Hoola Matte Bronzer, which is considered to be one of the best matte bronzers for light skin individuals. Blend it with your makeup and apply it for a natural-looking contoured appearance. Your cheekbones will appreciate this deeper shade. Have a look at this video to learn more about the product.
Pros
Matte finish
Comes with a powder brush
Built-in mirror
Available in 4 different shades
Cons
The compact might be too small for the brush to pick up a good amount of product.
Price at the time of publication: $32.0
Leave your allergies behind with this Physicians Formula Butter Bronzer, which is a hypoallergenic bronzer! Made of murumuru, cupuacu, and tucuma butters, this powder and cream bronzer for sensitive skin is the one for you. It is made of ultra-refined pearls and soft-focus bronze pigments that gives you a moisturized, smooth-textured skin. Now get a nutrient-rich coverage on your skin along with a bronze finish every time you use this dermatologist-tested bronzer. Wear it with your makeup using an applicator for a clean, everyday office look. Here is an informative video that tells you more about the product.
Pros
Vegan
Cruelty-free
Paraben-free
Gluten-free
Oil-free
Hypoallergenic
Comes with an in-built mirror and applicator
Cons
The beachy fragrance may be a little strong for some people.
Price at the time of publication: $9.73
Brush a beautiful, bronzed glow on your cheekbones, nose, and chin with this Laura Geller Baked Bronze-N-Brighten Bronzer. If you are looking for a natural-looking, best bronzer for light skin, you have landed on the right product. It gives a natural appeal without the orange hint of real suntan. Simply mix it with your favorite base and get subtle and natural glow all year long.
Pros
Baked bronzer
No orange tint
In-built mirror
Comes in three different shades
Cons
Slightly expensive
May contain color additive, carmine, that may cause allergic reaction in some
Price at the time of publication: $34.0
Are you confused about picking a matte bronzer for your light skin tone? What better than a pressed powder bronzer that leaves a long-lasting tan-like tone on your face and neck? NYX PROFESSIONAL MAKEUP Matte Bronzer will give your skin a healthy tanned glow. You can also use this bronzer as a contour to get defined cheekbones. Now easily pull off a sun-kissed complexion with this bronzer made specially for light complexion. For more information about the product, click this video.
Pros
Long-lasting
Matte finish
Comes in a compact
Pressed powder bronzer
PETA certified cruelty-free
Comes in 5 different shades
Cons
Might have a slight orange tint
Price at the time of publication: $7.32
What if we told you that you can have the golden glow without the orange undertones? Getting the perfect undertone is now possible with this theBalm Take Home The Bronze. They don't simply call it a champion, it literally does it all. It blends easily, helps the skin get a natural tan, and is made cruelty-free for you. Now add some glow or contour everything, from your forehead and chin to cheekbones and neck!
Pros
Paraben-free
Cruelty-free
Made in USA
Comes in three shades
Cons
The application might be a little messy
Price at the time of publication: $17.38
A shimmer here, a shine there, and you are ramp ready! Slay your 'date look' like a queen with this NARS Bronzing Powder. It helps you cover the pores as well as contour your face. Its glimmery quality will complement well with your party makeup look. The Laguna is nothing like your regular bronzer, it has a visible shimmer that will help you stand out. Pair it with a scarlet red lipstick to look a little extra. A pro tip: Use a powder brush to get a naturally tanned appearance.
Pros
Cruelty-free
Golden shimmer
Available in three colors
Suitable for all skin tones
Cons
Price at the time of publication: $37.75
Known for its silky smooth texture, this bronzer will give you the tanned look that you have always craved for. It is a perfect mix of red and brown shades that makes for a real tan color. It's the quickest way to look tan without actually going on a sunny outing. Not only does it blend well with your makeup, but also gives you a healthy toned skin.
Pros
Matte finish
Gluten-free
Paraben-free
Phthalate, sulfate, and sulfite-free
Comes in six different shades
Cons
Price at the time of publication: $42.99
Know how lights reflect on your makeup in the sun or while taking pictures? This Ambient lighting Palette featuring three powders gives aggressive flash lights a soft look on the skin. All three shades are perfect for models and actors who have several lights flashing on them during long shoots. The colors included in this palette are — Incandescent Light, which is exclusive to this palette, and two existing colors, Dim Light and Radiant Light. While Dim Light is perfect for blurring imperfections, and balancing warm and cool tones, Incandescent Light brightens the complexion with its opalescent pearl powder. Whereas, Radiant Light is a sun-kissed golden beige color that gives a summer-like glow. Use these soft-focus finishing powders as your favorite bronzer choices and you will have an all-day radiant look. This palette is a wholesome fix for day, night, and travel/party look.
Pros
Vegan
Cruelty-free
Paraben-free
Talc-free
Gluten-free
Fragrance-free
Three finishing powders in one palette
Utilizes photoluminescent technology
Cons
Price at the time of publication: $64.5
This unique bronzer is formulated with plant extracts that promote happiness, sending endorphin-like effects to the skin when you apply it. The vivid shades in the palette are arranged in cute hearts for you to easily select the colors to blend from. After adding some glow, you can apply the vibrant pink on the apples of your cheeks for a natural flush. You might just fall in love with the sweet violet fragrance of this bronzer too. This bronzer is suitable for people with sensitive skin, helping you prevent skin damage.
Pros
Dermatologist-approved
Non-comedogenic
Gluten-free
Paraben-free
Hypoallergenic
Comes with an applicator and in-built mirror
Cons
May not be suitable for dry skin
Price at the time of publication: $31.95
This 3-in1 palette including blush, bronzer, and highlighter is perfect for carrying in your purse for all occasions. The three shades will add a pink glow on your cheeks, lending you a fresh look. Whether you want a matte finish or a slight shine of rose on your face, this bronzer palette is your go-to. It includes a matte bronzer for contouring, a rosy blush for the apple of your cheeks, and a highlighter for your cheekbones. The colors are light and will give you a natural tone. They will complement your pastel clothes or your shimmery outfits all the same.
Pros
Vegan
Certified organic
BDIH certified
Cruelty-free
Gluten-free
Smooth consistency
Three shades in one palette
Contains natural fragrance
Cons
Might need a base to blend with in case of heavy makeup
Price at the time of publication: $11.86
If you're looking for a bronzer that gives you a natural, sun-kissed glow, look no further! The Elizabeth Mott Whatup Beaches Bronzer is available in both matte and luminous formulas and comes in a universal shade that suits everyone. It is versatile and can be used for creating a healthy-looking tan, contouring, or just warming up your skin. The conditioning pigment polymers prevent powder from clumping up, and the minerals absorb excess sebum for a flawless finish. This silky, buildable, and easy-to-blend bronzer is the secret to a radiant complexion.
Pros
Cruelty-free
Paraben-free
Long-lasting
Sweat-resistant
Oil-resistant
Built-in mirror
Cons
Price at the time of publication: $15.0
It might be a task to choose from these amazing options. We thought you might have questions that we have answered for you.
Buying Guide For Best Bronzer For Light Skin
How To Choose A Bronzer For Light Skin
How amazing it would be if you could just apply a little something on your face and look like a tanned princess. But in the perfect world, you probably won't even need a little something, now would you? So let's get into the schematics of picking the correct — rather the best bronzer for light skin tone. Start by asking yourself the right questions:
First, understand your skin type. Are you sensitive, acne-prone, or too pale? Then, pick a bronzer accordingly.
Then check your makeup kit and see if you have the perfect base to blend your bronzer in. Some people have a favorite moisturizer to go with. Or would you be bold enough to apply it directly?
Figure out what type of tan you are looking for. Is it a full-beach tan or just a light I-went-for-a-jog-in-the-sun tan? Do you want a shiny, visible shimmer, or a flawless matte finish look?
The next step is to pick out a bronzer according to your lifestyle. Do you party a lot or you want something for your
Instagram posts? If you are a corporate leader you might need something subtle and if you are a fashion diva you wouldn't mind a bronzer that makes you look over-the-top, but in a good way.
Finally, you will need to do a trial and error of the products you buy. Your bronzer should be at least 1-2 shades darker than your actual skin tone. It should be blendable, so it does not look like a separate layer on your skin. For extremely pale skin, you can try a honey-colored bronzer. For a light skin tone, you can either go for rosy shade, golden shimmery shade, or both. There are amazing options for medium skin tones too. Once you know the perfect one for you, plain face is history.
How To Use Bronzer For Light Skin Tone
Applying a bronzer is the same as contouring. If you go wrong with your bronzer, you will look like you are down with the flu. We don't want that!
The secret is to lay an even base by using a suitable, ideal concealer and foundation first. You can apply the bronzer on your cheekbones, forehead, nose, chin, and neck.
The contouring depends on the shape of your face. The trick is to apply on the places you would be sun-kissed cause that is where you see the most tan lines in general. Start by applying a light layer and only apply more if you think you want a darker undertone or to hide a fine line or two.
For a natural, soft look, use a powder brush. It will help you create a natural-looking appearance.
Why Trust StyleCraze?
The author of this article, Chaitra Krishnan, is a makeup enthusiast. She has curated a list of bronzers for light skin tone after researching and browsing through online reviews. Chaitra's list comprises bronzers that are more than enough to provide you with a sun-kissed glow. Not only are these bronzers capable of helping you with a glam look, but are also easy to use and oil-free.
Frequently Asked Questions
Is bronzer good for light skin?
Yes, bronzers are made to help you look tan in the perfect intensity of your choice. Just pick the one that suits your skin tone and type.
Does bronzer look good on pale skin?
Yes, there are shades specially designed to help pale skin get a radiant glow and tan.
Where do you put bronzer on pale skin?
Depending on the face structure, you can apply bronzer on your forehead, cheeks, nose, chin, and neck.
Which contour is best for light skin?
The contour is applied according to the structure of the face and skin type. If you have sensitive skin, get the one which is hypoallergenic or made for delicate skin. If you are going to blend it with your base, get a blendable shade that does not affect the makeup look you are going for. Lastly, there is texture to consider. Are you going for a subtle shimmery glow or matte finish? There are options available for everything.
Is bronzer necessary for light skin?
No, any makeup is not necessary. But if you are looking for a change in your look or there is a special occasion coming up, you can try a bronzer of your choice.
Is Benefit Cosmetics Hoola Matte Bronzer good for light skin?
Yes, Hoola Matte Bronzer on light skin will look great for everyday makeup or even a party look.
Is blush or bronzer better for pale skin?
Both blush and bronzer help highlight your features. Blush adds pops of colors to your cheeks while bronzers improve your makeup with warmth and definition. If used the right way, these products can make your face look flawless.
Recommended Articles