The 8 Best Bronzers For Mature Skin – 2022
Say goodbye to fine lines and hello to a sun-kissed glow and healthy-looking skin.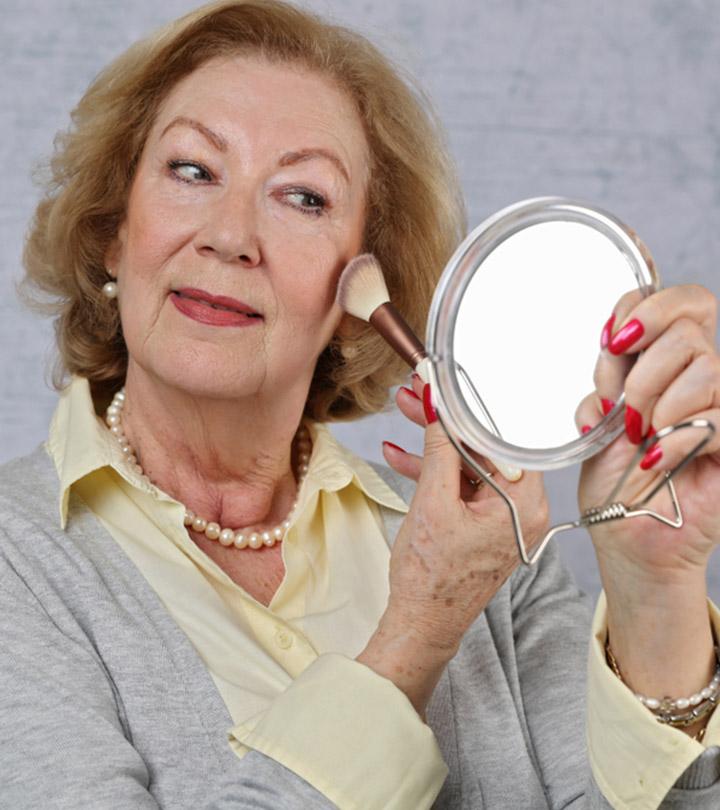 Our skin changes with age and gets affected by diet, sun exposure, and our lifestyle. The best bronzers for mature skin can easily cover blemishes, dehydrated skin, and signs of aging. You can achieve the most beautiful sun-kissed glow using the right bronzer for your skin. Although makeup on mature skin is slightly tricky, the perfect base and a bronzer can help your skin shine through just right. Here, we have discussed some of the best bronzers for mature skin available on the market right now. Go ahead and check them out.
What are the best bronzers for mature skin?
The best bronzer for mature skin women is the one that goes with the skin tone and makeup style. Also, it's important to look for something that isn't too drying as your skin tends to become dry as you age. Dehydrated skin further creates more skin problems that makeup can't hide. The product should glide well on your skin as mature skin is more sensitive than younger skin and it shouldn't cake into the wrinkles and fine lines. Are you looking for something super shimmery or matte? Is your skin sensitive? Here are few options for good bronzer for pale skin that will help you get makeup ready-
Top 8 Best Bronzers For Mature Skin Women 2022
It is time to stop worrying about changing skin texture. With Physicians Formula Murumuru Butter Bronzer, you can get soft skin and feel like you're 18 again! It contains murumuru butter, cupuaçu butter, tucuma butter, pro-vitamins, and essential fatty acids that will keep your skin moisturized and hydrated. Formulated with soft-focus pigments and refined pearls, it delivers a radiant glow with a subtle shimmer finish. You not only get all-day coverage and a brighter skin tone, but the product also keeps your skin protected with this moisturizing bronzer. Go ahead and check out this YouTuber's video for more details about the product.
Pros
Glides easily
Creamy texture
Hypoallergenic
Tropical packaging
Dermatologist-tested
Vegan and cruelty-free
Gluten, oil, and paraben free
Comes with built-in mirror and sponge applicator
Cons
Some people might not like the strong beachy fragrance
Beauty For Real Bronze + Glo Highlighter Stick is formulated with Vitamin E and grape seed extracts that help nourish your skin. The pomegranate extracts present in this flattering formula provide benefits of anti-aging properties and antioxidant protection. If you think that your skin needs this extra care with a sun-kissed glow, your search is over right here. It is made of a creamy powder formula that blends into the skin, giving you a natural, weightless finish. Now you can go out everyday with a youthful rosy shade on your cheekbones with this bronzer.
Pros
Long lasting
Cruelty-free
Paraben-free
Vegan-friendly
Water-resistant
Made of natural ingredients
2-in-1 highlighter stick
Cons
Might melt in hot condition
The stick might not be user-friendly.
Do you need a professional bronzer that brightens your skin and also protects it from the sun? That's where the Perricone MD BRONZER BROAD SPECTRUM SPF 15 comes into picture. It acts like a sunscreen by protecting your skin from the real suntan, and also gives you a believable golden bronze glow. It looks great on all skin tones, making it perfect for all you pretty ladies out there. Formulated with vitamin C ester and mineral SPF 15, this blendable bronzer improves discoloration or dullness over time.
Pros
Buildable
Contains SPF 15
Highly pigmented
Highly adaptable
Universally-flattering glow
Formulated with vitamin C ester
Cons
May not be very long lasting
The Dr. Denese New York Bronzer is formulated with multi-peptide technology that provides your cheek with a shimmery bronze hue. It contains ceramide 2 and palmitoyl oligopeptide that combat the signs of aging and boost healthy shine into your skin. This matte powder is clinically tested and offers tight, firm, and younger-looking skin.
Pros
Suitable for all skin types
Lightweight
Easy to blend
Highly pigmented
Cruelty-free
Paraben-free
Sulfate-free
Dye-free
Phthalate-free
Cons
Might dry out your face
No sponge
The IT Ombre Radiance Bronzer provides both the benefits of a bronzer and that of a highlighter. It is a long-wear, waterproof formula that can also be worn on your body. This bronzer is developed with drops of light technology and merged with the benefits of hydrolyzed collagen and peptides. It offers a natural remedy to your aged skin and improves its overall appearance. A few strokes of the rich formula are enough to achieve the warm sun-kissed glow on your skin. Watch this video to understand the benefits of this bronzer.
Pros
All-day wear formula
Waterproof
Budge-proof
Easy to apply
Cons
Expensive
Might cause irritation to certain skin types.
Might clog the pores
A BAREPRO GLOW Liquid Bronzer will help you with a thick coverage on your face, unlike some others. It is the best bronzer for aging skin as it is made of naturally derived botanicals that cover pores and fine lines, absorbing excess oil from the face. You get a natural skin tone and a sun-kissed color with its light-reflecting mineral pearls. Now you can look charming at family functions or corporate parties by appearing younger than ever with this liquid bronzer for mature skin.
Pros
Oil-free
16 hour glow
Hint of shimmer
Non-comedogenic
Bi-phase formula
Ophthalmologist-tested
Dermatologist-tested
Not tested on animals
Contains bamboo and green lentil extracts
Formulated with mineral lock longwear technology
Cons
Might not give a natural makeup look without blending with a base
Need help to prevent premature aging? Onyx anti-Aging Facial Bronzing Intensifier has the best qualities of matrixyl 3000TM and green tea extract that enhances your suntan look and helps prevent premature aging. It is formulated with macadamia oil, cranberry seed oil, and raspberry seed oil that make your skin silky and moisturized. It is packed with a blend of a sweet floral fragrance and a fruity tone. Whether it is a tea party or a night charity event, you will look like you stopped aging.
Pros
Rich in antioxidants
Fresh meadow fragrance
Soothing and conditioning effect
Tan enhancers: DHA, Erythrulose, Tyrosine
Contains matrixyl 3000TM and green tea extract
Cons
Some people might find the fragrance to be strong
The Solid Black Facial Bronzer is formulated with skin tightening and anti-aging properties. The gentle formula contains black tea and acai berry that combat environmental aggressors that cause blemishes and fill your skin with detoxifying benefits. Unlike regular tanning lotion, this lightweight formula glides smoothly on your skin and adds a warm, youthful glow. It hydrates your skin while reducing aging signs like wrinkles and fine lines.
Pros
Lightweight
Provides an even tan
Non-greasy
Non-staining
Suitable for sensitive skin
Gentle formula
Value for money
Fragrance-free
Cons
None
How Can You Choose The Best Bronzer For Your Skin Tone
The best bronzer for you is the one that gives you a summer-like glow all year long. You can get yourself a suntan look without actually going out in the sun. The intensity of the tan will change according to the skin tone.
You need to take a trial and error run on a few bronzers before selecting the best bronzer for your skin tone. The trick is to find something that looks like a natural skin tone, covers imperfections, and nourishes skin.
How To Apply Bronzer For Mature Skin
Applying bronzer for mature skin is no different a routine than how you would on a younger one. The only change would be to blend it well with your base for a smooth foundation. You will probably be trying to cover the wrinkles, which will require a bronzer that doesn't settle between your lines.
Find a bronzer that is perfect for your skin tone. Clean your skin with a cleanser to remove any dirt or oil present. Then apply a moisturizer. The next step is to lay a strong base using a foundation and a concealer.
Blend your bronzer and apply a darker layer for your cheekbones and nose for contouring. You can use a matte powder bronzer for the entire face and shimmer for high points. If you are using a liquid bronzer, add a couple of drops in the foundation and spread evenly on your face. For a cream bronzer, simply dab on cheekbones, eyelids, nose, and neck.
Some tricks up the hat are: You can create a slim look by brushing the bronzer upto your hairline, blending till the temple. By using matte-bronzer as a cheekbone contour, you can get an even tone for base and blush together. Get a clean jawline by applying it over the jawline and fading the color over the neck.
Why Trust StyleCraze?
Chaitra Krishnan, the author of this article, is a fashion and makeup enthusiast who loves to keep up with the latest trends in the beauty industry and review makeup products. Her strong knowledge of makeup trends helps her provide a well-researched article on the best bronzers for mature skin. These bronzers help you cover your blemishes and aging signs just the right way.
Frequently Asked Questions
What bronzing products should you avoid using on mature skin?
Products that do not cover fine lines and wrinkles should be avoided. The color will settle in the creases making the skin look uneven.
Does bronzer make you look older?
A bronzer will help you cover the spots, dark circles, wrinkles and fine lines on the face, making you look younger. Some bronzers also make the skin soft and nourished.
What is the best face bronzer?
The best face bronzer is the one that suits your skin tone, gives you a natural, sun-kissed look, and covers your discoloration, wrinkles, etc.
How long do skin bronzers last?
The shelf life of a skin bronzer is roughly 12 months if it is liquid or stick formula. On the other hand, powder bronzers can last up to 24 to 36 months.
Should bronzer be matte or shimmer?
It depends on the type of finish you want. If you are looking for a natural finish, opt for matte formulas. For a more shiny and radiant glow, use a shimmer bronzer.
Do you put bronzer on top of the foundation?
Yes, apply bronzers on the top of your foundation. This way, your face will look naturally chiseled.
Is powder or liquid bronzer better for mature skin?
Liquid bronzers are better for mature skin as they fill fine lines and wrinkles. On the contrary, a powder bronzer might make the aging signs more prominent.
Recommended Articles