10 Best Brook Shoes For Nurses To Stay Comfortable All Day (And Night!)
Breeze through the long working hours with these comfortable, well-cushioned footwear.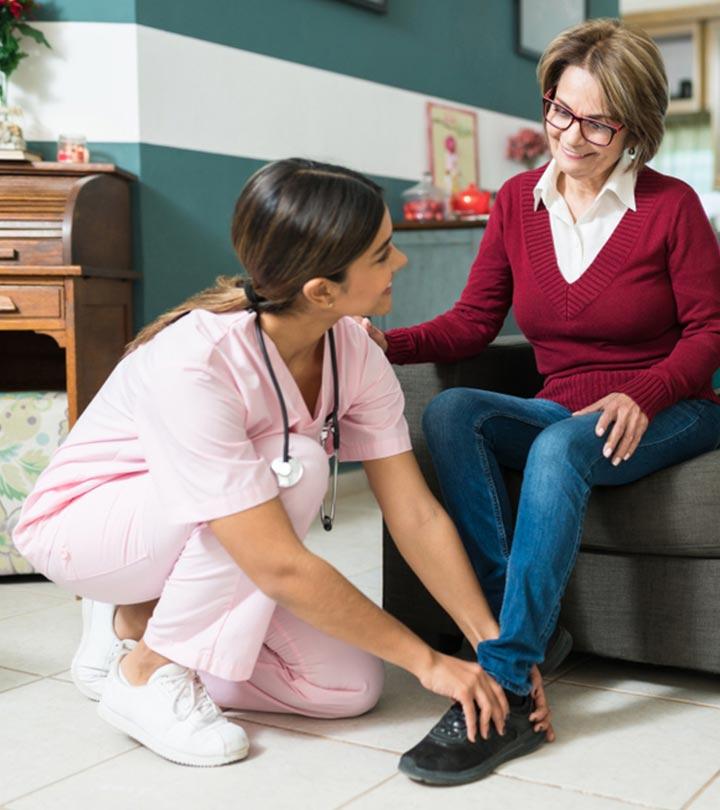 Healthcare workers like the nurses or workers at convenience stores have to stay on their feet for long, grueling hours. The best Brook's shoes are perfect for such professionals. The wrong shoes can be extremely painful for people who spend standing and running around for almost half the day. Amidst the business and all the responsibilities, having a pair of comfortable shoes will be just one less thing to worry about.
Brooks is widely known for manufacturing the best-quality nursing shoes that offer support and comfort all day long. The shoes have also been tried and tested by nurses and doctors alike. Not just that, Brooks shoes are also highly durable and sturdy. But, Brooks offers multiple shoes that cater to different needs, and it can get overwhelming to select the pair that you require. Here, we have listed the 10 best Brooks shoes for nurses and healthcare professionals. Go ahead and check them out to select your favorite pair.
Top 10 Brook Shoes For Nurses For Pain-Free Feet
Being on your toes will no longer lead to aching feet, all thanks to the Brooks Women's Ghost 13 Running Shoes. It comes with a segmented crash pad for better shock absorption and the high-energized cushioning technologies provide easy transition from heel to toe. A balanced and soft cushioning on the underfoot adds to the responsiveness and durability of this lightweight shoe. With many credits and certifications, this Brooks ghost shoe for nurses keeps your feet free of soreness, even after a busy day of work.
Pros
Lightweight
Durable
Easy heel to toe transition
Comfortable rubber sole
Certified diabetic shoe
Segmented crash pad
Cons
The foam runs way too far, interfering with the running mechanism
Who says nurses can't have fashionable footwear? Remain agile and on the go with the Brooks Women's Glycerin 18 Running Shoe. The perfect amalgamation of stretch and structure, this Brooks running shoes for nurses helps you work your way through a busy day. Its supersoft cushioning provides neutral support and extreme softness while keeping the responsiveness and durability intact. Heel to toe transitions and foot movements are also made easier, thanks to the comfortable interior stretch bootie.
Pros
Super-soft cushioning
Comfortable OrthoLite sockliner
Plush internal stretch bootie
Enhanced fit
Easy heel to toe transition
Cons
Some users might find the shoe smaller than labelled
Forget all about blisters on the feet caused by constant running by giving the Brooks Women's Launch 7 Running Shoe a shot. It has amazing cushioning and a rubber sole that lends support and flexibility to those looking for a streamlined shoe for busy work schedules. With a BioMoGo midsole and rebounding rubber, you are sure to have a springy stride coupled with comfort. With a dedicated midfoot transition zone to help with easy heel to toe transitions, this lightweight shoe is one of the best Brooks shoes for nurses and other health professionals alike.
Pros
Rubber sole for flexibility
BioMoGo cushioning
Easy heel to toe transition
Lightweight
Comfortable for long wears
Cons
Stiff ridges at the back of the shoe might lead to blisters
Sore feet will be a thing of the past as you bring home a pair of Brooks Women's Revel 4 Running Shoe. This do-it-all shoe will help you sail through a jam-packed workday with just the right amount of cushioning and a rubber sole. The BioMoGo DNA cushioning falls in line with your speed, stride, and weight and pushes any impact away from the body. The plush fit of the inner bootie of this Brooks healthcare shoes makes for secure and comfortable all-day wear. Moreover, the redesigned flat-knit upper and midsole enhance its look and the heat-activated yarns keep the shoe from stretching out over time.
Pros
Rubber sole
Comfortable cushioning
Enhanced look and feel
Inner bootie fits well
Deflects impact away from body
Cons
Poor padding at the back might cause friction, leading to blisters.
Say yes to healthy, pain-free feet with the Brooks Launch GTS 8 Women's Supportive Running Shoe. This lightweight shoe helps to keep the user agile and on their toes on a hectic work day. It incorporates a GuideRails holistic support system that lends support to the knees by keeping any extra movement in check. The BioMoGo DNA cushioning assures great support and comfort for the feet, making this one of the best Brooks shoes for nurses and other medical professionals. Additionally, the new one-piece mesh upper makes the shoe all the more breathable, creating a closer-to-foot feel.
Pros
Rubber sole
Supportive guide rails
Soft BioMoGo DNA cushioning
Breathable mesh material for the upper
Lightweight
Cons
Some might find the padding at the back inadequate
Bid farewell to aching feet caused by long hours of standing with the Brooks Women's Ariel 20 Running Shoe. This certified diabetic shoe is for those who are on the lookout for support and comfort to make it through hectic work shifts. With supersoft DNA LOFT cushioning, you can expect a plush pillowy feeling under your feet without the loss of responsiveness. The embroidered saddle and eyestay make for a strategic, breathable structure and offer a secure fit. Moreover, the GuideRails help support and protect the knees, controlling any excess movement, hence making it one of the Brooks shoes for health professionals.
Pros
Rubber sole
Certified diabetic shoe
DNA LOFT cushioning
Plush and secure fit
Breathable material
GuideRails for knee support
Cons
The thin upper might give away too soon, tearing up at the toe
Long workshifts will no longer take a toll on your feet as you begin using the Brooks Ghost 14 Women's Neutral Running Shoe. With both BioMoGo DNA and DNA LOFT cushioning, these fuss-free Brooks shoes for nurses provide cloud-like softness and great responsiveness in every stride. A simplified midsole construction offers this certified diabetic shoe a seamless heel to toe transition. Additionally, a segmented crash pad has been built in the shoe which acts as a shock absorber that protects your feet, no matter however you land.
Pros
Rubber sole
Certified diabetic shoe
High energized cushioning
Easy heel to toe transition
Segmented crash pad
Available in gender neutral colors
Cons
The toe box is narrower in comparison to its predecessor
Stay on your feet all day long without worrying about sore feet with the Brooks Women's Ricochet 2 Running Shoe. The rubber sole of this lightweight Brooks medical shoes provides flexibility and the double cushioning of the BioMoGo DNA and DNA LOFT makes for a soft stride that is light yet responsive. The simplistic Fit Knit upper provides comfort and a disguised heel wrap and a pillowy heel tab keep irritation at bay. Energy-efficient heel to toe transitions are also made easy, all thanks to the flexible, arrow-point pattern on the outsole.
Pros
Rubber sole
Energized and excellent cushioning
Comfortable fit
Lightweight
Easy heel to toe transitions
Cons
Some might find the toe box to be narrow
Lend utmost comfort and support to your feet with the Brooks Women's Bedlam 2 Running Shoe. If you are looking for a shoe that provides good energy return in every stride along with holistic support, you can end your search here. With an energized DNA AMP cushioning in the midsole, comfort is guaranteed. The Fit Knit upper assures a secure, sock-like fit and the GuideRails help support the knees by restraining any excess movement. All of these help you be on your toes on a busy day, making it one of the best athletic shoes for nurses and health workers alike.
Pros
Rubber sole
DNA AMP cushioning
Sock-like secure fit
GuideRails for holistic support
Springy and responsive stride
Minimalist design
Cons
The tongue is shorter and may bite at the ankles.
Energize aching feet with the Brooks Women's Launch 6 Running Shoe as this super soft shoe offers comfortable wear and lends support to the feet during long working hours. With an additional foam under the forefront, this Brooks comfortable work shoes is sure to keep your feet relaxed throughout the day. No more compromising on speed and support, instead add a spring in every stride of yours with these comfortable, lightweight shoes.
Pros
Lightweight
Comfortable
Springy forefront
Extra foam for support
Energized feel on the feet
Cons
Some might find the fabric to be too thin
Determining which Brooks shoe to buy may seem like an easy task now, given the carefully curated list of shoes and their description mentioned above. But there are some factors that are to be kept in mind to find the right pair of Brooks shoes for oneself, some of which are mentioned below.
How To Choose The Best Brooks Shoes For Nurses
Brooks shoes are a popular choice among nurses owing to the comfort and support they offer. To choose the best Brooks shoes for yourself, keep the following points in mind:
Wearing the right size of shoe is very important if your work demands you to be on your toes for long hours. Pay close attention to the size chart and get the right size of shoes for utmost comfort.
If the arch of the foot is not supported properly, chances are that the foot might become misaligned, giving rise to a number of problems like plantar fasciitis, sprained ankles, knee pain, etc. Choose a shoe with proper arch support to avoid such problems.
Constant running around, especially on tiled hospital floors might cause a slip, especially if the floors are wet. Wearing shoes with rubber outsoles might help to secure the steps by providing ample stability. All your toes cramped up in a tiny space would lead to sore feet that are full of blisters. Look for a shoe with a wide toe box that allows plenty of room for the toes while you are on the move.
Waterproof and lightweight
Nurses might have to face umpteen messy scenarios, wherein they have to deal with vomit, urine, blood, medicines, and other kinds of fluids. Having waterproof shoes would make cleaning up an easier task. If you are already working with a really busy schedule, the last thing you would want is the weight of your shoes pulling you down. Go for lightweight shoes that come with mesh fabric, foam insoles, blown-in rubber outsoles, etc.
One must look out for shoes with proper cushioning as it helps you withstand a hectic work schedule. A bouncy cushioning in the shoe would mean extra support, which is totally necessary for long working hours.
There was a time when nurses were asked to wear only white shoes. Loud colors and designs can cause a distraction at work. Hence, it is best to check the workplace rules and policies before choosing a pair of shoes for oneself.
A transition zone on a shoe is the bottom of the sole where the heel to toe movement takes place. A shoe that has a seamless transition zone with proper support and alignment, makes for a comfortable and pain-free wear, even if it is for long hours.
Why Trust StyleCraze?
Priyam Gupta, the author of this article, is a fashion enthusiast and loves to keep up with the latest fashion trends. Based on careful research of thousands of user reviews and feedback online, she has put together this list of the best brooks shoes for nurses that keep their feet comfortable even after hours of grueling work.
Frequently Asked Questions
Are Brooks good shoes for nursing?
Yes. Brooks shoes are durable and sturdy. They feature lightweight, breathable material and high-quality cushioning that offer optimum comfort to the feet. Also, nursing shoes are liquid-resistant and skid-proof.
How do I get free Brooks shoes for healthcare workers?
• Visit brooksrunning.com
• Sign up with your name, address, and shoe size.
• Get a pair of Brooks shoes for free.
Which Brooks shoe is the most comfortable?
The Brooks Women's Revel 4 Running Shoe is the most comfortable product. It features BioMoGo cushioning that balances your feet and distributes the weight evenly. Also, the rubber sole offers optimum comfort, and the flat-knit upper and midsole make it suitable for all-day wear.
What type of shoes should a nurse wear?
Slip-resistant and water-resistant shoes with extra cushioning are ideal for nurses. Also, shoes with roomy toe boxes are preferable.
Are Brooks Adrenaline good for nurses?
Yes. Brooks Adrenaline features BioMoGo DNA cushioning and a DNA Loft crash pad that delivers ultimate comfort to the feet. They are ideal for nurses.
Why are Brooks shoes so good?
Brooks shoes have medium to high arches and DNA Loft cushioning that delivers great balance and grip to your feet. In addition, the superior and flexible construction of the shoes makes them nurses' favorites.
What color brooks should nurses wear?
Nurses wear white color Brooks shoes.
Recommended Articles: