15 Best Brown Eyeliners Of 2021 That Will Suit Every Eye Shape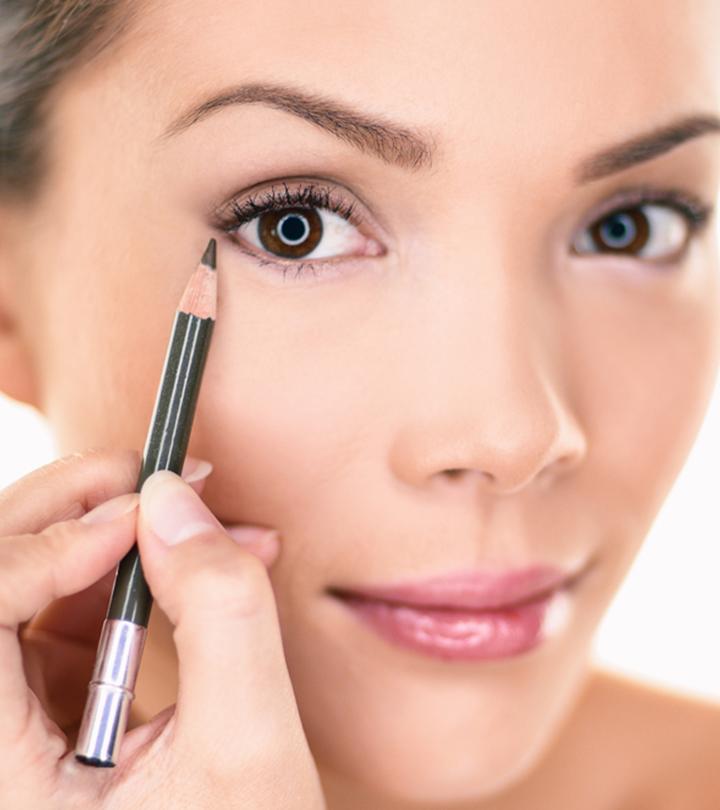 While black eyeliners are go-to liners when you want to make a stark statement, the next best thing is brown eyeliner for a more subtle, balanced, and natural look. While it is the best eyeliner color for brown eyes, brown eyeliners look great on all eye colors and eye shapes. Brown eyeliner also complements every skin tone, which black eyeliner sometimes cannot do.
The trend right now is natural and fuss-free makeup looks which have brought brown eyeliner into the spotlight. Makeup artists around the world are also swearing by the versatility of this eyeliner color and how it can look edgy and effortless at the same time. Here is a list of the best brown eyeliners in the market right now that are making eyes pop!
Top 15 Best Brown Eyeliner For Your Eye Color 2021
The NYX PROFESSIONAL MAKEUP Epic Wear Eyeliner Stick in Deepest Brown is a long lasting epic eyeliner stick which is powerfully pigmented and lasts all day and night. This brown gel eyeliner gives a graphic impact on the eyes with a metallic finish. This high impact brown eyeliner offers a bold, long lasting color that goes with all eye colors and shapes. Display your liner artistry skills with this eyeliner that can be used to create a smudged smokey eye or a 60s winged look that looks perfect.
Pros
Can last for up to 36 hours
Easy glide application
Vegan, cruelty-free, certified by PETA
Waterproof, smudge-proof, fade-proof
Cons
The eyeliner may smudge a little on oily skin.
The stila Stay All Day Waterproof Liquid Eye Liner is one of the best brown liquid eyeliners that are available today. It helps to create a number of eye opening effects, from simple thin lines to bold dramatic looks. The formula used in this brown liquid eyeliner glides on the eyes easily and does not smudge or run from day to night. This award-winning eyeliner has a fine marker style tip that lets you apply the liner precisely whether you are a novice or a pro. Grab the pen and run it along your lash line for a precise thin line. If you need a bolder look, work the pen at an angle and apply the liner with a little more pressure.
Pros
Waterproof
Buildable intensity
Stays all day long
This liquid pen eyeliner can also be used to create a cat eye with deep intensity and color.
Dries up quickly, perfect when you are in a rush.
Cons
The eyeliner may cause tingling on sensitive skin.
The Maybelline New York Master Precise  All Day Liquid Eyeliner in Forest Brown  allows you to create sharp and precise lines with deep, intense color. Go for a soft approach for your eyes with this brown eyeliner pen, irrespective of what your signature look is. The effect you will achieve is natural, soft, and balanced and the color of your eyes will be accentuated. This award-winning eyeliner has a 0.4 mm felt tip that lets you draw precise lines with the definition in a single stroke. The flow of the liner is continuous through the pen and you will never feel that the color is not pigmented enough.
Pros
Fragrance-free
Can last for up to 12 hours.
Waterproof and smudge-proof.
Tested by dermatologists and ophthalmologists.
Ideal for sensitive eyes and wearers of contact lenses. .
Cons
The eyeliner may not dry on the eyes very quickly.
The L'Óreal Paris Infallible Never Fail Eyeliner is a mechanical pencil brown eyeliner that is formulated to glide easily onto your eyelids and waterline. It delivers creamy texture, rich color and can be used to achieve classic and bold looks on the eyes that can complement every occasion or mood. It also includes an inbuilt smudger so you can create a natural smokey eye without needing additional eyeshadow and equipment. The liner itself blends well when just applied to smoke your eye perfectly. When it comes to brown eyeliner pencils, this possibly is one of the best brown eyeliners you can choose!
Pros
Smudge and fade-proof
Can be worn for up to 16 hours
Includes a built-in sharpener for precise thin lines.
Cons
The eyeliner may not be waterproof.
The Revlon ColorStay Eyeliner Pencil is a longwear brown eyeliner pencil. If you are looking for a brown eye liner pencil that delivers rich and intense color, this eyeliner is a great product to start with. The longwear technology used to create this eyeline, allows it to glide on your eyes effortlessly and sets quickly for defined drama. This eyeliner can be used to make precise lines or can also be smudged for a natural sultry smokey look. If you keep losing sharpeners, don't worry as this eye liner pencil comes with its own pull-out sharpener that is made to size and gives the sharpest pointy tips for fresh and clean looks.
Pros
Waterproof
Lasts for up to 16 hours
Includes a built-in smudger
Can be worn along with contact lenses
Tested by an ophthalmologist
Suitable for sensitive skin and eyes
Cons
The pencil nib may break if you sharpen it too much.
The Rimmel Exaggerate Waterproof Eye Definer is a rich brown eyeliner pencil that offers rich creamy color, smooth lines and high definition. The retractable tip of the eyeliner pencil keeps it sharp and safe and a built-in smudger at the other end of the pencil helps to achieve smokey eye looks without needing to use your finger or eyeshadow. The tip of the pencil glides on easily and lets you create thin or thick lines based on your need. The texture of the pencil is soft and creamy which makes subtle blending much easier so that you do not end up with too much liner on your eyes.
Pros
Waterproof
Includes built-in sharpener
Can be worn for up to 10 hours
Cons
The tip of the pencil may break when applied on wrinkled eyes.
The BareMinerals Lasting Line Lasting Brown eyeliner is a mineral rich brown eyeliner pencil that has a special formula that makes it stay soft and creamy so that it can be blended in easily. This brown eyeliner sets into a long wearing finish on the eyes that does not budge for a very long time. It also includes a smudge tip which is shaped in an ergonomically-angled manner so that blending becomes smooth and effortless for you. The brown color of the eyeshadow is highly pigmented and is induced with a special blend of nourishing minerals as well as soothing vitamin C.
Pros
Smudge, fade, and smear-free
Includes a built-in sharpener
Suitable for sensitive skin and eyes.
Cons
It may not last long on oily skin and in humidity.
The Pacifica Beauty Natural Eye Pencil is a brown eye liner pencil that is completely natural and has a smooth as butter application. The natural formula contains plenty of beneficial ingredients that are craved by your skin and are ideal for all types of skins, including sensitive ones as well. This easy-to-blend eye liner is great for creating smokey eye looks above and below your eyes in a very natural and balanced way. The tip of the pencil also does not break easily as a result of which the product lasts a long time and does not get wasted.
Pros
Parabens, phthalates, propylene glycol, petroleum, mineral oil, peanut butter-free
Organic, 100% vegan and cruelty-free
Infused with the goodness of jojoba oil, vitamin E, vitamin C, and shea butter.
Cons
The eyeliner may not be long lasting.
The Physicians Formula Eye Booster Gel Eyeliner Trio is made using a high-tech formula that offers three different finishes, matte, shimmer, and satin. This set of 3 eyeliner pencils is also infused with botanicals and vitamin E so that even your lashes are nourished from the roots. This brown gel crayon eyeliner glides smoothly on your eyes and stays in place. Create a smudged grunge look, sophisticated cat eyes, or a simple straight line using this brown eyeliner for brown eyes. This eyeliner is free from any harsh ingredient that is normally found in most personal care products and can also be used at the inner corner of the eyes. Lastly, this eyeliner features a Lash Boosting Complex that nourishes, strengthens, and enhances the appearance of your lashes.
Pros
Lasts all day long
Smudge and water-resistant
Includes a sharpener along with the eyeliner
Hypoallergenic, ideal for sensitive skin and eyes.
Cons
The eyeliner may settle at the corner of the eyes.
The Kat Von D Tattoo Liner is a liquid eye liner that is enriched with a highly pigmented formula. The precision brush has a tip that can not only create super-fine lines but can also help make a bold impact on your eyes. The finish of the eyeliner is rich satin and the color is intense which works really well for making thick winged eyeliners. The brush tip is thick at first but peaks into a crisp tight point at the edge which allows you to create versatile styles using a single eyeliner. If you need thick defining lines all you have to do is drag the brush while pressing it hard on your eyelids so that it gets tilted into an angle near the lash roots. If you want a finer line use less pressure and see how thin and straight your liner will be.
Pros
Mildly waterproof
Narrow brush to create thin as well as bold lines.
Easy to handle gel tip with a continuous flow of brown liquid eyeliner.
Cons
The eyeliner may not be ideal for greasy eyelids.
The Jillian Dempsey Natural Kohl Eyeliner is created by the famous celebrity makeup artist, Jillain Dempsey. This long wear eyeliner is luxurious, ultra pigmented, and offers a super smooth application. The texture of the eyeliner allows you to blend it to achieve a smudged look with soft focus. Filled with the goodness of organic shea butter, jojoba oil and marula oil, this brown eyeliner pencil has a high color payoff that lasts long. The eyeliner pencil allows you to create fine and thin lines for an innocent and fresh vibe and also lets you draw thick and bold lines that can be blended or kept as it is, depending on the actual look you are going for. Use this eyeliner that is made using a naturally derived formula to create eye makeup that makes your eye color pop.
Pros
Waterproof
Organic and cruelty-free
Includes a built-in smudger
Cons
The eyeliner may not glide well on the waterline.
The MAC Fluidline Eye Liner And Brow Gel is a brown gel eyeliner that has the precision of liquid eyeliner but with a silkier, ultra soft, and smooth finish. The gel eyeliner needs to be applied with a brush in a simple dip-and-stroke manner. This brown waterproof eyeliner is smudge resistant and can be removed easily with a regular eye makeup remover. It has also been tested by dermatologists and ophthalmologists and is safe for application on watery eyes as well. The advantage of this pot eyeliner is that you are in absolute control of how much product you wish to apply and the thickness of lines can be determined by the thickness of the brush you use.
Pros
Non-acnegenic
Dries very quickly
Can be worn for up to 16 hours
Cons
The application brush needs to be bought separately.
The Urban Decay 24/7 Glide-On Eyeliner Pencil is a rich in color matte finish brown eyeliner pencil. This award winning brown eyeliner pencil offers intense color that is long-lasting and does not budge once applied. The rich brown color of this eyeliner lights up eyes of any color and gives a natural finish that can be underplayed or overplayed depending on the occasion. The formula used to create this eyeliner is creamy and skip free so that the eyeliner glides on the eyes smoothly irrespective of your skin type and you can draw lines as thin or thick as you want. The eyeliner dries quickly so that even if you are in a rush you can achieve a neat finish. It also contains ingredients that moisturize like jojoba oil, vitamin E, and cotton seed oil, all of which have high hydrating properties. Not only do they make the liner creamy they also condition the skin for better health in the long run.
Pros
Waterproof
Cruelty-free
Long-lasting eyeliner can last for up to 24 hours
Cons
The eyeliner may be a little hard to take off.
The Bobbie Brown Perfectly Defined Gel Eyeliner is a brown gel eyeliner that delivers a comfortable and lightweight feel on the eyes. The color provided by this eyeliner is high in pigmentation and the eyeliner offers precise lines whether you are a novice or a pro. The color stays true throughout the day and does not require any re-application. The twist-up design of the eyeliner is ideal for application and the built-in sharpener makes sure that each time you apply the eyeliner, the lines are as fine as possible. The eyeliner is also free of harmful chemicals like parabens, phthalates, sulfate, and sulfite.
Pros
Flake-free
Vegan
Gluten-free
Humidity, sweat-resistant
Can be worn for 12 hours long.
Cons
The size of the eyeliner is really small and may get over very quickly.
The Esqido Gel Eyeliner Pencil brings the best of both worlds and lets you enjoy all the qualities of gel eyeliner with the convenient use of a pencil. This brown gel eyeliner is formulated to last you all day long. The texture of the eyeliner is absolutely smooth with rich pigmentation so you do not have to keep going over the lines multiple times. One single stroke is enough to achieve a rich and dark color payoff. The retractable dispenser is easy to use, saves the pencil from breaking while travelling, and also has a sharpener included at the other end of the eyeliner pencil. You can apply and blend the eyeliner very easily for a smokey effect or leave the line as it is for a classic eyeliner look.
Pros
Waterproof
Vegan, cruelty-free, no animal testing
Latex, sulfates, phthalates, parabens-free
When not in use, the pencil shuts in an airtight vacuum
Cons
The eyeliner may bleed on oily eyelids.
Brown eyeliner comes in a variety of application forms and shades. Follow the buying guide to help you choose the right brown eyeliner for your eyes.
Buying Guide For Best Brown Eyeliner
Brown eyeliner, like all other eyeliners, can be in liquid form, pencil form less pigmented, highly pigmented, waterproof, and cruelty-free or vegan. Know what your skin and eye need before you buy brown eyeliner for yourself.
How To Choose Best Brown Eyeliner
Before buying a brown eyeliner for yourself, look for the following features:
Application Style: When choosing the best brown eyeliner for yourself, go for an application style that you are most comfortable with. While some people prefer liquid eyeliners, many novices may find that hard to control and cannot make a straight line with it. Pencil liners are the easiest to use but they may sometimes not be highly pigmented. Brown felt tip eyeliners are a balance between both application styles and can help you create winged lines as well. 
Shade Of Brown: Depending on the color of your eyes, you may have to decide the right brown shade for your eyes. If your eyes are closer to dark brown, then the darkest brown eyeliner will be suitable for you for a natural look. However, if you use a lighter shade of brown it can help you create a smokey eye. If your eyes are light like hazel, then light colored brown eyeliner will appear more natural while dark brown eyeliner can be used to create a formal and party look. Some popular shades of brown eyeliner include light brown eyeliner, copper brown eyeliner, and forest brown eyeliner.
Waterproof: The best brown eyeliners are those that are waterproof. This makes them stay for a longer time in any environment and can even allow you to be in humid and sweaty situations without fear of your liner coming off. 
Long Lasting: A long-lasting eyeliner, in general, is the best brown eyeliner because you can go for 12-13 hours without having to reapply the liner which makes it a very convenient option for daily office wear as well. 
How And Why Do I Wear Brown Eyeliner?
Brown eyeliners can be worn everyday or for special occasions, depending on the style of eye makeup you are going for. You can wear brown eyeliner on both the top and bottom lid of your eyes that will make your eyes not only appear larger but also more natural in color. The best and most popular way to wear brown eyeliner is by smudging it on the top lid and around the bottom line to create a smokey look so that your eyes can pop out nicely. 
Whether it is brown liquid eyeliner or brown eyeliner pencil, all look equally good even though they may have varying textures. If you are a lover of brown winged eyeliner, go for a combination of brown eyeliner pencil and brown felt tip eyeliner to gain additional control over your application. If you have never tried out brown eyeliner before, now is the time. You will soon realize how it goes with all makeup looks, all colored eyes, and how it can be easily blended without giving you raccoon eyes. If a natural and subdued look is what you are going for, every brown liner will work as the best brown eyeliner and will never fail you.
Frequently Asked Questions
When should you use brown eyeliner?
There is no such rule about when to apply brown eyeliner. However, if you want your eyes to appear larger or a more natural size and color, brown eyeliner is the best option.
Is black or brown eyeliner better for brown eyes?
Brown eyeliner can intensify your look when worn with brown eyes and can actually bring out the light flecks in them more than black eyeliner.
Can you wear black and brown eyeliner together?
Yes, you can wear both eyeliners together, one on the eyelid and the other on the waterline to create a more balanced effect, irrespective of your eye color.
Is brown eyeliner good for hazel eyes?
Yes, brown eyeliner looks very pretty on hazel eyes especially if you want to create a daytime natural look for everyday wear.
Does blue eyeliner go with brown eyes?
Blue eyeliner also has the ability to bring out the brown and gold flecks in brown eyes and is a great option for eyeliner color.
Is eyeliner and mascara the same thing?
No, eyeliner is applied on the top lid and bottom waterline of the eyes, while the mascara is applied on the lashes to make them look long and full.
Recommended Articles:
The following two tabs change content below.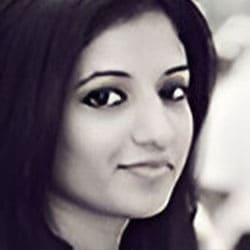 Chaitra is an extremely passionate writer and storyteller. She has a triple main Bachelor's degree in Journalism, Communicative English, and Economics and a Master's degree in Journalism and Mass Communication. She has more than three years of experience in content writing and editing and specializes in beauty, fashion, and lifestyle genres. Her background in journalism helps her guide her team in churning out fine content for the readers. When she's not editing or juggling tasks at work, she likes to daydream and stalk doggos on Instagram.