Top 10 Brown Hair Colors Available In India – 2023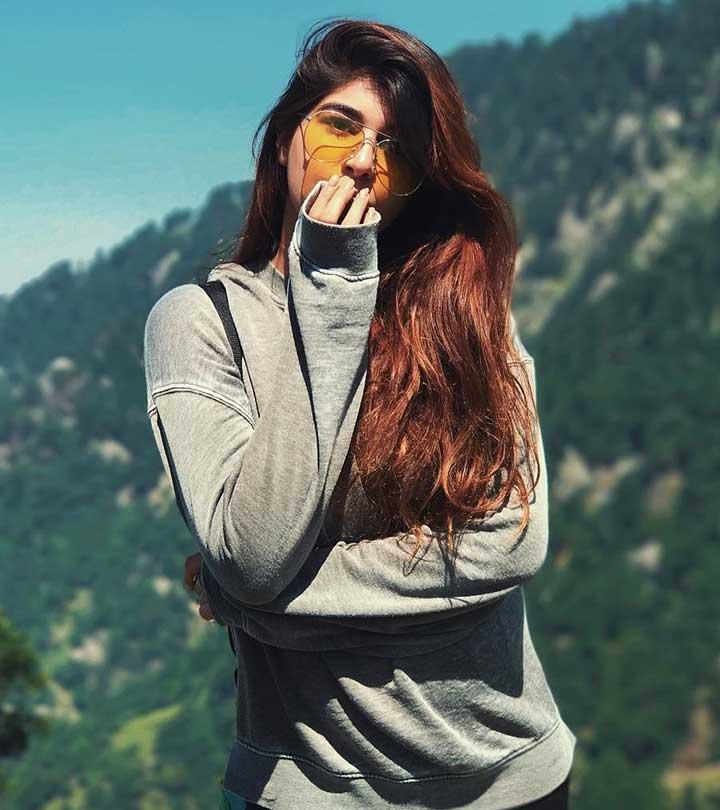 A great shade of brown hair color goes perfectly with Indian skin tones. Don't believe it? Then you must give brown a try.
The trick lies in finding the right shade of brown that will go with your complexion. There are multiple natural brown hair color shades in the market, and you must pick the right one for you. You can take the help of an expert as well.
However, once you have selected the shade range you want to go for, you will be confused with the 'n' number of options available in the market! So, what do you do? Fret not, here is a list of the best brown hair color products available that you can opt for.
Best Brown Hair Color Brands In India
Garnier Color Naturals Darkest Brown adds a long-lasting and vibrant brown color to your hair. The dark brown hair dye is a permanent hair color.
It contains olive, coconut, and almond oils that cover all the greys and nourish your hair. This hair color also makes your hair shine.
Pros
Does not contain ammonia
Easy to use
Cons
Can cause itchiness
Can lead to hair fall
BBLUNT Salon Secret Light Golden Brown not only colors your hair but also smoothes it. This hair color contains silk proteins that add a shine to your hair and make it manageable and easy to style.
Pros
Contains gloves
Comes with a shine tonic
Cons 
Not long-lasting
Just enough product to use only once or twice
L'Oreal Paris Excellence Creme Natural Dark Brown enhances your hair color with a beautiful shade of brown, elevating your entire look.
This hair color strengthens and protects your hair. It is easy to prepare and apply at home and provides a salon-like finish.
Pros
Contains protective serum
Softens hair
Cons
Expensive
Hair color fades within a few days
Streax Reddish Brown Hair Colour colors your hair safely and nourishes it in the process. It adds a vibrant shade to your hair.
This dark red-brown hair color contains walnut oil, which repairs damaged hair and strengthens hair.
Pros
Gentle on hair
Color lasts long on hair
Cons
Unappealing smell
Not too pigmented 
[ Also Try: Streax Insta Shampoo Hair Colour ]
Revlon Color N Care Light Golden Brown is a permanent hair color cream that deep conditions your hair.
This brown hair color contains olive and coconut oils that moisturize your hair and make it soft and shiny. In India, you can easily purchase this golden brown hair color online.
Pros
Easy to apply
Has a non-drip cream formula
Cons
Needs 2-3 applications to get the stated color
Bad smell
Indus Valley Permanent Light Brown Hair Color protects, nourishes, and colors your hair. It also adds volume and shine to your hair.
This brown hair color contains organic herbs like sunflower, basil, aloe vera, amla, and orange that provide nutrition to the hair.
Pros
Cons
Expensive
Color fades with one wash
Bigen Speedy Hair Color is a creamy formula and is easy to apply. The color takes just 5 minutes to show visible change. This hair dye is ideal for touch-ups. The natural ingredients present in the dye prevent hair from becoming dry and rough. The color moisturizes and enriches your hair. It is a unisex product.
Pros
Easy to apply
Quick processing
Long-lasting color
Cons
May cause allergies in some users
Vegetal Bio Colour Dark Brown hair color is a herbal product that correctly colors your hair without any side effects.
This brown hair color does not contain any harmful chemicals and is organic. It adds a rich dark brown color to your hair.
Pros
Cons
Pricey
Temporary hair color
Godrej Coloursoft Natural Brown colors your hair gently and locks the moisture in. It is long-lasting and easy to use.
This hair color product adds a rich hue of brown to every hair strand and enriches your hair with vitamins and proteins.
Pros
Built-in conditioner
Spreads easily on your hair
Cons
Iba Halal Dark Brown is a henna-based hair color that is safe to use frequently. It provides even coverage and lessens hair damage.
This brown hair color does not contain harmful chemicals and provides you with naturally colored beautiful hair. 
Pros
Paraben-free
Ammonia-free
Cons
Does not color your hair a satisfactory brown
Can make the hair dry
These are some of the most dependable and safe hair color brands you can go for. But there are a few essential factors to keep in mind before you make a purchase. Check them out below.
How To Choose A Brown Hair Color
Undertones are a special part of any haircare or skincare product. It is important to consider your undertone before making a purchase. When planning to opt for a brown hair color make sure it complements your undertone. Shades of brown work best for a cool undertone as they make the skin look bright.
The texture of your hair matters a lot when it comes to hair coloring. Different hair colors respond to different hair types or textures. Hence, it is necessary to look for the color that can suit your hair. A hair color meant for oily hair may not suit dry hair, and vice versa.
Hair colors contain many chemicals that may cause sensitivity and allergies. Therefore, always do a patch test before applying any color for the first time. Also scan through the product label to know if you are allergic to any of the ingredients used.
Never go by the color shown on the cover of the coloring kit. Since the texture and hair type vary, the outcome of the color could be different from what is shown on the cover. Choose wisely.
Whether you want to color your hair brown or enhance your natural brown hair, it is an excellent choice. Luckily, there are multiple brown shades available in the market that are easy to use at home. Try the ones mentioned above and do tell us in the comments section below about what you think of them. 
Frequently Asked Questions
How often can I color my hair?
There is no specific rule as such but if you color your hair frequently, make sure that you choose a product with lesser chemicals.
Does hair coloring dry hair?
There are high chances of hair becoming dry because of hair coloring, so make sure you pick a hair color product with a built-in conditioner.
Recommended Articles:
Banner Image Credits: Instagram
The following two tabs change content below.