15 Best Brushes For Curly Hair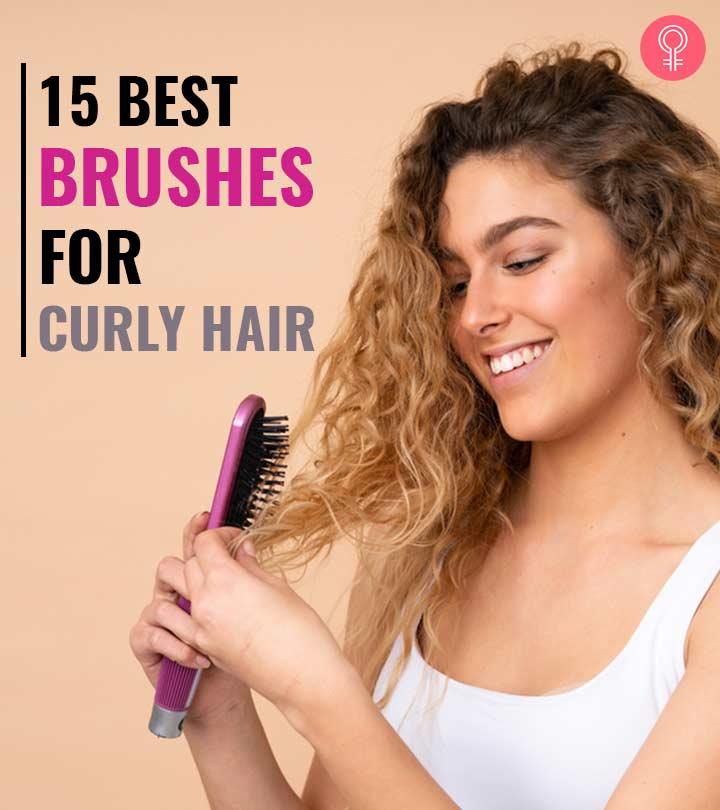 Gone are the days when poker-straight hair was the definition of beauty. Now, you can confidently rock your voluminous curls in all their glory, just as nature intended. But achieving Insta-worthy curls is not always that easy. Apart from a slew of products to put on your hair and scalp, you must also be aware of the correct tools and instruments to manipulate and style your hair the way you want. Here, we have listed the 15 best brushes for curly hair that can help transform your locks into those of a glam-goddess from your dreams. Take a peek!
15 Best Brushes For Curly Hair
The Crave Naturals Glide Thru Detangling Brush is made using firm yet soft, high-quality plastic bristles that are gentle on your scalp while retaining their shape. The unique, cone-shaped bristles on the Crave brush separate your hair sideways, helping to gently detangle your hair without ripping it out. It is a useful brush for curly hair, irrespective of whether your hair is wet or dry. The bristles gently massage your scalp and promote blood circulation, which may increase hair growth. The brush can be used comfortably on all types of hair, including extensions and wigs.
Pros
Ergonomic handle
Can be used on wet and dry hair
Suitable for all hair types
Gently removes knots and tangles
Painless soft plastic bristles
Minimizes breakage and split ends
Smooths cuticle layer to add shine
Child-friendly design
Bead-less bristles
Affordable 
Cons
None
This boar bristle hair brush set consists of two amazing brushes that will work wonders on the tightest curls, leaving them free of knots and tangles. It also promotes the growth of healthy new hair by stimulating the production of natural oils in your scalp. The brush also holds some nylon bristles that gently detangle thick hair. Using this brush also provides a gentle massage to your scalp. For best results, you should brush your hair down from the roots to the tips. It also helps spread oil more evenly on your hair, making it nourished and healthy.
Pros
Anti-slip grip
Curved design
Natural boar bristles
Vented head
Flexible head
Helps blow dry hair faster
Suitable for all hair types
Affordable
90-day money-back guarantee 
Cons
None
The Spornette Mini Styler Boar Bristle Round Brush helps you style all kinds of hair without a fuss. The .75 inch brush is ideal for setting, styling, and adding volume to short hairstyles. You can also use it to smoothen hairlines in medium-length as well as long hair. The small barrel size can help create tension for adding volume when blow-drying. Boar bristles create high tension that is useful for curling and smoothing coarse hair quickly. The bristles feel gentle on sensitive scalps and don't pull or tug when setting or lifting hair away from the scalp.
Pros
Lightweight
100% boar bristles
Ergonomic handle
Gentle on sensitive scalp
Ideal for styling short hair
Can be used for smoothing difficult hairlines
Helps create tension for adding volume
Travel-friendly size
Affordable 
Cons
May not be effective on very thick hair.
The Denman Classic Styling Brush is a soft hair brush for curly hair. It features seven rows of sculpted nylon pins with rounded ends. You can use it on wet hair to achieve the perfectly defined curls of your dreams. The brush also comes in handy when blow-styling: the edges can be used to create tension for shaping the hair. This curl brush can also help you create a perfect hold as you shape your curls, while gently detangling the strands. Use the Denman brush anytime you need to reduce frizz, straighten your curls, or add some shine and volume to your locks. Its gentle bristles are soft on your scalp and avoid any harsh pulling or tugging.
Pros
Lightweight
Durable
Travel-friendly
Non-slip grip handle
Suitable for all hair types
Features smooth nylon pins
Anti-static rubber base
Can be used on wet hair
Eco-friendly packaging 
Cons
The Belula Detangling Boar Bristle Hair Brush comes in a useful set, including a wooden comb, a travel bag, and a spa headband. This hair brush helps in the even distribution of sebum throughout your hair, from root to tip. It adds shine and improves the texture of your hair. While soft boar bristles aren't well-equipped to comb through thick, long hair, this Belula hair brush contains nylon pins that make for easy detangling while still being gentle on your scalp. The wooden comb is perfect for detangling wet hair before you pick up the brush.
Pros
Made of natural bamboo
Well-fixed boar bristles
Ergonomic handle
Suitable for all hair types
Wooden comb included
Travel bag included
Spa headband included
Cruelty-free 
Cons
The Flexy Brush cares for your curls while being gentle on your scalp. It is your perfect companion for dealing with scalp care with cleaning and exfoliation. The brush design features an open-cushion structure that is cleaning friendly. You won't have to worry about bacteria and product build-up anymore. Coming to its detangling qualities, the Flexy brush is super useful for removing fairy knots. No matter what your curl type, all you need is a conditioner of your choice to get started. Brush your hair from root to tip, and watch the magic happen!
Pros
Lightweight
Easy to clean
Suitable for shower use
Ideal for all hair types
Effective on all curl types
Can be used on wet and dry hair
Open-cushion structure
Flexible bristles 
Cons
The Bomeiyi Natural Boar Bristle Hair Brush helps reduce hair breakage and frizz while improving your hair texture. It minimizes the need for hair products and allows you to go longer without washing your hair. The package also includes a complimentary hair brush cleaning tool to keep your brush hygienic at all times. The boar bristles effectively redistribute the natural oils produced by your scalp throughout your hair, adding shine and making it healthier. A hairbrush with boar bristles can help make curly hair more manageable and styling-friendly as it provides deep conditioning to each strand of hair.
Pros
Made of natural bamboo
Contains boar bristles
Lightweight
Travel-friendly size
Ergonomic handle
Affordable
Complimentary brush cleaning tool 
Cons
May be challenging to work on thick hair.
Does not reduce static.
The Spornette Deville Round Boar Bristle Hair Brush works best when used along with a blow dryer. You can style your hair in several ways by adding volume or root lift or defining the curls and waves in your hair. This Spornette brush features the finest bristles that can help smooth your hair properly under heat. If a blowout style with maximum volume is what you need, this brush is your savior. It can work on all hair types of short or medium length hair. The boar bristles help add natural volume and shine to your hair. They also create the ideal tension necessary for adding lift and bounce at the root of the hair.
Pros
Suitable for all hair types
Lightweight
Made of natural wood
100% natural boar bristles
Ideal for styling and blow drying
Suitable for short and medium length hair
Ergonomic handle 
Cons
Expensive
Bristles may be flimsy.
The Spornette Ion Fusion Ceramic Round Brush is your one-stop solution for achieving soft curls, smooth hair, and extra volume. It has a 3-inch barrel that is just the perfect size for medium-length and long hair. There's no risk of hair getting snagged or caught on the grooves as there aren't any ridges or gaps on the brush handle. It flawlessly detangles long hair, no matter the texture, while the aerated ceramic barrel keeps your hair feeling soft. The ceramic barrel is vented to work along with your blow dryer, using the heated air to dry and style your hair in lesser time, thus also preventing heat damage.
Pros
Lightweight
Ergonomic handle
Suitable for medium and long hair
Vented thermal barrel
Ionic smoothing nylon bristles
Ceramic technology
Ribbed design 
Cons
Expensive
Bristles may be too soft for thick hair.
The Osensia Fresh Flexi Brush is a lightweight hairbrush for thick and curly hair that offers a smooth gliding movement. It does not yank, pull, tug, or rip on your hair or damage your scalp. The detangling hairbrush uses a blend of nylon and boar bristles that is gentle on your scalp and good for your hair. The no-tangle curl brush is equally comfortable and painless on both dry and wet hair. It also provides a gentle massage on sensitive scalp and is a favorite with adults and children alike. The bristles are infused with 17 rare earth minerals that stimulate healthy hair and add a natural shine to your locks.
Pros
Contains 17 rare earth elements
Suitable for thick curly hair
Lightweight
Blend of nylon and boar bristles
Durable
Child-friendly
Travel-friendly size 
Cons
Bristles may fall off easily.
The Sosoon Boar Bristle Paddle Hairbrush helps you get rid of oil, dust, dirt, and dandruff from your hair, leaving it with a shiny, healthy appearance. The hair brush helps reduce frizz, seals in split ends, and minimizes hair breakage. You can also use it for a gentle massage on your scalp, promoting hair growth and stimulating blood circulation. The boar bristles are particularly effective in spreading sebum or natural oils from your scalp to the tips of your hair, giving you an organic leave-in conditioner that reduces grease in the scalp and takes care of dry ends.
Pros
Suitable for all hair types
Contains 100% boar bristles
Wide-tooth design
Carved wooden handle
Round tip nylon pins
Complimentary tail comb included
Affordable 
Cons
May snag a little.
Availability may be an issue.
The Super Lemon Drop is like the ultimate detangler for wet or dry hair. It has flexible bristles that gently but effectively work through your tangles without pulling or tugging on them. It features a comfortable soft-touch finish that is also slip-free. The hair brush is suitable for all hair types and also works well on hair extensions.
Pros
Suitable for wet and dry hair
Flexible bristles
Works on all types of hair
Slip-free finish
Does not pull on the hair
Travel-friendly size 
Cons
Not value for money.
Weak bristles
The Osensia Luxe Defined Styling Brush adheres to your hair's natural curls while tailoring them according to your needs. You can customize the brush by tweaking the removable rows of nylon bristles to achieve your desired look for the day. The rubber padding prevents static, giving you a comfortable styling experience. As a wet hair brush, it perfectly locks in your essential curl cream and works brilliantly to detangle your hair. It also defines your curls flawlessly while you focus on smoothing, styling, and sculpting your gorgeous locks. The sectioning pin is a fantastic feature to separate your hair into sections for convenience.
Pros
Lightweight
Ergonomic design
Nylon bristles
East to clean
Removable rows of bristles
Affordable 
Cons
Stiff bristles
Bristle rows may slide out while using.
The Thee Blow Dryer Hair Brush for Curly Hair is a round hair brush made of carbon fiber bristles. It is ideal for brushing curly hair, but you can also use it to straighten your hair, blow dry it, or style it any other way you prefer to. It has a large ceramic vented barrel that heats up quickly while holding in the heat for a long time. It allows heated air from your hair dryer to flow freely, helping your hair to dry faster.
Pros
Suitable for curly hair
Ideal for brushing and styling hair
Helps hair dry quicker
Contains carbon fiber bristles
Affordable 
Cons
May not be effective on short hair.
Availability may be an issue.
The 9 Row Nylon Cushion Brush (version 2 for curly hair) comes with an edge control brush and a detangler comb. It features nine rows of soft nylon bristles set on an anti-static rubber cushion. The design puts the ultimate styling control for your curls in your hands. The high-quality teeth have smooth rounded edges for maximum comfort. The rubber cushion provides an unmatched grip, letting you smooth and shape your curls with ease. It also offers the ideal tension necessary for styling your hair perfectly. The soft bristles are equally effective on wet and dry hair and can get through thick hair comfortably. You can also use the brush to massage and stimulate your scalp to promote hair growth and blood circulation.
Pros
Round ended pins
Wide-toothed comb
Anti-static rubber cushion
Suitable for wet or dry styling
Affordable 
Cons
Inconsistent results
Flimsy design
That was our round-up of the 15 best brushes for curly hair. The next time you feel overwhelmed when struggling to tame your gorgeous locks, get your hands on one of these beautiful brushes. Sometimes, that is all it takes to set your hair on the path to looking and feeling awesome!
Recommended Articles
The following two tabs change content below.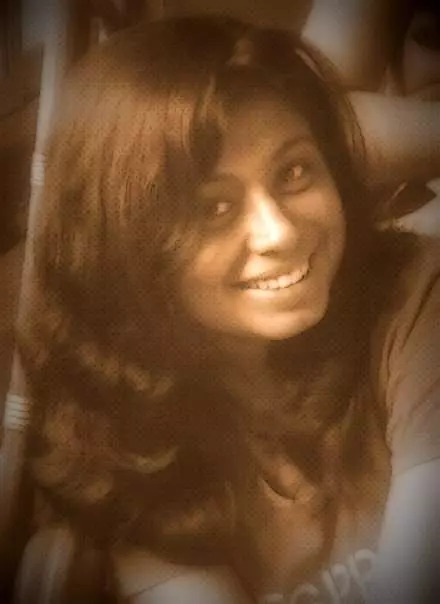 Sakshi Bahal has a Masters degree in English Literature from Calcutta University. She was a part of the editorial team of her school magazine. Her love for writing inspired her to take up literature and follow that up with creative writing after completing her education. She has been writing on beauty and skin care for the past 4 years.Sakshi has also authored a compilation of high school essays. A self-declared bookworm, she enjoys traveling, music, movies, and lots of coffee.